If you're looking for hotels near Government Center, City Hall Plaza, TD Garden, Massachusetts General Hospital, the Museum of Science, and Faneuil Marketplace, you'll find a number of excellent choices in Boston's interesting West End neighborhood.
In addition, most of these West End hotels near are a reasonable (ie, 10-12 minutes) walk to Boston's Museum of Science, the North End, and Beacon Hill.
Frankly, this part Boston used to be an eyesore - mainly because City Hall Plaza was both an eyesore and almost worse, a wind tunnel, and everyone loathed the 1950s Brutalist style government buildings dominating this part of the West End.
But in recent years, improvements to the Plaza (still on-going, but exciting as they unfold), a sparkling facelift to the Government Center T (subway) station, better pedestrian walkways, lots of new restaurants and hotels, and a slightly astounding new-found appreciation of Brutalist architecture have combined to make this area trendy, vibrant and popular.
The Government Center hotels featured in this article put you close to TD Garden (book as far as possible in advance when the Bruins and Celtics are playing), the Big Night Live concert hall, and other Hub on Causeway dining entertainment venues.
As a bonus, the Rose Kennedy Greenway is practically at your doorstep on the other side of Faneuil Marketplace - perfect for picnics, strolling through the gardens, and a fast game of frisbee on one of the expansive lawn areas. And just beyond the Greenway is the Harbor if you want to hope on a whale watching or sightseeing cruise.
Top photo: Government Center T station and City Hall Plaza
Boston Discovery Guide is a reader-supported publication. When you buy through our links, we may earn a commission at no additional cost for you. Learn more
---
Liberty Hotel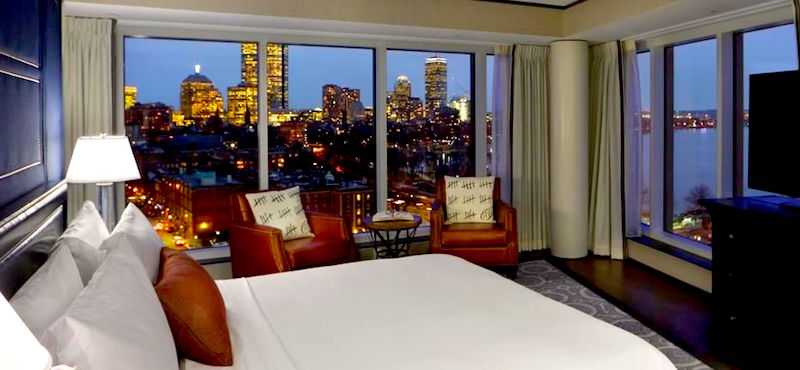 Located in a former jail, the Liberty Hotel features interesting public spaces, up-scale guest rooms, and great views.
You'll love the Liberty's convenient location next to Massachusetts General Hospital, near Beacon Hill, and just a few blocks from Government Center and TD Garden.
CitizenM North Station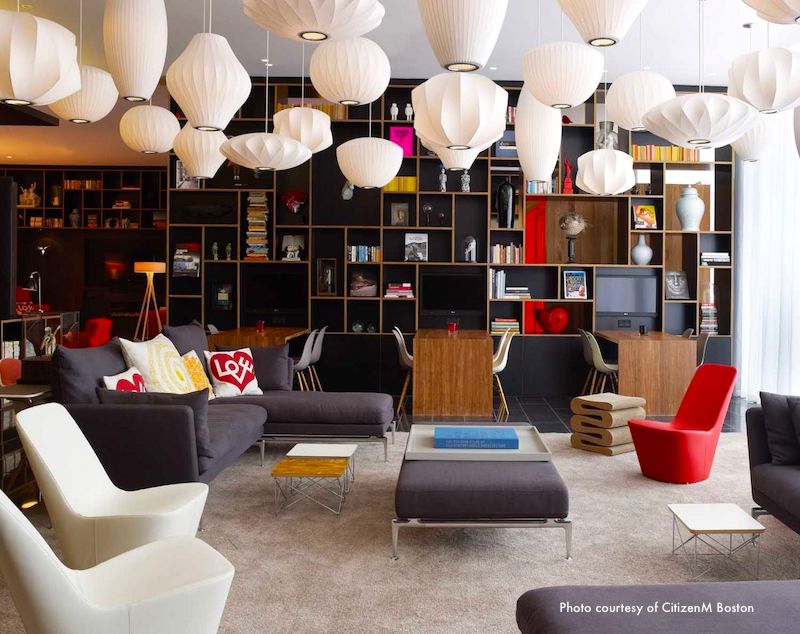 80-120 Causeway Street at Bulfinch Triangle in Boston's West End neighborhood
CitizenM Boston, located directly above theTD Garden sports/entertainment venue offers you 272 "affordable luxury" rooms, a welcoming 4th floor lobby featuring art, books, and cool furniture, 24x7 food and beverages (not that there's any possibility of going hungry in this restaurant-filled neighborhood), and an outdoor terrace with ping-pong tables.
Enjoy the fantastic views, explore nearby Faneuil Marketplace and Beacon Hill - and of course take in an event or two at TD Garden.
Compare rates for CitizenM Boston
Find more hotels near TD Garden
---
Wyndham Hotel Boston near Beacon Hill
The Wyndham Hotel Boston is a great choice for anyone seeking a hotel close to Massachusetts General Hospital, Government Center, and Beacon Hill.
Stroll over to Beacon Hill, almost across the street from the hotel, and explore the many wonderful restaurants and antique shops.
---
Hotel Indigo Boston Garden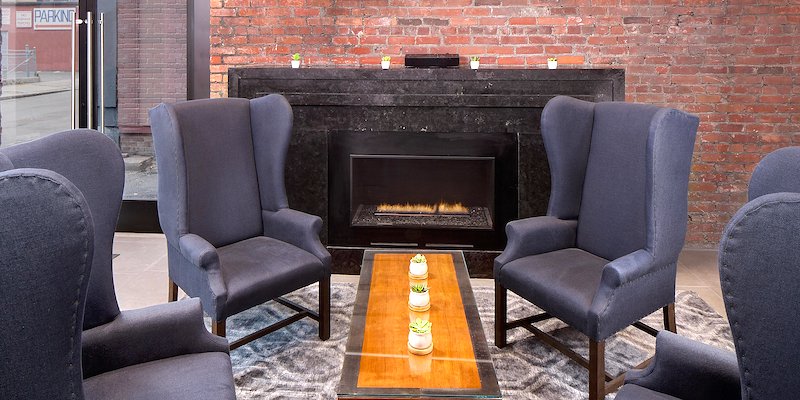 Recently refurbished inside and out, the Hotel Indigo Boston Garden offers you the best of both worlds when you need to be near Government Center but also want to enjoy a game or event at TD Garden. It is the closest hotel to TD Garden - literally just across the street - and offers great value and affordable rates.
You're surrounded by some of the best sports bars in the city. Stop into The Fours for a plate of their delicious fried calamari and a burger, or try the brew at Boston Beerworks.
Celebrations after Bruins and Celtics victories do get noisy, so ask for a room on an upper floor at the back if you need a quieter location.
Although some rooms in the Hotel Indigo Boston Garden are on the cozy side, suites offer kitchenettes and more space
---
Courtyard by Marriott Boston Downtown / North Station at TD Garden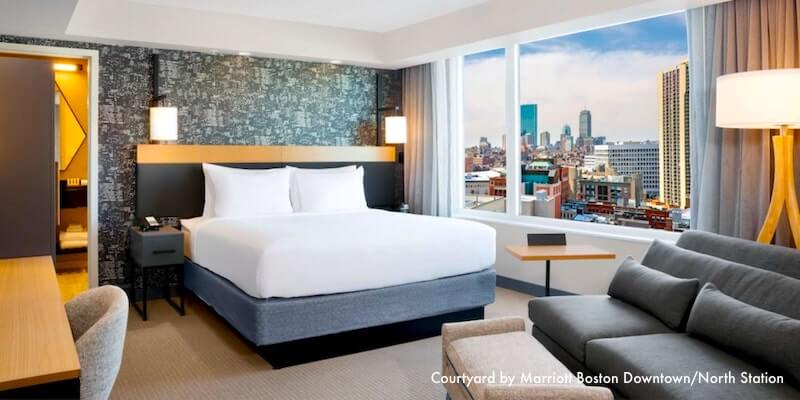 107 Beverly Street, Boston's North End neighborhood
The Courtyard Boston Downtown/North Station boasts a terrific location: directly across the street from famed sports and entertainment arena TD Garden, and at the edge of Boston's legendary North End neighborhood, home to over a hundred superb Italian restaurants, cafes, and bakeries.
Faneuil Marketplace is nearby, and you can easily walk to Downtown Boston - or take the commuter rail or subway from North Station.
You get all the usual Courtyard amenities, plus the pleasure of staying in a bright new building with great views from upper floors.
Compare rates and make your reservation
More hotels near TD Garden and the North End
---
Onyx Hotel Boston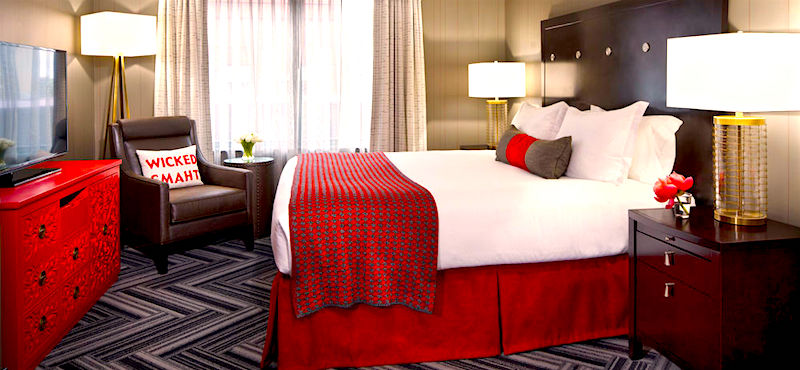 Sleek and contemporary Onyx Hotel Boston (part of the Kimpton hotel group) features vibrant decor, free WiFi, and a location just a block away from TD Garden and Government Center.
Relax in the hotel's Ruby Lounge - or check out some of the fun sports bars nearby.
You'll also enjoy how the Onyx is close to Beacon Hill and Faneuil Hall Marketplace.
---
Boston Insider Tip: Why Choose a Hotel near Government Center
Need another reason to stay near Government Center?
You're surrounded by Boston's increasingly-famous Brutalist architecture, a global trend during the '60s and '70s.
Because Boston's massive urban renewal efforts of the old West End neighborhoodresulted in lots of investments in new buildings during that period, we have more examples of this style of architecture than any other U.S. city. You can decide whether you love it or hate it!
You can get good views of the Brutalist buildings around City Hall Plaza and toward TD Garden if you walk over to the historic area around Marshall and Union Streets. (Be sure to visit the historic pubs, walk through the Holocaust Memorial, and have lunch at the Union Oyster House while you are there.)
Another interesting example of Brutalist style is the New England Aquarium, about a 5-minute walk across the Greenway.
---
TD Garden Events & Schedule
TD Garden is so close to these hotels - so don't miss a chance to see a game or concert while you're in Boston!
Enter DISCOVERY10 to save 10% on TicketLiquidator & TicketNetwork tickets. Good through 12/31/24.
See the full schedule and available tickets for TD Garden events
---
More Hotels near Government Center
Club Quarters
Featuring stylish contemporary decor and a cozy fireplace in the lobby, Club Quarters' location in the heart of Downtown Boston is only a few minutes walk from Government Center and Faneuil Marketplace. Rates & reviews
Harborside Inn
Harborside Inn, a bargain boutique hotel at the edge of the Financial District and just a block from the Waterfront, offers 55 comfortable rooms with contemporary decor, original artwork, free wifi - and rates that usually are significantly cheaper than those at larger corporate-branded hotels nearby. Rates & reviews
---
Things to Do in Boston during Your Stay
***y-gyg-boston-tours-shtml***
---
Boston Hotel Map
Enter your travel dates to see hotels available rooms and get accurate rates.
More about how to save on Boston hotels
---
More Boston hotels: All Boston Hotels - Newest Hotels - Deals & Discounts - Theatre District Hotels - Boston Marathon - Hotels with Fireplaces - Seaport/CruisePort Hotels - New Year's Eve Packages - Inexpensive Hotels - Discount Hotels - Back Bay Hotels - Hotels near Fireworks - Hotels with Outdoor Pools - Faneuil Market Hotels - Valentine's Day Packages - Downtown Boston - Park & Fly - Airport Hotels - Waterfront - Seaport - Historic Downtown - Suburban Hotels - Fenway Park Hotels - TD Garden Hotels - Gillette Stadium Hotels - Financial District
---
More Articles about Boston Hotels
---
Need a Boston Hotel or Apartment?
Use this handy map from Booking.com to find the perfect place to stay. Just enter your dates to find what's available, see the best rates, and make your reservations.