Staying at a hotel near City Hall Plaza gives you easy access to top events taking place to this popular West End arena for headliner shows, such as Boston Calling, the Big Apple Circus, and Scooper Bowl.
Plus, hotels in this location put you close to Boston's most historic sites.
With Faneuil Marketplace, the Freedom Trail, Boston Common, and the waterfront nearby, you'll find plenty to do and explore in the area.
TD Garden, home to the Boston Bruins and Boston Celtics and site of many top concerts, is also in the neighborhood.
The Theatre District is also just a short walk away.
Mouth-watering Italian restaurants and bakeries in the North End, Harbor cruises from the Waterfront, plenty of spots to relax or toss a frisbee along the Rose Kennedy Greenway - you'll find all of this and more just a few minutes away from any of these hotels.
Our recommended City Hall Plaza accommodations include a diverse range of choices - you'll discover something for every budget!
Top photo: City Hall Plaza, (c) Boston Discovery Guide
Boston Discovery Guide is a reader-supported publication. When you buy through our links, we may earn a commission at no additional cost for you. Learn more
---
Boxer Boston Hotel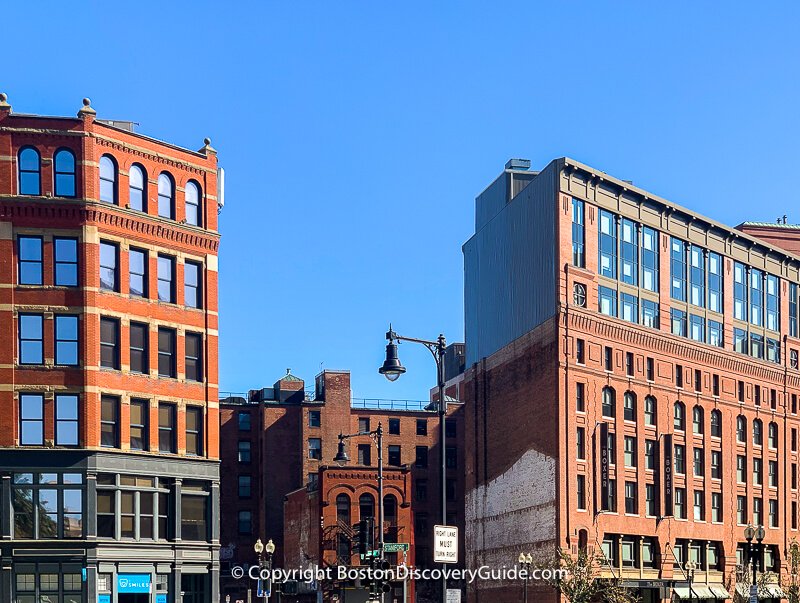 The Boxer, located near City Hall Plaza in the West End neighborhood and TD Garden and all the nearby sports bars and nightlife, occupies a historic spot, Boston's iconic 1904 Flatiron Building.
Although the city used to have more flatiron buildings (their triangular shape works well with our winding, narrow streets), not many remain today and this is considered one of the best.
Although The Boxer is part of an enclave of traditional red-brick buildings (some old, some new), across the street you can see some of the West End's iconic Brutalist concrete structures. If you're an architecture buff with an interest in mid-century design, you will find a lot to love in this neighborhood.
This luxurious boutique hotel combines industrial chic with lush linens, riveted steel wardrobes with marble in the bathrooms, and touches of gold setting off the soothing gray and taupe palette for a unique experience.
Wifi is free, and amenities such as iHomes will make you feel at home. Check out the special deals when booking - you'll usually find some good ones.
Faneuil Market, the North End, and lots of terrific restaurants and nightspots are just a short walk away.
---
Courtyard by Marriott Boston Downtown / North Station at TD Garden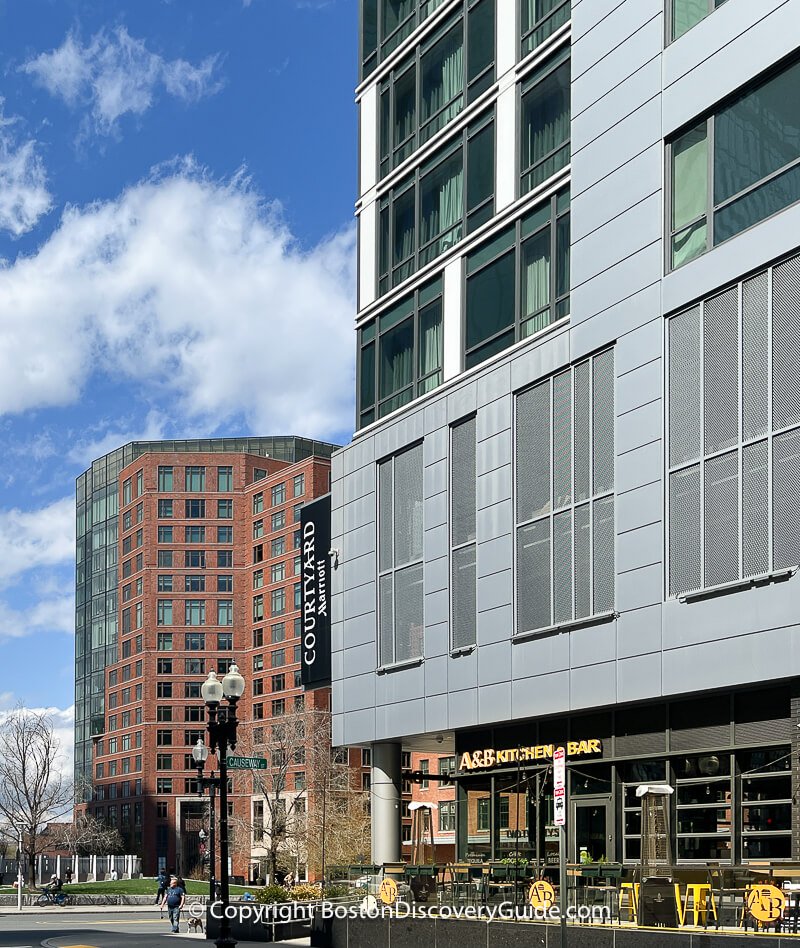 107 Beverly Street, Boston's North End neighborhood
The Courtyard Boston Downtown/North Station boasts a terrific location: directly across the street from famed sports and entertainment arena TD Garden, and at the edge of Boston's legendary North End neighborhood, home to over a hundred superb Italian restaurants, cafes, and bakeries.
Faneuil Marketplace is nearby, and you can easily walk to Downtown Boston - or take the commuter rail or subway from North Station.
You get all the usual Courtyard amenities, plus the pleasure of staying in a bright new building with terrific panoramic views from upper floors.
More hotels near TD Garden and the North End
---
Bostonian Boston Hotel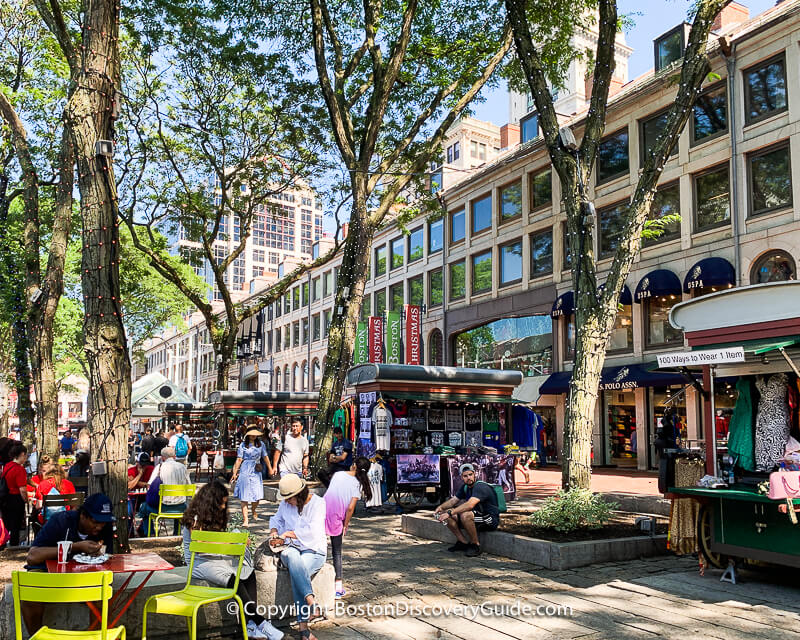 Located across the street from Faneuil Marketplace, the fashionable 201-room Bostonian Boston Hotel is in Boston's oldest, most historical area where one of the markets dates back to the 1600s.
Next to the hotel is Boston's colorful Haymarket and across from that is a foodie and maker's paradise, Boston Public Market. Just steps away, you'll find the Freedom Trail, TD Garden, Boston's North End, and the fun-filled Rose Kennedy Greenway.
Individually decorated rooms feature many luxury touches, including contemporary decor with luxe linens, robes, and in some rooms, balconies and/or fireplaces.
When booking, look for special deals with perks such as breakfast at North 26, the terrific on-site restaurant (try their superb clam chowder), and parking.
The Bostonian Boston is part of the Millennium hotel brand.
---
Hotel AKA Boston Common
Situated between Boston Common and Faneuil Marketplace and just a short walk from City Hall Plaza, the Hotel AKA Boston Common offers an ideal location plus a friendly and helpful staff.
The boutique hotel's Freedom Trail location positions you well for sightseeing, exploring the historical heart of the city, and, of course, shopping.
Beacon Hill, TD Garden, the Theatre DIstrict, and even the Financial District are all within a short walk.
---
Omni Parker House Hotel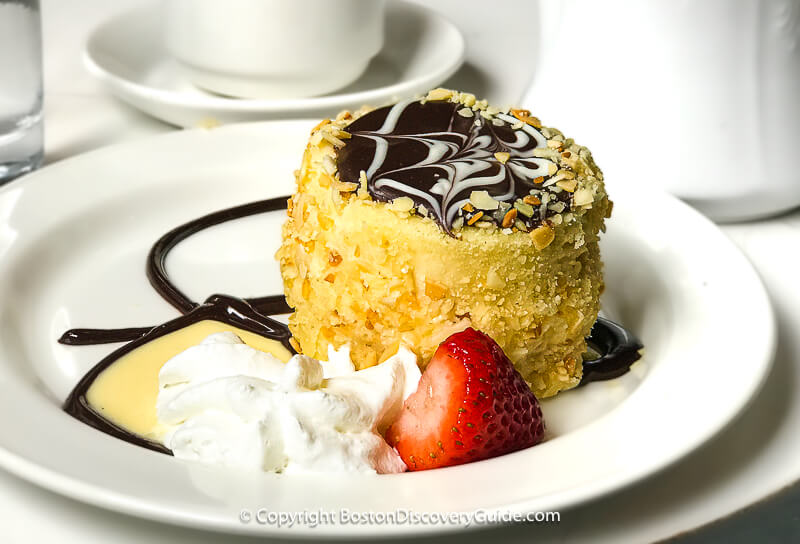 Historic Omni Parker House Hotel has been welcoming guests since 1855. If you want to stay in the center of historic Boston and also be close to City Hall Plaza, look no farther.
Boston Cream Pie and Parker House Rolls originated here, Boston's literary elite of the 19th century hung out in the bar, and more politicians, musicians, actors, and other celebrities have dined here than you can imagine.
The 551 guest rooms and suites range from small to larger than many apartments, affordable to luxury, with something to fit every budget and need. A series of multi-million dollar renovations have made the hotel sparkle.
---
Fifteen Beacon Hotel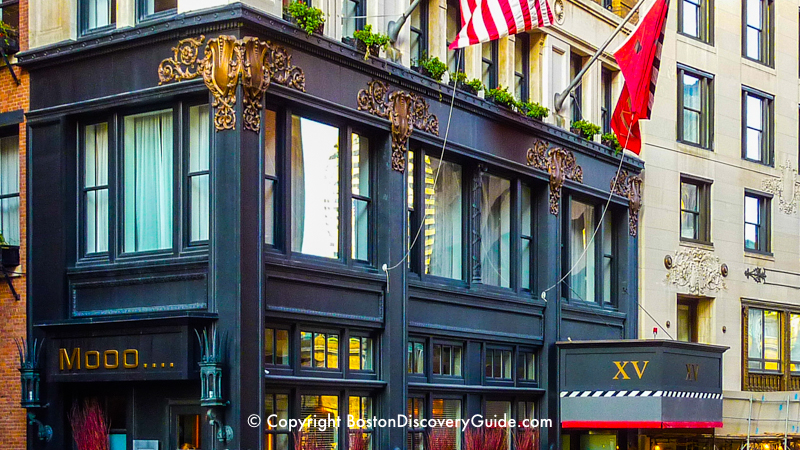 Designed by a frequent business traveler to meet all the needs of other high-end frequent travelers, Fifteen Beacon Hotel features a wonderful assortment of luxurious and comfort details designed to appeal to all types of guests.
You can expect fireplaces in every room, four poster beds, white glove concierge service, a warm welcome to your dog, Italian marble bathrooms, a private roof deck (perfect for watching the July 4th firework display over the Charles River, windows that actually open, and numerous other amenities in this luxury boutique hotel.
Oh, and it's also close to City Hall Plaza (although the hotel does offer complimentary car service) - as well as historic Beacon Hill, Boston Common, and Faneuil Marketplace.
If you're looking to splurge on a special experience, XV Beacon is where you'll want to make your reservation.
---
Boston Insider Tip: Why Choose a Hotel near City Hall Plaza?
Need another reason to stay near City Hall Plaza? You will be close to many of Boston's top visitor attractions: Faneuil Hall Marketplace, the Freedom Trail, Beacon Hill, and the New England Aquarium.
Depending on which hotel you choose, you'll also be just a 5-10 minute walk away from TD Garden (home to the Bruins and Celtics, and site of numerous top concerts), the waterfront, and all the mouth-watering restaurants in Boston's North End.
---
More Hotels near City Hall Plaza
Club Quarters
Featuring stylish contemporary decor and a cozy fireplace in the lobby, Club Quarters' location in the heart of Downtown Boston is only a few minutes walk from Government Center and Faneuil Marketplace. Rates & reviews
Harborside Inn
Harborside Inn, a bargain boutique hotel at the edge of the Financial District and just a block from the Waterfront, offers 55 comfortable rooms with contemporary decor, original artwork, free wifi - and rates that usually are significantly cheaper than those at larger corporate-branded hotels nearby. Rates & reviews
Wyndham Boston
Located close to TD Garden, Beacon Hill, and Mass General Hospital, Windham Boston is only a 10-minute walk to City Hall Plaza, Beacon Hill, and Faneuil Marketplace. Look for attractive rates when nothing is scheduled at the Garden (and reasonable events at other times) - and enjoy the outdoor swimming pool during summer months. Rates and reviews
---
Things to Do in Boston during Your Stay
---
Boston Hotel Map
Enter your travel dates to see hotels available rooms and get accurate rates.
More about how to save on Boston hotels
---
More Boston hotels: All Boston Hotels - Newest Hotels - Deals & Discounts - Theatre District Hotels - Boston Marathon - Hotels with Fireplaces - Seaport/CruisePort Hotels - New Year's Eve Packages - Inexpensive Hotels - Discount Hotels - Back Bay Hotels - Hotels near Fireworks - Hotels with Outdoor Pools - Faneuil Market Hotels - Valentine's Day Packages - Downtown Boston - Park & Fly - Airport Hotels - Waterfront - Seaport - Historic Downtown - Suburban Hotels - Fenway Park Hotels - TD Garden Hotels - Gillette Stadium Hotels - Financial District
---
More Articles about Boston Hotels
---
Need a Boston Hotel or Apartment?
Use this handy map from Booking.com to find the perfect place to stay. Just enter your dates to find what's available, see the best rates, and make your reservations.