How to Choose Your Hotel in Boston, Massachusetts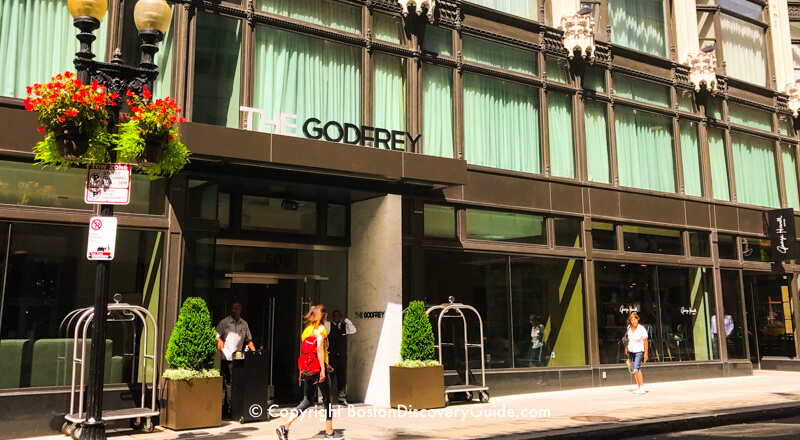 Looking for Boston, Massachusetts hotels?
You'll find lots of great choices - but choosing the best hotel to fit your needs can be tough.
Boston Discovery Guide gets lots of questions about how to choose the right hotel - so we've compiled the top 10 most Frequently Asked Questions about Boston hotels - plus, of course, answers.
FAQ 1 - Location of Boston Massachusetts Hotels
Q. Where are most hotels in Boston located?
A. Central city neighborhoods - Downtown/Waterfront, Back Bay, Fenway, Seaport/South Boston Waterfront
Most Boston attractions in the city's neighborhoods, and that's where you'll find most hotels.
You can choose from a wide range of prices and amenities among hotels in these areas.
Other central Boston neighborhoods with excellent hotel choices include Charlestown (near USS Constitution), the North End, Beacon Hill, and the West End (near TD Garden and Government Center). Just across the Charles River (5 minutes by subway) is Cambridge, with even more choices.
Depending on your plans, you may also want to consider Boston Logan Airport hotels - a 7-minute water taxi ride from downtown.
To find the hotels located in each neighborhood, check out our Guide to Boston Hotels.
FAQ 2 - Choosing the Best Hotel in Boston
Q - With so many Boston hotels to choose from, how do I pick the best one for me?
A - Consider these 3 factors:
1. Convenience - Where will you spend most of your time while you're in Boston? Working in the Financial District? Watching the Red Sox play at Fenway Park? Exploring Charlestown and the North End? For top convenience, stay in the part of Boston where you'll spend most of your time.
2. Amenities - Want an indoor pool? A spa? A waterfront location? Do you want to be pampered, or do you prefer to be on your own? Do you crave the coziness of a bed and breakfast? The sleekness of a boutique? Or is a minimalist spot to sleep all you require? Do you want a hotel that's especially welcoming to families with children?
3. Cost - Do you want to spend as little as possible, or do you want a splurge hotel? Unless you've waited until the last minute to book, or are trying to make reservations during a peak period, you'll usually have plenty of choices in great central locations. So choose your price point, and go for it!
Our Guide to Boston Hotels will help you identify hotels the categories most important to you.
Check our tips on finding Boston Hotel Deals if you want to find discounts and other ways to save on Boston hotels.
FAQ 3 - Types of Boston Hotels
Q - What types of Boston hotels can I choose?
A - Boston offers a great variety of every type of hotel you can imagine :
Here are some more popular categories:
One alert: Unlike in many other cities with plenty of options for short term apartment rental, you'll find relatively few available here due to their popularity with our huge student population.
FAQ 4 - Reservations Needed?
Q - Should I make advance reservations?
A - In one word . . . YES!
Boston hotels book up quickly, and do sell out.
"High" season in Boston hotels includes summer months between early June and early September, and the month of October. If you're planning a visit during these months, book as soon as you know your dates if you want to find the best rates.
However . . . finding reasonable rates or vacancies at any price can be challenging during several other periods:
FAQ 5 - How Far Ahead Should I Reserve?
Q - How far in advance should I make my reservations?
A - As soon as you know your dates
Lots of visitors make reservations for the Marathon, college graduations, and July 4th a year in advance. To compete for best rooms/rates, you should too!
Depending on the type of reservation you choose, you can cancel later if necessary (be sure to check the cancellation policy when you book).
FAQ 6- Room Sizes
Q - I've heard that Boston hotel rooms are tiny. Is this really true?
A - Yes and no.
Similar to hotels in many cities, rooms and bathrooms in Boston hotels tend to be small, even in some of the most luxurious properties.
Many Boston hotels, especially those in older historic properties, offer rooms in a variety of sizes and at a range of rates.
Lowest rates usually mean a smaller room, while more palatial rooms have high rates. Occasionally, if the hotels are not fully booked, you may receive a complimentary upgrade to a larger room. Even if you don't, having a small room at a great rate can be a wonderful way to experience some of Boston's grandest hotels while also enjoying the convenience of staying in the heart of the city.
FAQ 7 - Breathing Freely
Q - I need a smoke-free room. Will this be hard to get?
A - Nope, all Boston hotels are smoke-free.
As of January 1, 2009, all Boston, Massachusetts hotels are smoke-free.
Anyone in a hotel who wants to smoke must go outside.
Boston hotels charge extra cleaning fees if you smoke in your room during your stay. In some hotels, these cleaning fees are quite large.
FAQ 8 - Parking
Q - Do all Boston hotels offer onsite parking?
A - In one word . . . YES!
Technically, some have onsite parking, and some don't. But in reality, even those that don't either offer valet parking or can suggest parking garages or lots nearby.
But . . . if you bring a car, you will pay dearly for parking in most city hotels. Daily parking rates of $50 and more are not unusual.
If at all possible, leave your car at home and save money. Boston is compact and has an extensive public transportation system, so you don't need a car in the city. Plus, parking here is a nightmare if you're not used to it . . . streets are narrow, signs are confusing or non-existent, and parking, as you've already seen, costs a lot of money.
If you want to visit places outside of the city, you can easily rent a car just for the time when you actually need one. Depending on the length of your visit, this may be much cheaper than paying for Boston parking garages.
If you absolutely have to have a car and don't want to pay high fees, check out our tip about overnight parking (and other options) at Boston Common Garage.
FAQ 9 - Boston Hotel Rates
Q - How much should I expect to pay?
A - That depends on a lot of factors.
Rates for Boston hotels tend to be highest from late May through early September, and lowest in winter - especially January, February, and early March. But you'll also find higher rates during leaf-viewing season (Oct - early November), special events (Boston Marathon in April, college graduations in May), and holidays such as Thanksgiving and St. Patrick's Day.
Additionally, hotels that attract business travelers during the week such as Financial District hotels may have higher rates during the week, while hotels that attract mainly leisure travelers such as Boston waterfront hotels may have higher weekend rates.
And of course, the amenities that you choose may also impact the rates. Obviously, Boston luxury hotels are pricier than no-frills lodging.
These articles focus on hotels at each end of the price spectrum:
Boston and Cambridge hotel taxes are 12.45%, which is fairly reasonable compared with hotel taxes in other large cities.
FAQ 10 - Hotel Deals & Discounts
Q - Where will I find the best rates for Boston hotels?
A - Usually you'll find the best rates on the Internet.
Check our Boston Hotel Deals article for tips, including where to search and find best deals on the Internet.
---
Fun Things to Do & See in Boston