Downtown Boston Hotels
Where to Stay in Downtown Boston
Fifteen Beacon Hotel, in historic downtown Boston near the Financial District and Faneuil Market
Downtown Boston hotels put you in an ideal location in the middle of the city's commercial district, yet also just steps away from famous historic sites, great shopping, wonderful restaurants, and our vibrant waterfront.
Do you want to be close to Boston's vibrant Theatre District?
Do you need the convenience of a Financial District business hotel?
Do you plan to enjoy sizzling nightlife and restaurants along the lively Waterfront?
Boston's downtown hotels give you all of this, and more.
Depending on which hotel you choose, you can experience 5-star amenities such as a renowned spa, the complimentary services of a car and driver, or stunning Harbor views. Other downtown choises are more affordable than you might expect.
Take a look at our recommendations. You're sure to find a hotel to perfectly suit your needs - and maybe even become your new home away from home whenever you're in Boston.
Nine Zero Hotel Boston
If you love boutique hotels, you'll enjoy Boston's Nine Zero Hotel.
This small but super-trendy Kimpton hotel is renowned for its friendly and helpful staff.
It's also one of the most pet-friendly hotels in Boston, sure to please both you and Pooch.
The top Freedom Trail location between Boston Common and Faneuil Market positions you well for sightseeing, exploring the historic heart of the city, and shopping.
Beacon Hill, TD Garden, the Theatre DIstrict, and even the Financial District are all within a short walk.
XV Beacon Hotel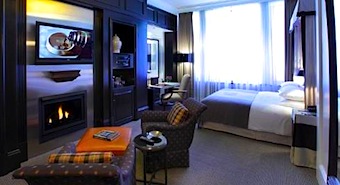 Luxury boutique Fifteen Beacon Hotel is known for its superb personalized service and attentive staff.
You'll love the sophisticated ambiance, complimentary car service, and rooftop deck.
Look for sleek contemporary furnishings, premium bedding - and a fireplace in your room. Pets are welcome too, with special advance arrangements.
Located at the edge of Beacon Hill near the Financial District and historic Freedom Trail, XV Beacon caters to business and leisure travelers seeking top comfort and service.
Langham Hotel Boston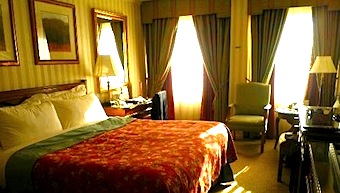 Located in an ornate former Federal Reserve Building in the heart of Boston's Financial District, the Langham Hotel offers every amenity for business travelers and is also a top destination for leisure travelers.
You'll find the Langham Hotel Boston on a lot of "10 Best Boston Hotels" lists - and for good reason . . . the spa, the pool, the fitness center, the personalized service, and the convenient location.
Surprisingly, at some times of the year (and especially on weekends), you can find almost inexpensive rates at this favorite among downtown Boston hotels. Even your family dog - if under 50 pounds - will be welcome.
Ritz-Carlton Boston Common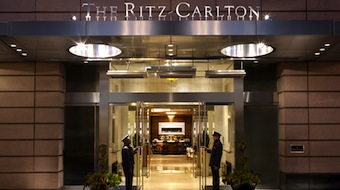 The 5-star Ritz Carlton Boston Common offers gorgeous views across Boston Common along with a convenient location near the Theatre District, Financial District, and Chinatown.
You can expect comfortable beds, high thread count linens, and extraordinary service. Be sure to spend some time on the 4th floor, where you'll find Sport Club/LA, a terrific pool, and over 40 sports and fitness options.
Ames Hotel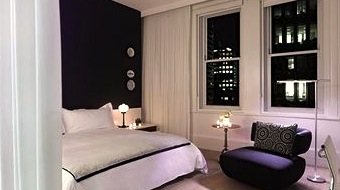 If minimalist chic with a touch of hip meshes with your ideal of the perfect decor, you'll love Boston's Ames Hotel located in an iconic 1893 skyscraper - Boston's first.
The luxury boutique hotel's 114 rooms include working fireplaces, sleek furnishings, and white marble walk-in showers with rain showerheads.
The Ames' location at the edge of the Financial District puts it equally close to Faneuil Hall, TD Garden, and Government Center.
Omni Parker Hotel Boston
The luxurious Omni Parker Hotel, built in 1855, is Boston's most historic hotel, where Emerson, Thoreau, Hawthorne, and Longfellow routinely met, dined, and drank.
The hotel's location on the Freedom Trail puts you just steps away from Boston Common, Faneuil Hall Marketplace, and other top attractions, yet you're also next to the Financial District, making this a wonderful choice for both business and leisure visitors.
Be sure to stop by Parker's Restaurant for a taste of the Omni Parker's famous contributions to American cuisine: Parker House rolls and Boston Cream Pie.
Boston Harbor Hotel
The iconic 80-foot high arch at the center of Boston Harbor Hotel welcomes you to a world of special touches, small and large.
The hotel is just steps from the Financial District, making it a perfect choice if you want to combine business with some serious pampering.
You can expect Frette linens, lots of fresh flowers, and gorgeous marble bathrooms.
Boston Harbor Hotel is probably the most luxurious of all Boston's waterfront hotels, and also the liveliest.
With the renowned Boston Wine Festival, music and movie events in its Summer in the City summer-long fest overlooking the Harbor, and Meritage, one of Boston's best restaurants, attracts locals as well as visitors from all over the world.
Coming from Boston Logan Airport? Take a water taxi to Rowes Wharf next to the hotel - where you can also hop on a Boston Harbor cruise.
Return to Top - Downtown Boston hotels
Club Quarters Boston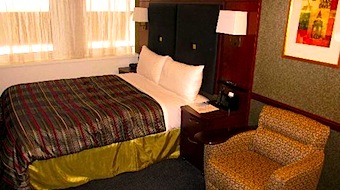 If you're looking for a no-frills business hotel in Boston, Club Quarters Boston provides a convenient place to sleep. Based on a "members" concept, the private entry is restricted to hotel guests only.
Rooms are small, but the low budget rates often available compensate for limited space.
And you can't beat the Financial District location, making Club Quarters Boston one of the best located of the Downtown budget hotels.
Hilton Boston Downtown/Faneuil Hall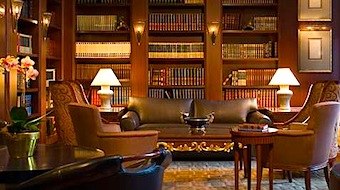 Located in a 1928 Art Deco skyscraper, the Boston Hilton Boston Downtown/Faneuil Hall is a sought-after Downtown Boston business hotel during the week, and a tourist and family favorite on weekends when you can sometimes find great bargains - look for weekend packages and special deals.
High ceilings, crown moldings, waterfront views from some rooms, terrycloth robes, and comfy beds and pillows all contribute to the upscale ambiance.
You'll love its quiet location just a few blocks from the Waterfront, Freedom Trail, and New England Aquarium.
Best Hotel Rates in Downtown Boston:
When and Where to Find Them
When making your Boston hotel reservations, keep in mind that although business travelers flock to Downtown's conveniently-located accommodations during the week, leisure visitors may find some unexpected hotel bargains here on the weekend.
Downtown Boston hotel rates can also vary dramatically by season.
Waterfront hotels are usually much pricier during summer months, although special events such as the Boston Wine Festival at the Boston Harbor Hotel can drive prices higher any time of the year.
During winter, you may find some of Boston's best hotels effectively on sale.
Regardless of which part of downtown you choose, other areas (along with the rest of central Boston) are just a short walk away.
More Hotel Recommendations
Like this Page? Please Share!
Boston Discovery Guide > Hotels > Downtown Hotels