Home > Attractions > Fall Foliage >
Boston Fall Foliage

7 best places to see leaf color in Boston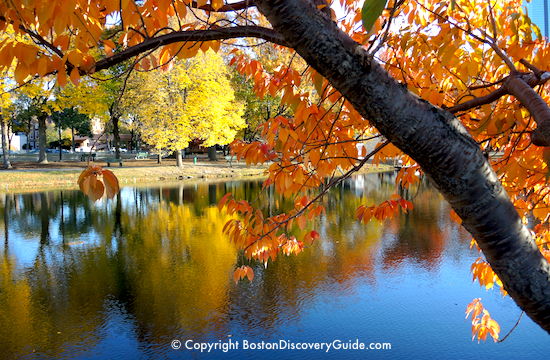 Breathtaking fall foliage along Boston's Esplanade
Boston's fall foliage blazes across the city from late September through October - and often well into November.
Although you can see lots of gorgeous leaves on New England fall foliage tours, you can also enjoy spectacular leaf color by touring around Boston on your own.
Lots of tourists fly into Boston Logan Airport during the fall months - and then immediately depart for fall foliage tours or cruises to other parts of New England.
But why spend money on gas just to drive along crowded highways? You can enjoy autumn's brilliant colors without leaving Boston . . . if you know where to go.
Here are Boston Discovery Guide's recommendations for the 7 best places for DIY (do it yourself!) Boston fall foliage tours where you'll see breathtaking crimsons, oranges, and golds - right in the city.


Beyond Boston . . .

New England Foliage Tours & Cruises
Want to see even more foliage? Let someone else do the driving when you go on one of the popular New England fall foliage tours through southern New Hampshire and Maine.
For an even more special experience, choose one of the popular fall foliage cruises up the coast of Maine and Eastern Canada.
#1: Boston's Public Garden
Located in the heart of the city next to Boston Common, the Public Garden puts on a spectacular display of color throughout the fall months.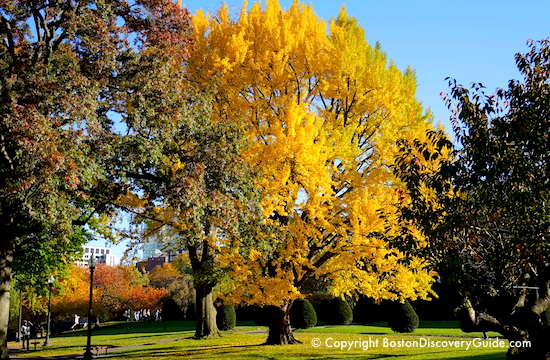 Gold and orange foliage lights up the Public Garden
The Public Garden contains many densely planted trees and shrubs. Each species changes color at a slightly different time, making a constantly shifting tapestry of autumnal tones.
If you're curious about what types of trees you're admiring, look for brass labels under the trees.
For even more stunning views, walk onto the foot bridge across the Lagoon.
In the distance, you can see Mallard Island, of Make Way for Ducklings fame - that's it on the left in the photo below. On warm days, you'll usually spot a few ducks sunning themselves on the ramp leading down to the water.
Insider tip: Many of the wide variety of ornamental trees growing in the Public Garden change color early - so splashes of autumn color can usually be seen first here.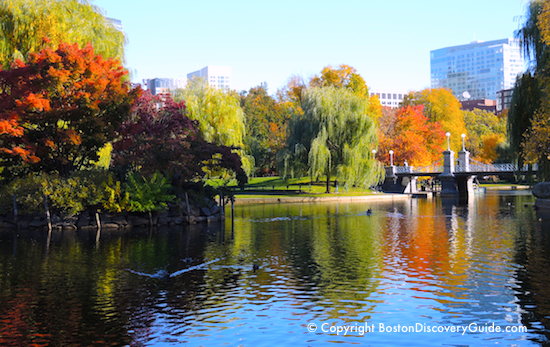 Autumn colors surround the Lagoon in Boston's Public Garden
Getting there:
Location: The Public Garden is located in central Boston next to the Common, and is bordered by Beacon Street, Charles Street, Boylston Street, and Arlington Street. Charles Street runs between them.
Nearest T station to Public Garden: Green Line/Arlington
Cost: Free
Where to stay: Best Hotels near the Public Garden
Where to Stay near the Public Garden
#2: The Esplanade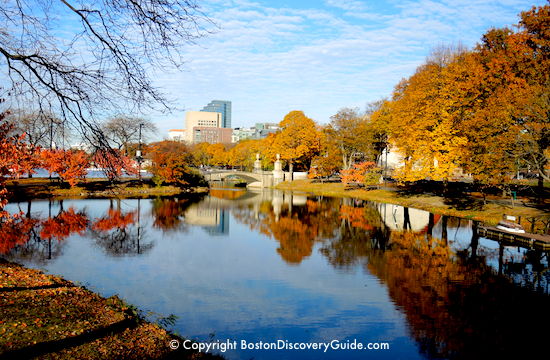 Fall foliage on Boston's Esplanade
The tree-filled Boston Esplanade, the long linear park along the Charles River across from Beacon Hill and Back Bay, turns into a sea of gold and orange in October when Boston's fall foliage begins to reach its peak.
You can walk, jog, or bicycle along the river paths and enjoy the dancing water reflections of the many-hued leaves. Bring your camera and capture the perfect photos of the colorful fall leaves along the river.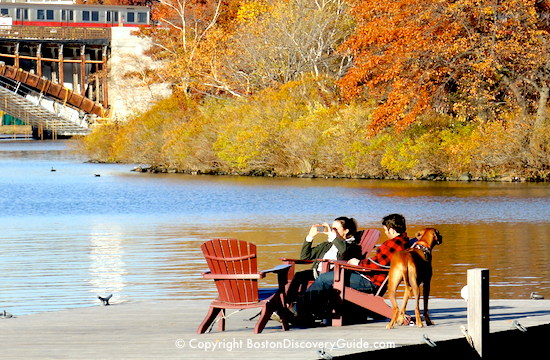 Sit on this pier from Boston's Esplanade, and you'll feel like you're a thousand miles from the city
Getting there
Nearest T station: Green Line/Arlington or Red Line/Charles-MGH
Getting to the Esplanade: You'll need to cross over busy Storrow Drive on a pedestrian foot bridge to reach the Esplanade from Beacon Hill or Back Bay.
From Beacon Hill, use the bridge near the Charles/MGH station. Once you cross Storrow Drive, the Esplanade is to your left.
From Back Bay, use the Arthur Fiedler footbridge near the intersection of Beacon and Arlington Streets.
Cost: Free
Insider Tip: Boston Tours Provide Lots of Foliage Views
#3: Back Bay, Beacon Hill, & Bay Village
Leafy neighborhoods in central Boston provide great vistas for viewing colorful Boston fall foliage.
Particularly brilliant trees canBeacon Hill, Back Bay, and the South End.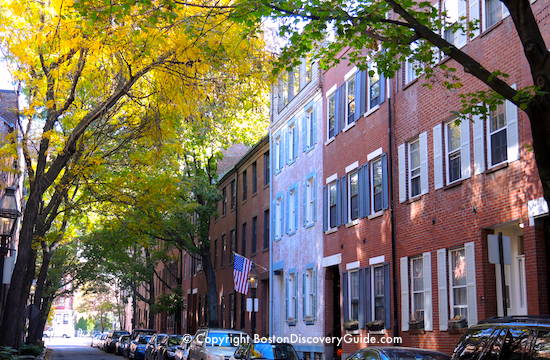 Quiet street in Bay Village
Spend 10 minutes walking randomly through any of these elegant neighborhoods and treat your eyes to a panorama of colorful leaves and varied textures.
In Beacon Hill, the narrow lanes and alleys blaze with color from the street trees. Look closely, and you'll see glimpses of color from almost-hidden gardens. A particularly lovely walk is up Mount Vernon street to tree-filled Louisburg Square.
In Back Bay, Commonwealth Avenue - a magnificent statue-filled boulevard with a long park down the middle - is spectacular.
Start at the Public Garden, walk down Comm Ave all the way to Hereford Street, turn right and walk another block, and then turn right again and walk back on Marlborough Street. Magnolias, so magnificent when blooming in the spring, now make a swath of gold.
The Southwest Corridor Park provides a perfect starting point for leaf viewing in the South End. From Back Bay Station, cross Dartmouth Street to the park's entrance.
Walk as far as you want, enjoying the colorful gardens and trees. Then either come back the same way or detour through the neighborhood's small streets, enjoying how the crimsons and maroons of the Boston fall foliage harmonize with the red brick Victorians.
Getting there
Location: Orient yourself using Boston Common and the Public Garden. Beacon Hill is to the north, across Beacon Street. Back Bay is to the west of the Public Garden, across Arlington Street. And the South End is to the south of Back Bay . . . generally Huntington Ave is considered the boundary.
Nearest T station to Beacon Hill: Red and Green Lines/Park or Red Line/Charles-MGH
Nearest T station to Back Bay: Green Line/Arlington
Nearest T station to South End: Orange Line/Back Bay
#4: Rose Kennedy Greenway
Trees, shrubs, perennials, and ornamental grasses along the Rose Kennedy Greenway extend Boston's fall foliage display in areas formerly devoid of any color other than gray, and their brilliant fall hues draw crowds of admirers.
My favorite part is the Chinatown section, where the colorful leaves of peonies, rhododendrons, small trees, and grasses along the stream and waterfall provide an especially lovely spot for a stroll.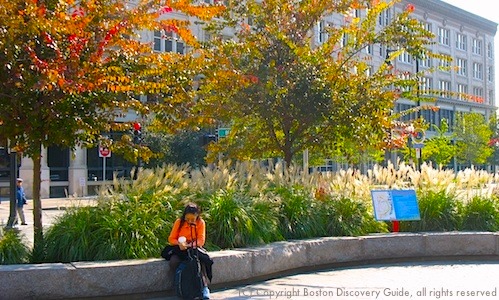 For an added plus, pop into one of Chinatown's mouth-watering bakeries or restaurants, bring back a carry-out snack, sit on one of the Greenway's benches, and enjoy your impromptu picnic. On Sundays, check out all the dim sum possibilities.
To enjoy more of the Greenway, continue walking north to the North End, enjoying glimpses of Boston's waterfront along the way.
Getting there
Nearest T station: Red line/South Station; walk up Essex Street to the Greenway, and turn left to walk along the Chinatown section.
Cost: Free

#5: Back Bay Fens
Trees fill the gorgeous Back Bay Fens, a lush slice of nature along Muddy River that's part of the "Emerald Necklace" parks designed in the 1800s by Frederick Law Olmstead.
Brilliant fall foliage on Japanese maple in the Victory Gardens - Photographed in late September
You'll see some of the most brilliant foliage in Boston's famed Victory Gardens and Kelleher Rose Gardens.
Getting there
Nearest T station: Green Line to MFA (Museum of Fine Arts); walk along Forsyth Way (if you're facing the museum, this is the street directly to its right) to the Fens, where you'll see park paths. We usually turn right on the path to go around the park counterclockwise, but going left works equally well. Whatever path you take, make sure you check out the tranquil water views from the arched bridge at Agassiz Road. The Victory Gardens are near the northwest tip of the Fens. Cost: Free
#6: Arnold Arboretum
Where better to see a magnificent display of Boston fall foliage than the Arnold Arboretum, another jewel in Boston's Emerald Necklace.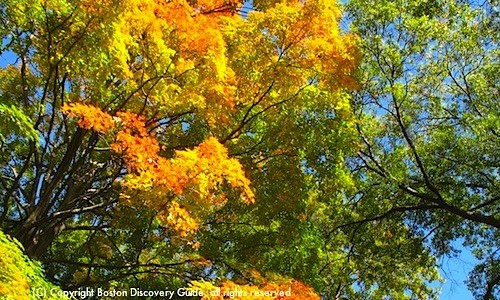 The Arboretum's collection of almost 5,000 different species put on a fiery display throughout most of the month of October.
Located in the Jamaica Plain neighborhood of Boston, the 265 acre Arboretum is open from sunrise to sundown every day of the year, and admission is free of charge.
The Arboretum's free Boston Fall Foliage Festival takes place during the afternoon on the last Sunday of October. Meet on the Hunnewell Visitor Center lawn to learn about the best trees and shrubs for fall color, take a guided tour of the Arboretum's most brilliant foliage areas, and enjoy apples, cider, story telling, music, and leaf crafts.
Getting there
Nearest T station: Orange line/Forest Hills
Getting there: Exit through the door marked "Arnold Arboretum." Walk about 60 feet, turn left, and continue walking parallel to the Arborway (elevated above the bus stop). Walk along the Arborway, go up the hill, and enter through the Arboretum's Forest Hills gate. To get to the Arboretum's main entrance and the Hunnewell Building, continue along the Arborway for about 8-10 minutes. The Arboretum is located at 125 Arborway. For more information: 617-524-1718 .
Cost: Free
#7: Mount Auburn Cemetery
With more than 5,000 trees representing 630 species, Mount Auburn Cemetery is one of my favorite spots to view Boston fall foliage - as well as to wander around with my camera.
Founded in 1831 by the Massachusetts Horticultural Society on 175 acres of wooded rolling hills just to the west of Boston, Mount Auburn quickly became known as America's first garden cemetery.
Golden maple in Mount Auburn Cemetery, west of Boston
I love its hills, dells, ponds, and woodlands - and from late September into mid-November, colorful leaves make a magnificent display. Because of all the small hills, you'll find many perfect vistas of vivid colors.
While Mount Auburn Cemetery is actually in Cambridge, just to the north of Boston, you can get there easily by T.
Getting there
Location: Mt. Auburn is located about 2 miles west of Boston, at 580 Mount Auburn Street, Cambridge, MA.
Getting there by T and bus: Take the Red Line to Harvard Square. Staying inside Harvard Square Station, walk over to the bus departure area and take either the Watertown Square (#71) or Waverley Square trolley (#73). Get off on Mount Auburn Street at the Aberdeen Avenue intersection (ask the driver to let you know when this is coming up, if you're not familiar with this part of Cambridge). Cross Mount Auburn at the traffic light and go through the Cemetery's entrance gate.
Cost: Free
Hours: 8am-5pm from October through April, and until 7pm from May through September
For more information: 617-547-7105
Best time to see Boston fall foliage
Are you wondering when to plan your Boston fall foliage tour?
Fall leaf color begins in Boston at a different time each year . . . but generally speaking, you'll start to see splashes of color around mid-September. Occasionally, leaves start to change color even earlier in the month.
By early October, fall leaf color becomes more pronounced. "Peak" usually comes in about the 3rd week of October - although it can be a week or 2 sooner or even later.
By early to mid-November, the best fall leaf color may be gone, but you'll still see subdued color before real winter sets it. Occasionally, traces remain even into early December.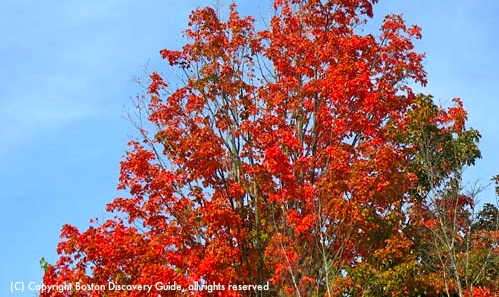 More Places to See Fall Foliage in Boston and New England
Like this Page? Please Share!
Boston Discovery Guide > Attractions > Fall Foliage > 7 Best Places to See Boston Fall Foliage