Discover the Best Things to Do in Boston in January
Top 10 Boston activities for January
Looking for interesting things to do in Boston in January?
Boston hotels offer their cheapest rates this month, and the city is full of fun activities and events.
Outdoors, winter sports hold center stage at TD Garden, Fenway Park, local ice rinks, and ski slopes.
Indoors, Boston cultural venues, restaurants, and nightlife provide lots to do. Two big wine events add extra warmth. And Boston sports fans get to cheer the Celtics, Bruins, and Patriots.
January always feels like the coldest and snowiest month of the year in Boston. And often, it is. But the sky is luminous, even when cloudy, and as the month goes by, you may even notice the days getting a tiny bit longer.
If you're planning what to do in Boston in January, here are some activities to consider. Be sure to also check the Boston Event Calendar for January.
10 fun things to do in Boston in January
1. Bundle up, and go outside
Go ice skating on Frog Pond in Boston Common, or cross Charles Street to the Public Garden and "skate" across the frozen Lagoon - no actual skates required!
Ice Skating on Frog Pond on Boston Common
2. Head for the ski slopes
Several downhill and cross country ski areas are located near Boston, less than an hour outside of the city. True, you will not imagine you are in the Alps - but these near-city slopes offer you convenient places to learn, plenty of fun, and an easy opportunity to get out and enjoy January.
Just a little farther away in the Berkshires, you will find even more possibilities, including luxury ski resorts for romantic weekend getaways.
3. Immerse yourself in spectator sports
Prefer to enjoy winter sports inside? TD Garden, conveniently located adjacent to North Station, provides an almost non-stop schedule of Boston Bruins hockey games and Boston Celtics basketball games during January.
You can easily get to TD Garden on the T (Boston's subway) - just take the Green or Orange Line to North Station, and enter directly from the station.
Driving? You'll find a number of parking garages nearby. Rates vary, but some are reasonable.
Even better - stay in a hotel near the Garden.
For most fans, attending as many of these games as possible tops the list of things to do in Boston in January.
In case the New England Patriots contend for the Superbowl, football season extends into January. To get to the Patriots' games easily, take the Patriot Train.
4. Plan a cruise
Did you know that most people book cruises during January? Must be the dismal weather. Leaving for cruises from Boston from the Black Falcon Cruise Terminal couldn't be easier, and you can pick from exciting itineraries.
Cruise from Boston to . . .
5. Go on a Tour - Despite the Cold!


Don't let nippy January weather keep you from touring the city! You may be surprised by the fascinating tours you can take even when the weather doesn't cooperate - luxurious dinner cruises on Boston Harbor (that's when I saw the gorgeous skyline sunset view in the above photo), walking tours of the historic North End, museum tours (free with museum admission, plus if you have a sightseeing discount card, entrance is free with your card). . . plus lots more! More about the best winter tours
Or, go on a self-guided tour along the historic Freedom Trail. Set your own pace, and if the temperature feels frosty, pop into one of Boston's many bistros and pubs to warm up and enjoy a bite of local fare.
Too cold to walk the entire Trail? Head for the warmer indoor sites - go inside Paul Revere's house in the North End, join a free tour of the USS Constitution, aka "Old Ironsides," in Charlestown, or explore history in the Old State House and Old South Meeting House museums in downtown Boston.
Even better - visit Faneuil Hall Marketplace, right on the Freedom Trail. You'll find plenty of great shopping (and maybe some great January sales). Festive holiday decorations usually provide good cheer until the end of the month.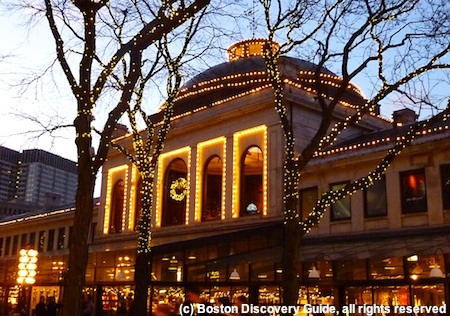 Lights at Faneuil Hall Marketplace
6. Capture some winter scenes
Right after a snowfall, the city can be at its most beautiful. Bundle up and go out with your camera to photograph the seasonal beauty. Check out Boston weather in January to know what to expect (hint: not every January day is cold!).
Commonwealth Ave mansions, photographed from Boston Common in January
7. Eat, drink, and be merry
Q. What are good things to do in Boston in January when weather gets really, really miserable? You know . . . howling winds, sub-zero windchill, and lead-gray skies?
A. Stay inside and feel miserable - no, wait! That's the wrong answer! The right one is to eat, drink, and be merry. The weather outside may still be lousy - but you'll no longer care.
How to do this? Here's the easy 3-step process:
1. Eat - Make reservations in one of the warm and inviting Boston Italian restaurants.
2. Drink - Participate in one of the Boston wine festival events underway this month - the Boston Wine Festival gets January off to an exciting start, and the annual Boston Wine Expo toward the end of the month gives you the chance to sample wines from the best wineries from around the world.
3. Be merry - Do Steps 1 and 2, and you'll feel quite merry.
8. Get theater tickets
The Boston theater season flourishes during the winter, with all kinds of wonderful shows and productions. Start your evening with dinner in a Theatre District restaurant, and check out more Boston nightlife afterwards.
Boston theaters along Washington Street in early evening
9. Go gallery-hopping
January can be the coldest month of the year, but that's no excuse to not get exercise and fresh air!
Back Bay is my favorite neighborhood for walking during January because it's flat - unlike, for example, the icy slopes of Beacon Hill - and along the commercial stretches, shop owners keep the sidewalks clear of snow and ice.
Even so, you need to build in some warming-up breaks - so pop into some of the Newbury Street art galleries. You'll see lots of wonderful art as well - and maybe you'll fall in love with something that you have to bring home with you.
And while you're in Back Bay, check out the fabulous Newbury Street shopping as well - especially since lots of big "SALE" signs usually appear up and down the street.
10. Check out free and cheap performances at local colleges
Among the 60+ universities and colleges in Boston and nearby areas, a number specialize in or offer strong performing arts programs. What that means to you, if you're visiting Boston, is a large number of free or very affordable performances, sometimes a dozen or more each night.
Best schools to check: Berklee College of Music, Boston Conservatory, Boston University, Emerson College, Longy School of Music, New England Conservatory - find their urls on our colleges page, and then look for the Events or Calendar link or listing on their home pages.
Like this Page? Please Share!
More to do in Boston in January (and February)
Top Boston Events Each Month!
Things to do in Boston in December | Things to do in Boston in February
Boston Discovery Guide > See & Do > Things to Do in January