Boston Parks, Gardens, Playgrounds
10 Top Parks and Recreational Spaces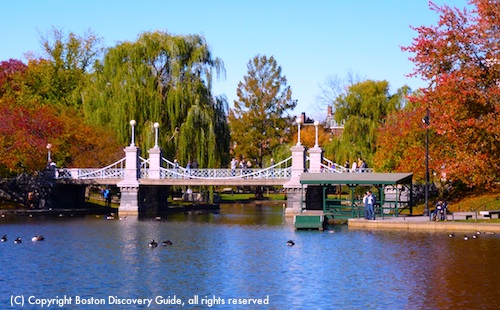 Boston parks, gardens, and open spaces cover almost 20% of the city's land - no wonder you'll see so much green in the summer! They give you the perfect chance to discover the real Boston - and what makes it so appealing.
You'll find parks and gardens, large and small, in every central neighborhood, along the waterfront, and even dotted across Boston Harbor.
Our biggest park of all is the Harbor Islands National Recreation Area, made up of 30 islands and 4 peninsulas.
In addition to being beautiful, our parks and gardens serve as stages for concerts, outdoor theater, and other entertainment.
They may also become your children's favorite places. Look for playgrounds, carousels, boat rides, ice skating, splash fountains, and plenty of space for throwing frisbees.
Although you'll find the most famous of these parks listed in guidebooks, others fall squarely into the Boston Insider Secrets category.
Need to know where to find them? Use the map of Boston parks located at the bottom of this page.
Famous Boston Parks and Gardens
Let's start with the most famous of all Boston parks, an expanse of almost 50 acres of slightly rolling hills right in the heart of Boston - a community gathering spot since Puritan times.
Boston Common
Visit Boston Common, the country's oldest park, for ice skating in the winter, Shakespeare on the Common in the summer, a Garden of Flags on Memorial Day, and a carousel. Kids love the "Tadpole" playground. The Duckling Day Parade kicks off here, and fireworks launch from the Common during the First Night celebration. More about Boston Common

Public Garden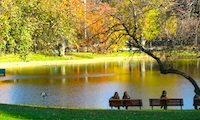 Just across Charles Street from Boston Common is the Victorian-era Public Garden. Join the other strollers, and admire the formal gardens, lovely specimum trees, and serene Lagoon. Take a ride on the Swan Boats, photograph your children at the Make Way for Ducklings statues, and enjoy impromptu concerts. More about the Public Garden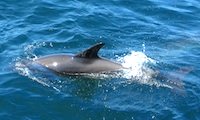 Unlike most other Boston parks, the Stellwagen Bank National Marine Sanctuary is blue, not green. Most of it will be invisible to you but whale watching cruises provide the best way to explore this special park and glimpse the fascinating marine life. Many Boston visitors consider one of these cruises to be the highlight of their trip.



Save on whale watching cruises with a Discount Card
GoBoston Card

51 ways to save up to 55%

On attractions, tours, cruises

CityPASS

5 top attractions in 9 days

47% savings
When you have a Boston discount card, you can get free admission to whale watch cruises, Fenway Park tours, the New England Aquarium, Boston Harbor cruises, and a lot more. Compare the discount cards to find out which one will work best for you.


Esplanade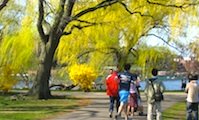 The Esplanade, stretching along the Charles River, hosts the popular Free Friday Flicks series throughout the summer, the world-famous Boston Pops concerts at the Hatch Shell, and Boston's spectacular July 4th fireworks. But it's also a great place to walk, run, ride your bike, and picnic. Find out more about what to enjoy on the Esplanade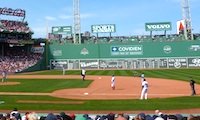 Ever since Fenway Park opened in 1912 as home field for the Red Sox, it's been the city's most popular sports park. True, it's not a "park" in the ususal sense - but whether you come for a Red Sox game, a Fenway Park tour, or to attend a summer star-studded concert, put it on your "must-see" list for your Boston visit. More about Fenway Park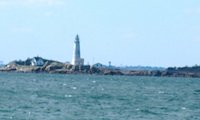 You can reach the closest of the Boston Harbor Islands in just 15 minutes - hop on a ferry departing from downtown, and you'll be whisked to Boston's largest park. Wade in tidal pools, go for a swim or a hike, explore historic Fort Warren, enjoy skyline views of Boston, go fishing. Or just read a book and listen to the birds sing. More about the Harbor Islands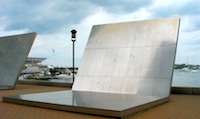 Harborwalk winds along the waterfront from Charlestown to South Boston, opening up a panorama of harbor views. Along the way, you'll find pocket gardens, benches for sitting, massive sculptures, the site of the Boston Tea Party, and top attractions such as the New England Aquarium, and wharfs where you can take a Harbor cruise.
Spacious plazas carved out of Harborwalk line the South Boston Waterfront. You'll find plenty of places to sit, relax, and enjoy the Boston Harbor views . . . or walk out on the piers and watch fishing boats unload. Explore the trendy new restaurants, especially Legal Harborside's terrific third floor outdoor patio overlooking the water.



Rose Kennedy Greenway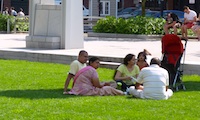 The Rose Kennedy Greenway stretches like a ribbon from the North End down to Chinatown, punctuated by a variety of different garden and entertainment themes. This is where you'll find a terrific vintage carousel during warm months, a huge splash fountain for kids to wade in, and plenty of places for a picnic. End your tour in Chinatown, and admire the Chinese motif gardens.

Copley Square
Located in the center of the elegant Back Bay neighborhood, Copley Square boasts several of Boston's most magnificent historical buildings: the Boston Public Library, Trinity Church, and super luxurious Fairmont Copley Plaza Hotel. You can enjoy informal summer concerts here, a weekly gourmet market, and events and performances in the square.
Boston's "Secret" Parks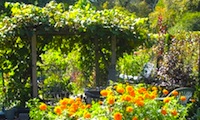 OK, maybe not all of these special places such as the famous Fenway Victory Gardens are a secret...but they do get overshadowed by Boston's more famous parks and gardens. And that's a shame, because each of them is special. Find out what you'll discover in these "secret" parks and gardens - and why you'll want to visit.




Want to know where to find all of these parks and gardens? You can find them on this map. Click here to open BDG's Map of Boston Parks in a separate window, and print a copy to bring along on your trip. As you'll see, all of the parks, gardens, and waterfront areas are within reasonable walking distance of each other . . . except for those that you get to by boat or ferry.



Boston Discovery Guide > See & Do > City Parks