The opulent Fairmont Copley Plaza Boston may be the grandest among Boston's Back Bay hotels.
However, it's also one of the most comfortable.
Built in 1912, the palatial Italian Renaissance Revival hotel is a historic landmark in Copley Square and epitomizes turn-of-the-century opulence.
Now part of the Fairmont Hotels group of luxury hotels, the Copley Plaza epitomizes glamour and refined taste.
You can even occasionally spot royalty and celebrities staying in Boston here.
The hotel is also a favorite location for filmmakers - see it in The Firm, Blown Away, and Bride Wars, to name just a few.
Pet lovers will appreciate the Copley Plaza's pet-friendly policies. You can also spend time with the hotel's canine ambassador, a sweet black Labrador named Catie Copley.
Top photo: Front entrance of the Fairmont Copley Plaza, (c) Boston Discovery Guide
Boston Discovery Guide is a reader-supported publication. When you buy through our links, we may earn a commission at no additional cost for you. Learn more
---
What You'll Experience at the Copley Plaza
"Boston's grandest, most palatial hotel"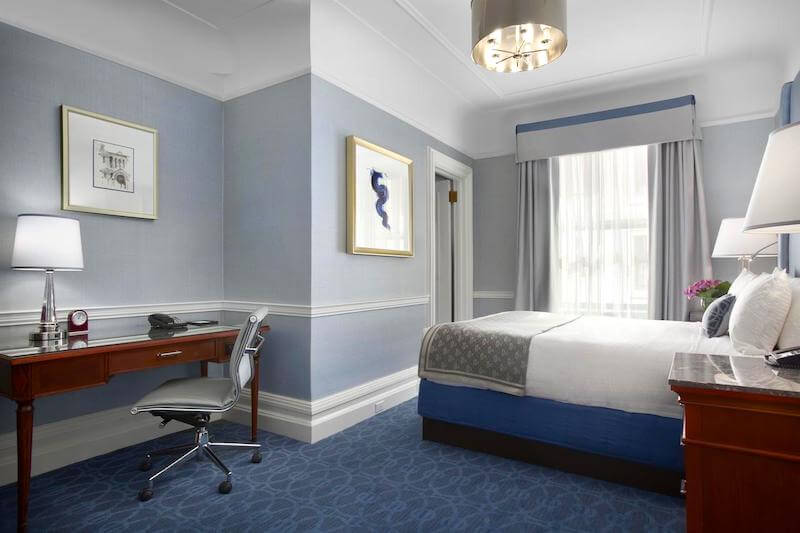 Walk into Copley Plaza's ornate lobby, and you'll think you're in a palace ballroom.
With marble, gold, mahogany paneling, ornate antiques, crystal chandeliers, Persian carpets, murals, mirrors, huge flower arrangements, and potted palms, it's over the top. And wonderful.
Be sure to see the Oval Room, with its gorgeous blue-sky-and-white-cloud painted ceiling.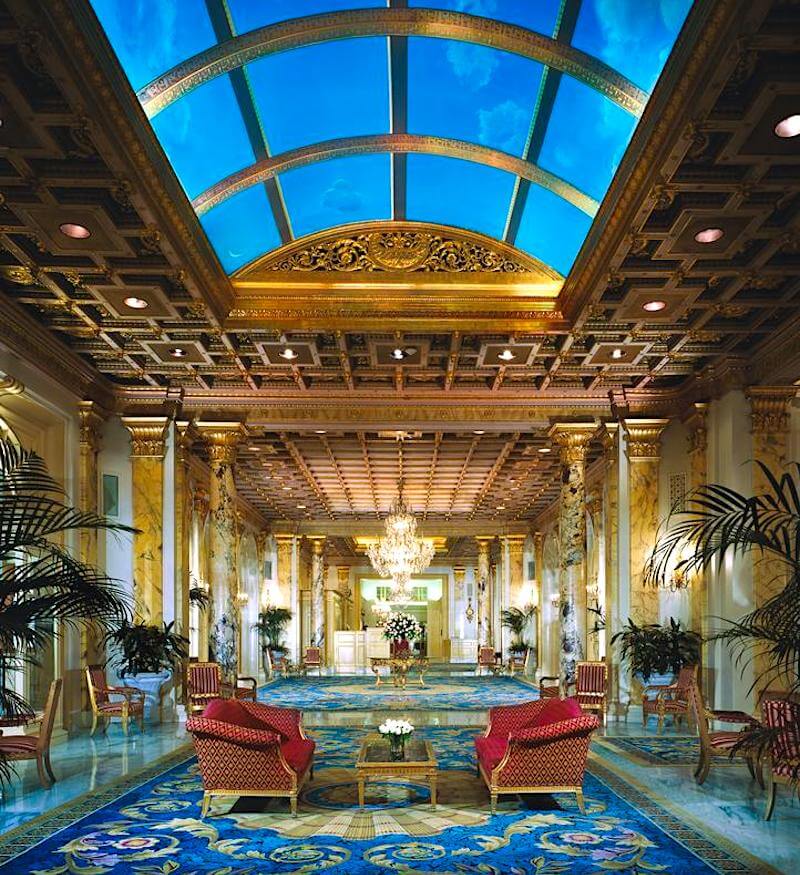 Famed American painter John Singer Sargent, who painted the murals at the Boston Public Library down the street, lived here in a suite from 1919 until his death in 1925 and added an angel to the Oval Room mural - but it was painted over during a 1940s renovation.
Almost every American President since the time of President Taft has stayed at the Copley Plaza.
All of the Copley's 383 guest rooms (including 17 suites) feature attractive furniture, luxurious fabrics, and high-end amenities such as plush robes.
Eight special themed suites feature Boston art and memorabilia celebrating Boston's history and heritage. While designing them, the Copley Plaza ensured authenticity by collaborating with local cultural institutions such as the John F. Kennedy Library and Museum, the Museum of Science, and the Sports Museum.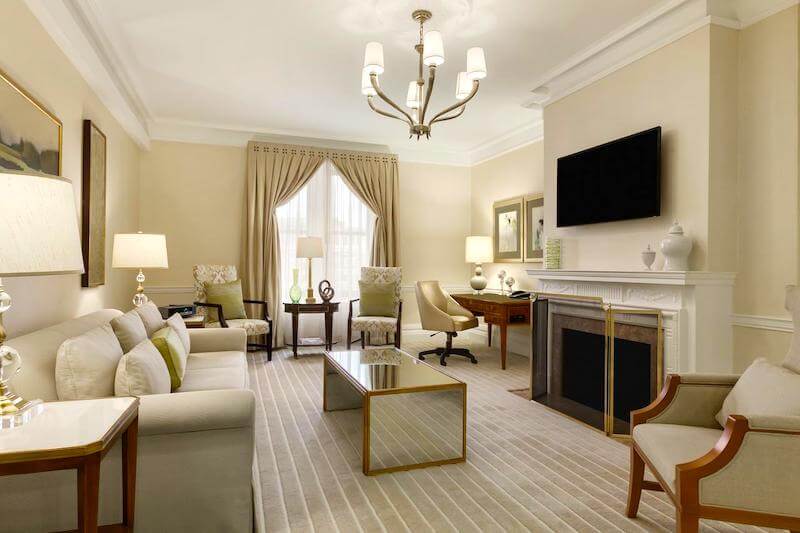 When making reservations at the Fairmont Copley Plaza, keep in mind that like many of Boston's older hotels, it offers rooms and suites in all sizes and shapes - and whether you're seeking a top-end luxury experience or a comfortable room at a budget rate, this can work to your advantage.
Smaller rooms may be available at lower rates, similar to what you might find in inexpensive Boston hotels. For the luxury suites, expect to pay top dollar.
If you get a great low rate for a small room . . . think of it as an affordable way to stay in a world-class hotel. And if you pay a higher rate, enjoy your experience!
Check rates and reviews for the Fairmont Copley Plaza Boston.
---
Attractions near the Fairmont Copley Plaza Hotel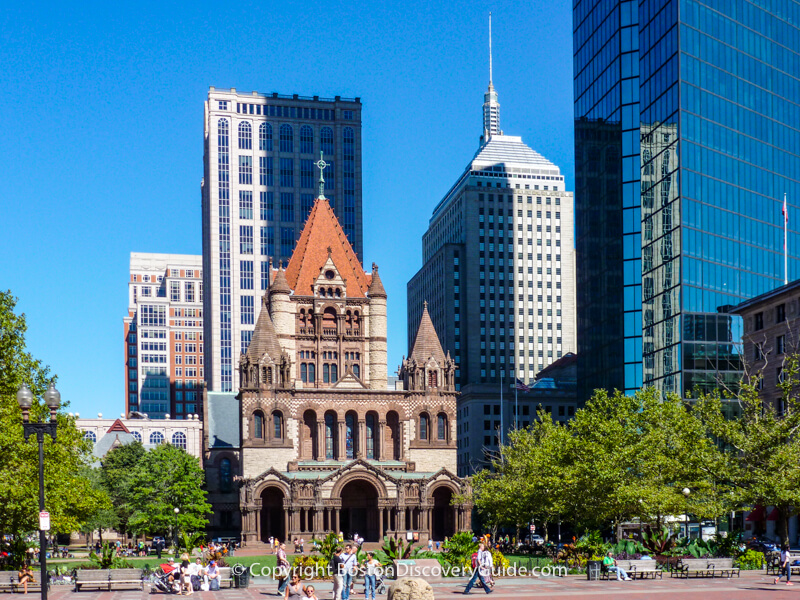 The Copley Plaza overlooks stately Copley Square in the center of Boston's exclusive Back Bay neighborhood.
To the left of the hotel, you'll see historic Trinity Church reflected in the shimmering glass sides of I.M. Pei's iconic John Hancock Tower.
To the right is the art-filled 1895 Renaissance Revival Boston Public Library - even if you have only 5 minutes to spare, be sure to see John Singer Sargent's famed murals.
On the other side of the Plaza is the Boston Marathon Finish Line, and beyond that, all the swanky boutiques and restaurants along Newbury Street.
If you're looking for a hotel in an ideal location for watching July 4th fireworks over the Charles River (be sure to ask for a room on an upper floor with a river view), cheering at the nearby Boston Marathon finish line, or enjoying First Night New Year's Eve activities, look no farther - the Copley Plaza offers you the perfect mix of location and comfort for all of these attractions.
Find cheapest rates and reserve your room
---
Fairmont Copley Plaza Hotel Parking
The hotel offers valet parking at rates competitive with other hotels in this part of Boston - currently $58 daily.
A cheaper option, if you don't need in/out service, is to drop off your bags at the hotel (give them a call if you need help with your bags) and then head to a garage offering daily rates. Check with the concierge before you go for suggestions.
An area garage offering relatively inexpensive (for Boston) daily, weekend, and night rates is the Boston Common Garage (10-12 minute walk).
A better (and cheaper) option is to not bring your car at all, if possible.
---
Boston Hotel Map Showing Fairmont Copley Plaza & Other Nearby Hotels
Enter your travel dates to get the most accurate hotel rates. If the Copley Plaza doesn't appear on the map, that means it's booked for your dates - so check out rates at other nearby hotels.
More about how to save on Boston hotels
---
More to Do & See in Boston
---
More Articles about Boston Hotels
---