Home > Top Boston Attractions >
Boston Attractions
Best things to do in Boston
Boston attractions range from duck boat sightseeing tours to whale watching cruises, from observation decks to historic neighborhoods, from fashion designer shopping on Newbury Street to historic markets, and everything in between.
To find a wide range of Boston attractions such as the Freedom Trail, the Boston Marathon, Duck Tours, Boston museums, and the waterfront, take a look below at Boston Discovery Guide's list of everything to see and do in Boston.
Or, if you're here for only a day or two and want to consider just the top, do-not-miss sights and adventures, go straight to our list of the Top Boston attractions.
To make the most of your time here, check out our recommended sightseeing tours.
And don't forget to check our Events Calendars, where you'll find even more attractions and things to do.
Rainy Day Activities
Pouring rain . . . ice storms . . . temperatures soaring to 100° with high humidity . . . thunderstorms . . . in Boston, you always need a few foul-weather options.
That's why you'll want to check out our list of 10 top rainy day activities. And don't forget to pack your umbrella.




Summer Activities
Activities for warm-weather fun in Boston:

- Sailing in Boston Harbor
- Boston bicycle tours
- Boston swan boat rides in the Public Garden
- Garden tours
- Boston beaches
More Boston Activities for Summer

Winter Activities
Boston Insider tip: Here's the secret to surviving Boston winter weather: go outside and enjoy it!
- Ice skating on Frog Pond
- Skiing at Massachusetts ski areas
- Head north for New England ski areas and even ski vacation resorts
More outdoor Boston winter activities
Or, stay inside and stay warm: 7 best indoor Boston winter activities
Sightseeing Tours
A wide range of sightseeing tours gives you a lot of interesting choices for getting to know the city. You can't miss the tour trolleys and Boston Duck Tours - the brightly colored vehicles Boston's downtown streets and the Charles River. Conductors entertain you with tales about Boston attractions as you pass by. Best of all, Boston sightseeing passes include some these tours.
If you're traveling with your family, be sure to check out our recommendations for tours for kids and tours for teens. You'll also love these fun tours!
More about Boston tours

Entertainment and Culture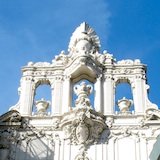 Enjoy world-class shows, drama, opera, and dance in Boston theaters, ice shows at TD Garden, and concerts at Symphony Hall and Jordan Hall.
Check out the latest Boston Theatre District shows and the current Boston Concert Schedule.
During July and August, theater moves outdoors for Shakespeare on the Common. For more entertainment options, check out Boston movie theaters and comedy clubs.

Boston discount passes - save on attractions
GoBoston Card

51 ways to save up to 55%

On attractions, tours, cruises

CityPASS

5 top attractions in 9 days

47% savings
Compare Boston discount passes for Prudential Skywalk Observatory, New England Aquarium, Museum of Science, Museum of Fine Arts, Boston Harbor tours, Tall Ships cruises, Salem Witch Museum tour, Plimouth Plantation, and many other top Boston attractions, tours, and cruises.
Waterfront
Fun ways to enjoy Boston's waterfront:
- Walk or jog along the Boston Esplanade
- Take the subway to one of the nearby Boston beaches
- Stroll along Harborwalk, the shoreline path
- Go sailing in Boston Harbor and the Charles River
- Take a Boston cruise



Whales
Just a few miles from Boston is a different world, and a whale-watching cruise will take you there.
Stroll down to the city's wharfs, and hop on a cruise boat. Soon, you'll be watching as finback and humpback whales gather at nearby coastal feeding grounds. Don't forget your camera!
More about Boston whale watching cruises


Museums

30+ Boston museums showcase everything from antique cars to electric cars, ancient fossils to cutting-edge biotech, the Boston Tea Party to the Boston Red Sox, and Egyptian relics to avant-garde artists.
Boston discount cards will give you free admission to many of these museums.
New England Aquarium


A huge ocean tank soars 3 floors high in the center of the Aquarium, located on Boston's Downtown Waterfront, providing an ever-changing panorama of sea life.
With penguins, seals, and many special exhibits, the Aquarium is a special favorite of kids and teens.
More about the New England Aquarium



Boston Sports Events
Sports fans, get ready to enjoy some of the biggest Boston attractions - Boston Red Sox, Boston Bruins, Boston Celtics, and New England Patriots.
And don't forget the Boston Marathon in April, Head of the Charles Regatta in May, Dragon Boat races in June, and the Head of the Charles Regatta in October!
More about Boston sports




Can't attend a Red Sox game while you're here? Do the next best thing - tour historic Fenway Park.
Visitors take this tour have call it the "highlight" of their trip to Boston.
Sit on top of the Green Monster, tour the dugouts, the bullpens, the Hall of Fame Room, and more.
Boston Marathon
Famous through the world, the Boston Marathon takes place each year on the 3rd Monday in April.
Watch the race along the Boston Marathon Route - or check the Boston Marathon qualifying times if you want to run. If you're visiting for this event, find out about the best Boston Marathon hotels.
More about the Boston Marathon


Observation Decks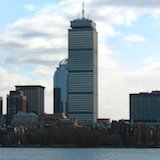 Head to Prudential Skywalk observatory for spectacular views of Boston - use your Boston discount card for free admission, and be sure to bring your camera!
Alternately, dine at Top of the Hub for the same view.
More about the Prudential Skywalk observatory and other Boston observation decks




14 Top Boston Attractions
Planning a visit to Boston and not sure where to start?
Take a look at our list of 14 Top Boston attractions
Pick whatever interests you the most.
Use our Boston sightseeing map if you want to look at locations.
More about Boston vacation planning



Freedom Trail
Boston's Freedom Trail takes you on a 2.5 mile walk through history. Follow the Trail's red stripe to visit 16 sites where America's fight for liberty happened.
Don't want to do the whole Trail? No problem! Pick just a few sites. The Trail goes through fascinating parts of the city - so plan to enjoy restaurants and shopping along the way.
More about what to see along the Freedom Trail
Boston Film Festivals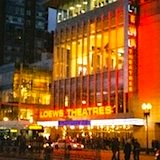 Boston hosts over 2 dozen film festivals throughout the year,attracting top directors, producers, actors, and enthusiastic fans to explore every film genre imagineable.
Whether you love sci-fi, indie, foreign, ethnic, documenaries, old, or latest films, you're sure to find a festival of interest.
More about Boston Film Festivals


Boston Harbor Islands
Leave Boston and go to the Islands . . . the Harbor Islands, that is.
Hop on a ferry at Long Wharf, and head out to this gorgeous offshore park, one of the best Boston attractions.
You'll find gorgeous sandy beaches, a Civil War fort, miles of hiking trails, picnic areas, and even camping grounds.
More about Boston Harbor Islands


Parks and Gardens
Boston's parks don't just look pretty - they're also the center of lots of activities and events - gala celebrations on July 4th and New Year's Eve, impromptu concerts, Swan Boat rides and Harbor cruises, garden tours, family picnics, and the famous Make Way for Ducklings statues.
You'll even spot the occasional wedding!
More about Boston's magnificent parks and gardens


Fall Foliage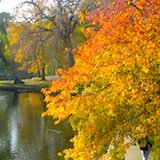 As summer turns to fall, brilliant autumn color blankets the city. Check out the best city locations to see gorgeous Boston fall foliage.
The easiest way to see color in the surrounding countryside, New Hampshire, Maine, and Cape Cod is to go on one of the famous fall foliage tours.
And to see the colors from a new perspective, go on a fall foliage cruise.



Libraries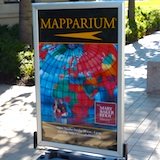 Boston has fascinating libraries for you to visit: the treasure-filled Boston Public Library, the Mary Baker Eddy Library and Mapparium, the visitor's gallery of the private Boston Athenaeum, New England Historic Genealogical Society's library, and the French Library at Alliance Francaise.
More Trails to Explore
The Freedom Trail may be Boston's most famous path through history, but other trails in this walkable city offer additional historic perspectives and insights about diverse groups and their contributions to the city.
More self-guided walking tours to try: the Black Heritage Trail, the Literary Trail, the Irish Heritage Trail, the Women's Heritage Trail.

Faneuil Hall / Quincy Market
This Freedom Trail site includes many shops in the Marketplace's historic buildings.
Enjoy mouth-watering local specialties in the Food Hall at Quincy Market or at nearby centuries-old historic taverns. You can also explore Haymarket, Boston's almost 200-year-old outdoor produce market, right around the corner.
More about Faneuil Hall Marketplace / Quincy Market


Boston for Free
Did you know . . . many of Boston's best events, experiences, and attractions are free (or almost free) all the time, and many others such as museums may be free some of the time.
Read our long list of all the things to do and enjoy in Boston without spending money.
More about what to do in Boston for free
Return to Top - Boston Attractions

Historic Houses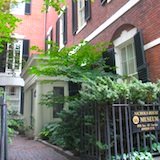 You can tour houses from many periods: Colonial style Paul Revere House, Georgian style Longfellow house in Cambridge, Federal First Harrison Gray Otis house, Greek Revival style Nichols house, and Victorian style Gibson house are just a few of these Boston attractions.
More about Boston city neighborhoods.
Return to Top - Boston Attractions


Historic Taverns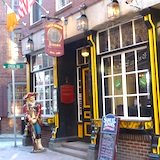 Boston clergyman Cotton Mather wrote in 1675, "every other building in Boston is an ale house" - not clear whether he complaining or bragging!
Today, 300+ years later, you can retrace the path of Boston's beer-drinking Founders and Patriots in historic taverns.
Or, you can also find plenty of sports bars, bars near Fenway Park, Irish pubs, and bars near TD Garden.


Holiday Celebrations and Parades
Boston has many holidays (some of them unique to this area), celebrations, and parades:
First Night New Year's Eve Celebrations
St. Patrick's Day Events
St. Patrick's Day Parade
Patriot's Day Commemorations
Memorial Day Events
4th of July Fireworks and Boston Pops Concert
Labor Day Weekend
Columbus Day Parade
Halloween Festivities
Veterans Day
Thanksgiving Events
Christmas in Boston
Check Boston Events Calendars for a complete list plus dates.


Best Things to Do in Boston Each Month
How to see more attractions and spend less
GoBoston Card

51 ways to save up to 55%

On attractions, tours, cruises

CityPASS

5 top attractions in 9 days

47% savings
Want to explore Boston attractions? Plan your next visit:
Like this Page? Please Share!