Home >
Boston's Winning Sports Teams
Red Sox, Bruins, Celtics, Patriots - & More!
If you're a sports fan, attending a "Big 4" Boston sports team game should be a "must" during your Boston vacation or visit. Watching our champions play could be your most memorable experience:
Our Boston sports culture (we pronounce that "culchah") adds to the fun.
You'll experience it in all the sports bars near Fenway Park, the Garden, and Gillette . . . our famous Fenway Franks that perfume the streets around the stadium . . . over-the-edge tailgate parties in Gillette's parking lot where fans boil whole lobsters, grill steaks, and chow down on huge pots of chili.
No matter what time of the year you're here, you'll almost always find an action-packed game going on at Fenway Park, Gillette Stadium, or TD Garden.
Top Picks for Getting Boston Sports Tickets
Get tickets for a game during your Boston visit and feel the excitement for yourself. It will be an unforgettable experience!
The Red Sox, Bruins, and Celtics play throughout the week at Fenway Park (Red Sox) and TD Garden (Bruins and Celtics). Walk to the games, take the subway, or even a cab.
The Patriots play at Gillette Stadium. Take the Patriot Train filled with other fans from Boston's North Station - couldn't be easier or more fun!
---
Boston Sports Teams
Boston Red Sox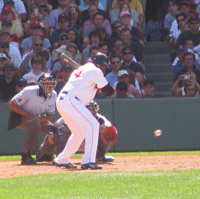 League: Major League Baseball (MLB), American League, Eastern Division
Home games: Fenway Park
Season: April - October

Red Sox at Fenway Park Photo Gallery
After winning the World Series in 2004, 2007, and again in 2013, the Red Sox sell out every home game. Here in Boston, we'recollectively known as "Red Sox Nation" due to our loud and obsessive support of the team, and possibly because of all the Red Sox logo clothing in our wardrobes.
Legendary players: Cy Young, Babe Ruth, Tris Speaker, Ted Williams, Dom DiMaggio
Photo courtesy of Kevin Dirksen
Essentials for Boston Red Sox Fans
Boston Bruins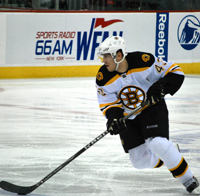 League: National Hockey League (NHL), Eastern Conference, Northeast Division,
Home games: TD Garden
Season: October - April
Boston Bruins Tickets
Winners of 5 Stanley Cups, 2 Conference championships, and 22 Division championships, the Boston Bruins have brought excitement to the ice since their formation in 1924.
Legendary players: Bobby Orr, Eddie Shore, Ditt Clapper, Dutch Gainor, Milt Schmidt
Winter Classic 2016 Info & Photos
Photo courtesy of Amanda
Essential Information for Boston Bruins Fans
New England Patriots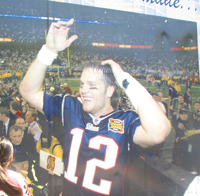 League: National Football League (NFL), American Football Conference, East Division
Home games: Gillette Stadium
Season: August - January
Get New England Patriots Tickets
Winners of 4 Super Bowls since 2001, the New England Patriots (usually just called "the Pats") are owned by Robert Kraft, who also owns the New England Revolution pro soccer team as well as Gillette Stadium itself. With Coach Bill Belichick at the helm and star quarterback Tom Brady plus a bunch of other stellar players, the Pats generate a lot of excitement among Boston sports fans.
With the Patriots making so many trips to the Super Bowl, we've become experts at how to celebrate. Find the best places to watch Super Bowl Sunday in Boston.
Legendary players: Gino Cappelletti, Babe Parilli, Jim Nance, Steve Grogan - plus the newest legend, quarterback Tom Brady
Essential Information for New England Patriots Fans
Boston Celtics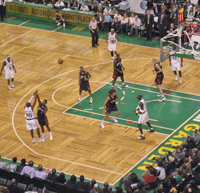 League: National Basketball Association (NBA), Eastern Conference, Atlantic Division
Home games: TD Garden
Season: October - April
Check Boston Celtics Game Schedule
Boston Celtics Tickets
Winners of 17 NBA championships, the Celtics attract large crowds and lots of excitement. Boston sports fans love to watch them beat their long-time rivals, the Los Angeles Lakers. Wear green and white to games to blend in with the crowd.
Legendary players: Larry Bird, Bill Russell, Bob Cousy, Tommy Heinsohn, Reggie Lewis
Photo courtesy of Adam Pieniazek
Boston Sports Beyond the "Big 4"
Beyond Boston's Big 4 professional sports teams, 5 lesser-known teams provide a lot of action and fun, especially if you're a fan of one of their sports. Another plus: affordable ticket prices.
New England Revolution - Men's Major League Soccer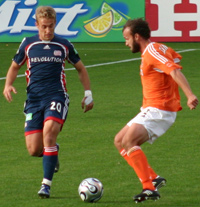 League: Major League Soccer (MLS), Eastern Conference
Home games: Gillette Stadium
Season: March - October
Winners of the 2007 US Open Cup, the Revolution plays in Gillette. Rival fan clubs provide more entertainment - watch the Midnight Riders and the Rev Army occupy areas nicknamed "The Fort" at the north end of the stadium.
Rev players drew extra cheers in 2008 when they prevented a passenger from opening an emergency exit mid-air on their American Airline flight to LA.
Photo courtesy of Jarrett Campbell

Boston Breakers - Women's Professional Soccer
League: Women's Professional Soccer (WPS)
Home games: Harvard Stadium, Allston
Season: April - August
Tickets: Breakers tickets are sold by phone at 781-251-2100, on-line through the Breakers website (womensprosoccer.com/boston), and at the Harvard Stadium Box Office (open on game days only)
Founded in 2000 as part of a different league that dissolved in 2003, the Breakers rose again in 2007. Although the team is still gaining strength, they're becoming known for their support of many Boston area youth soccer activities and camps, and their encouragement of young players such as my younger daughter, whose price possession is a soccer ball signed by several Breakers!
Boston Cannons - Men's Lacrosse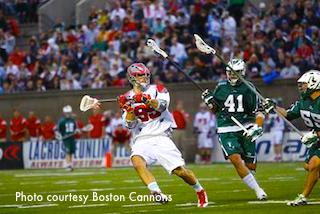 League: Major League Lacrosse (MLL)
Home games: Harvard Stadium, Allston
Season: May - August
Tickets: Cannons tickets are sold through Cannons website

Winners of 2 division championships, the Cannons formed in 2001 and have raised the profile of lacrosse in among Boston sports fans. They're strong supporters of community youth teams, and host lacrosse camps and events in the Boston area.
Boston Militia - Women's Football
League: Independent Women's Football League (IWFL), North Atlantic Division
Home games: Dilboy Stadium, 110 Alewife Brook Parkway, Somerville
Season: April - July
Tickets: Militia tickets are sold through Militia website
Winners of the 2009 North Atlantic Division championship. With tickets $10 ($5 Somerville residents, free for children 12 and under, seniors, high school students with ID), the Militia offer exciting action at an affordable price.
Boston Blazers - Men's Indoor Lacrosse at TD Garden
League: National Lacrosse League(NLL), East Division
Home games: TD Garden
Season: January - April
Named after a former but different Boston Blazers team that played from 1992 to 1997, the new Boston Blazers formed in 2007 to play indoor lacrosse but due to league disruptions, 2009 was their first season.
Where to See Boston Teams Play
Fenway Park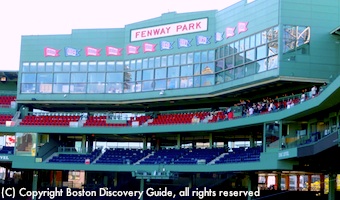 Built for the Boston Red Sox in 1912, Fenway Park is famous for its "Green Monster."
The Red Sox play all their home games at Fenway.
When the Sox are away, Fenway sometimes stages big-name concerts, like Paul McCartney.
Best of all, Fenway Park's in-town location makes it easy to reach by walking, subway, train, or car.
TD Garden
TD Garden is Boston's state-of-the-art sports arena / entertainment complex.
Home to the Celtics, Bruins, and Blazers, TD Garden is where you can also see concerts, performances such as "Disney on Ice," political speeches, wrestling and other sports events, and even the circus.
TD Garden replaces the old Boston Garden, and you'll hear both of them referred to as simply "the Garden" - not to be confused with the Public Garden, the Victorian-era park filled with flower gardens across from Boston Common.
Gillette Stadium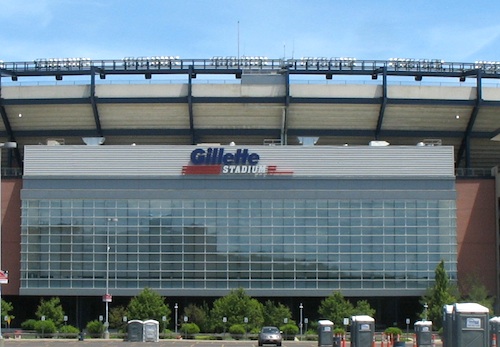 Seating almost 70,000 fans, Gillette Stadium is located in Foxboro, just 22 miles south of Boston.
It is part of Patriot Place, a fun-filled entertainment and shopping complex complete with its own hotel, many restaurants, and many sports-related stores.
The Patriot Place complex is owned by Robert Kraft - who incidentally owns the New England Patriots and the New England Revolution.
Not surprisingly, Gillette Stadium is home to the Patriots and the Revolution. It is also the site of occasional mega-star concerts, such as U2 and Bon Jovi.
Other famous Boston sports events
Boston Marathon
New England's most widely viewed sporting event, the Boston Marathon is held annually on Patriot's Day, the 3rd Monday in April. More about the Boston Marathon
You can join the hundreds of thousands of spectators along the 26-mile route from Hopkington to Boston's Back Bay neighborhood . . . or you can participate as one of the 25,000 runners . . . if you meet the qualifying times.
More to know about the Marathon: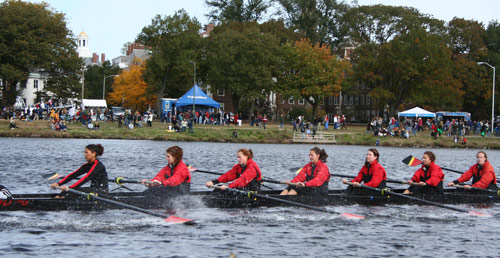 Photo courtesy of Nadia Chaudhury
7,500 athletics converve from all other the world on the 3rd weekend in October to compete in the world's largest 2-day rowing event, watched by 300,000+ spectators along the banks and bridges of the Charles River between Boston and Cambridge.
More about the Head of the Charles Regatta
Or, check the Boston Event Calendar for October for the exact dates.
Boston Beanpot Hockey Tournament
Begun in 1952 to provide some entertainment during a dull stretch in the Boston sports calendar, the annual Boston Beanpot Hockey Tournament pits 4 intensely competitive Boston college hockey teams together to find out who's the best.
On the first and second Monday night in February, sparks fly on the ice at TD Garden as competition among Boston College, Boston University, Harvard College, and Northeastern University rises to a fever pitch. Check the Boston Event Calendar for February for schedule and ticket information.
More for Boston Sports Fans
Like this Page? Please Share!
Boston Discovery Guide > Boston Sports