Cirque du Soleil brings its special mix of fantasy, magic, and imagination to Boston when the talented acrobats, performers, and musicians return to Suffolk Downs under their big tent with this year's spectacular new show: Under the Same Sky
Part art, part human circus, part extravaganza - nothing quite matches Cirque's fantastic blend of music, dance, choreography, and acrobatics.
You'll feel the thrill of the brilliant costumes, the soaring leaps of the dancer/acrobats, and the expansion of your imagination as Cirque du Soleil creates a fantasy world before your eyes, stretching the boundaries between real and unreal in a dazzling display of sound, color, and motion.
So bring your family and friends, and get ready to enjoy this fabulous show under the big tent!
Top photo: Cirque du Soleil Big Tent - Photo credit: Dino Denelli/Lance Lantash
What is Cirque du Soleil's Under the Same Sky About?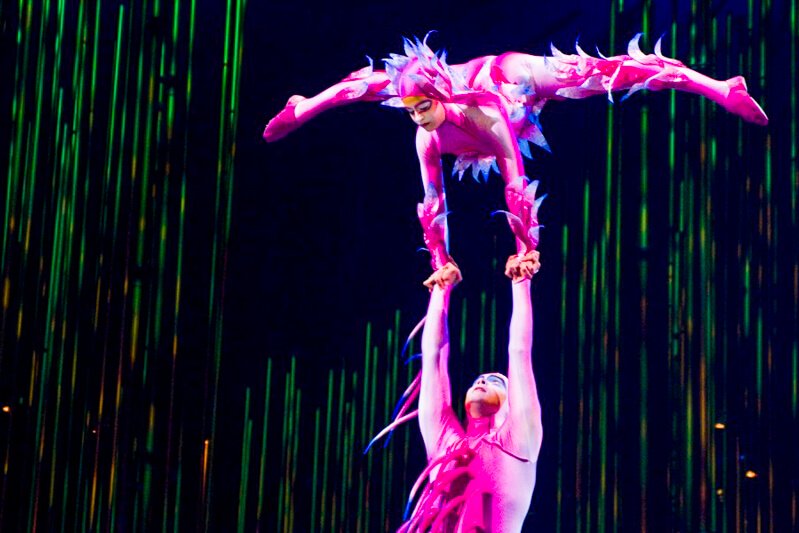 Cirque du Soleil's new Big Top production, Under the Same Sky, makes its U.S. premier in Boston at Suffolk Downs on August 29 - September 27, 2020.
This spectacular show, designed and directed by London-based visual artist Es Devlin, blends human acrobatic performances and visual art with a vibrant musical score to emphasize the importance of human interconnection and communal experience.
Get ready for dazzling performances, glowing colors, and a bold new approach to theater that will leave you feeling inspired and uplifted.
Cirque du Soleil Under the Same Sky dates: August 9 - September 27
Under the Same Sky location: Suffolk Downs, East Boston
Tickets for Under the Same Sky - Boston
TicketLiquidator Discount Code - Enter TLSUMMER to get 10% off orders, no minimum through June 30, and $10 off orders of $250+ through 8/31
TicketNetwork Discount Code - Enter TNTIX to get $10 off orders of $300+

How to Get to Cirque du Soleil at Suffolk Downs from Boston
Location: Suffolk Downs, 528 McClellan Highway, East Boston
Parking: Plenty of parking (for a fee) onsite
Nearest subway: Blue Line/Suffolk Downs; distance to Suffolk Downs clubhouse is about .3 mile - an easy walk - or take the shuttle bus from the station (look for the sign) to the clubhouse
Where to Stay near Suffolk Downs for Cirque du Soleil
Closest to Suffolk Downs, you'll find several reasonably priced hotels popular with Boston Logan Airport travelers. Just over a mile further is the spectacular Encore Boston Harbor Resort & Casino, where you'll sometimes find rates lower than you might expect.
Take a look at these hotel choices for your Cirque du Soleil stay:
Previous Cirque du Soleil Shows in Boston
Cirque du Soleil's Luzia at Suffolk Downs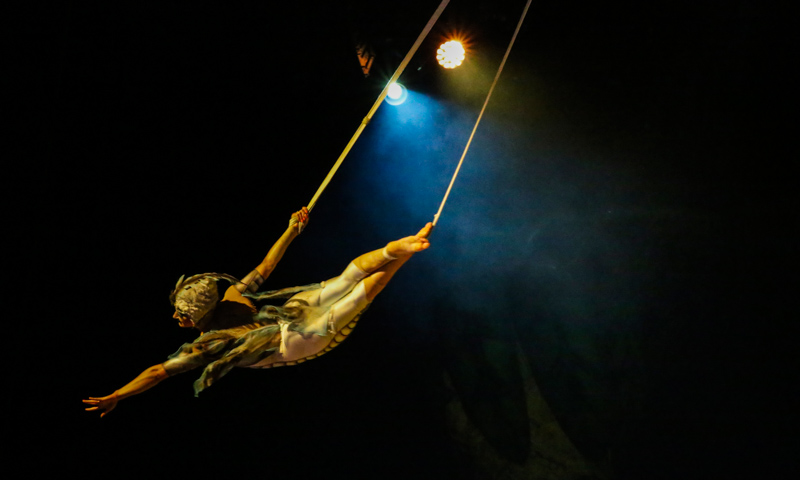 Story, Theme, & Music for Luzia
Inspired by the beauty of Mexican culture, Cirque du Soleil's breathtakingly beautiful Luzia comes to Boston's Suffolk Downs in a trio of connected tents specially designed for the performance.
Representing different aspects of the solar system, the tents immerse you in Luzia's magical world of light, water, surrealistic animals, beauty, and transformation.
As Cirque's acrobats, dancers, and performers dazzle your senses with their performances, you'll experience urban settings and the natural world, past and present, traditional culture and modern times, desert landscapes and underwater scents.
As always in Cirque productions, the music performed by live musicians casts a mesmerizing, hypnotic spell, while the spectacular set designs and stunning costumes dazzle your eyes.
Luzia will thrill your whole family - don't miss it while it's in Boston!
Cirque du Soleil's OVO at Agganis Arena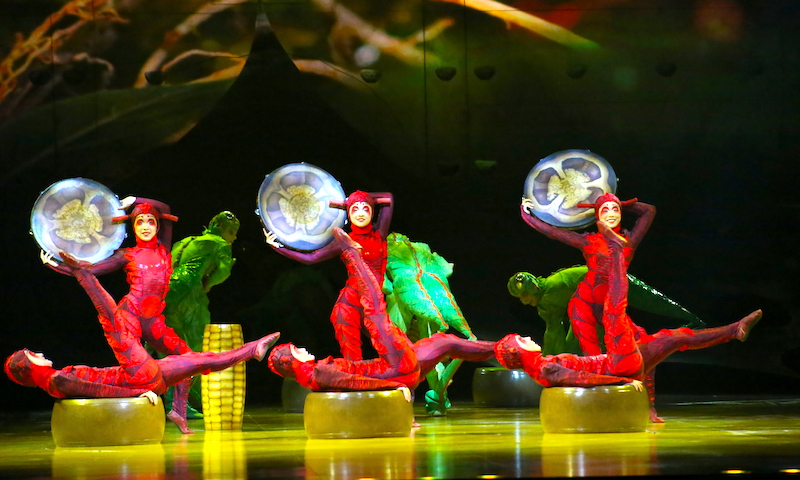 Cirque du Soleil's spectacular OVO comes to Boston on September 6 - 10 for seven dazzling performances at Agganis Arena.
OVO transports you to a magical ecosystem where colorful insects live, play, fight, and look for love until suddenly, a mysterious egg ("ovo," in Portuguese) appears in their midst. What happens next reveals the mysteries and cycles of their lives.
As in other Cirque du Soleil performances, music performed by live musicians, spectacular set designs, elaborate choreography, and beautiful costumes enhance the performers' dancing, acrobatics, and acting.
In OVO, bossa nova and samba combine with funk and electro music performed by a 7-piece band plus a singer. In addition to the giant egg, an enormous 30-foot mechanical flower blooms on stage, providing shelter, nourishment, and inspiration to the insects.
OVO will delight your whole family - don't miss it while it's in Boston!
Location: Agganis Arena, 925 Commonwealth Ave, on the Boston University Campus
Parking: Parking garages behind and near the arena - you'll see plenty of signs
Nearest subway: Green Line, Branch B - get off at the BU West stop
---
Where to Stay & Eat Near Cirque du Soleil, Plus More to Do
Agganis Arena
Agganis Arena is located on the western end of Boston University's campus.
If you want to see other Boston attractions before or after your show, getting to them is easy. The subway's Green Line/B Branch runs down the center of Commonwealth Avenue, so you can board it right in front of the Arena at the BU West stop and be at Fenway Park in less than five minutes, in Copley Square in 7-8 minutes, and on Boston Common in 10-12 minutes.
Or you can easily walk to all of these locations - from Agganis Arena to Boston Common is about a mile. Depending on how fast you walk, getting there on foot may be even faster than taking the T (subway).
Stay near Agganis Arena
These hotels are within walking distance of Agganis Arena, or just a short ride on the subway:
The Inn at Brookline - Mid-priced hotel about a 10 minute walk from Agganis Arena, with large (for Boston) rooms and suites - popular with families! - Rates & reservations
Buckminster Hotel - Budget hotel near Fenway Park; about 3/4 mile from Agganis Arena - walk or take the subway's Green Line - Rates & reservations
Residence Inn Fenway - Suites and included breakfast make this the perfect place for families. It's on Boylston Street near Fenway Park - but you can easily walk to Kenmore Square and take the Green Line to Agganis Arena (usually a less than 5-minute trip) - Rates & reservations
Because Boston is so compact, you can stay anywhere in the city and still not be far away. Use our Boston Hotel Guide to find recommendations by location, as well as bargain hotels, luxury hotels, etc.
To get to Agganis Arena from these hotels, just hop on the "B" branch of the subway's Green Line.
---
Where to Eat near Agganis Arena
If you want to grab a bite to eat (burgers, burritos, pizza) before or after the show, you'll find plenty of affordable casual choices along Comm Ave near the Arena, particular on the block to the west (away from downtown).
For more upscale dining:
Eastern Standard (528 Commonwealth Ave - several blocks east of the Arena) - Upscale French-style brasserie with a wide range of choices at different price points and a terrific bar
Island Creek Oyster Bar (in Hotel Commonwealth, 500 Comm Ave) - Renowned seafood bar featuring local seafood and produce - although you can also get a really good burger there
Restaurants near Fenway Park - In particular, check out the restaurants along Boylston Street, where you'll find everything from the city's best BBQ to a top chef's casual (and very affordable Greek) spot to sports bars and burgers. To get to Boylston Street restaurants from Agganis Arena, just walk or take the T (subway) to Kenmore Square and walk a couple of blocks south past Fenway Park, and you'll be on Boylston Street
---
More to Do Near Agganis Arena
Fenway Park - Catch a Red Sox game or go on a tour of the ballpark - More about Fenway Park
House of Blues - This laid-back concert venue near Fenway Park provides comfortable seating, serves up tasty food and drinks, and hosts well-known and rising artists across a wide variety of music genres - More about House of Blues
More Top Boston Attractions - From the Freedom Trail to the Make Way for Ducklings statue, Boston is bursting with interesting things to see and do. More about top attractions
More To See & Do in Boston
Find a Hotel for Your Boston Visit
Enter your dates to see available hotels and rates: