Boston Columbus Day Events 2015
Columbus Day, Games, Festivals
Statue of Christopher Columbus in Christopher Columbus Park in Boston's North End
Boston Columbus Day events provide lots of entertainment throughout the 3-day holiday weekend, which always includes the 2nd Monday of October.
In 2015, Columbus Day weekend includes Saturday October 10, Sunday October 11, and Monday, October 12.
A spectacular Columbus Day parade
, fall harvest festivals, sports events, and plenty of New England foliage add up to great ways to celebrate this quintessential autumn weekend.
Columbus Day is an official Massachusetts state holiday, which means state offices, banks, and schools are closed, but most other places including stores and shopping malls are open.
Huge Columbus Day sales make this one of the biggest shopping weekends of the year - so keep your holiday shopping needs in mind!
Visitors fill the city - so to get the best Boston hotel rates, this is a time when you'll want to make your reservations early.
Boston's Columbus Day Parade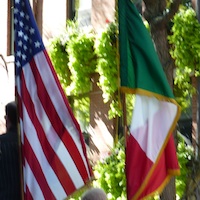 Boston's spectacular Columbus Day Parade features an eclectic mix of marching brass bands, military units and Colonial militias, Italian-Boston organizations, Duck Boat floats, politicians, other entertainers, and even vintage autos.
It always occurs on the Sunday before Columbus Day.
The parade celebrates Boston's Italian heritage, Christopher Columbus's expeditions to the Americas, and the commitment of Massachusetts military units to American freedom. Lots of local organizations, military corps, and high school marching bands provide fun and entertainment.
In odd-numbered years (2015, 2017, 2019), the parade kicks off in Boston and winds through the North End's narrow streets - Atlantic Ave, Hanover Street, Cross Street. In even-numbered years (2016, 2018, 2020), the parade marches down Bennington Street in East Boston, starting at the Suffolk Downs parking lot and ending up at Maverick Square.
Fall Foliage Tours
Fall foliage tours are a Columbus Day tradition, as brilliant leaf colors peak around this weekend in Boston and other Southern New England locations.
You can see some of the most breath-taking color in all of New England within an hour or two of Boston - and the easiest way to view the gorgeous leaves is on a foliage tour where someone else worries about the driving!
Find out about the best fall foliage tours departing from Boston.
Join a fall foliage sightseeing tour from Boston


Columbus Day at Christopher Columbus Park
ParkARTS hosts a fun Columbus Day Celebration on in beautiful Christopher Columbus Park overlooking Boston Harbor. Look for an interesting mix of local performers and entertainment, and lots of family-oriented activities.
Bring a picnic lunch to enjoy - or go for carry out at one of the nearby North End Italian bakeries or the Food Hall at Faneuil Marketplace almost directly across the Greenway.
If you're coming to Boston for the Columbus Day holiday, you'll find lots of terrific hotels near Christopher Columbus Park, Faneuil Hall Marketplace, and the North End.
Where to stay near Christopher Columbus Park
Fall Foliage Cruises
Fall foliage cruises to New England and Canada continue into October, and if you can carve a few days out of your schedule to go on one over Columbus Day weekend, there's no better way to enjoy this spectacular season!
Don't forget, though, that you can see plenty of color right in Boston. The Public Garden and the Beacon Hill neighborhoods are great places to start, but also check out our suggestions about the 7 Best Places for Seeing Fall Foliage in Boston.
ng fall foliage is a traditional Boston Colombus Day activity, and you can see plenty of gorgeous color without leaving the city.
If you want to head out of the city, Salem makes a great destination. Not only will you see gorgeous foliage, but you can also enjoy Salem's Halloween decor (on full display throughout October), witch museums, and historical sites.
Cranberry Harvest Festival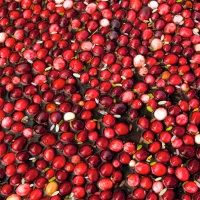 Cranberry harvesting takes place from mid-September through early November, making Columbus Day Weekend the perfect time for the annual Cranberry Harvest Celebration sponsored by the Cape Cod Cranberry Growers' Association.
This old-style family festival celebrates this favorite New England tradition with tours to a cranberry bog to see the harvest in progress, carnival rides for children, food vendors, artisans displaying their crafts, and the opportunity to buy super-fresh cranberries.
The largest cranberry grower in the country, A.D. Makepeace Company, hosts the festival at their welcome center in Wareham, about 30 minutes south of Boston.
Get dates and times for the Cranberry Harvest Festival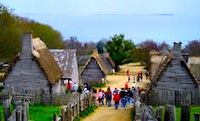 Only about a mile from the Festival's location in Wareham is Plymouth, site of Plimouth Plantation and Mayflower II.
These authentic reproductions take you back in time to when the first brave band of English Pilgrims sailed to the New World in the Mayflower and landed here to start a new life.
Costumed actors make you feel like you're really there among the settlers and the Wampanoags, the Native Americans who helped them survive. Get free admission to both sites when you have a GoBoston discount card.
Boston Bruins Games
Columbus Day weekend is a great time to catch a sporting event. This year, the Bruins play in 2 home games at conveniently-located TD Garden:
Saturday, October 11 - Bruins play the Washington Capitals at 7:00pm
Monday, October 13 - Bruins play the Colorado Avalanche at 1:00pm

Find ticket prices and best seats
Essential Information for Bruins Fans
Cape Ann Artisans Open Studio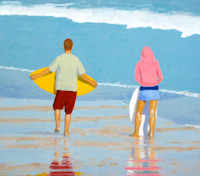 Combine an open studio tour with a trip to Rockport and Gloucester up on the Cape Ann coast less than an hour north of Boston.
Visit artist and artisan studios, open throughout Columbus Day Weekend, and enjoy the foliage and gorgeous coastal views in these quintessential fishing villages/artist colonies. See the October Events Calendar for dates, hours, and directions. (Photo shows painting by Rob Diebboll, 1 Camborne Way, Rockport (Stop 17 on the Tour)
Rent a car and drive up from Boston for the day - or spend the weekend walking along the beach, enjoying lobster dinners, and exploring local boutiques, galleries, and antique shops.
View Gloucester Hotels | View Rockport Hotels


Boston Theater on Columbus Day
Boston theater and comedy club performances get into full swing by October, and you'll find plenty of exciting options for Columbus Day weekend. Check the Boston Theatre & Shows Calendar to get ideas.
Half-price tickets become available for lots of shows close to the performance date. To get lists of available tickets and prices, sign up (free) with Goldstar Events. They'll send you a list of all the deals each week, and occasionally at other times when free tickets are offered.
Only a limited number of half-price tickets are usually available, so you need to move fast once you see what you want.
Return to Top - Boston Columbus Day Events
Columbus Day Sales
You'll find plenty of deals and steals all over the city at the big Columbus Day sales - the best time to begin your holiday shopping! Virtually all stores will have big Columbus Day sales underway. Use these Boston shopping suggestions to get started:
Things to Do with Kids on Columbus Day Weekend in Boston
Family-oriented activities to do with kids in Boston on Columbus Day weekend include:
Like this Page? Please Share!
Boston Discovery Guide > Events > Columbus Day