Thanksgiving Weekend Events in Boston - 2014
Top 10 Things to Do in Boston for Thanksgiving Weekend
Wondering what to do in Boston after Thanksgiving Dinner?
Here are the top 10 Thanksgiving events and activities in Boston throughout the holiday weekend.
If you're spending Thanksgiving in Boston, fun things to do take place throughout the long weekend: The Nutcracker, sparkling displays of Christmas lights at Faneuil Hall Marketplace, Black Friday bargain shopping and even a special Black Friday dinner cruise, and ice skating on Frog Pond.
You can even hit the ski slopes, especially north of the city. And of course, don't forget Thanksgiving Dinner!
Top 10 Thanksgiving Events in Boston
1. Thanksgiving Dinner in Boston restaurants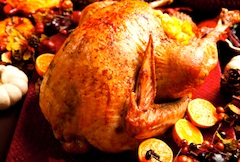 Turkey takes center stage as Boston restaurants serve delicious Thanksgiving Dinners - but you'll find plenty of non-traditional and vegetarian options as well. You'll find everything from elegant 3- and 4-course spreads to lavish buffets to casual venues. For something different, try one of the restaurants offering a la carte choices and even jazz.
Check our guide to great Boston Thanksgiving options and make reservations.
After dinner, work off those calories by exploring the Freedom Trail, strolling through Boston's Public Garden, or jogging along the Rose Kennedy Greenway.
2. Spirit of Boston Black Friday Sunset Dinner Cruise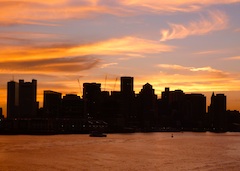 Relax and celebrate the day after Thanksgiving on this spectacular Boston Harbor sunset cruise on the Spirit of Boston. You'll enjoy a wonderful buffet dinner, dancing under the stars, and top-notch entertainers.
Here's what to expect: breath-taking views of the city skyline at night, non-stop enjoyment, and a memorable Boston experience.
More about the Black Friday Sunset Dinner Cruise on November 29, 2013
3. Christmas Lights at Faneuil Hall Marketplace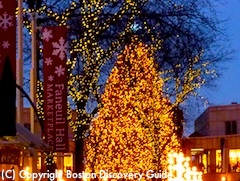 Get into the spirit of the holiday season by stopping by Faneuil Hall Marketplace, where a gorgeous Christmas tree and festive Christmas lights have been in place since the previous weekend.
Faneuil Marketplace is closed on Thanksgiving Day but open throughout the rest of the weekend. Friday will be crazy but fun due to Black Friday bargains and shoppers, one of the biggest post-Thanksgiving events in Boston. Shop for unique gifts with a Boston flavor, and enjoy the Marketplace's famous street performers. Visit historic taverns right around the corner and sample the authentic New England clam chowder at North 26.
More Faneuil Hall Marketplace events on Thanksgiving weekend - Blink! Boston's newest holiday tradition, How the Grinch Stole Christmas, and special performance by Keith Lockhart and the Tanglewood Festival Chorus.
Stay Nearby - Boston Hotels near Faneuil Hall Marketplace
4. Black Friday Shopping in Boston - Where to Go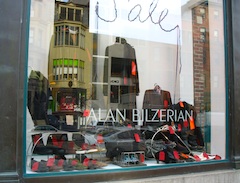 Black Friday shopping doubles as a competitive sport, so be prepared to get up early - really early - to snag the biggest bargains.
My personal pick for prime Black Friday bargain-scoring territory is Newbury Street where you'll find everything from designer boutiques to big-box discounters such as H&M. Look for big sales at nearby Prudential Center. For the biggest bargains, head down to Wrentham Outlets - but expect massive crowds, so go early.
More suggestions for Black Friday shopping in Boston

5. The Nutcracker at the Boston Opera House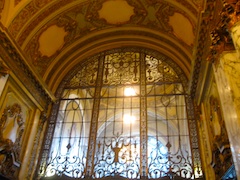 Get your holiday season off to a great start by heading to the Boston Opera House for a soaring performance of Boston Ballet's The Nutcracker.
Enchanting dancers, Tchaikovsky's magical music, and the beauty of the Boston Opera House will transport you to another world. Opening night is the Friday after Thanksgiving, and performances continue throughout December.
To choose the best seats, go to TicketLiquidator
.
Check Goldstar for half-price tickets (limited availability; sign up for alerts)



6. Top of the Hub Boston Views and Jazz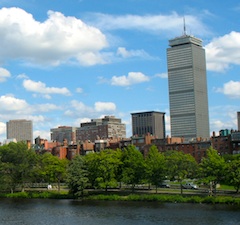 Missed Thanksgiving dinner at Boston's Top of the Hub Restaurant in Prudential Center?
Go at some other point during the weekend to hear the legendary jazz trios (normally after 8pm), enjoy sweeping 52nd floor views of Boston, and dine on delicious casual food in the Lounge.
Another way to enjoy even better views: head up to the 54th floor Prudential Skywalk Observatory, also in Prudential Center. Enter free when you have a GoBoston Discount Card.

Return to Top - Thanksgiving Events in Boston
7. Boston Concerts and Theater during Thanksgiving Weekend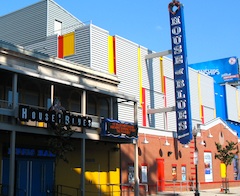 Top Thanksgiving weekend events in Boston include a variety of concerts and shows:

Nov 27-Dec 1:
- A Christmas Story @ Wang Theatre
Nov 29:
- NOFX @ House of Blues
Nov 29-Dec 1:
- Boston Ballet: The Nutcracker - Boston Opera House
Nov 30-Dec 1:
- Bill Cosby @ Wilbur Theatre
Nov 30:
- Bill Cosby @ Wilbur Theatre
- Pete Holmes @ Paradise Rock Club
- Epic Saturdays @ House of Blues
Dec 1:
- Megadeth, Fear Factory & Nonpoint
Get Theatre Tickets - Blue Man Group, A Christmas Story, The Nutcracker
Get Concert Tickets - All Thanksgiving Weekend concerts and shows
8. Ski Resorts Open on Thanksgiving Weekend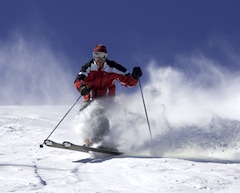 New England ski areas open on Thanksgiving weekend include: Killington, Stowe Mountain Resort, Loon Mountain, Bretton Woods, Sunday River (shown in photo, courtesy of Sunday River), and Sugarbush.
Several other resorts are a "maybe," depending on weather conditions: Jiminy Peake here in Massachusetts, Waterville Valley, and Sugarloaf.
Be sure to check conditions before heading to any of these ski resorts, because New England weather is tricky in November.
9. Boston Museums Open on Thanksgiving Weekend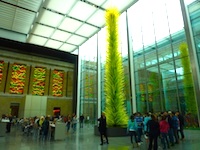 Boston museums are closed on Thanksgiving, but almost all major museums will be open for the rest of Thanksgiving weekend. Top museums to consider:
- New England Aquarium
- Children's Museum
- Museum of Fine Arts
- Museum of Science
- Boston Institute of Contemporary Art (ICA)


10. Plimouth Plantation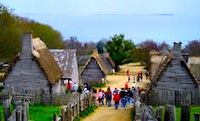 Visit the site of the first Thanksgiving by making a day trip to where the Pilgrims first landed and settled back in 1620: Plymouth MA, just south of Boston, where you can see the Pilgrim Monument, go on board a reproduction of the Mayflower ship that brought the Pilgrims to the New World, and explore Plimouth Plantation, an amazingly authentic re-creation of the Pilgrim's first settlement where you can interact with actors playing the role of each of the 17th century settlers and members of the Wampanoag Nation who helped them survive.
Most convenient way to visit: Join this special Plimouth Plantation tour - you'll be picked up at your Boston hotel, and will get to visit Plimouth Plantation, Mayflower II, and explore the waterfront. Includes pick-up, transportation, admission - a terrific deal!
Free admission to Plimouth Plantation and the Mayflower II when you have a GoBoston Discount Card. Note: Plimouth Plantation is open through Sunday of Thanksgiving weekend, and then closes for the winter, reopening in mid-March - so don't miss this last chance to visit in 2012!
Photo courtesy of Muns, distributed under the Creative Commons license.
Return to Top - Thanksgiving Events in Boston
Like this Page? Please Share!
More to Do on Thanksgiving Weekend
You may also like Boston's biggest events. . .
Boston Discovery Guide Home > Events > Thanksgiving Events