Fenway Park
Visit Fenway Park, home of the Boston Red Sox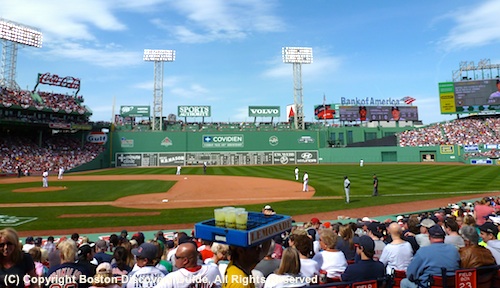 Red Sox play the Tampa Rays at Fenway Park on a perfect April day
The excitement begins even before you enter Boston's Fenway Park.
Anticipation electrifies the air.
You'll smell the Fenway Franks sizzling on the grills and hear our Boston accents.
Best of all, you'll join the huge crowds of Red Sox fans flowing through the streets toward the legendary ball park, hoping for another taste of victory.
Get ready to feel a thrill as you walk through the Fenway Park ticket gates and find your seat.
Look around, and you'll see the real grass on the field, the looming Green Monster, rows of red bleachers, and excited fans filling America's smallest major baseball league park.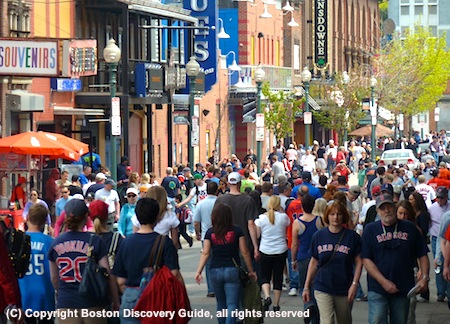 The Red Sox at Fenway Park
Fenway Park, home to the Boston Red Sox and all of the home town baseball fans collectively known as Red Sox Nation, occupies prime space right in the city's Kenmore Square area located - not surprisingly - in the Fenway neighborhood between Boston University and the ritzy Back Bay neighborhood.
The Red Sox play their home games at Fenway between April and October. You can find the Red Sox schedule here.
Or go straight to ticket information further down on this page.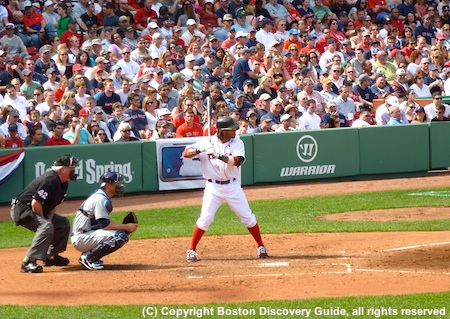 What makes Fenway Park so special?
"Fenway is a shrine. People come there to worship."
Bill Lee, Red Sox pitcher 1973-75, author of The Wrong Stuff, counterculture hero known as "Spaceman"
Fenway Park isn't just another ball park - it's a place that Red Sox fans consider sacred. It may possibly be the best-loved spot in all of Boston. The most loyal fans want their ashes scattered here someday.
But if you're coming for the first time, be warned: Fenway does not evoke awe when you look at it.
There's a funny story that someone will probably tell you about famed baseball champion Roger Clemens, who thought his cab driver had made a mistake when he arrived there for the first time in 1984.
The cabbie said, "Here it is," and Clemens said, "No, I want Fenway Park, it's a baseball stadium ... this is just a warehouse."
Only the sight of the huge light towers finally convinced him they must be in the right place.
You may think something similar when you see first see it, especially if you approach from the Yawkey Way or Brookline Ave sides. It does look kind of small.
That's part of its charm.
Once you're actually inside the park, it feels a little bigger but the first thing you'll notice is how intimate and human-scale it is. Fenway has the smallest dimensions of any major league baseball facility.
Close your eyes, and imagine the baseball greats of past seasons: Babe Ruth, Ted Williams (check out his statue later on Van Ness Street), Bobby Doerr, Cy Young, Carlton Fisk.
If you're used to huge stadiums in other cities, you'll be surprised, maybe even a little shocked, by how close to the action you'll be in Fenway Park.

Much of the seating is close to ground level and to the field. You'll see the players, hear the crack when ball meets bat . . . you'll feel part of the game. You can sometimes even smell the grass as the players walk across it.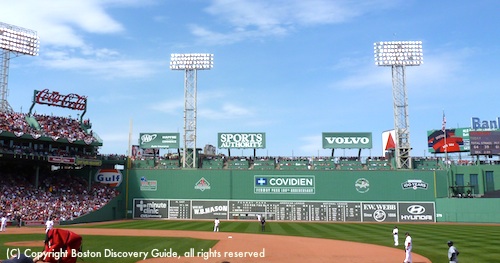 The Green Monster, behind 3rd base
The next thing you'll notice - you can't miss it - is Fenway Park's legendary Green Monster, the tall green left field wall. Why is it so high?
Well, the left field is so short that if the Green Monster were lower, balls would sail right over the wall into the neighborhood. This is what happens when you try to squeeze a baseball field into an existing neighborhood that doesn't have quite enough room for it. Of course, on the other hand, it's really convenient to have a major ball park right in the middle of the city.
At Fenway, you can also see the last hand-operated scoreboard in the Major Leagues. Red and green lights signal balls, strikes, and outs.
The scoreboard, at the bottom of Fenway Park's Green Monster
Exactly how big is Fenway?
If you're used to seeing huge sports arenas, Fenway will surprise you.
At ground level, Fenway looks just like the rest of the neighborhood - a bunch of red brick buildings formerly used as factories, warehouses, and small businesses.
And it is small compared with other ball parks.
How small? Going from left to right:
Left field line = 310 feet (94.5 meters)
Left center field = 379 feet (115.5 meters)
Deep center field = 420 feet (128 meters)
Deep right field = 380 feet (115.8 meters)
Right field line = 302 feet (92 meters)
Now for a few vertical dimensions:
The Green Monster (a.k.a. left field wall) = 37 feet (11.3 meters)
Center field wall = 17 feet (5.2 meters)
Bullpen fences = 5 feet (1.5 meters)
Right field fence = 3 to 5 feet (.9 to 1.5 meters)
But perhaps best of all, it's just a ballpark. You won't find all the extraneous stuff like gargantuan jumbotrons and huge videoscreens that deck out newer stadiums. At Fenway Park, the focus is where it should be . . . on the game.
Well...maybe also on the food.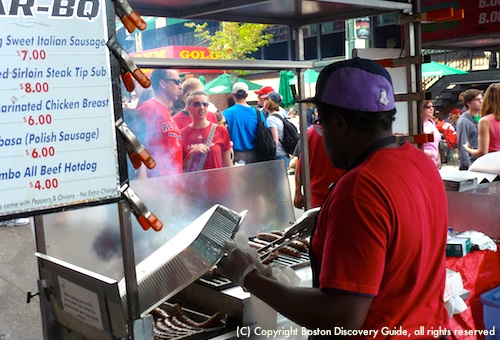 Boston Insider's tip about Fenway food:
Don't miss your chance to try the mouth-watering kielbasa and sweet Italian sausage
How many people does Fenway hold?
Fenway's official capacity is 35,692 for day games and 36,108 for night games. The biggest crowd ever to pack the park was 47,627 back on September 22, 1935, when the Red Sox played a doubleheader against the New York Yankees, although crowds nearly that large were typical during the early 1930s.
The huge crowds came to an end after 492 people died less than a mile away in 1942 when a horrific fire swept through the overcrowded Cocoanut Grove, a nightclub in Boston's Bay Village neighborhood. This tragedy led to the creation of more stringent fire codes in Boston and across the nation.
Ticket Tips & Fenway Park Seating Chart
Tickets to Red Sox games at Fenway can be hard to get - all home games since May 15, 2003 have sold out. If you want to watch a game while visiting Boston, get your tickets as soon as you know your schedule to avoid disappointment.
What if the worst happens and the game you want to see is sold out?
You have several options:
Get your Red Sox tickets through a broker. Two with good reputations here in Boston, plus good guarantees, are AceTicket (they have an office practically next to Fenway Park if you need to pick up) and TicketLiquidator.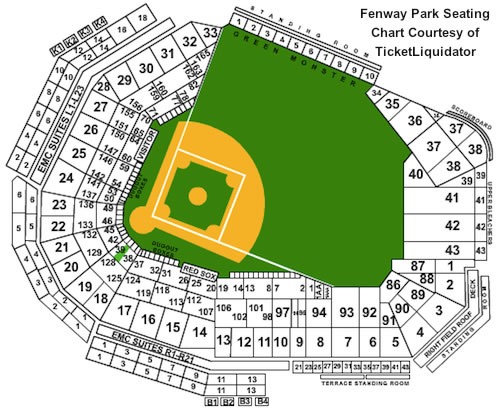 Fenway Park seating chart courtesy of TicketLiquidator
.
Try for a Game-Day ticket. A limited number of tickets are sold two hours before each game at Gate E on Lansdowne Street, and you can start to line up to get them five hours before game time. There are rules: you have to remain in line (no holding places for anyone else), you can buy only one ticket, and you have to go into the stadium as soon as you buy it. If you don't score one . . . well, keep reading. Read about my Game Day Ticket experience
Watch the game on the big screen at one of the Boston sports bars near Fenway. Or head to Bleacher Bar under Fenway on Lansdowne Street and gaze out on the field at ground level; time limits apply, but at least you'll get to see a bit of the game.
Experience Fenway first hand - although not when a game is underway - by going on a Fenway Park tour.
Attend a concert or other event in Fenway - of course, not on game days. Since 2003, Fenway Park has been the venue for two concerts each year by big-name performers such as Bruce Springsteen, Aerosmith, the Rolling Stones, and Paul McCartney. They usually take place during the summer - July or August.
Fenway Park Map
Return to top of page
A Fenway Park Tradition on Marathon Day
Any ball field as old as Fenway has more than its share of legends and traditions . . . not to speak of superstitions and magic.
One of the best Fenway traditions is that a first home game is always scheduled to fall on Patriots Day, a Massachusetts state holiday that is celebrated on the third Monday in April.
Patriots Day also happens to be the day of the Boston Marathon. The Red Sox time their opening pitch of this first home game for 11:05, just as the first runners start panting by on Boylston Street. When the game ends around 1, the crowds pour out of Fenway to cheer on the runners.
Fenway - Built just for the Red Sox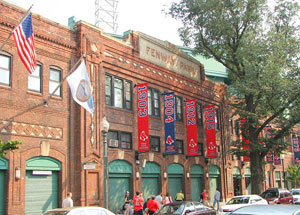 Fenway Park opened in 1912, becoming the new home of the Boston Red Sox.
Red Sox owner John I. Taylor got tired of the leasing the Huntington Avenue Grounds (now occupied by part of Northeastern University) and built a ball park specifically for his team on land that he already owned. He named the field after the Fenway neighborhood where it's located.
Perhaps if he'd owned just a little more land, the Green Monster wouldn't have been necessary. But fortunately for the quirkiness that makes this one of America's most beloved ball parks, he didn't.
The first professional game in the new ball park was played on April 20th, against the New York Highlanders, which later became the New York Yankees. With 27,000 fans watching, he Red Sox won, 7-6 in 11 innings.
After a 1934 fire damaged most of Fenway Park, a metal wall replaced the original 37 foot wooden left field wall. A couple of years later, workers attached a 23 1/2 foot screen to the top of the left field wall in order to give better protection to the windows of businesses along Lansdowne Street.
Finally, green paint was used in 1947 to camouflage advertisements covering the wall - and the Green Monster was born.
Through the years, additional seats have been added here and there. Actually, since 2002, Fenway's capacity has increased by 5,000, including premium seating on top of the Green Monster in 2003 and new seats along the right-field roof in 2009. But otherwise, Fenway Park remains about the same - strange shape and all. It's the oldest Major League stadium still in use in the United States.
Of course, improvements do happen.
When the current ownership team of Larry Lucchino, John Henry, and Tom Werner bid for the team in 2002, they were the only group among the 5 bidders who pledged to preserve Fenway. A lot of people thought they were crazy.
But now, fans applaud the annual improvements and modernization that the owners and their architect, Janet Marie Smith, have made each year while still retaining the charm and unique historical character of this beloved ballpark.
Now, the renovations, which have cost about $150 million, are almost complete. Seats and other areas have been waterproofed, plumbing modernized, concessions upgraded, a restaurant added . . . but Fenway Park is still, well, Fenway Park. CEO Lucchino has said, "From Day One, the mission of this ownership group led by John Henry and Tom Werner has been to protect and preserve America's most beloved ballpark for the long term."
They've succeeded.
NHL Winter Classic at Fenway Park
In recent years, special events such as rock concerts have become a new tradition at Fenway.
But for the first time every, in December 2009, Fenway transformed into an ice rink for the NHL Winter Classic held on January 1, 2010 with a sell-out crowd.
The Boston Bruins played the Philadelphia Flyers, making a late-game goal that tied the score 1-1. Less that 2 minutes into overtime, the Bruins' Marco Sturm slammed home the puck to win the game 2-1.

Winter Classic 2010 at Fenway Park - January 1, 2010
Photo courtesy of Eric Kilby

Also for the first time ever, over 3,000 lucky Boston residents got to skate at Fenway in 2 public skating events. Still others got to participate in private skating events. Read how one skater describes the magical experience of skating at Fenway.
Insider Tips
Fenway Park inspires a lot of writers. Here are a few lines from one of my favorites, John Updike's essay entitled "Hub Fans Bid Kid Adieu," published in The New Yorker on October 22, 1960. To read the entire essay, just google the title.
"Fenway Park, in Boston, is a lyric little bandbox of a ballpark. Everything is painted green and seems in curiously sharp focus, like the inside of an old-fashioned peeping-type Easter egg. It was built in 1912 and rebuilt in 1934, and offers, as do most Boston artifacts, a compromise between Man's Euclidean determinations and Nature's beguiling irregularities. Its right field is one of the deepest in the American League, while its left field is the shortest; the high left-field wall, three hundred and fifteen feet from home plate along the foul line, virtually thrusts its surface at right-handed hitters."
John Updike
Details and Directions
Address: 4 Yawkey Way, Fenway
Nearest T station: Green Line B or C/Kenmore; Green Line D/Fenway; Commuter Rail Worcester Line/Yawkey - if you're heading to Fenway from downtown, the Kenmore station is the closest

Like this Page? Please Share!
Boston Discovery Guide > Sports > Fenway Park