Boston Tours & Cruises
Duck Boats, Freedom Trail, Sightseeing, Whale Watching, Tours for Kids, & more!

Costumed Tour Guide on Boston Common, Part of the Freedom Trail Tour
Boston tours give you fun, unique ways to get to know the city.
You'll get an "insiders" perspective from your guide, and see places you might not discover on your own.
Whether you choose to tour Boston by bus, walking, our famous Duck Boats, a Harbor cruise, or trolley, there's no better way to quickly experience the best of Boston attractions and culture.
Here are lots of fun options for touring Boston:
Boston Sightseeing Tours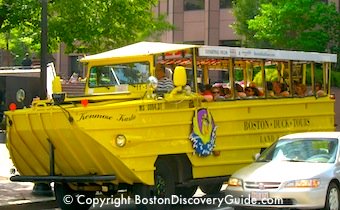 Let's say you have a couple of hours or even all day, and want to see the best of Boston. What are your options?
Check out these siteseeing tours to Boston's top attractions - by trolley, bus, bike, boat, or walking, led by entertaining guides. You'll see and learn a lot, have fun as you enjoy Boston's best sights. Bring your camera!
Find the Best Sightseeing Tours »


Boston Shore Tours & Excursions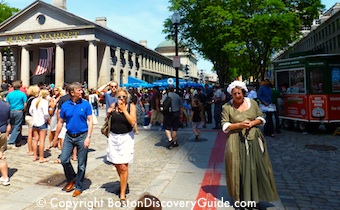 Visiting Boston while on a cruise?
You'll love the convenience of these shore tours and excursions. Read our recommendations for the best tours for first-time visitors and return visitors. And enjoy the convenience of being picked up at the Black Falcon Terminal for your action-packed sightseeing tour.
Learn more about these fascinating Shore Tours & Excursions »
Boston Tours for Kids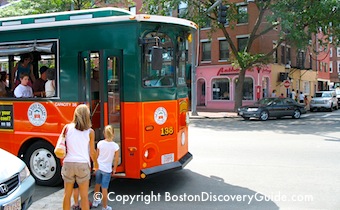 Your kids will love Boston when they get to take part in these fun tours. And let's face it - when your kids have fun, so will you!
Our recommendations include lots of interesting choices, chosen especially for kids (and you!). We also suggest a couple of great self-guided tours.
More about Boston Tours for Kids »

Boston Tours for Teens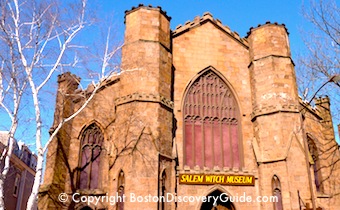 What do witches, chocolate, thriller cruises, movies, and ghosts have in common?
Two things: 1) they all related to Boston, and 2) teens absolutely LOVE them!
Traveling with teens is a breeze when they're happy and having fun - and that's easy with these tours.
More about Boston Tours for Teens »

Boston Trolley Tours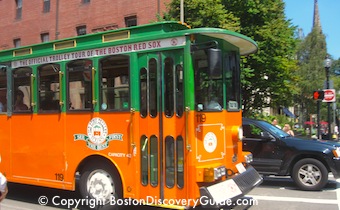 Colorful trolleys take you through the most interesting parts of Boston while drivers entertain and enlighten you about famous sites along the way.
Get off and get on at numerous stops along the way.
If you have only 1 day to explore the city, do it by trolley!
Boston Movie Tours
Choose from 2 popular formats - a seasonal walking tour, or a year-round bus excursion.
You'll visit dozens of Boston film locations you've seen on the big screen and on TV while tour guides entertain you with stories about how the shows were made.
Without a doubt, one of the most interesting Boston tours and a great way to get to know the city!
Find out more about Movie Tours, including how to get a 10% discount »
Boston Harbor Tours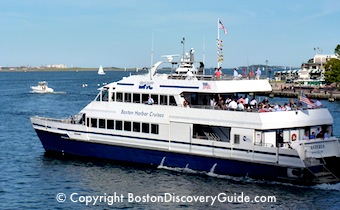 Boston Harbor cruises show you the city from a unique perspective.
From dinner cruises to tall ship adventures, from sightseeing tours along the coast to tall ship expeditions through the Harbor Islands, there's plenty to explore. Bring your camera!
More about Boston Harbor Cruises »
Check savings on tours using Boston Discount Cards
Discount passes give you BIG savings on tours, whale watching, Harbor cruises, and duck boat tours - they're the easiest way to save on Boston travel. The GoBoston card gives you free admission to 70+ cruises, tours, museums, attractions, and day trips. CityPass gives you get free admission to Boston's top attractions, including the Skywalk Observatory. With Go Select, you pick exactly where you want to go.


Boston Whale Watching Tours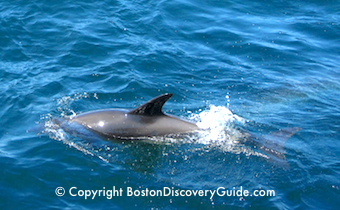 Only 25 miles offshore from Boston, you can watch whales and other fascinating ocean life in the Stellwagen Bank marine sanctuary. Boston whale watching cruises depart from the convenient downtown waterfront from April through November - and best of all, whale sightings are guaranteed!
More about Whale Watching Trips »
Boston Duck Tours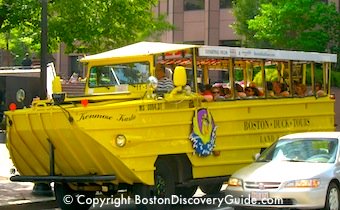 Cruise over land AND water during Boston's most unique sightseeing tour.
While an entertaining "ConDUCKtor" points out famous Boston sites, you'll tour historic Beacon Hill and other famous Boston neighborhoods.
Then... your "Duck" vehicle splashes down in the Charles River for a cruise!
Reserve Your Tickets for a Duck Tour »
Find out more about Boston Duck Tours »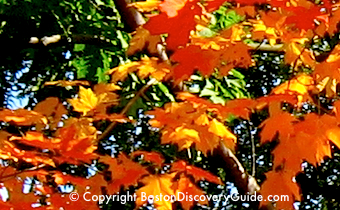 Tour the beautiful countryside near Boston as it blazes with crimson and gold. You'll tour the rocky Maine coast, small New Hampshire villages, and Cape Cod drenched in autumn colors.
Don't miss this carefree way to see spectacular New England foliage and scenery at their best!
These popular tours have limited space and fill up fast - so reserve your spot now!
Find out more about Fall Foliage Tours near Boston »
Greenway Walking Tours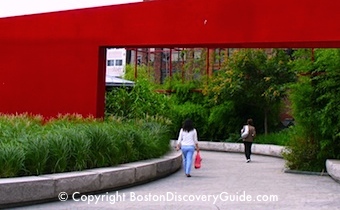 Boston's Rose Kennedy Greenway is make for walking. This self-guided tour lets you explore all five Greenway gardens along with Boston's rich history, culture, and geography.
You'll also find plenty of enticing detours along the way.
More about Greenway Walking Tours »


Boston Bike Tours
Touring Boston by bike is one of the most popular ways to see the city.
Find out about guide-led Boston bike tours as well as self-guided routes, plus where to find bike rentals and bicycle maps showing local trails. Get ready for sightseeing, fun, and exercise!
More about Boston Bike Tours »


Fenway Park Tour
See Fenway Park up close. Walk across the field of the famous ball park, smell the grass, and enjoy behind-the-scenes views of the Green Monster, the Hall of Fame, Pesky's Pole, the press box - you'll be in the same spot where the Boston Red Sox make baseball history. Free admission with the GoBoston discount card.
More about Fenway Park Tours »

Spirits of Charlestown Historic Ghosts Tours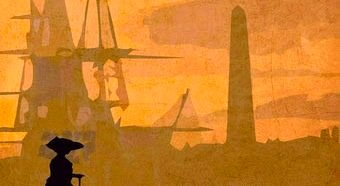 Suspend your disbelief and listen to the voices of famous and not-so-famous ghosts on this special historic ghost tour of Charlestown.
You'll hear about tavern life, Native Americans, Slaves, mariners, scandals, politics, privilege, and the birth of American Freedom as the Spirits share details about their long-ago lives on this carefully-researched 90 minute walking tour along the Freedom Trail in Charlestown.
More about these tours: www.spiritsofcharlestown.com


Freedom Trail Tours
The most famous of all Boston tours is the Freedom Trail - a 2.5 mile walk through history.
Do a free self-guided tour along the red line marking its course, or join one of the many guided tours. You'll visit sites central to American liberty while also seeing the best Boston attractions along the way.
More about Freedom Trail Tours »


Garden Tours of Boston's Secret Gardens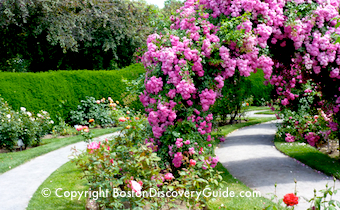 Tall brick walls hide many of the city's most beautiful gardens, and others are tucked away in places you might never find on your own.
In these special once-a-year self-guided garden tours and open gardens in Beacon Hill, the Victory Gardens in Fenway, the South End, and Cambridge, you get to explore these private paradises in lovely historical neighborhoods. Bring a camera!
Restaurant.com - Save 60% or More on Boston Restaurants
Boston Historical Tours - See Where History was Made!
With so many historical sites throughout the city and nearby areas, these specialized Boston tours give you a fascinating glimpse into other times and lives. And each spring, Patriots Day reenactments let you relive Paul Revere's ride and the opening shots of the American Revolution.
Check out the Patriots Day event schedule »
Boston Walking Tours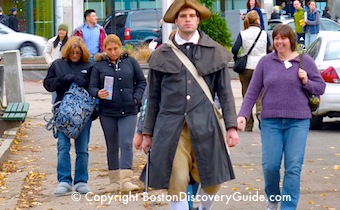 Although the Freedom Trail is the most famous, you'll find plenty of other walking tours focused on historical sites, fascinating city neighborhoods, and even specialty topics like food and photography.
Great to combine Boston sightseeing with exercise!
Like this Page? Please Share!
Boston Discovery Guide > See & Do > Tours