Boston Tourism and Discovery Guide Home >
Boston Children's Museum
What Will Your Children Love Most?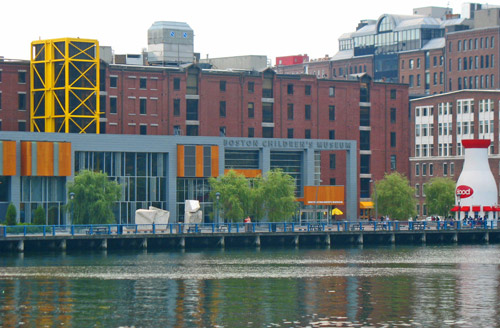 Boston Children's Museum and the giant milk bottle, on the Fort Point Channel
If you're planning a Boston vacation with your young children, a visit to the Boston Children's Museum should be near the top of your "must-see" list for Boston kids activities.
For the infant to 10 years old crowd, the Boston Children's Museum is the top favorite among all Boston museums.
Children love the hands-on interactive exhibits because they seem like a playground. Exhibits are designed to encourage children to explore and learn about the world around them.
The museum store is also terrific, especially if you're looking for reasonably priced games and crafts.
If you have a GoBoston discount card, you'll get free admission anytime.
5 top reasons to love the Boston Children's Museum
My own daughters supplied the first 4 reasons, which they tell me would rank high on a "best Boston kids activities" list, and I added the last one:
Huge maze ("New Balance Climb") - This series of connecting platforms, tubes, chutes, and tunnels starts on the first floor and soars 3 stories high. Children can climb through this for hours if you let them.
Johnny's Workbench (and, my daughters want me to add, "Joanna's Workbench" as well) - A real workbench with real tools and materials where children can actually build something . . . perhaps with just a little help from their parents.
Japanese House - The City of Kyoto presented this 100-year old silk merchant's house to the Boston Children's Museum in 1979. Japanese carpenters reconstructed it in Boston, and it is fully and authentically furnished. Japanese artisans recently repaired the 26 tatami mats.
Science Playground - Aspiring scientists can learn about physics and nature. Younger kids gravitate to the "bubbles" area but older ones zoom over to the golf ball area where they learn about momentum, velocity, and force as they send golf balls whizzing about a maze of tracks, which invariably they fly out of. Kids have lots of fun here . . . I always wish I had a helmet.
PlaySpace - Designed for infants and toddlers, PlaySpace provides safe climbing and playing opportunities for those who are still learning self-navigation. Infants have their own enclosed crawling space. There's even a waterbed for rocking and balancing.
What else will you find at the Boston Children's Museum?
Lots more exhibits and activities throughout the Boston Children's Museum, including special temporary exhibits, will keep you entertained.
In addition, "KidStage," a performance area, features professional actors and museum staff performing short plays that they invite the audience to participate in. Kids love the mixture of singing, dancing, comedy, and music. Special performances are also held here.
As an adult, you'll also enjoy the spectacular views of the Downtown Boston skyline and surrounding waterfront area from many spots in the museum. But the best sight will be of your children, playing happily and learning through play.
Restaurant.com - Save 60% or More on Boston Restaurants
Is the giant milk bottle part of the Boston Children's Museum?
Everyone wonders about the giant Hood milk bottle near the front of the museum on the Fort Point Channel.
Is it a piece of modern sculpture, making an ironic statement of some sort?
No . . . it's actually a snack bar. An ice cream maker built it from wood next to his store in Taunton, Massachusetts in 1933, where it became one of the first fast-food drive-in restaurants in the United States.
In 1977, local dairy products company H.P. Hood and Sons bought the 40 foot structure and donated it to the Museum. Tradition continues, as ice cream and snacks are still sold there during the summer. Definitely worth a stop - great ice cream.
In case you're an architecture buff, the iconic bottle is an example of what's officially called "Coney Island style." (I'm not kidding.)
Insider's Tips
Best ages - Children between about 3 and 9 will get the most out of this Boston museum. A 10 or even 11 year old can also have fun, especially if a younger sibling is along. Without a younger companion, most kids 10 and up will prefer the New England Aquarium, Harvard's Natural History Museum and MIT Museum in Cambridge, and Boston's Museum of Science. Kids of all ages will like the nearby Boston Fire Museum.
Museum Store - Although you'll find lots of interesting items here, the "recycling" area is a "don't miss" - full of scraps of fabrics, plastics, paper, strings, and more. Fill a bag and pay by the pound.
Food - No food is allowed in the exhibit areas, but you will find a small lunchroom on the first floor where you can eat if you bring your own food.
Near the museum you'll find Flour Bakery and Cafe, one of the city's best bakeries/sandwich shops, at 12 Farnsworth Street, right behind the museum. (Boston Insider Tip - skip the healthy salads and wraps, and go straight for the pecan-studded sticky rolls, the best you'll ever eat anywhere.)
Two other favorites are Barking Crab (although if it looks crowded and your children are already cranky from hunger, go somewhere else with faster service) and James Hook, where you can get carryout lobster rolls and clam chowder and head to their picnic tables.
Check the Boston Cheap Eats page for other inexpensive suggestions in nearby Chinatown.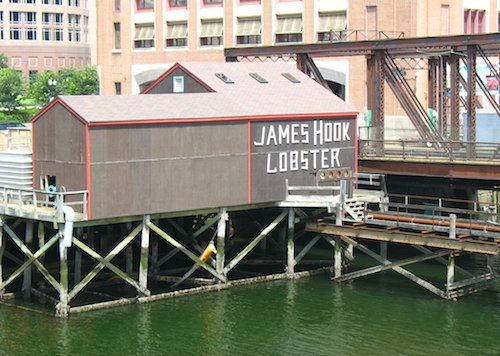 James Hook Lobster, near the Boston Children's Museum
Details and Directions for the Boston Children's Museum
Address: 300 Congress Street, South Boston Waterfront (a 5-minute walk from the Boston Waterfront / South Station area)
Closest T station: Red Line/South Station; short walk (5-8 minutes, depending on how fast your children will walk) to the museum
Admission (includes entrance, all activities, all performances): $12 adults,kids 1-15, and seniors 65+; free for infants under 12 months
Museum admission discounts: Get free admission when you have a GoBoston or GoSelect card
Special rates: $1 admission on Friday nights from 5pm -9pm; $6/person from 4-5pm Saturday through Thursday.
Parking at Boston Children's Museum: You'll find lots and garages nearby on Congress Street and other streets just to the east of the museum, such as Farnsworth Street and Sleeper Street. Be sure to ask if they discount the rate if you get your parking ticket validated by the museum.
For more information: 617-426-6500; website
Like this Page? Please Share!
Boston Tourism and Discovery Guide Home > Boston Museums