Home >
Which Boston Discount Card Gives You the Best Deal?
How to get the biggest savings on Boston attractions, cruises, and tours
A Boston discount card lets you save big money on popular attractions, museums, tours, trolley rides, and even cruises.
"The decision to get one of these Boston discount sightseeing passes is a no-brainer - it's the easiest way to save on your Boston vacation!"
How big is "big"?
Savings with the Go Boston Card and Boston CityPASS varies - but you can save up to 47%.
But with two cards to choose from, how do you know which Boston discount card is best for you?
Boston sightseeing discount cards - the big picture
All three Boston discount cards work basically the same way: You buy the card, and then you get free admission to attractions and tours for a certain number of days.
In most cases, you get to go straight to the head of the line (huge time saver at the most popular places such as the New England Aquarium), and you'll get some freebies, such as maps and additional discount coupons.
However, each card gives you different options and choices, and different savings. When you understand what each one offers, you can pick the one that's best for you.

Go Boston Card
Go Boston Card
gives you free admission to
40+ top Boston attractions, tours, museums, day trips, and cruises.
You save up to 55%.
No need to figure out what you want to do in advance - just choose how many consecutive days you want to use your card. You can get a card for 1, 2, 3, 5, or 7 days, and visit as many sites as you want during that time. Children's passes are also available.
Go Boston Cards work best for energetic travelers who want to visit lots of attractions within a short period of time. Also highly recommended if you want to visit top attractions close to Boston in historic Salem, Concord, or Plymouth.
You'll save the most with the Go Boston card when you choose the more expensive destinations such as a whale watching cruise, the Beantown trolley, the ferry cruise to Provincetown at the tip of Cape Cod, Plimouth Plantation, Six Flags New England, Museum of Fine Arts, New England Aquarium . . . just to name a few!
In addition, when you get a 3, 5, or 7 day card, Go Boston usually throws in a bonus to make a great deal even better. Current bonuses include your choice of a free New England Aquarium Whale Watch Cruise, a Boston Duck Tour, a Boston Red Sox Ticket, or a Gray Line Boston Tour.
New this year, the Boston Red Sox ticket bonus gives you an easy way to see one of these exciting games.
You'll get a ticket to the Outfield Grandstand, Bleachers, or Standing Room sections of the stadium. VIP access lets you enter the ballpark up to 2.5 hours before the game to watch batting practice or explore the Big Concourse.
Pricing varies based on the number of days you select. You can sometimes get the cards on sale, especially if you want a card for 3, 5, or 7 days. It always pays to see what's on offer.
Check for additional discounts.
Boston CityPASS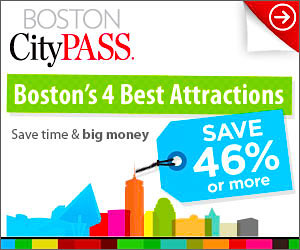 Boston CityPASS gives you entrance to 5 top attractions while letting you save 45% of the regular admission cost - almost half off.
How it works: Buy the Boston CityPASS and use it for a period of 9 days, based on when you first use it. With this card, you get to go at your own pace during the 9 days, with no need to rush.
Boston CityPASS, gives you free admission to:
You'll save money with Boston CityPASS even if you go to only 3 of the attractions. But you'll probably want to go to all 4 because these truly are top Boston attractions.
Print Boston CityPASS as soon as you order it, or get it mailed to you.
Save 45% on top Boston attractions by getting the Boston CityPASS card


How to get the biggest savings from Boston discount cards
The trick to getting the biggest savings from these Boston discount cards is figuring out which one covers the sightseeing attractions you want to visit, how long you will want the card, and what your energy level will be when it comes to actually using the card.
If you're the kind of traveler who prefers to visit just one or two attractions a day, you'll be better off with a Boston CityPASS card.
If, on the other hand, you like to see EVERYTHING and have lots of energy, you'll love the GoBoston card. I fall into this category myself. What I especially like about this type of card is that if you go to an attraction that's not as interesting as you expected, you can quickly move on to the next one in your list - there are always plenty more places to visit!
These discount cards also save your time. At the busiest attractions, like the New England Aquarium and Museum of Science, you get to go straight to the head of the line. If you've ever waited in line for 30 minutes, an hour, or more, especially with your kids who may get increasingly whiny and cranky, you know what a big benefit this is!
Also, these Boston discount cards help you budget for your trip. Once you pay for the cards, you get into the attractions or go on the tours for free, without having to pay out cash at each place or worry about how much you spend. Because the cards give you up to 55% off the regular admission cost, you're getting into the attractions for half price or even less.
I'm a huge fan of saving with these cards. In addition to using them here in Boston during school vacations, I always get them when we travel to other cities where they're available - why pay full price admission when you can cut the cost in half?

Questions about Boston Discount Cards?
Have a question about Boston discount cards? Ask, and I'll do my best to answer.

First, though, check out what others have asked - I might have already answered the same question for someone else.

When asking your question, please fill out the whole form, including lines for name and location that say "optional."

After you send your question, you'll see a page that thanks you and asks you to set notification options. I highly recommend that you check the first 2 boxes so you'll be notified when I reply - otherwise, you'll have no way of knowing other than checking the website periodically. When you see my reply, please let me know if it was helpful!

Thanks for getting in touch, and enjoy your visit to Boston!

Susan

Questions from Others about Boston Discount Cards
Here's what others have asked:

Boston City Pass
We are going to be in Boston in early July and planning to take advantage of the Boston CityPass for a family of 4 with kids (4 & 8 years old). I have …
Like this Page? Please Share!
Attractions Offering Free Admission with Your Boston Discount Card
Home > Discount Cards >