I will be arriving at Flynn Black Falcon Cruise Port and would like to rent a car so that I can see some of Boston. Are there any agencies nearby? Thanks in advance!
Robert
Ontario, Canada

Yes, you'll have the choice of several well-known agencies for renting a car near the Flynn Black Falcon Cruise Terminal.

The closest is Enterprise Rent-a-Car at 425 Summer Street, about half a mile from CruisePort.
If you need a car just for a few hours or a day, Zipcar has a location near the Enterprise at 411 D Street that's open 24x7.
Slightly farther away near the Seaport Hotel, Budget (2 Seaport Lane) and Avis (also at 2 Seaport Lane) both have offices.
You can easily get to the Seaport Hotel on the Silver Line bus, which has a stop just outside of the cruise terminal - about a 5-10 minute ride. You can find information and a map with both of these locations and the cruise terminal on our South Boston Waterfront page.
Although Hertz used to have an office near South Station, it is no longer in operation. There are other offices across the city, but the Hertz office at Logan International Airport will be the easiest and fastest to reach from the Cruise Terminal if you take a water taxi. 
The trip to Logan by water taxi takes about 8-10 minutes. Once you're there, you can pick up an rental car from Hertz or any other major car rental company.
If you're going to be driving in or near Boston, be sure to check our Boston Driving Tips, so that you get a sense of our narrow roads and crazy drivers before you encounter them close-up.
Keep in mind that unless you want to go outside of central Boston, you don't really need a rental car in the city. Unlike the cruise ports in lots of other places where you're potentially stuck (if you don't have a car) at some distance from the central part of a city or town, Boston's Black Falcon Cruise Terminal is just a few blocks (about a 5-minute walk) from one of Boston's trendiest neighborhoods, the Seaport/South Boston Waterfront District, and from there, downtown Boston and all the top attractions such as the Freedom trail are just another 5-10 minute walk away.
Good luck with the car (and Boston drivers), and have a great time in during your visit here!

Publisher, BostonDiscoveryGuide.com
Top Photo: Seating along Harborwalk on the South Boston Waterfront near CruisePort, (c) Boston Discovery Guide
Boston Discovery Guide is a reader-supported publication. When you buy through our links, we may earn a commission at no additional cost for you. Learn more
---
Want to See Boston's Top Attractions?
Experience the best of Boston on these fun and informative tours:
Waterfront Bike Tour - See the best of Boston on this family-friendly bike tour - Book now
Whale Watching Cruise - Experience a different world on this cruise to a marine sanctuary where you'll get up-close views of whales, dolphins, and other marine life - Book now
Beer Tasting Tour - Learn about why beer has always been such an important of Boston's culture on this VIP tour to 4 Boston breweries & cider houses - Book now
---
More Fun Ways to See Boston Without a Car
---
How to Get Around Boston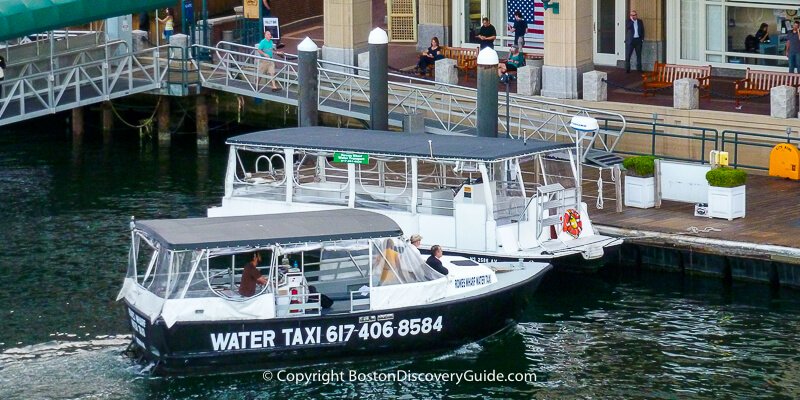 ---
More Articles about Getting Around CruisePort
---
Need a Boston Hotel or Apartment?
Use this handy map from Booking.com to find the perfect place to stay. Just enter your dates to find what's available, see the best rates, and make your reservations.