Home > Freedom Trail >
King's Chapel
Why visit this Freedom Trail site?
King's Chapel looks like one of the least-interesting Freedom Trail sites from the outside, and you may feel tempted to pass it by. But that would be a mistake.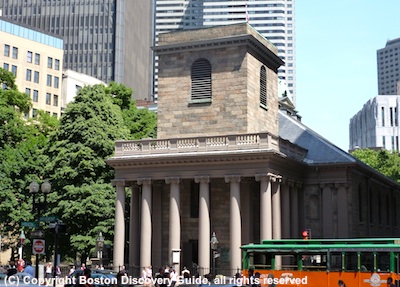 In addition to having an elegant interior and a history that encapsulates a century of tensions between British rules and Colonists, the classical Georgian-style stone and granite building with Greek-style columns hosts excellent concerts, including concerts every Tuesday that you can attend for just a few dollars.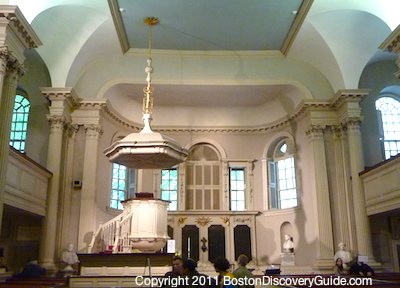 Inside, the chapel is quite beautiful, and well worth a 10-minute visit.
If you are in this part of Boston on a Tuesday, plan your visit to coincide with the weekly noon concert, featuring an eclectic range of music including occasionally the chapel's own magnificent organ.
If you want to know about the history of King's Chapel and the significant historical events that took place here, keep reading. Otherwise, skip straight to visitors information and map.
Why Religious Puritans Shunned Churches
Puritans did not want churches in Boston - so King's Chapel, originally an Anglican church, had a bumpy beginning.
Boston's Puritan founders fled England in fear of their lives due to religious persecution by the Anglican king, head of the Church of Engand.
However, the Puritans showed no more tolerance than their persecutors. Not surprisingly, Anglican religious services were banned in Boston.
Although the Puritans did build places of worship - they called them "meeting houses" - they designed them to be as unlike Anglican churches as possible: simple, unadorned, steeple-less.
(Old South Meeting House, another Freedom Trail site, exemplifies this.)
But not everyone in Boston was a Puritan.
In particular, most Royalists - often appointees of the English king - were Anglicans, members of the Church of England. And they wanted to worship in a church.
Interested in staying near this part of the Freedom Trail?
Check out these options:
Why King's Chapel Has No Steeple
By 1685, decades of tension between various English kings and the Massachusetts Puritans erupted. King James II revoked the colony's self-governance charter, and in 1686 appointed devout Anglican Sir Edmond Andros as Royal Governor and mandated him to maintain control over the colony.
Royal Governor Andros demanded that Anglican services be held in Boston and organized a congregation as soon as he arrived in Boston in 1686, ordering the Boston Puritans sell land to them for a church.
The Puritans refused - so Royal Governor Andros siezed land from a corner of the town's first burying ground, considered sacred because it contained the remains of the first generation of Puritans.
Governor Andros had the remains of those buried in "his" corner disinterred and redeposited elsewhere.
On this "repurposed" land, he built a small wooden chapel with a steeple - King's Chapel, as the Puritans called it, with the remains of the burying ground next door eventually becoming known as King's Chapel Burying Ground (a fascinating spot to visit along the Freedom Trail due to all the old 17th century gravestones).
Before Andros could set foot in his chapel, the Colonists discovered in early 1689 that James II had been overthrown a couple of months earlier. They wasted no time in imprisoning Andros and finally shipping him back to England.
But King's Chapel remained. Throughout the next half century, Royal officials continued to worship there. British royalty showered it with opulent gifts - silver services, chancel tables, vestments, more silver. In 1713, the Chapel became the first church in New England to acquire an organ.
In 1748, the old wooden chapel - too small, too shabby, too plain - was torn down and construction started.
As Royal Governor William Shirley laid the cornerstone on August 11, 1749, angry Puritans threw garbage at him - until he gave the workmen 20 pounds to drink to his health.
In 1753, builders completed the Georgian-style building constructed from Quincy granite that you can see today (if you peer behind the columns, a later addition). A bell forged in England was hung in 1772.
However, the tall steeple envisioned by the Angllican planners fell victim to lack of funds - much to the delight of the Puritans.
A Boston "first" at King's Chapel . . . dental forensics
What is believed to be the first documented occurance of dental forensics took place at King's Chapel during the American Revolution.
After General George Washington ended the Seige of Boston by routing the British troops and forcing the Royalists to flee to Halifax and elsewhere in March, 1776, the Colonists shuttered the Chapel for a few months.
But then, to symbolize their control over former British territory, they decided to reopen it to conduct a belated funeral for devout Patriot and physician, General Joseph Warren, killed during the Battle of Bunker Hill almost a year earlier in June 1775.
Because the British won the battle and in fact had probably specifically targeted Warren, who they detested because of his leadership as a revolutionary, they refused to release his body and buried it near the battle site.
After the British fled, Warren's friends and family rowed to Charlestown to exhume his partially decomposed body and bring it back to King's Chapel for funeral services - which is where General Warren's friend Paul Revere identified two silver artificial teeth that he had crafted and fastened in with silver wire to confirm the body's identity.
You can raise a glass to Joseph Warren, a true American Patriot, today at Warren Tavern in Charlestown, built by his friends in his honor in 1780.
How King's Chapel Became America's first Unitarian Church
During the Revolution, Bostonians tried to rename King's Chapel Stone Chapel . . . but that name didn't stick.
Then in 1782, the congregation hired James Freeman, first as lay reader and later as minister. He introduced Unitarian ideas and revised the Anglican Book of Common Prayer to embrace Unitarian principles.
Although Reverand Freeman still considered the church to be Episcopalian, the Anglican bishop refused to ordain him - so in 1787, New England's first Anglican/Episcopalian church transformed into the first Unitarian church in the United States.
As part of the broad community support for this move, George Washington attended a musical performance/fundraiser in 1789 and contributed 5 pounds toward the new columns the Ionic columns that you can see today. Although the columns are designed to look like granite, they're actually made from wood.
After the chapel's English bell cracked, Paul Revere recast it in his foundry in 1814. When it was rehung in 1816, he called it "the sweetest bell I ever made."
This same bell tolled for Paul Revere when he died two years later.
And Paul Revere's bell continues to call the congregation to worship each Sunday morning. You'll hear its melodic tones in this part of Historic Boston if you're nearby.
More about what you can see and do in this part of Historic Downtown Boston
Insider Tips
King's Chapel still is home to an active and vibrant Unitarian congregation, which still uses the 9th edition of James Freeman's revised Book of Common Prayer.
King's Chapel's world-renowned music program fills an important position in Boston's rich music landscape, partly because of its magnificant C.B. Fisk organ, the Chapel's 6th and a copy of the 1756 organ. The late Music Director Daniel Pinkham earned star status in Boston's Early Music community. King's Chapel also belongs to the famed Boston Choral Consortium.
My "insider" recommendation: If at all possible, plan your visit for a time when you can also hear music here - it could be one of your most lasting memories of your Boston visit.
Map showing King's Chapel
This map shows the location of King's Chapel (pink marker), nearby hotels, and other attractions such as Quincy Market/Faneuil Hall Marketplace, Haymarket, and historic Boston taverns.
Ways to visit King's Chapel
Self-guided tour on weekdays (Monday - Friday): A small donation is requested, although not required, to help support on-going maintenance related to the wear and tear of tourist traffic. Do while you walk along the Freedom Trail.
Tuesday Noon Concerts: These 30-40 minute performances take place throughout the year. See the Boston Event Calendar for February for details, which apply throughout the year. A small donation is requested.
Sunday service: You are welcome to attend a Sunday service, during which you'll get to hear the beautiful organ and the famed King's Chapel Choir.
Sunday Concert Series: From October through March, these monthly concerts typically feature 17th and 18th century music, the Chapel's organ, and visiting performers. They are true jewels in Boston's musical tapestry. See King's Chapel's website for details (click on Music).
Details and Directions
Open: Hours when King's Chapel is open for tours change based on seasons and other events, such as the Chapel's current major restoration project. Call 617-227-2155 or check their website (below) for details.
Location: Corner of School and Tremont Streets, Downtown Boston section of the Freedom Trail
Closest T stations: Red and Green Lines/Park Street; Blue and Green Lines/Government Center
For more information: Call 617-227-2155; website
More to see nearby:
Like this Page? Please Share!
Boston Discovery Guide > Freedom Trail > King's Chapel