Home > Freedom Trail >
King's Chapel Burying Ground
Boston's Oldest Graveyard
King's Chapel Burying Ground is Boston's oldest graveyard - and for 30 years, the only one. Much of the first generation of the city's early English settlers are buried in this tranquil spot.
Despite being grouped together with King's Chapel as a Freedom Trail stop, King's Chapel Burying Ground is related to its next door neighbor only by location. It is still owned by its original owner, the City of Boston.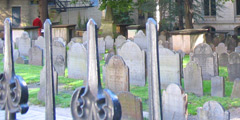 Walk among the simple old slate headstones, and you may find markers for William Dawes, midnight companion of Paul Revere as they rode to warn other Patriots about the coming of the British. You'll also discover famed State House architect Charles Bulfinch, and Massachusetts' first governor, John Winthrop.
However, Dawes' remains are not actually here - his descendants moved them to a family tomb in the Forest Hills Cemetery in 1882. And Paul Revere's remains rest nearby at slightly newer Granary Burying Ground.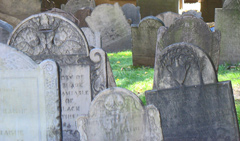 Mary Chilton, a 14 year old Pilgrim who arrived at Plymouth on the Mayflower in 1620 and is reportedly the first Englishwoman to step ashore in New England, is here.
So too is Elizabeth Pain, whose carved headstone inspired Nathaniel Hawthorne's description of Hester Prynn's grave in The Scarlett Letter. The wife of another man who is buried here may have been Hawthorne's model for Hester Prynn as she, too, was accused of adultury.
Markers and Gravestones
The oldest marker, dated 1658, belongs to William Paddy. But keep in mind that early wooden markers places have long since disintegrated.
If you are interested in old gravestones, be sure to look for Joseph Tapping's intricately carved marker near the front of the cemetery showing Death, depicted as a skeleton, and Father Time battling over him.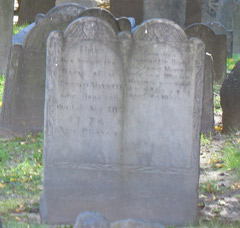 Other skull and crossbone motifs will remind you that the Puritans viewed life as just a brief interval before the Grim Reaper appeared. Hourglasses emphasize the fleeting nature of time.
On stones with later dates, angels begin to displace skulls. Perhaps existence became a little less grim for the children and grandchildren of the first Puritans.
Legend claims that Sir Isaac Johnson, who owned the land and used it for his vegetable garden before it became a burying ground, was the first person to be buried here in 1630. Legend also claims that he specifically asked to be buried in his pumpkin patch.
Ghoulish Graveyard Ghost Stories
King's Chapel Burying Ground has its share of macabre stories - some well-documented as true . . . and others more doubtful.
One such haunted tale concerns a coffin made too short for its intended occupant - so the inept carpenter, hoping to conceal his error, supposed cut off her head, placed it between her feet, and nailed shut the coffin so that no one would know.
Another tale concerns a person rumored to be buried alive. A mob raised such a furor that the coffin had to be dug up in their presence and the corpse declared dead by doctors.
Even more legends - well, you might call them ghost stories - surround a more infamous occupant, Captain Kidd. Once such a respected citizen that the colonial governor asked him to catch pirates, he in turn was accused of piracy.
Rumors flew about his stolen treasures, and in 1700 he was captured, held for awhile in a Boston jail and then sent to England where he was tried without representation, convicted, and hanged in 1701. No one is quite sure why his body was returned to Boston and buried at King's Chapel Burying Ground.
In fact, no real evidence suggests that it is.
But especially around Halloween in Boston, you'll hear this tale: Go into the cemetery at midnight, preferably when the moon is dark. Tap softly on one of the headstones three times, and whisper "Captain Kidd, Captain Kidd, for what were you hanged?"
And in the dark of the night, Captain Kidd will answer . . . nothing.
Insider Tips
Do not come here at midnight.
Or pay too much attention if tour guides start talking about Captain Kidd.
Details and Directions
Open: 10 am - 4 pm; free of charge
Location: Corner of Tremont and School Streets, Downtown Boston
Closest T station: Green Line/Government Center, Red and Green Lines/Park Street
Call 617-227-2155 for more information
More to see nearby:
Like this Page? Please Share!
Boston Discovery Guide > Freedom Trail > King's Chapel Burying Grounds