Home > Boston Events >
Boston Event Calendar

August 2014
Lots of exciting events pack the Boston Events Calendar for August as summer fun continues in the city.
Shakespeare on the Common, plenty of Red Sox games plus preseason for the New England Patriots, Summer Dine Out Boston, and lots of free outdoor movies keep everyone entertained.
August weather in Boston is usually balmy, but pack an umbrella in case of surprise thunderstorms.
Stroll along the waterfront, choose a restaurant offering patio seating, and by all means, check out fun options for sightseeing tours. Most important, enjoy the remainder of summer in Boston as the days grow shorter.
Add an event to the Boston Event Calendar for August 2014
Quick Links: Boston events calendars: July l September l Other Months
North End Feasts and Festivals - 2014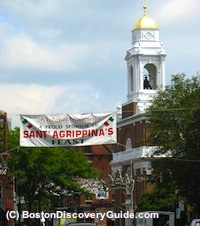 Boston's North End Italian Feasts and Festivals take place throughout the summer, as they have for 100 years or more - almost as long as Italians have lived in this neighborhood.
Most of the North End feasts celebrate a saint with food, music, religious ceremonies, parades, strolling singers, celebrations, and more - they're like giant street parties.
In general, opening ceremonies take place on Friday evenings, with other events starting around 1pm on Saturday and Sunday and continuing until about 11pm. High Mass usually takes place on Sunday morning.
Three of the most famous take place in August:
St. Agrippina di Mineo's Feast - August 1-3, 2014, Battery and Hanover Streets - procession at 1pm on Sunday
Madonna Della Cava Feast - August 8-10, Battery and Hanover Streets - procession at 1pm on Sunday
102nd Annual Fisherman's Feast of the Madonna - August 14-17, Fleet and North Streets- procession at 1pm on Sunday
St. Anthony's Feast - The largest Italian religious festival in New England, August 29-Sept 1, 2014, Endicott, Thatcher, and North Margin Streets, procession at 12 noon on Sunday
This video, taken at St. Anthony's Feast, will give you a taste of how much fun these festivals can be:
Nearest T station: Commuter Rail or Orange & Green Lines/North Station
Cost: Free (although you'll find temptations to spend money on food, drink, and commemorative items

Where to stay in or near the North End
Summer Dine Out Boston 2014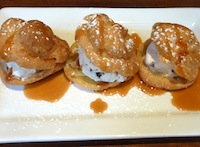 When: August - To be announced
Where: Best restaurants in Boston and Cambridge - hundreds of choices!

Twice each year, Boston foodies look forward to the best restaurants in the city being on sale. You will too, as you sample the affordable fixed price lunch and dinner menus concocted by the city's best chefs. You can start making your Dine Out Boston reservations about 3 weeks ahead of time. Don't wait, because tables fill up fast!
More about Restaurant Week in Boston
Return to Top - Boston Event Calendar August 2014
More Boston Restaurant Savings
Mass Brewers Fest - 2014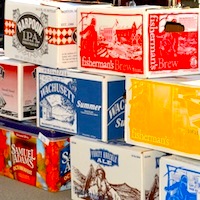 When: Friday, August 29, 6:30pm-9pm
Where: World Trade Center Head House Concourse, 200 Seaport Blvd, South Boston Waterfront
Cost: $35 advance/$40 door
Closest T station: Walk from Red Line/South Station or take the Silver Line to World Trade Center
Stay: Hotels in South Boston Waterfront
More information and tickets: Mass Brewers website
Sample 80+ beers from over 20 Massachusetts breweries, enjoy live music by Three Day Threshold, and savor treats such as lobster roll, curry coconut shrimp, Italian sausage, and hot dogs steamed in Harpoon beer. Cost of food is extra, but prices are reasonable. 21+ event.

Where to Stay near Fenway Park
Boston Concerts during August 2014



Photo courtesy of www.facebook.com/arcadefire

Katy Perry & Capital Cities - TD Garden - August 1
Panic! at the Disco & Walk the Moon - Blue Hills Bank Pavilion - August 3
Tori Amos - Boston Opera House - August 15
Arcade Fire - Comcast Center - August 19
Chicago & REO Speedwagon - Blue Hills Bank Pavilion - August 20
Yanni - Blue Hills Bank Pavilion - August 24


Note: Blue Hills Bank Pavilion is now the Blue Hills Bank Pavilion


More Boston concerts during August
Landmarks Concerts at the Hatch Shell - 2013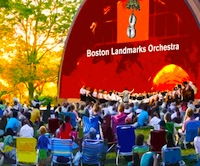 The Boston Landmarks Orchestra's weekly free summer Esplanade concerts continue in August at the Hatch Shell.
The Landmarks Concert schedule for August 2013 includes:
August 7 - Collaboration with Boston Lyric Opera
August 14 - Guest Orchestra: Longwood Symphony
When: 7pm -9pm
Where: Hatch Shell, Boston Esplanade
Weather alerts and alternate locations in case of rain: 617-987-2000; orchestra website
Cost: Free

Find more free Hatch Shell concerts
Free Fun Friday at the Constitution Museum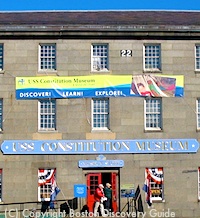 The USS Constitution Museum in the historic Charlestown Navy Yard invites you to visit on August 16 for Free Fun Friday (no admission) from 9am - 6pm for family activities, crafts, games, and cookies in honor of Guerriere the Terrier's birthday.
Guerriere is the museum's mascot...and recalls the Constitution's battle with HMS Guerriere, when cannon balls bouncing off her sides earned her the nickname, "Old Ironsides."
More about visiting and touring the USS Constitution


Hotels in and near Charlestown
Compare Savings with Boston Sightseeing Discount Cards
GoBoston Card

60 ways to save up to 55%

On attractions, tours, cruises

CityPASS

5 top attractions in 9 days

Over 50% savings

Go Select

YOU choose your tours,

attractions, cruises - Save BIG!
Use these Boston discount passes for attractions, museums, tours, and cruises
Fun Boston Tours
New England Patriots Preseason Home Games 2013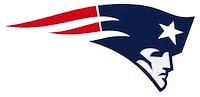 When:
- August 16 vs Tampa Bay Buccanners, 8pm
- August 29 vs New York Giants, 7:30pm
Get your tickets now:
Where: Gillette Stadium
Getting there : From Boston to Gillette Stadium

Find great seats and get tickets
With Captain Tom Brady again at the helm, the Patriots start their regular season in September. See the entire Regular Season schedule
Will this be the year that we celebrate another Super Bowl victory? Stay tuned!
Where to stay near Gillette Stadium - Hotels near Foxborough, MA
More about hotels near Gillette Stadium (and Wrentham Premium Outlets)
Return to Top - Boston Event Calendar August 2013
Boston Theater and Shows August 2013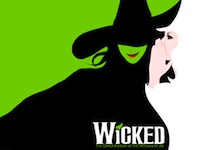 Wicked - Boston Opera House
: August 7 - Sept 15, 2013
Diana Ross - Wang Theatre
- August 9
Joe Rogan - Wilbur Theatre
- August 16
Blue Man Group - Charles Playhouse - Schedule & discounted tickets - ongoing

Tickets:
TicketLiquidator
| AceTicket
| Goldstar - 1/2 price tix
Use our
TicketLiquidator Discount Code
for more savings:
Free Concerts at the Prado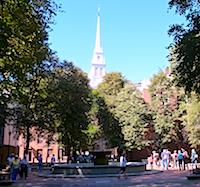 The Prado (also known as Paul Revere Mall, the lovely shaded park off Hanover Street where you'll also find Cyrus Dallin's famous statue of the Revolutionary War hero) provides the perfect setting for family activities and free concerts on Thursday nights during July and August.
Family activities start at 5:30pm and concerts begin at 7pm.
Concerts for August 2013 include:
Frank Sinatra Favorites with Scott Boni Trio- August 1
CHROMA Berklee Modern Jazz Ensemble - August 8
Big Band Bash with Jeremy & Friends- August 15
Across the Atlantic: Tracing a Tradition from Spain to the New World - An evening of Spanish choral music- August 22
String Chamber Duo performs Mozart - August 29

Find information about August concerts
Half-price Boston tickets - August 2013
Half-price Boston events in August
- Steve Byrne & the Cast of Sullivan & Son - Wilbur Theatre
- Summer Party Cruise in Boston Harbor
- Bye Bye Liver: The Boston Drinking Play at Hennessey's
- Blue Man Group, Charles Playhouse
- Lunch, Brunch, and Dinner Cruises on The Odyssey in Boston Harbor
- Boston Symphony Orchestra: All Beethoven Program - Tanglewood

Find even more half-price Boston tickets for August!
Return to top - Boston Event Calendar for August
Free Friday Flicks at the Hatch Shell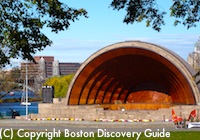 Enjoy free outdoor concerts at the Hatch Shell on Boston's Esplanade throughout July and August.
Schedule and shows for 2014 are still TBD - so check back later. The shows listed below are from last year, to give you an idea of what to expect this year.
This series of family movies provides the perfect excuse to grab a blanket, pack a picnic, and head for an evening of entertainment under the stars.
The August movie lineup includes:
- August 2 - Madasgascar 3
- August 9 - Rise of the Guardians
- August 16 - Jack the Giant Slayer
- August 23 - Oz the Great & Powerful
When: Movie starts at sundown (between 8:02 and 7:33 in August)
More information, including the movie schedule and weather cancellations: Call the Free Friday Flicks Hotline at 617-787-7200
Free Sunday Night Movies in Christopher Columbus Park
Enjoy free outdoor movies during a 6-week series in Christopher Columbus Park, the entrance to Boston's North End, sponsored by the Boston Push Cart Association. Movies include a number of favories from the past 40 years, and start at 7:30 pm.
Here's the lineup for August, 2013:
August 4 - Karate Kid (1984 version)
August 11 - Seabiscuit
August 18 - The Great Gatsby (1974 version)
Also check the lineup for July
***z-hotels-quick-link-events-shtml***
Kids Activity - Frog Appreciation Day at Frog Pond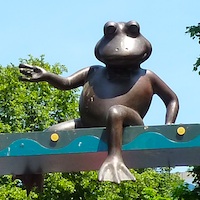 When: August 25, 10am - 2pm
Where: Frog Pond at Boston Common
Nearest T station: Green Line/Park
Cost: Free
More information: Boston Frog Pond website

Frog Pond in Boston Common provides entertainment year-round - the spray pool all summer, ice skating in the winter, and the Tadpole Playground year-round But how often do you think about the frogs that once lived there, back when it really was a pond?
Franklin Park Zoo presents a fun educational event all about frogs - and especially about how to keep them happy in your neighborhood. You and your children can also enjoy frog tales, music, face painting and of course, frog races.
Return to Top - Boston Events Calendar for August


Boston Red Sox Schedule for August 2013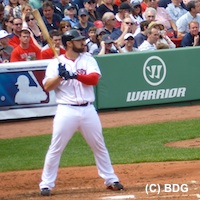 Where: Fenway Park
Closest T station: Green Line / Kenmore

Tickets: TicketLiquidator | AceTicket
Thursday, August 1 vs Mariners - 7:10pm
Friday, August 2 vs Diamondbacks - 7:10pm
Saturday, August 3 vs Diamondbacks - 7:10pm
Sunday, August 4 vs Diamondbacks - 1:35pm
Friday, August 16 vs Yankees - 7:10pm
Saturday, August 17 vs Yankees- 4:05pm
Sunday, August 18 vs Yankees - TBD
Tuesday, August 27 vs Orioles - 7:10pm
Wednesday, August 28 vs Orioles - 7:10pm
Thursday, August 29 vs Orioles - 7:10pm
Friday, August 30 vs White Sox- 7:10pm
Saturday, August 31 vs White Sox - 7:10pm

Red Sox schedule for other months
Hotels near Boston Red Sox Games in Fenway Park
More about: Hotels near Fenway Park

2013 Futures at Fenway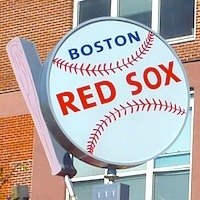 When: Saturday, July 27, 12 noon
Where: Fenway Park
Closest T station: Green Line / Kenmore
If you drive: Best parking garages and lots near Fenway Park
Staying over: Hotels near Fenway Park

Tickets: From $5 to $30
The 8th annual Futures at Fenway event combines kid-friendly activities and affordable ticket prices and discounted concessions with an exciting game starring 2 top minor league teams, the Portland Sea Dogs (Red Sox AA Affiliate) vs the Harrisburg Senators (National AA Affiliate).
To add to the excitement, for the first time ever, you can bring your dog. (Yes, your dog will need a ticket too!) Ticket information
August Moon Festival in Chinatown - 2013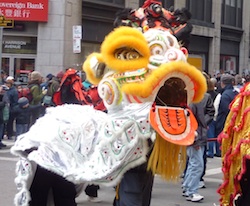 When: Sunday, August 11, 10am - 5pm
Where: The Chinatown Gate area on Harrison Ave, Chinatown in Downtown Boston
Closest T station: Orange Line / Chinatown
If you drive: Parking garages near Theatre District and Chinatown

Boston's Chinatown comes alive with lion dances, martial arts, firecrackers, folk dances, and lots of vendors for the annual Chinese Moon Festival, also called the Mid-Autumn Festival.
What does the festival actually celebrate? Possibilities include the legend of Chang'e, the immortal Lady of the Moon, and the overthrow of the Mongol rulers in 1368 when a rebel leader distributed mooncakes (which Mongols didn't eat) with messages hidden inside saying "Kill the Mongols."
Although this 3,000+ year old Chinese festival traditionally falls on the 15th day of the 8th Lunar month - in other words, late September/early October - Boston celebrates it in mid-August. It's the perfect excuse to spend an August Sunday in Chinatown. Start with dim sum, and then enjoy the colorful festival.
Return to Top - Boston Event Calendar August 2013
Boston GreenFest 2013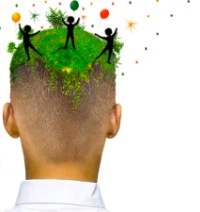 Boston GreenFest 2013 offers a huge assortment of exhibits, performances, and presentations about sustainable living. EcoThemes for 2013 include water, energy, green cities, transportation, health, nutrition, and EcoFashion.
GreenFest highlights include:
Green fireworks and light show
200+ exhibitors
Green Film Fest
EcoFashion Show, EcoCafe, EcoGallery, EcoBazaar
100+ live performances, including a Native American drum and dance ceremony on Thursday, August 18th at 5pm
One Gallon Challenge: Super-light, super-dynamic cars race from Plymouth, MA to GreenFest to see how long one gallon of gasoline will last.
Speakers, workshops, and much more!
When: August 15 - 17
Where: Boston City Hall Plaza, Government Center
Nearest T station: Government
Cost: Free admission
More information: www.bostongreenfest.org
Summer in the City - August Events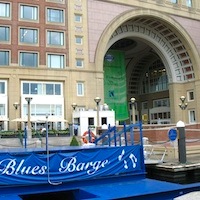 Boston Harbor Hotel's popular "Summer in the City" series lets you kick back and enjoy free music and movies overlooking the waterfront throughout the summer. Listen to music between 6pm - 10pm as musicians perform on the Blues Barge from Monday through Thursday.
On Fridays, enjoy music (starts at 4:30) and movies projected on a large screen over the Harbor starting at dusk.
Combine these events with a drink at the hotel's Rowes Wharf Sea Grill and dinner at Meritage for the perfect summer evening.
August movies:
August 2 - Tootsie
August 9 - Rear Window
August 16 - Mary Poppins
August 23 - From HEre to Eternity
August 30 - Anchors Aweigh
More about Boston Harbor Hotel
Check reviews and rates for the Boston Harbor Hotel
Deutsche Bank Championship New England PGA Tour
This top Labor Day Weekend event begins on August 31st and continues through September 3. Check the September Events Calendar for details.
Running of the Brides - CANCELLED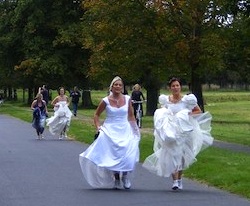 Due to Filene's Basement bankruptcy and store closures in early 2012, Running of the Brides has reached its finish line . . . a wonderful Boston tradition brought to an abrupt halt, at least for now.
Our Running of the Bride pages commemorate this quintessential Boston event:
- Running of the Brides
- Running of the Bride photos
- Wedding Gown Tips from Carson Kressley
Return to Top - Boston Event Calendar August 2013
Continuing during August in Boston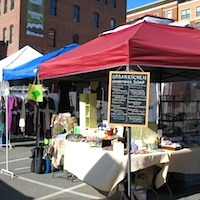 - Free Thursday concerts at ICA Boston on the waterfront
- Free Friday Flicks at the Esplanade
- Free Boston Landmarks concerts at the Hatch Shell
- SoWa in Boston's South End
- Noon Concerts at King's Chapel on the Freedom Trail
- First Fridays at Museum of Fine Arts
- Magic 106.7 Family Film Festival at Prudential Center
- Sunday Family Fun at the Esplanade

Return to Top - Boston Event Calendar August 2013
Best Boston Events All Year!
Boston Discovery Guide > Events > August 2013