Boston Bars near Fenway Park
Sports Bars and Clubs near Fenway Park
Bleacher Bar in Fenway Park
Coming to a Red Sox game?
Then you may be wondering . . . where are the best Boston bars near Fenway Park for pre- and post-game celebrations (or, gulp, recovering from a loss)?
Don't be misled by all our museums, universities, culture, etc. . . . Boston is a fun-loving town!
As you explore the Boston sports bars, nightlife, and other fun things to do near Fenway Park, you'll understand why.
In fact, you'll find so many top Boston bars with big hi-def screens around Fenway Park that you can't possibly get to them all in a night, or even in a week.
Bleacher Bar
Bleacher Bar is Boston's ultimate sports bar - a bar right inside Fenway Park's Green Monster with a huge garage door-sized view onto center field.
Yes, you are right on the field - well, at least on the Warning Track - and you're on field level. Look right across center field, and you'll see home plate.
You look out onto the field. Except for when a game is underway or the weather is cold, the garage door is open. You'll feel the breeze, smell the grass, hear the roar of the crowd. During the game, a glass pane covers the opening so that you can still look out but the players can't see in.
The place is small and gets crowded at game time, but no matter. It's the best view in town.
And speaking of view . . . remember that you're on view, too - so be sure to wear your Red Sox clothing - or at least a Red Sox hat.
Bleacher Bar opened in 2008, and still occupies "best kept secret" territory among Boston bars near Fenway, although that's changing. It's open year around, and it's actually a cool place to come during less-crowded non-game times. You get a great view of Fenway Park, with or without players. Who knows, maybe you'll even get to see them warming up?
Details and Directions for Bleacher Bar
Address: 82A Lansdowne, Fenway neighborhood; Green Line/Kenmore
For more information: 617-262-2424

Tony C's Sports Bar & Grill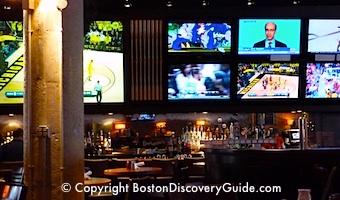 Lots of big screens and comfy banquette seating make Jerry Remy's the quintessential sports bar. Whether or not the Sox are playing a block away at Fenway Park, you can always catch plenty of games here.
From May through October, you can dine and drink under the glow of Fenway's right field lights when you snag a seat up on the rooftop deck.
For Jerry Remy, owner and former All-Star Red Sox second baseman, this restaurant means coming home. Try the Remy Burger featuring meat between two succulent slices of fried dough (although the lobster roll may be a healthier choice - see a yummy photo here). You'll also find family-friendly touches like a good chidren's menu and huge ice cream sundaes.
1265 Boylston Street, Fenway; Green Line/Kenmore; 617-236-7369

Find Best Red Sox Ticket Prices
Boston Beer Works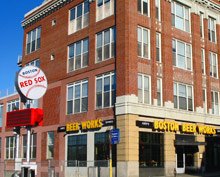 One of 3 Boston Beer Works in the Boston area, this large sports bar/brewery/restaurant right across from Fenway Park serves up big screens as well.
First and foremost, this is a real brewery, started by two brothers back in 1990.
You'll smell the hops, see the beer-making equipment, and of course, taste and enjoy the results. The micro-brewery creates about 50 hand-crafted ales, lagers, stouts, and pilsners each year, and you'll find about 15 on tap at any one time.
The food is good, too. Along with the usual Boston bar food - nachos, New England clam chowder, and chili - you can get fish and chips, BBQed baby back ribs, and of course, all kinds of burgers.
Since Boston Beer Works is a top sports bar, just a short pitch away from where the Red Sox are playing, you'll find plenty of high definition screens for game-viewing. In fact, on game days, it's sometimes so crowded that the line of people waiting to get in goes out the door and around the block.
Details and Directions for Boston Beer Works
Address: 61 Brookline Ave, Fenway; Green Line/Kenmore
For more information: 617-536-2337

How to Save in Fenway Pubs, Bars, and Bistros
Restaurant.com - Save 60% or More on Boston Restaurants
Cask'n Flagon
Cask'n Flagon is a true sports bar. You'll find tons of flat screens for game viewing, plenty of cold Sam Adams, and two large rooms with walls covered with Red Sox memorabilia as a reminder that Boston is Red Sox Nation. Lots of fans gather here on home game days, and even on non-game days, Cask'n Flagon is popular with both local and tourists.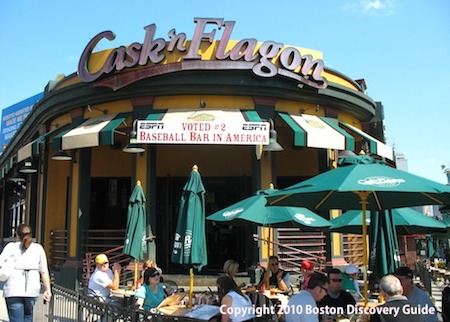 Once upon a time, Cask'n Flagon began as "Oliver's" in the psychodelic '60s, featuring live music 7 nights a week. Aerosmith, Bruce Springsteen, Jimi Hendrix, and Boston (the band) all performed here, back in the days when it was small, dark, smoke-filled, and grungy.
Now, a small nightclub amid the other Boston bars near Fenway, "Oliver's," has opened within Cask'n Flagon and features a 400 square foot dance floor, lights, huge hi def screens, and live music. Check the website for the performance schedule and 21+ admission requirements.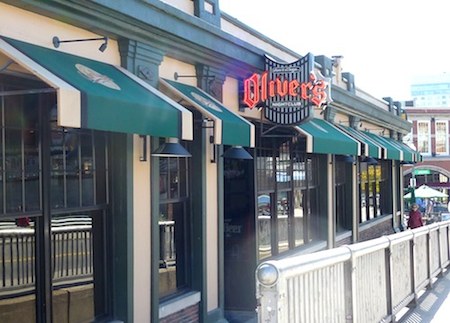 Details and Directions for Cask'n Flagon
Address: 62 Brookline Avenue, Fenway; Green Line/Kenmore
For more information: 617-536-4840; website

Church of Boston
Billing itself as a "neighborhood sanctuary" for those who love rock and roll, good food, and good drink, Church of Boston is a popular addition to the Fenway nightlife scene.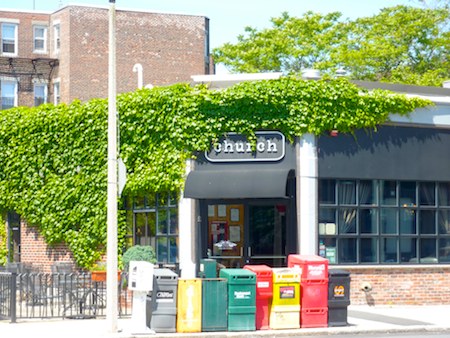 On the restaurant side, Church offers plush leather chairs, tables and chairs, and a small plate menu emphasizing seasonal favorites. The full bar features a number of microbrews, including local labels.
To accommodate Red Sox fans, the restaurant opens 3 hours before each home game
On the club side of Church, open from 5pm - 2am, you'll find a 225-person music venue where you can hear top local and touring rock groups play every night of the week. During Red Sox games, the big screens and pool tables get enough action to make Church a decent sports bar - although with the music, it's much more!
Art with a Gothic slant by local artists add to the ambiance, with stained glass windows completing the picture.
Details and directions for Church of Boston
Address: 69 Kilmarnock Street, Fenway; Green Line/Kenmore; 617-236-7600
Cover charge: $7-10
For more information: website

Jillian's
Hmm . . . is Jillian's a sports bar, or a playground for grown-ups?
Jillian's 70,000 square feet stretched over 3 floors include 2 restaurants, a bowling alley, 30 billiards tables, ping pong and other games, 7 bars, and with more hi def flat screens than anyone can count, plenty of sports-viewing.
This is a place for some serious entertainment, as well as celebrity-spotting.
Although the food is probably not why you're here, it's pretty good. Try Tequila Rain, the Southwestern themed bar and restaurant, or try some of the cheese bites with your choice of sauces, the Asian chicken salad, or the flank steak toasted sandwich.
Of course, with 7 bars, you'll find plenty to drink. Jillian's is a Boston bar on steroids.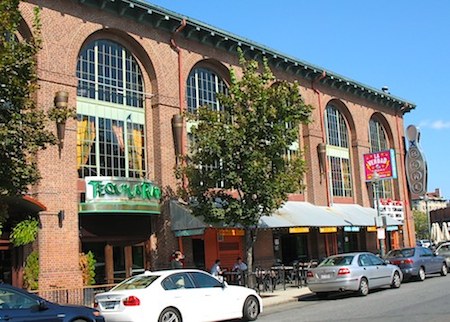 Jillian's, near Fenway Park
Details and directions for Jillian's
Dress and behavior code: Check Jillian's website for details
Minimum age after 8pm: 18+ Sunday - Thursday; 21+ Friday and Saturday
Address: 145 Ipswich, Fenway; Green Line/Kenmore
For more information: 617-437-0300; website

Lansdowne Pub
This Irish-inspired pub down the street from Fenway serves up good bar food including some Irish fare, a cozy ambiance with lots of nooks and crannies, plenty of brews on tap, and a huge HD screen.
Adding to the fun are live bands (small cover) on Thursdays, Fridays, and Saturdays, dancing, karaoke, open mic, and other special events.
Details and directions for Lansdowne Pub
Address: 9 Lansdowne Street, Fenway; Green Line/Kenmore
For more information: 617-247-1222; www.lansdownepubboston.com

McGreevy's 3rd Base Saloon
Begun in 1894 by baseball fanatic Michael "Nuf Ced" McGreevy, the original Roxbury bar was a favorite watering hole of local politicians, baseball players, and fans. Considered by many to be where the Red Sox Nation was born, McGreevy's fell victim to Prohibition in 1920.
But now, this venerable saloon has new life as a popular Boston bar near Fenway, thanks to a partnership between 2 more Red Sox fanatics, including a founding member of the Dropkick Murphys, a Boston celtic punk group. The new McGreevy's doubles as a sports bar and an Irish pub.
Yawkey Way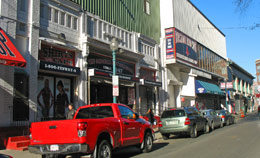 Bars, small eateries, and sports shops line this short street across from Fenway park. These can be the best places go grab a quick beer, BBQ, and best of all, a Fenway Park hot dog.
On game days and nights, these places are mobbed, since they are literally steps away from the park.
Part of the charm of Fenway Park is its small size and its convenience to public transportation. That means, though, that streets are filled with fans on foot.
Needless to say, all of the bars across from Fenway are equipped with big screens, so that fans without tickets get to see the game, beer in hand. If you enjoy a group experience of drinking and cheering, these places are a great option if you don't have a ticket. If you prefer an experience that's slightly more sedate, you may want to try one of the other nearby Boston bars.
Details and directions for Yawkey Way
Location: Next to Fenway Park; Green Line/Kenmore

Boston Red Sox schedule and ticket information
More clubs and bars near Fenway
Bill's Bar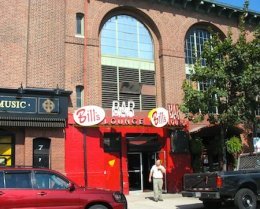 Much more about music than sports, Bill's Bar features live music almost every night - look for everything from rock to reggae to blues. Musicians mainly come from Boston's thriving indie scene, rather than being packaged touring acts.
Although Bill's Bar gets its share of spillover crowds from Fenway on game days and nights, the rest of the time it's a smaller, less corporate alternative to House of Blues down the block.
5 Lansdowne Street.
House of Blues Boston
This top Boston music / dining venue attracts crowds to its events and concerts featuring national touring performers - including Boston's own Dropkick Murphys each St Patricks Day. 15 Lansdowne Street.
More about House of Blues Boston
Find Best Red Sox Ticket Prices
Copperfield's Bar and Down Under Pub
Copperfield's, despite its location near Fenway Park, harkens back to the days when dimly lit smoky bars offering a couple of beers on draft and performance space for aspiring musicians hoping to be the next Aerosmith filled the blocks around Kenmore Square.
Copperfield's now offers a wider drink selection as well as hi def screens - but Copperfield's remains a comfortable local Boston bar, a bit off the tourist path despite its Brookline Ave location.
On non-game nights, music attracts fans to Copperfield's upstairs bar and downstairs pub. . . . specifically, local rock bands just starting out as well as those that are better known. Copperfield's stands out as a popular college bar, especially with students from nearby Boston University and the Fenway Colleges (Wheelock, Emmanuel, Simmons).
Check Copperfield's website for the performance schedule and the cover charge, if any.
Address: 98 Brookline Avenue, Fenway; Green Line/Kenmore
Credit cards: Not accepted
For more information: 617- 247-8605; www.copperfieldsboston.com

Game On!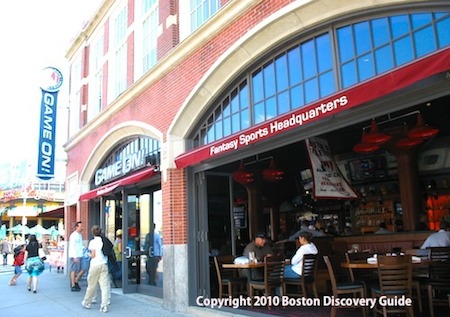 Over 90 HD TVs, a state-of-the-art sound system, and ice-cold beverages - what more could any sports fan need? If you want to almost feel like you're on the field with the players, Game On! is the place to come.
Like several other Boston bars near Fenway, Game On! is large - in fact, somewhat cavernous - and loud. Baseball is big, but other sports get their fair share of broadcast time.
You can get all the typical Boston bar food like wings and burgers. Standout items include pulled pork with cornbread, BBQed ribs, popcorn shrimp with onion rings, a very good bistro steak, and a variety of fresh salads. Plus, of course, plenty of beers and ale.
Address: 82 Lansdowne Street, Fenway; Green Line/Kenmore
For more information: 617-351-7001; www.gameonboston.com

Map showing Boston bars near Fenway Park
Use this map of the Fenway area to find locations for bars, clubs, closest T (subway) stops, and nearby streets.
6 tips for enjoying Boston bars near Fenway Park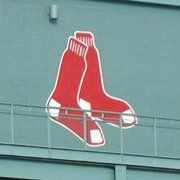 1. Assess your tolerance for large, exuberant crowds. If that's what you love, and you want to be making part of the noise, come on a Red Sox home game day when all of these Fenway bars get packed. If you prefer a quieter experience, come at another time. Or if you're here on a game day, head to a Fenway restaurant that emphasizes dining rather than carousing.
2. Prepare to part with some money. A good time at many of these places doesn't come cheap. Of course, how much you spend also depends on how much you drink, play, and eat - so you do have some control over the thinning of your wallet. And most happy locals and tourists who come back again and again feel that visiting these sports bars is one of the top things to do in Boston and the money is well-spent.
3. If you're under 21, check with the bar ahead of time to understand their age requirements. Some places admit only 21+ on at least some nights of the week.
4. Don't drink too much.
5. Avoid driving if possible. Come on foot, by T, or by train.
6. If you do drink too much, call a cab.
Boston Red Sox schedule and ticket information
More to Do near Fenway Park
Like this Page? Please Share!
Related Articles
Boston Discovery Guide > Nightlife > Bars near Fenway Park