Boston Discovery Guide Home > Nightlife >
Best Boston Bars Near the Garden
Cheer the Celtics and Bruins at these top Boston sports bars
Heading to a Boston Celtics or Boston Bruins game at TD Garden? Stop by the best Boston bars near the Garden - officially known as "TD Garden" - for a pre-game dinner or post-game celebrating.
You'll find plenty of great choices among these top sports bars near Boston's TD Garden.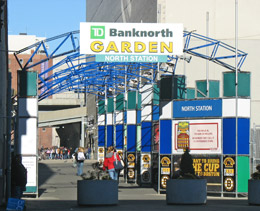 We take sports seriously in Boston . . . and after you discover all the great Boston bars near the Garden, you'll get a taste of Boston's real sports culture.
By the way, we pronounce that "cul-chah."
What you need to understand right away is that these are not just Boston bars . . . these are Boston sports bars . . . on steroids. You can have some serious fun in these places.
Of course, TD Garden isn't just about sports . . . it's also a popular arena for concerts and other entertainment.
So while all of these Boston bars cater at some level to the sports-obsessed, most of them target a wider mix of customers, including families, especially during the day and early evening.
A couple feature very good food, others are true neighborhood pubs, one is a well-regarded microbrewery / restaurant, several more double as dance clubs . . . and one or two are true dive bars, holdovers from seedier days before gentrification hit this area.
Even though this part of Boston's West End near TD Garden is just a couple of blocks from Faneuil Hall Marketplace, it doesn't attract many tourists at non-game times - so if you want to get a glimpse of the "real" Boston, stop in at one of these places and enjoy what's on offer.
Boston Beer Works
Boston Beer Works on Canal Street is the newest of three in the Boston area. And it's huge - over 16,000 square feet on 2 floors.
This kid-friendly place is a great spot to stop by before or after an event at TD Garden. You can shoot some pool at one of their 15 billiard tables, watch the Celtics or Bruins play on their big-screen TVs, or just enjoy a beer and some tasty pub food.
Boston Beer Works may be a great sports bar, but what's cool is that it's a real brewery plus a restaurant with food to complement the beer. In fact, it's the oldest and largest brewery and restaurant in the Boston area, started in 1990 by two brothers, Steve and Joe Slesar.
You'll see the beer-dispensing tanks right in plain view behind the bar, and detect a slightly malty aroma in the air. Best of all, you'll get to taste the specialty brews and decide which one of this Boston microbrewery's creations is your favorite.
Boston Beer Works brews about 50 different beers, ales, and lagers each year, with perhaps 12-15 on tap at any one time. Names like "Beantown Nut Brown Ale," "Boston Common," and "Bulfinch Bitter" keep the local connections front and center.
You'll also find some excellent pub food options. Order the chowder if you're not sure what you want.
Like the other Boston bars near the Garden and North Station, Boston Beer Works gets very crowded on on game days and nights. However, it's also a great option at other times. It's relaxed, casual vibe makes it popular with people working in nearby Government Center and friends who meet there to catch up and relax.
Details and Directions for Boston Beer Works
Address: 112 Canal Street, West End; Green and Orange Lines/North Station
For more information: 617-896-2337; website


Grand Canal
Grand Canal is large. This would seem to explain its name, as in "big place on Canal Street" - but actually, it's named after an Irish canal with the same name.
On the outside, Grand Canal is styled to look like a Victorian Irish pub. A new porch at the back, looking out onto the Rose Kennedy Greenway, offers outdoor dining.
Although about 50 plasma screens line the walls inside, and do become magnets on game nights, Grand Canal's focus on music shifts keeps it from feeling like just another a Boston sports bar (not to imply that there could ever be too many). On those nights, the screens provide a backdrop for the dancing.
At noon and after work, Grand Canal attracts people working in the neighborhood who stop by for a bite and a beer. You'll find pretty much the same food here that's in most Boston bars - nachos, wraps, salads, pasta, fish and chips, and in a nod to the Irish connections, shepherd's pie and bangers and mash.
In the evening, Grand Canal hosts some of Boston's best cover bands - particularly those that specialize in music from the 1980s and perhaps the '90s. In between sets, a DJ keeps the music playing - loudly.
Details and Directions for Grand Canal
Cover: Sometimes on live music nights; usually a small amount
Address: 57 Canal Street, West End; Green and Orange Lines/North Station
For more information: 617-523-1112; website

Greatest Bar
Greatest Bar is huge - possibly the biggest of all the Boston bars near the Garden. Part sports bar, part nightspot, it features lots of big screens, including a 14 foot high definition TV, plus DJs as well as live music.
Within Greatest Bar's 4 floors are 3 separate areas. Bars, naturally, dominate on each floor, with music and game broadcasts competing to drown each other out.
Top 40 tunes play on the first 2 floors, which include space for dancing. You'll find rock, classic to modern, playing on the 3rd floor, and oldies and Motown from the '50s, '60s, and '70 on the 4th.
Covering many of the walls and ceilings are posters, photos, and collages showing "greatest" Boston moments - mostly in sports, but also including history, politics, and other categories. That's what inspired the bar's name . . . it's a bar that displays "the greatest."
On game nights, a 90 minute video highlighting the greatest moments in Boston sports plays before game time to get everyone cheering.
A cover charge applies on some nights, but beers are relatively inexpensive and the food is reasonably priced. Food includes a good selection of typical bar food.
Details and Directions for Greatest Bar
Cover: Usually on live music nights
Address: 262 Friend Street, West End; Green and Orange Lines/North Station
For more information: 617-367-0544; website


Hurricane O'Reilly's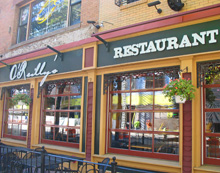 Part dance club, part sports bar, and part Irish pub. . . but except for game nights, more dance than sports, despite the big screens. A top 40s orientation draws a younger crowd, who pack the place on the weekends, especially Saturday nights.
The main room has several bars and a dance floor. A quieter back room sometimes hosts private functions.
When the Bruins or Celtics play at the Garden, Hurricane O'Reilly's becomes a popular option for stopping by before or after the game for a quick bite and beer.
Details and Directions for Hurricane O'Reilly's
Address: 150 Canal Street, West End; Green and Orange Lines/North Station
For more information: 617-722-0161; no website


McGann's Irish Pub
Quieter and more unassuming than many of the other Boston bars near the Garden, McGann's Irish Pub is one of those great places that once you find it, you want to come back again and again with your friends but you kind of hope that no one else discovers it (I know...I shouldn't be mentioning it here). You like to think that McGann's is your own place . . . the place where everyone knows your name.
Plenty of wide screen TVs show both American and Irish sports, with a strong emphasis on rugby, hurling, and soccer.
There's a full bar with reasonably priced drinks, and excellent pub food from both sides of the Atlantic - mac and cheese, fish and chips, burgers, a terrific bbq pulled pork sandwich, plus a couple of excellent curries, shepherd pie, and mouth-watering Irish beef stew.
Irish bands occasionally play here in the evenings - yet another reason to stop by.
Details and Directions for McGann's Irish Pub
Address: 197 Portland Street, West End; Green and Orange Lines/North Station
For more information: 617-227-4059

Boston Restaurant Savings
Restaurant.com - Save 60% or More on Boston Restaurants
Porter's Bar and Grill
A little off the usual track from the rest of the Boston bars near the Garden, Porter's has fewer tourists, college kids, and inebriated sports fans than some of the other nearby places. In fact, despite the 10 foot projection screen and HDTVs, it's more like a normal neighborhood bar where you can watch a game, have a few beers, and munch on some wings or nachos.
Porter's draws a good-sized crowd from people working in the area who stop by for lunch or an after-work drink. Tuesday night trivia, an occasional live band, and music at a volume where conversation is a possibility add to its evening and weekend appeal.
You'll find about a dozen beers and ales on draft, more options by the bottle, and drinkable wines. Food options include pub standards.
Details and Directions for Porter's Bar and Grill
Address: 173 Portland Street; West End; Green and Orange Lines/North Station
For more information: 617-742-7678


Sports Grille Boston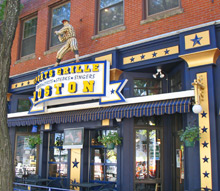 If the number of flat screens showing sports are the measure of a true Boston sports bar, Sports Grille must rank at or near the top of all of the Boston bars near Garden. The walls are plastered with them, showing all sports events underway at any given moment - and then each booth has its own small screen for good measure.
If you can move your eyes past the TVs, you'll also see lots of sports memorabilia around, adding to the atmosphere.
You'll find plenty of beer and other beverage choices, and some tasty food options - great cheese steak subs, baby rib subs, thin crust pizzas, and sandwiches. Try the George Forman steak tips sandwich, or the fried fresh haddock. Prices for drinks and food are reasonable.
Sports Grille's claim to culinary fame, though, are the half-pound hot dogs served on sub rolls with fries on the side. Add cheese, beans, peppers, and sauerkraut to taste.
A "rookie" menu for sports fans 12 and under is a nice touch, and underscores that this is a family-friendly sports bar where everyone will have a lot of fun.
Details and Directions for Sports Grille
Address: 132 Canal Street; Green and Orange Lines/North Station
For more information: 617-367-9302; no website


Sullivan's Tap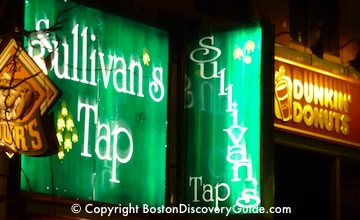 One of the few Boston bars near the Garden to be considered a true dive bar, Sullivan's Tap (locally called "Sully's") is more about semi-cheap drinks than sports.
You will also find some TVs, video games, and pool. The bar - long, narrow, dark - gets packed on game and concert nights.
As you've probably already guessed - don't bring your kids.
Address: 168 Canal Street, West End; Green and Orange Lines/North Station
For more information: 617-617-7617; no website


The Fours Restaurant and Sports Bar
The Fours opened in 1976 as one of the country's first sports bars, and continues to be the standard against which all other Boston sports bars are measured.
Sports Illustrated rated The Fours as the #1 Sports Bar in America. You may, too.
This renowned Boston bar is a kid-friendly place. If your children love sports and you don't have a chance to take them to the Sports Museum in the Garden while visiting Boston, bring them here for lunch and a look-around instead. The Fours has the most extensive collection of sports memorabilia in the Boston area.
And as for sports . . . 42 screens, plus satellite and Direct TV sports packages for everything - MLB, NBA, NFL, NHL, and NCAA. This is a serious sports bar. The Fours takes pride in making sure that wherever you're from, you'll get to see your team play.
The Fours also takes pride in serving good food - a cut above most Boston bars. My recommendations for starters: the phenomenal buffalo chicken nachos with hot sauce, celery, and bleu cheese and the seafood mushroom caps filled with homemade lobster, crab, and shrimp stuffing.
For dinner, look for the lobster scampi, local swordfish, and baked stuffed shrimp with homemade lobster sauce. You'll enjoy your meal even more after you discover how affordable this place is - most dinners are under $15.
In case you're wondering about the name, The Fours is named after the Bruins' legendary Number 4 . . . Bobby Orr, considered by many people to have been the best hockey defense player ever. And their Bobby Orr sandwich is also the best.
Details and directions for The Fours
Address: 166 Canal Street; Green and Orange Lines/North Station
For more information: 617-720-4455; www.thefours.com


Map showing Boston bars near the Garden
Here's a map that will help you find your way around Boston's West End neighborhood where TD Garden is located. As you'll see, all of the bars are very close together, and they're all close to the Garden and North Station.
7 best tips for having fun at Boston Bars near the Garden
1. You'll enjoy these Boston bars near the Garden the most if you like large, noisy, somewhat boisterous crowds. If you don't, come at a non-game time when they're still a lot of fun but less, um, exuberant. On game nights, you can find quieter places to have a drink in nearby Beacon Hill or some parts of the North End.
2. Dress appropriately. That means Boston sports gear. If you need a Bruins shirt, you can get one here.
3. Stay out of fights. Being dressed appropriately helps you avoid fights. What is "appropriate"? See Tip 2!
4. Understand each bar's age requirements. Some of these bars limit admission to 21+ at some times. If this might impact you, check with the bar ahead of time.
5. Don't drink too much. If you do, stay away from the nearby waterfront.
6. Don't drive. Come on foot, by T, or by train. And if you do drink too much, call a cab.
7. If you run into one of the Boston Bruins at one of these bars near the Garden, try not to stutter too much when you ask him to sign your shirt.
Like this Page? Please Share!
Boston Discovery Guide Home > Nightlife > Bars near TD Garden