Home > Restaurants > Historic Restaurants >
Union Oyster House
Historic Boston seafood restaurant near Faneuil Hall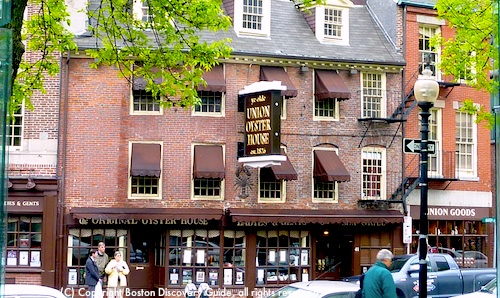 Union Oyster House, historic seafood restaurant in Boston's Historic Downtown
Despite being almost 200 years old and a National Historic Landmark, Union Oyster House retains its reputation as one of the best seafood restaurants in Boston - a place for special celebrations and lobster dinners, as well as quick bites at the oyster bar.
Located near Faneuil Market on one of the first lanes laid out by the Puritans in 1636, Union Oyster House claims to be the oldest restaurant in Boston.
How old is it? Union Oyster House served its first meals in 1826.
It's also the oldest restaurant in continuous service in the United States and occupies a building dating back to at least the 1740s.
Inside, old paintings line the cozy wood-paneled dining rooms, and you can't miss the references to famous patrons.
For example, there's Daniel Webster, who stopped by the oyster bar almost daily to consume 6 plates of oysters, with each plate of 6 oysters accompanied by a tall glass of brandy and water. Yes, that's 6 glasses of brandy and 36 oysters, every day.
In one of the upstairs dining rooms, you can see the favorite booth of another regular, President John F. Kennedy.
Union Oyster House Specialties
Seafood takes the spotlight here, along with traditional Yankee dishes such as Boston Baked Beans and Indian Pudding, although you'll see some contemporary touches as well - check out the Kalamata olives on my fabulous lobster roll in the Photo Gallery below!
Whether you're a tourist or local, Union Oyster House is a terrific place to order a whole steamed lobster, a shore dinner, a huge fisherman's platter, chowder, and anything from the raw bar.
Classic lobster and other seafood dishes such as Lobster Newburg, Steamers (local clams), and Broiled Boston Scrod are also excellent here.
My personal favorites are the Lobster Salad Roll and, if I'm there at noon, the terrific New England Seafood Pie.
Unfortunately, the menu, signs around the restaurant, and a first floor gift shop play up the age angle with "Ye Olde . . . " labels on some things, prompting some people to ask: "Is this place a tourist trap?"
Emphatically, no, although at times you will see lots of tourists here.
Union Oyster House is the "real thing" - high-quality seafood served in a historic setting, a favorite of Boston visitors as well as local fans who come back again and again.
Union Oyster House Photo Gallery

Photos from left to right:
1) The Oyster House's expert shuckers at the raw bar
2) A plate of fresh oysters
3) Paintings of Daniel Webster in one of the upstairs dining rooms
4) One of my personal favorites: the lobster salad roll served with French fries, Kalamata olives, and a dill pickle spear
5) Photo of Union Oyster House, taken across the street at the Boston Holocaust Memorial
Try the New England Shore Dinner
If you're not from this area, you may want to try a local specialty, the Shore Dinner, a feast traditionally served by seafood shacks up and down the New England coast.
Union Oyster House's Shore Dinner is excellent, although huge. This is definitely one of the best places to sample this New England specialty in Boston, especially since the restaurant has its own lobster pools.
The feast starts with clam chowder, and steamers or mussels. Then you move on to a whole boiled or broiled lobster, whichever you prefer. Following tradition, it's served with sweet native corn on the cob and creamy red potatoes. Dessert is your choice of gingerbread or hot Indian pudding (a kind of molasses-sweetened corn mush - I don't recommend it, but maybe it's an acquired taste?). Personally, I'd deviate from the set menu at this point and order Boston Cream Pie.
Boston Restaurant Savings
Restaurant.com - Save 60% or More on Boston Restaurants
Union Oyster House or Durgin Park?
In some ways, Union Oyster House is similar to the slightly "younger" Durgin Park that opened in 1827 around the corner in Quincy Market / Faneuil Hall Marketplace.
Both of these downtown Boston restaurants embrace traditional New England cuisine and emphasize the freshest local seafood and perfectly cooked steaks and chops.
But of the two, the Oyster House is slightly more formal and sophisticated, whereas Durgin Park is more casual and old-timey. Durgin Park also offers more meat and chicken dishes on its menu, whereas the Oyster House is primarily a seafood restaurant.
So if you're visiting Boston and want to try some traditional Yankee cooking (or enjoy some splendid seafood, meat, or poultry), do have a meal at one or both of them. You'll enjoy the experience - and the food!
Union Oyster House Cookbook
Want to continue to enjoy Union Oyster House's wonderful food once you're back home?
The Union Oyster House Cookbook is filled with many of the restaurant's own recipes, plus a lot of interesting history about the restaurant and this area of Boston. Buy it as a gift, or a to use yourself - and make the delicious clam chowder in your own kitchen.
You can find it in the first floor giftshop, or order (usually for a discounted price) direct from Amazon.


Details and Directions
Address: 41 Union Street, 1 block from Faneuil Hall on the Freedom Trail, Downtown Boston
Nearest T station: Orange Line/Government Center
For more information: 617-227-2750; website
Like this Page? Please Share!
More Historic Downtown Boston places to visit
Boston Discovery Guide > Restaurants > Historic Restaurants > Union Oyster House