Tall Ships Boston Tour Schedule - 2017
Find out how to see tall ships in Boston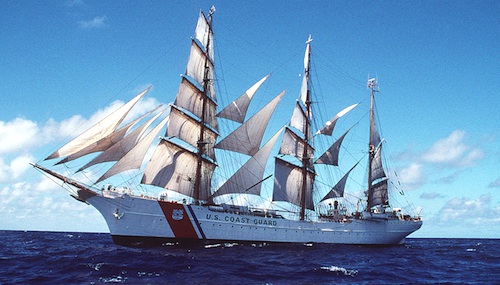 US Coast Guard Eagle
When tall ships sail into Boston in late June, 2012 to commemorate the bicentennial of the War of 1812, you'll get a glimpse of what the Harbor looked like back when these magnificent vessels ruled the seas.
Even better, you'll get a chance to tour them and over a dozen other military ships from around the world as well as our own USS Constitution, "Old Ironsides."
Or, get a close-up look at the tall ships from the luxurious comfort of your own lunch cruise around the harbor of Boston's famed Spirit of Boston, complete with a huge ship-top deck for your viewing pleasure. Go straight to tall ships cruise information
Use the information on this page to plan your tall ship visit - and enjoy your time in Boston!
Tall Ships Tour Schedule and Locations
South Boston's Fish Pier
Ships: OpSail fleet of tall ships: Cisne Branco (Brazil), Guayas (Equador), ARC Gloria (Columbia), Dewaruci (Indonesia)
Tour dates/times: June 30 and July 1, 12 noon - 8pm; July 2 and July 3, 4pm - 8pm; July 4, 12 noon - 8pm; July 5, 4pm - 8pm
Closest hotels: South Boston Waterfront Hotels
More about the South Boston Waterfront
| | | |
| --- | --- | --- |
| Cisne Branco | ARC Gloria | Dewaruci |
Black Falcon Pier
Ships: HMCS Iroquois (Canada), HMCS Preserver (Canada), RFA Argus (UK), FGS Hessen (Germany) USS Gravely (US)
Tour dates/times: June 30 - July 5, 12 noon - 6pm
| | | |
| --- | --- | --- |
| HMCS Iroquois | USS Gravely | RFA Argus |
Charlestown Navy Yard
Home to: USS Constitution
Ships: USCG Eagle (US), USCG Juniper (US), NOAA's Thomas Jefferson research vessel (US), Thor Heyerdahl (Royal Norwegian Navy), HDMS Esbern Snare (Denmark)
More ships at Pier 1: HMCS Kingston (Canada), HMCS Goose Bay (Canada)
Tour dates/times: June 30 - July 5, 10am - 6pm
Closest hotels: Constitution Inn and Marriott Resident Inn at Tudor Wharf, both in Charlestown, and Fairmont Battery Wharf Hotel in the North End
| | | |
| --- | --- | --- |
| RV Thomas Jefferson | HMCS Kingston | HDMS Esbern Snare |
South Boston's North Jetty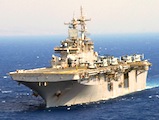 Ship: USS Wasp (US warship)
Tour dates/times: June 30, 12 noon - 4pm; July 1 - July 3, 12 noon - 6pm; closed on July 4th; July 5, 12 noon - 6pm
Location: North Jetty is near the Black Falcon Terminal on the South Boston Waterfront



Tall Ship Cruises in Boston Harbor
Tall Ships Lunch Cruises on July 1, 2, 3, 5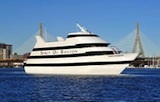 For only a short time - July 1-5, to be exact - you can see Tall Ships up close from the best viewing spot of all - a special cruise in Boston Harbor on the Spirit of Boston. Go up for the ship-top deck for the best views of the historic tall ships and military ships - but also enjoy the delicious all you can eat lunch buffet. This special 4-hour tour is the best way to celebrate the War of 1812 Bicentennial - and get a sightseeing tour of Boston Harbor including views of the Boston Tea Party site, Bunker Hill, and breathtaking Boston skyline views.
Tall Ship Lunch Cruise on the Spirit of Boston
4th of July Tall Ships Cruises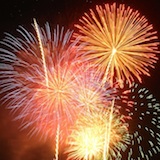 If you want the ultimate Tall Ship viewing experience combined with Boston's world-famous July 4th celebrations, get on board for the most memorable of all Spirit of Boston tall ship cruises. Opt for the lunch cruise, and you'll watch the thrilling Blue Angels air show overhead as you enjoy the delicious buffet. Or choose the all-you-can-eat dinner buffet cruise to experience the magic of seeing the Tall Ships with Boston's spectacular fireworks in the background.
July 4th Lunch and Dinner Tall Ship Cruises
Boston Insider Tip
If you're planning a visit to Boston during late June - early July when the tall ships will be here, make your flight and hotel reservations as soon as possible. Other hugely popular events taking place during this same time period include Harborfest and the July 4th Fireworks and Boston Pops Concerts - so the city will be packed!
Hotels near Spirit of Boston departure point
| | | | | |
| --- | --- | --- | --- | --- |
| | | InterContinental Boston | | |
More Key Tall Ship Events Schedule Information
June 30, 7am - 11am - Arrival of Tall Ships in Boston Harbor; head to Castle Island to watch them arrive
June 30, 12 noon - Parade of Ships in Boston Harbor
July 2 and 3, 10am, Puopolo Park in the North End and 2pm, Boston Common - U.S. Navy Leapfrogs Parachute Jumps
July 4, 12 noon - 45 minute air show by the Navy's Blue Angels, while the USS Constitution performs its annual turnaround cruise in Boston Harbor; 12:17pm at Fan Pier - U.S. Navy Leapfrogs Parachute Jumps
July 5, 10am - 4pm - US Coast Guard base at 408 Atlantic Avenue in the North End will be open for tours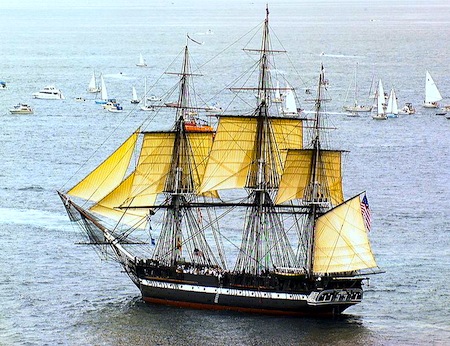 USS Constitution in Boston Harbor - photo by Journalist 2nd Class Todd Stevens, U.S. Navy
Photo Credits
Thank you to the talented photographers who took the photos of these spectacular ships:
USCGC Eagle, courtesy of US Coast Guard
USS Gravely, by DCC Joy Davis, courtesy of USS Gravely Public Affairs
HMCS Iroquois, by Jim Henderson
USS Constitution, by Journalist 2nd Class Todd Stevens, US Navy
RFA Argus, by Adrian Jones
Cisne Branco, by Bruce Bodner
Dewaruci, by Bruce Bodner
ARC Gloria, by Luz A. Villa
USS Wasp, by Mass Communication Specialist 2nd Class Zachary L. Borden
HMCS Kingston, by G. Bouchard
RV Thomas Jefferson, by NOAA
Esbern Snare, by Lukasz Golowanow and Maciek Hyps, Konflikty.pl
More fun events to check out during June-July
Like this Page? Please Share!
Tall Ships Boston 2012 > Boston Events > Boston Discovery Guide