Home > Sports > Super Bowl in Boston >
Super Bowl Parties at Boston Bars
Find Out about Tickets, Covers, & More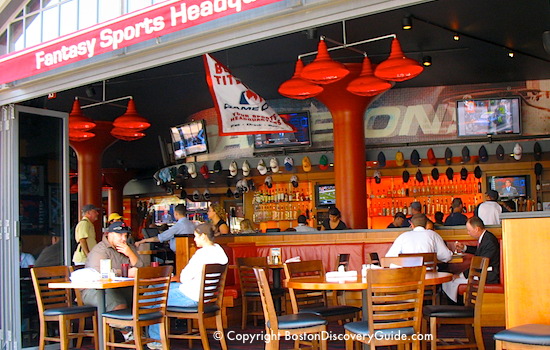 Game On! Popular Boston sports bar for watching Super Bowl

Can you suggest which Boston bars are hosting Super Bowl parties where you pay a cover charge and are therefore guaranteed to get in so you can watch the game?
Michael
Boston

Michael,
As you can probably guess, sports bars and most other bars in Boston will be packed with New England Patriots Fans on Super Bowl Sunday, so your approach makes a lot of sense.
Here is a selection of Boston Super Bowl bar parties requiring tickets or cover charges.
I'm also including a few other bars and restaurants with big screens and Super Bowl special menus where you can make reservations for a table but don't have to buy a ticket or pay a cover.
I've included phone numbers for each place - so even if you get tickets online, you should call to confirm you're going to have a good seat in terms of viewing.
The events do book up early - so don't wait to get your tickets or book reservations.
Have fun!!!
Susan
Great suggestions - Thanks!
I'd been looking for this information - thanks for such a great summary!

Tom
2015 updates
We answered this question a few years ago. Details for many places are still being confirmed for 2015, as noted below. Also, information may change without our knowledge - so please confirm all details when you get your tickets or make reservations.
Super Bowl Road Restrictions
Due to heightened passions about Super Bowl this year - and the massive piles of snow remaining from the blizzard earlier this week - Boston Police will take extra precautions to enforce alcohol and other safety rules on Super Bowl Sunday.
Some of these measures involve restricted access to several areas of the city, including some where a lot of sports bars are located. These areas include streets and business around Faneuil Hall, North Station (ie, TD Garden vicinity), Kenmore Square (ie, Fenway Park/Boston University vicinity), Northeastern University, and Brighton (also BU).
For more details, see the official press release issued by the Mayor's office on CityofBoston.gov at http://www.cityofboston.gov/news/Default.aspx?id=18973
With the Patriots playing in the Super Bowl in 2015, tickets and reservations may be in more demand than usual!
Super Bowl Parties at Bars - Tickets and/or Reservations Required
Clerys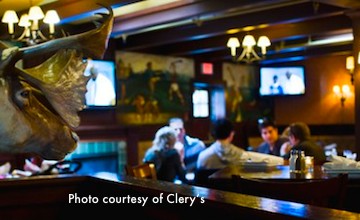 Clerys hosts an Annual Super Bowl Party.
Tickets are $25 per person, and you should get them in advance, because they are likely to sell out.
You get a guaranteed table for your group, your choice of any two beers, an appetizer sampler platter during the first half of the game, and a pizza buffet during the second half. If the game gets dull, you can participate in Clery's Annual Wing Eating Contest.
Buy tickets at Clerys (113 Dartmouth St, Back Bay, 617-262-9874) or online: www.clerysboston.com
Game On!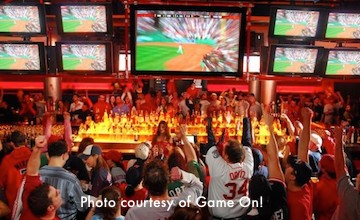 Game On! (82 Lansdowne St, Fenway, 617-351-7001), a huge bar/entertainment complex near Fenway Park, features lots of big high-def screens.
They will book tables for 2+ people.
As you can see in this photo, with the number of big screens there, you should have a good view from wherever you sit, plus they're high enough so they never get blocked by the crowds.
Cask 'n Flagon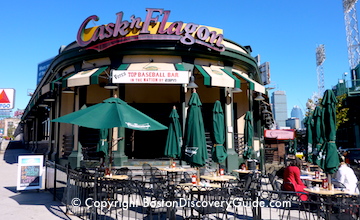 Cask 'n Flagon (62 Brookline Ave, 617-536-4840), a popular sports bar filled with high def screens across from Fenway park, usually has a Super Bowl party with specials plus private viewing parties - but Super Bowl 2015 events are not announced yet.
Last year's event featured a free halftime buffet, a beer bucket special, and the Boston radio 98.5 Sports Hub Street team on site to join in the fun.
Food here is usually very good. They offer a tailgate platter, and Texas-style smoked BBQ, in addition to typical bar fare.
Jerry Remy's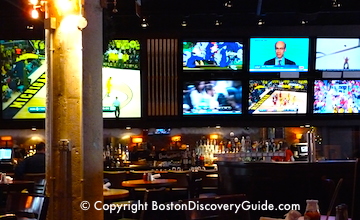 Jerry Remy's has two Boston locations (1265 Boylston St in Back Bay, 617-236-7369 and the new, very fancy location at 250 Northern Ave in the South Boston Waterfront/Seaport, 617-856-7369).
Both locations feature walls of screens, although the South Boston Waterfront/Seaport bar has the most (but the Fenway location is fine - that's it shown in the photo).
They will take reservations for dinner - so you can enjoy a meal with the game. When you call for reservations, make sure you'll be seated at a location with a good screen view.
The Harp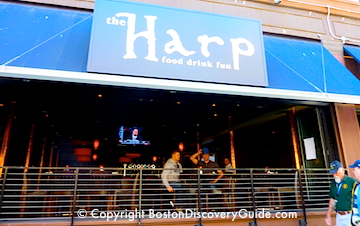 The Harp (85 Causeway, across from TD Garden, 617-742-1010) hosted a Super Bowl party in their private VIP room last year.
Tickets were required in advance.
The Harp hasn't announced any Super Bowl 2015 parties yet, but they are known for their fun events - so stay tuned!
Poe's Kitchen - Burrito Bowl IV
Poe's Kitchen at the Rattlesnake Bar (384 Boylston Street; 617-859-8555) hosts Burrito Bowl IV, their annual competition to Super Bowl, on January 31, 2015. A star-studded roster of Boston's best chefs gather together to create burritos representing the city of their favorite NFL teams - and YOU get to sample the and vote for the winner! Tickets are $25, and always sell out in advance of the event. Reserve at www.burritobowl4.eventbrite.com, or call the restaurant for more information.
Church of Boston
Please note: This information from last year. Look for updates soon!
Church of Boston (69 Kilmarnock; 617-236-7600) is hosting a Super Bowl party with tailgating food starting at noon - no cover or tickets (that I'm aware of), but call to see if they're taking reservations. With only a few large plasma TVs, you probably won't find the big crowds here that will be packing into the other Fenway bars.
Brasserie Jo
Please note: This information from last year. Look for updates soon!
Brasserie Jo (at the Colonnade Hotel; 617-425-3240) is offering a Super Bowl "Patriots Pairing" menu with beer pairings (shrimp cocktail, Frisee salad, hangar steak and baked potato, warm chocolate torte and black raspberry chocolate chip ice cream, with each course including dessert paired with a beer or ale), and also a more casual menu in the bar.
The bar, if I recall correctly, is where the big screen TVs are, but you can see parts of it from the dining area - when you make reservations, see if they're bringing in additional TVs and ask to be seated where you can watch the game.
Champions
Please note: This information from last year. Look for updates soon!
Champions at the Boston Marriott Copley Plaza Hotel ](110 Huntington Ave, in Back Bay; 617-927-5304) has an impressive video wall - although they don't normally take reservations for the bar, you might give them a call and see if you can reserve a seat.
ArtBar
Please note: This information from last year. Look for updates soon!
ArtBar (40 Land Blvd; 617-806-4122) at the Royal Sonesta in Cambridge is turning their private dining room into a Super Bowl party lounge, complete with big screens, and also bringing additional big screens into their regular dining area.
You can enjoy Super Bowl appetizers - a cheese and crap dip with chips, sausage and peppers, wings with ranch dip, nachos, etc. - as well as special team-themed cocktails.
Like this Page? Please Share!
More about Celebrating Super Bowl & the Patriots
Boston Discovery Guide > Sports > Super Bowl in Boston > Super Bowl Parties at Boston Bars