Home > Neighborhoods >
South Boston Waterfront Attractions
What to See and Do in Seaport & Fort Point
The South Boston Waterfront gets a lot of well-deserved buzz as the city's most exciting neighborhood.
Popular museums and art galleries, entertainment venues, excellent hotels, numerous restaurants, and the lively waterfront provide visitors and locals with plenty to do.
Seaport, the part of the neighborhood stretching along Boston Harbor, boasts glitzy waterfront restaurants and bars, concerts almost every night during the summer at the Blue Hills Bank Pavilion, a brewery, and departure points for Harbor cruises.
At the eastern tip of this area, Boston's Cruiseport welcomes cruise ship passengers to Boston from April to November.
South of Atlantic Ave, the arty Fort Point is sandwiched between the channel separating the neighborhood from Boston's Downtown Financial District on the west and the Massachusetts Convention and Exposition Center on the east.
Dotted with art galleries and the popular Boston Children's Museum, Fort Point boasts innovative chef-owned restaurants along Congress Street and adjacent streets, as well as terrific city skyline views across the channel.
In addition, the neighborhood - sometimes called the "Innovation District" - provides space to pharmaceutical research, technology, and financial services companies.
Converted lofts and sleek new waterfront condos also make this a popular residential area.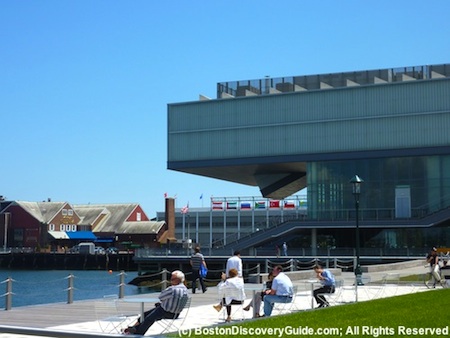 Institute of Contemporary Art on South Boston Waterfront
Guide to South Boston Waterfront Attractions and Things to Do
Blue Hills Bank Pavilion - Top concert venue during summer months
ICA Boston - a.k.a. Institute of Contemporary Art (100 Northern Ave at Fan Pier) - Cutting-edge art of every genre imaginable by living and recent artists, as well as lots of entertainment events such as movies, jazz concerts, and festivals. Free admission on Thursdays from 5pm-9pm, and for youth 17 and under anytime; free admission anytime if you have a Boston Discount Card.
Boston Children's Museum (308 Congress St) - Lots of hands-on exhibits plus a huge 3-story climbing structure make this museum a hit with kids and parents. Admission for $1 on Fridays, 5pm-9pm. Free admission with a Boston Discount Card.
Grand Circle Gallery (347 Congress St) - Spectacular vintage travel posters, black and white photos, and special exhibits; free admission. A personal favorite.
Boston Harbor Dinner Cruises - Spirit of Boston departs from the pier across from the Seaport Hotel. Look for discount offers from GoldStar.
Fort Point Open Studios - Best way to tour Fort Point galleries and artist studios. Open Studios held in May and in October.
Boston Fire Museum (344 Congress St) - Fascinating collection of antique fire-fighting apparatus. One of Boston's most unique museums.
Boston Tea Party Museum (Fort Point Channel) - Closed since 2001 after being struck by lightening, but scheduled to reopen during summer of 2012, bigger and better than ever.
Boston Convention and Exposition Center (415 Summer St) - New England's largest convention space, attracting around a million visitors each year. Lawn on D, a "playground" for adults, provides giant swings, lawn chairs, games, and music during warm months.
Harpoon Brewery - The largest specialty brewer in New england, Harpoon Brewery hosts tours, tastings, and Octoberfest, one of the most popular fall festivals in Boston.
Boston Cruiseport - a.k.a. Black Falcon Cruise Terminal - Departure point for cruises from Boston to ports in Europe, Bermuda, the Caribbean, and foliage cruises along the New England/Canadian coast.

Port of Call flags at Cruiseport in South Boston Waterfront
South Boston Waterfront Restaurants
Both Seaport and Fort Point offer a wide variety of restaurant options.
In Seaport, waterfront restaurants and bars offering appealing Boston Harbor views draw large crowds, especially on summer weekends. A number of these restaurants are part of hospitality groups with a national presence - including Boston's own Legal Sea Foods.
More about Seaport restaurants
Fort Point, without the views, attracts smaller chef-owned restaurants, many of which emphasize innovative cuisine. Smaller doesn't mean obscure - renowned Boston chefs such as Barbara Lynch, Ming Tsai, and Joanne Chang have places here, along with other chefs you may not have heard of ... yet.
More about Fort Point restaurants
Yet another dining option is the Spirit of Boston, a luxury cruise boat departing across from the Seaport Hotel - perfect way to sightsee around Boston Harbor while enjoying a delicious dinner and, on some of the cruises, dancing.
Where to Stay in the South Boston Waterfront
South Boston Waterfront hotels provide excellent accommodations whether you're here for a convention, cruise, or just some Boston sightseeing:
Find out more about Hotels in South Boston's Waterfront, including the new Envoy Hotel, which boasts great views from its rooftop bar.

South Boston Waterfront photo gallery

Return to Top - South Boston Waterfront
South Boston Waterfront public transportation
Boston's subway system provides excellent transportation along the South Boston Waterfront by way of the Silver Line, which runs from South Station in Downtown Boston to the Boston Design Center and Black Falcon Cruise Terminal.
Boston water taxis service several neighborhood locations: Barking Crab Restaurant / Federal Courthouse by the Moakley Bridge; East and West sides of the World Trade Center across from the Seaport Hotel; Blue Hills Bank Pavilion; Boston Design Center / Black Falcon Cruise Terminal. Water taxis will take you to points along the Downtown Waterfront as well as Logan Airport, just 10 minutes across Boston Harbor.
Land taxis - Plentiful.
Black Falcon Cruise Terminal - Best way to leave the city, with luxury cruises from Boston to ports in the Caribbean, Bermuda, New England/Canada, and even Europe.
More about the South Boston Waterfront
When you hear Bostonians refer to the South Boston Waterfront, they're talking about the upper corner of the South Boston neighborhood - the area bordered by Fort Point Channel to the west, Boston Harbor on the north, and stretching over to the Black Falcon Cruise Terminal, also called CruisePort, on the eastern tip.
Although this area includes only a small portion of South Boston, its proximity to Downtown - a quick 5-minute walk across the Moakley Bridge, Summer Bridge, or Congress Street Bridge - makes it a natural extension of the Downtown Waterfront and convenient to Downtown businesses, hotels, restaurants, and attractions.
Traditionally, port and shipping facilities, marine industries, warehouses, tanneries, and other industrial buildings filled this area and then mostly fell into disuse - until the 1980s, a renaissance began.
Fast forward to now: Relentless efforts by Boston's late Mayor Tom Menino have made the South Boston Waterfront the most rapidly developing part of the city, with glittering new restaurants and commercial buildings (bringing thousands of jobs) overlooking Boston Harbor.
Even as recently as a couple of years ago, this neighborhood was quiet at night - but not anymore!
Map of South Boston Waterfront
This map shows major attractions, museums, restaurants, hotels, Boston Design Center, Blue Hills Bank Pavilion, and Black Falcon Cruise Terminal.

Map of South Boston Waterfront neighborhood
Like this Page? Please Share!
Related topics of interest:
Boston Discovery Guide > Neighborhoods > South Boston Waterfront