Shakespeare on the Common - 2014
Enjoy Twelfth Night at Shakespeare in the Park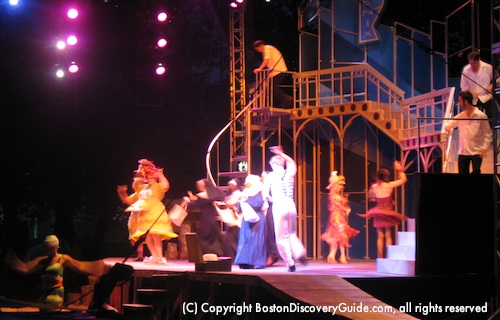 Shakespeare on the Common
Get ready for a magical evening of Shakespeare on the Common 2014 as the Commonwealth Shakespeare Company stages Twelfth Night, its 19th annual production of free Boston theater during July and August.
This year's performance revisits one of Shakespeare's most popular comedies involving cross dressing, disguise, deception, and romance. CSC previously produced Twelfth Night back in 2001.
There's nothing more perfect than enjoying one of these wonderful Shakespeare on the Common performances under the stars on a balmy Boston summer evening.
Performances take place in July near the Parkman Bandstand on Boston Common.
Bring a blanket or low folding chair to sit on, and get ready to be entertained, to have your thinking challenged in some way, and to listen to the words of Shakespeare, as meaningful today as when he wrote them 4 centuries ago.
Check the Boston Event Calendar for July for exact dates and times.
Twelfth Night "Cheat Sheet"
Can't Quite Recall this Play? Here's Are the Highlights
Shakespeare probably wrote Twelfth Night around the beginning of the 17th century in 1600 or 1601, about the same time he finished writing Hamlet. By this point, he'd been writing plays for about 10 years, and had become a master of the genre.
Like several of Shakespeare's other plays, Twelfth Night explores the theme of a woman who disguises herself as a man and a man who disguises himself as a woman - only to have members of their own gender fall in love with them.
But unlike many of Shakespeare's earlier and later romantic comedies, Twelfth Night doesn't have darker overtones or tragic undercurrents. Instead, it embraces a sort of magical world where anything is possible and love prevails at the end - even though the central characters turn out to be not quite what their lovers expected.
It's a tale of love, deception, kinship, and ambiguity. The title refers to an ancient Catholic holiday called "Twelfth Night," or the Eve of the Feast of Epiphany, which falls 12 days after Christmas. By Shakespeare's time, Twelfth Night had become a Carnival-like celebration based on the Roman festival of Saturnalia complete with role reversals, disguises, and plenty of drunken revelry.
Setting - The coast of Illyria along the eastern side of the Adriatic Sea
Plot - Viola and her brother Sebastian have been separated in the aftermath of a shipwreck. Believing her brother to be dead, Viola disguises herself as a man and renames herself Cesario in order to work for the Duke of Orsino, who is pining away for the love of Lady Olivia, who rejects his proposals because she is mourning the death of her brother.
Cesario/Viola becomes a favorite of Orsino, who sends him/her to woo Olivia on Orsino's behalf. Attracted by his/her great beauty, Olivia falls in love with Cesario/Viola - who meanwhile has fallen in love with Orsino, completing a perfect love triangle.
Meanwhile ... Sebastian, who is very much alive, arrives with his rescuer, friend, and possible admirer, Antonio. Since Sebastian looks very much like Cesario/Viola, a comedy of errors of recognition occur, resulting in a duel, a proposal, an arrest, a wedding, apparent betrayal, and many more twists and turns.
You can expect a fast-paced, funny evening that may leave you thinking about appearances, disguises, and reality. Keep in mind that during Shakespeare's time, men routinely played the roles of women - adding an additional layer of ambiguity and irony.
Meanings - Throughout the play, Shakespeare explores the tensions and disconnects between ambiguity and reality, identity and gender, love and friendship, romance and betrayal.
Why does this play seem familiar? Shakespeare may have borrowed part of the story line from older sources, but the play has inspired plenty of imitations and riffs in the past 400+ years. Twelfth Night resonates in Shakespeare in Love (Joseph Fiennes, Gwyneth Paltrow, 1998) at a number of points, including the shipwreck/rescue in the New World at the end.
A contemporary version plays out in She's the Man (Amanda Bynes, Channing Tatum, 2006), a teenage movie with its own Viola who disguises herself and takes the place of her brother Sebastian on the soccer team at a boarding school named Illyria, complete with a roommate/teammate named Duke and a lab partner named Olivia who quickly form the other two points in a love triangle.
Bottom line: will you enjoy it? - Yes, absolutely. Commonwealth Shakespeare Company and director/founder Steven Maler excel at this type of play, and you can be sure they'll deliver an entertaining, compelling performance to leave you laughing...and thinking.
Where to Stay Nearby
Watch Shakespeare on the Common, and then stroll back to your hotel in five minutes or less when you stay at one of these popular hotels overlooking the Common, or just a block away.
| | | | |
| --- | --- | --- | --- |
| | | | |
What to Expect in 2014 Performances
Typically, the 18 Shakespeare on the Common performances attract more than 100,000 people. Without a doubt, this is one of the most popular Boston theater events of the year.
In case you're inwardly groaning at the idea of an evening of Shakespeare, rest assured that this is not the stodgy stuff that you may remember from high school.
The high-energy performance typically mixes in plenty of bawdy jokes, and even songs and dance - perhaps not so different in spirit from how William Shakespeare's actors kept their diverse audience entertained in the Globe Theatre 400 years ago.
What to bring for Shakespeare on the Common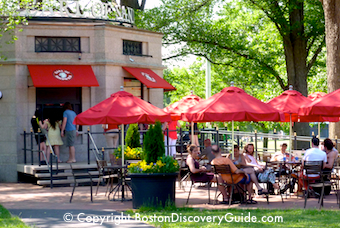 At a minimum, bring a blanket to sit on. The elevated, well-lit stage is at the bottom of a gentle slope, so you will be able to see well from wherever you're sitting. Some people also bring low folding chairs.
The area closest to the stage begins to fill up about 2 hours before the performance.
However, the lighting and sound systems make it easy for you to see and hear what's going on, so this is one time when you don't need to worry about getting a "good" spot.
Lots of people bring picnic dinners, and along with something cold and refreshing to drink. But if you don't have time to pack a dinner, don't worry. You can purchase box dinners
Alternately, have dinner before the performance at one of the terrific Theatre District restaurants just a block or two away, or stop by a local Boston nightlife spot after the performance for a perfect summer evening.
Details about Shakespeare on the Common
| | | | |
| --- | --- | --- | --- |
| | | | |
Insider tips
Alcoholic beverages are prohibited in Boston parks. However, you may notice a number of discrete thermoses and other beverage containers among the rather mellow crowd.
Like this Page? Please Share!
Boston Discovery Guide > Theatre > Shakespeare on the Common