Boston Discovery Guide Home > Events >
Patriots' Day Schedule of Events - 2013
Find all the Patriots' Day re-enactments in and near Boston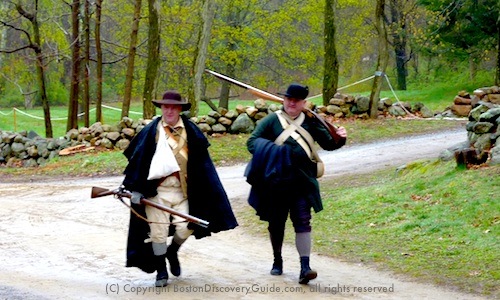 Colonial militia during Patriots' Day reenactment at Minute Man National Historic Park
The Patriots' Day schedule includes dozens of major re-enactments of the first day of the American Revolution as local Militia and Minute Men companies commemorate the events of April 19, 1775 in Boston, Lexington, Lincoln, Arlington, Bedford, and Concord.
You'll be surprised by how realistic the reenactments feel.
You may even forget you're in 21st century Boston as you relive the thrilling beginning of the Patriots' fight for freedom from British rule.
Although Massachusetts officially observes Patriots' Day on the 3rd Monday in April (April 15th in 2013), commemorative ceremonies and re-enactments take place throughout the month.
Thousands of members of local minute men companies, militias, and historical societies participate in the re-enactments in Boston, the Minute Man National Historical Park, Concord's Old North Bridge, Lexington's Battle Green, and other historic sites in the Boston area.
Whether you're visiting Boston specifically to attend one or more of the reenactments, or just happen to be here during the latter part of April and want to see what this is about, figuring out the different events and when they occur can be a challenge if you don't live where they take place.
The following Patriots' Day schedule highlights over 60 key events. Many additional local events, parades, and ceremonies take place in and around Boston on Patriots' Day weekend.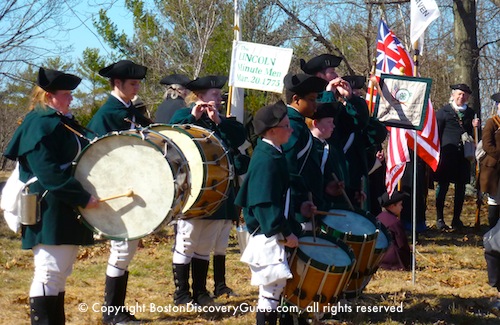 Lincoln Minute Men - Fife and Drum Corps
Please note: I provide sources for Patriots Day schedules in the Essentials box. As you can see, there are a lot of information sources, and in a few cases, they give slightly different times for events. When I can't resolve the difference, I put the earlier time - better to be early than late!
If you belong to one of these groups and see information on this page that needs updating or correcting, please let me know! BIG Thanks to those of you who send me updates from time to time!
2013 Patriots' Day Schedule for Reenactments and Commemorations
Boston Discovery Guide strives to compile a complete list of Patriots' Day events so that you can easily see the full schedule.
Before heading out to any of these events,
please be sure
to use the links to my information sources in the
Essentials section
to
confirm dates/times,
as weather, logistics, and other situations can and do cause last-minute changes.
Also, please note that lots of different organizations perform reenactments, and the resulting mix of events doesn't necessarily follow the original sequence of events - for example, the reenactment of Paul Revere's capture takes place before the reenactment of his ride to warn Colonists about the approaching British.
Don't forget that the Boston Massacre, which took place in March 1770, triggered the first casualties in the revolt of the Colonists against the British. You can see it reenacted at the Old State House in Boston (check our March events calendar for the exact date), and also visit the Boston Massacre memorial along the Freedom Trail.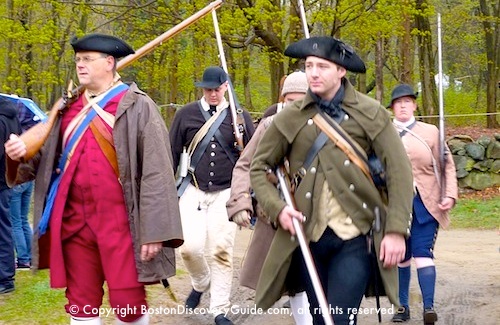 Patriot's Day reenactors at Minute Man National Historic Park
Saturday, April 6
10:30am, Bedford Parade and Pole Capping - Location: 99 School Way, Bedford - The Stow Minute Men, the Bedford Minuteman Company, and other Minute Men from throughout New England gather on Town Common and march while playing fifes and drums down The Great Road to Wilson Mill Park, where a Minute Man will proclaim freedom by shinnying up a 25-foot pole and putting a red cap on top of it in defiance of King George. The parade ends about 11:30.
11am - 2pm, Meriam House Tours - Location: Meriam's Corner on Lexington Road, Concord
1pm, Meriam's Corner Exercise - Location: Meriam's Corner on Lexington Road, Concord - Minute Men from area minute companies commemorate the fight at Meriam's Corner that began the Red Coat's 6-hour frantic running retreat back to Boston, under heavy fire from enraged Colonists along the way.
3pm, Paul Revere Capture Ceremony - Location: Paul Revere Capture Site on Rt 2A, Minute Man National Historical Park (MMNHP), Lincoln - The Lincoln Minute Men will march down Battle Road and do a dramatic reading of the events of the night of April 19, 1775, when British troops captured Paul Revere in Lincoln, using the participants' own words.
Other reenactment units will commemorate the event with fife and drum music, and a musket fire salute.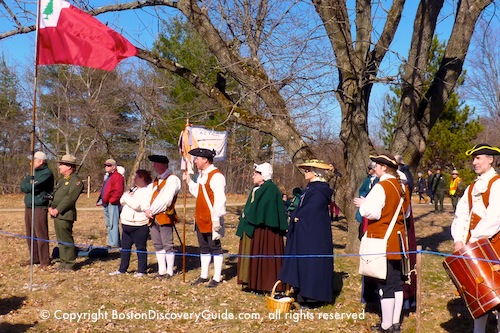 Acton Minutemen in reenactment ceremony near Paul Revere Capture Site
Sunday, April 7
2pm, Dress Rehearsal of the Lexington Skirmish on April 19, 1775 - Location: Battle Green, Lexington Center - The Lexington Minute Men hold their dress rehearsal for the Patriots Day (Monday, April 15) reenactment of the April 19, 1775 skirmish. Good day to come if you want to see some action but avoid the bigger crowds. Plus, the actual event on Patriots Day takes place at 5am - so opt for the dress rehearsal if you prefer to relive the experience at a more civilized hour.
Saturday, April 13
8:30am or 10am (conflicting information about times), Parker's Revenge - Lexington Minutemen Gather on Lexington Green - Location: Lexington Green. - In this reenactment of an event that took place AFTER the Battle of Lexington was fought on the morning of April 19, 1775, Captain Parker calls the Lexington Minutemen to arms at on Lexington Green and talks with Reverend Jonas Clarke, at whose house Samuel Adams and John Hancock had been hiding (more about that). The Minutemen then march to the Parker's Revenge site on Route 2A in the Minute Man National Park for a wreath laying and musket salute (see below).
Battle Road Reenactments and Demonstrations, Minute Man National Historical Park, Rt 2A, Lincoln:

The Minute Man National Historical Park hosts some of the biggest events of the weekend, including the Hartwell Tavern tours, Smith House demonstrations, and Bloody Angle demonstration activities outlined below. There's plenty of well-marked parking in lots around the park, but wear sturdy walking shoes or boots.
- 9:30am - 5:30pm, Hartwell Tavern Tours - See where the Patriots spent their leisure time.
- 9:30am - 4pm, The Captain William Smith House Demonstrations
You can explore this historic home and tavern, which date back to before 1775, and see reenactments of 18th century activities, including drill and artillery demonstrations, musket and cannon firing, Colonial home activities, crafts, and games.
- 11am, Bloody Angle Tactical Demonstration - Hundreds of British and Colonist reenactors demonstrate 18th century weapons and tactics used in this famous Revolutionary War battle conducted while running over a half-mile along the original Battle Road. In previous years, this huge Battle Road event has been very spectacular.
10-4 Historic House and Tavern Tours in Lexington - Buckman Tavern (1 Bedford Street; tours every half hour), Hancock Clarke House (36 Hancock St; tours every hour), and Munroe Tavern (1332 Mass Ave; noon -4pm, tours every hour). Buy tickets at any of these sites: $7 adults/$5 child (5-16 years) for one site, or $12 adults/$8 child for all sites; children under 5 free of charge.
"Seeing how the Minute Men hid behind a hill and ambushed the British brought this moment in history to life! The British reenactors looked totally scared. They tried to shoot back - and then they ran for their lives! Our photos (below) will give you a small glimpse of this exciting event."
Olivia
2pm, Parker's Revenge Battle Reenactment - Location: Near the Minute Man Visitor Center at 250 North Great Road, Lincoln) - After Captain Parker calls the Lexington Minutemen to arms earlier in the day on Lexington Green (see above), they march to the battle site for a salute near Fiske Hill (Lexington) at 1:30pm. At 2pm, Captain Parker's Lexington militia will recreate their ambush on a British column conducted in revenge for their members who the British killed and wounded during the Battle on Lexington Green on the morning of April 19, 1775. This is always an exciting reenactment with lots of action.
Reenactors playing British troops return to Boston after their unsuccessful trip to Concord, unaware Captain Parker and the Lexington Militia are waiting to ambush them


1pm-4pm, Jason Russell House Tours - Location: 7 Jason Street (at Mass Ave), Arlington - Children's activities and refreshments served on the lawn. The Menotomy Minutemen will demonstrate drilling and musketry, and discuss their gear. The house will be open for tours (donation requested).
4pm-5pm, Tower Park Battle Demonstrations - Location: Munroe Tavern and Tower Park, Mass Ave, Lexington - The Lexington Minute Men and Tenth Regiment of Foot reenactors demonstrate American Revolution battle techniques, tactics, and weapons in the amphitheater area. NOTE - This event happens every other year during odd-numbered years. It is "on" for 2013.
8pm - Lexington Symphony Patriots Day Concert - Location: Cary Hall, 1605 Mass Ave, Lexington - This special program features American music played by professional jazz soloists. Tickets $30-$50; Students $20 - call 781-523-9009.
Essentials: Patriots Day Logistics and Schedule
Parking:
Boston events - Parking garages near the North End - Better option: take the T to Haymarket
Concord, Lincoln, Lexington events - Parking areas are clearly marked near most of the major events. If you're staying in Boston, you will need a car to get to these events - check out my recommendations for where to rent a car in Boston by the day or for just a few hours
Where to stay:
Boston (close to North End events):
Concord/Lincoln/Lexington area:
Patriots' Day schedule sources- Confirm dates/times here (you'll be taken to the event sponsor's website):
Return to top - Patriots' Day Schedule
Sunday, April 14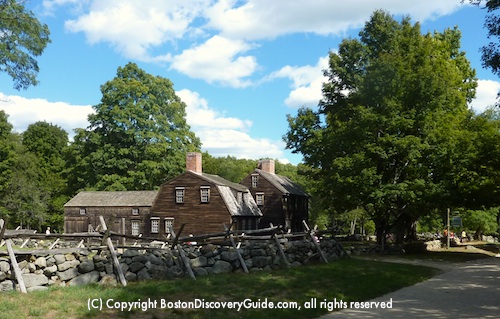 Hartwell Tavern in Minute Man Historical National Park
10am -2pm Historic House and Tavern Tours in Lexington - See Saturday, April 14th information above.
Noon-4pm, Jason Russell House Tours - Location: 7 Jason Street (at Mass Ave), Arlington - Tour the home of Jason Russell (now a museum), where some of the fiercest fighting of the first day of the Revolutionary War took place (donation requested).
1pm - 4pm, Henry Wadsworth Longfellow at Paul Revere's House - Location: Paul Revere's House, 19 North Square, Boston's North End - Literary historian Rob Velella conducts a drop-in poetry workshop as he portrays Henry Wadsworth Longfellow. At 1pm and 3:30pm, he presents "Paul Revere's Ride" and explains his reasons for writing the poem. Regular admission fees to Paul Revere's House apply.
1pm-4pm, Barrett Farm War Preparations - How did the Colonists begin to prepare for war against the British? In this fascinating glimpse into Colonel James Barrett's home, you'll be transported back to 1775 as you see the intense preparations as Colonel Barrett fulfilled his duties in safeguarding all of Concord's military supplies, even though the Redcoats searched his house. Sit in on a Committee of Safety meeting, make some artillery cartridges, practice a new military exercise, and share your concerns with other local citizens. Location: 448 Barrett's Mill Road, Concord.
2pm-3:30pm, Concert of 18th Century Fife and Drum Music and the Lincoln Salute - Hosted by the Lincoln Minute Men, the concert includes performances of 18th century folk tunes from all over Europe and works by major composers of that time period, with performances by a variety of fife and drum groups. Location: Pierce Park, Lincoln
2pm, Patriots' Day Parade in Arlington - Location: Starts at Massachusetts Ave and Brattle Street, and marches east along Mass Ave to Walgreens in East Arlington - Parade features bands, the Shriners, fire engines, and many community groups. More info
2pm, Town of Lexington Patriot's Day Parade - Location: Starts at the east end of Massachusetts Avenue near Tower Park, proceeds through Lexington Center, and ends on Worthen Road by the town swimming pool - The parade commemorates Patriot's Day and the 300th anniversary of Lexington's incorporation as a Town in 1713 - so look for an extra-special parade this year! NOTE: For this year ONLY, the parade is being held on Sunday.
5pm, Reenactment of Robbins' Ride in Acton - Commemorates the ride by 13-year-old James Robbins, son of Captain Joseph Robbins, to spread the alarm throughout Acton. Departure from the Robbins' Homestead (now the soccer fields at the bottom of Concord Road) at 5pm, and with stops at the following locations: Isaac Davis Homestead (39 Hayward Road, about 5:20pm), Faulkner Homestead (5 High Street in S. Acton, at the corner of Route 27, at about 5:50pm), and Liberty Tree Farm (24 Liberty Street, South Acton, at about 6pm).
6pm and 8pm, "In their Own Words" - a Dramatic Reading - Pilgrim Congregational Church, 55 Coolidge Ave, Lincoln - Costumed reenactors present readings by lantern light from documents written by people who were present for the events of April 17th and 19th, 1775. Information and tickets: call 781-862-1703. CANCELED FOR 2013
7pm, Alarm and Muster of Lincoln Minute Men- Location: White Church on Bedford Road across from the town library in Lincoln Center - The Lincoln Company of Minute Men reenact events that happened just after midnight in the early morning of April 19, 1775, including the arrival of Captain William Smith by horseback to ring the bell in the White Church to warn the Colonists that the British Regulars are coming. The event includes historical explanations, period music, a musket salute, and of course, the reenactment.
8pm, Lantern Lighting Service at Old North Church - Location: Old North Church, Boston's North End - The Lantern Ceremony commemorates the hanging of lanterns to signal the British route to Concord, and includes a reading of Longfellow's poem Paul Revere's Ride, a recitation of Paul Revere's own account of the ride, fife and drum music, a Color Guard from the USS Constitution, and the commemorative hanging of two lanterns in the Old North Steeple. Ticket and sponsorship information: http://oldnorth.com
8pm - Colonial Music and Dance - Lexington Depot, 13 Depot Square. $5 adults/$3 kids - get tickets at the door.
11pm or 11:30pm (conflicting information from 2 sources), Paul Revere's Ride Reenactment - Hancock-Clarke House, 35 Hancock St, Lexington - Reenactment of Paul Revere's arrival at midnight at the Hancock-Clarke House, where John Hancock and Samuel Adams were hiding, and the dramatic reactions of the occupants when being warned that the British were coming. Reenacted by the Lexington Minute Men and the National Lancers.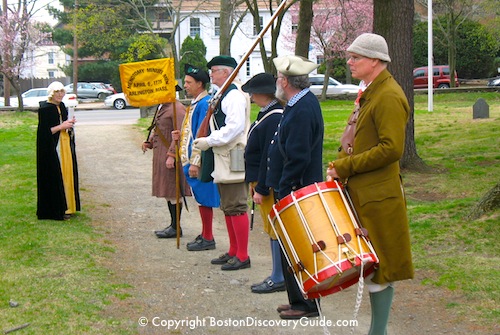 Menotomy Minute Men with fifes and drums near Jason Russell House in Arlington, MA
Return to top - Patriots' Day Schedule
Refresh Your Memory of Boston's History Timeline
Monday, April 15 - The Official Patriots' Day Holiday
4:30am, March to Concord from Stow Reenactment - The Stow Minute Men gather at Stow Shopping Plaza at 4:15 and then march from Stow Lower Common to Old North Bridge, firing muskets and playing fifes and drums along the way to awaken the townsfolk, arriving in Concord about 9am and then joining the parade. More about the Stow Minutemen
4:45am, Colonel John Robinson Trail March Reenactment - The Westford Colonial Minutemen reenact the 10-mile march made by the Westford militia and minute companies from Westford Town Common to Old North Bridge, where they join the Patriots' Day Parade. They invite the public to join them for the walk, which reaches Concord at about 8:00 - 8:30. If you decide to do this, make sure you have a ride back, bring plenty of water and snacks, and wear appropriate clothing, as this march occurs rain or shine. Check the Westford Colonial Minutemen website for possible updates, especially in the case of pouring rain.
5:30am, Battle on Lexington Green - Reenactment of the skirmish on Lexington Green (near Lexington Center) as the British Regulars passed through on their way to Concord, leaving dead and wounded behind on this first day of the American Revolution. Features the Lexington Militia and the British regulars. Note: The actual battle on April 19, 1775 started at 4:30 pm, but the reenactment is pushed back by an hour. Arrive early (4pm-5pm) to get a good location for viewing the battle.
The reenactment starts at 5:30 with the sounding of an alarm at the top of Belfry Hill (Mass Ave and Clarke Street) which calls the Minute Men from Buckman Tavern where they spent the night after hearing Paul Revere's warning about the approaching British.
At 5:45am on the Green, the Lexington Minute Men Company provides a 10-minute explanation about what you'll see as the battle unfolds.
At 6am, you'll begin to hear the Redcoats coming from the east side of the Green, and the Patriots coming from Buckman Tavern (that's the yellow building across the street from the Green). Basically, the Patriots, led by Captain John Parker, block the path of the British. Major Pitcairn, leader of the British troops, swings his sword and says, "Lay down your arms, you damned rebels" - and the war begins with the "shot heard 'round the world," - and many more following it, leaving 8 Minute Men dead and 10 wounded.
At 8:15am, Patriots Day Ceremonies are held on Battle Green - Mass Ave at Bedford Street.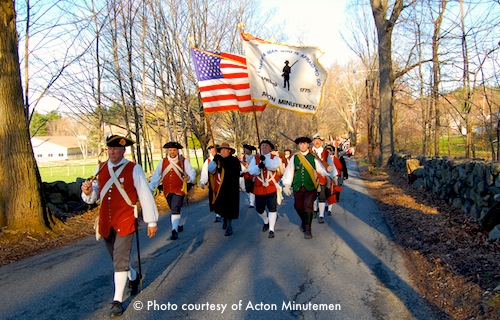 Acton Minutemen reenacting the march to the Old North Bridge on Patriots' Day
6am-10am - Pancake Breakfasts in Lexington - Locations: St Brigid's Church (2001 Mass Ave), First Baptist Church (1580 Mass Ave), Church of Our Redeemer (6 Meriam St) - Like all important events in New England, the Battle of Lexington Reenactment will be followed by delicious reasonably-priced pancake breakfasts. Do not miss this!
6:00am, Acton Minutemen March to Old North Bridge - The Acton Minutemen start their annual reenactment march from the Isaac Davis homestead at 39 Hayward Road in Acton to Concord's Old North Bridge, where the British troops shot and killed Acton Minutemen members Isaac Davis, Abner Hosmer, and company fifer Luther Blanchard on April 19, 1775. The Minutemen will fire muskets at 6:30am as part of a ceremony at the Isaac Davis Monument across from Acton Town Hall, and then join other Minutemen companies and Militias in the 7-mile march to North Bridge, arriving about 9am for the battle reenactment. More about the Acton Minutemen
6:30am - 4pm, Buckman Tavern Tours - Lexington - See Saturday schedule above for details.
6:45am, Lincoln Minute Men March to Concord - The Lincoln Minute Men, who were the first company to come to the aid of Concord back in 1775, will meet at the Town Cemetery on Old Lexington Road in Lincoln, fire a musket salute to honor the Patriots buried there, and then begin their march along Sandy Pond Road to Concord. They'll play music and fire their muskets along the way. More about the Lincoln Minute Men
7:30am - Sunrise Youth Parade - Massachusetts Ave in Lexington, starting at the Munroe Cemetery Driveway and proceeding through the Center to the Green - The town's youth organizations and bands march in this parade.
8am, 9am, 10am, 11am - First Shot! The Day the Revolution Began - Location: 13 Depot Square, Lexington - Orientation film about the Battle of Lexington, followed by Q&A session with reenactors. Tickets sold at door - $3 adults/$1 child
8am onward - Commemoration of the Battle at North Bridge, Concord - British and Colonial reenactors, park rangers, and volunteers commemorate the battle of April 19, 1775. Expect to hear plenty of musket fire!
8am - 4pm Hancock Clarke House and Munroe Tavern Tours - Lexington - See Saturday schedule above for details.
8:30am, British Mourn Arms Ceremony - Location: Old North Bridge, Concord - British reenactors representing British Regulars will conduct a moving "mourn arms" ceremony to commemorate the British soldiers from the King's Own 4th Regiment of Foot who died in the skirmish at Old North Bridge. The Acton Minutemen and other local companies will join them for a special commemoration with musket salutes, and at around 9:30, the Concord Parade will arrive at Old North Bridge.
8:30am - Concord - Vehicle traffic is banned on all roads in Concord Center.
9am - 9:25am - Battle at the Old North Bridge Reenactment - Old North Bridge, Minuteman National Historic Park in Concord - Reenactors will conduct the battle between the British and Provincial forces at Old North Bridge, followed by ceremonial volleys from 80+ muskets.
9am, Concord's Patriots' Day Parade - Concord Center - Huge parade includes all the Minute Men and Militias from Concord, Wayland, Acton, Westford, Sudbury, Lincoln, and many other communities west of Boston that converged on Concord in 1775. Begins in Concord Center, passes over North Bridge at about 9:30, and then heads back into town.
10am, Paul Revere's Ride - Hanover Street (North End of Boston) - Paul Revere, portrayed by a member of the National Lancers, a cavalry troop of the Massachusetts Militia dating back to 1836, leaves on his horseback ride across the countryside to warn Samuel Adams and others that the British troops were on their way, stopping along the way at Charlestown's City Square (10:20am), Somerville's Foss Park (10:50am), and Gaffery's Funeral Home on Route 60 in Medford (11:30am) to warn "Colonists" that the British are coming. His ride completes at Lexington Green (Mass Ave) at about 1pm.
2013 marks the 236th Reenactment of the rides of Paul Revere and William Dawes.
Read Longfellow's famous poem about Paul Revere's ride.
10am, William Dawes' Ride - Eliot Square, Roxbury - William Dawes, also portrayed by a Royal Lancer, leaves on his own ride to warn the Colonists, stopping in Roxbury's Mission Hill at 10:20am, Brookline's Devotion School (11am), Harvard Square in Cambridge (11:30am), and Arlington Town Hall on Mass Ave (11:55pm); arrives at Lexington Green at about 1:25pm.
Source for Paul Revere and William Dawes ride reenactments: National Lancers website - please note that this site includes 2 slightly different time sequences for these rides - I've included the earlier times, since it's better to be too early than too late.
11am - 2pm - Patriots' Day Activities - Location: National Heritage Museum, 33 Marrett Road, Lexington - Arts and crafts activities related to Patriots' Day and life in 1775. $7/family
11:15am - Concert of Patriotic Music - Hancock Church, 1912 Mass Ave, Lexington - Presented by Hancock Church Bell Choir. For Admission information, call 781-862-4220.
1pm-4pm - The Spirit of Acton 1775 & 1861 Patriot's Day Celebration - Patriots Day trolleys will take you from Acton's Town Hall (where you can also park) to the historic Hosmer House, Jones Tavern, and Faulkner Homestead where you'll find 18th and 19th century demonstrators, tours, historic building tours, games, crafts, and even animals. Admission: $5 person
1pm, Paul Revere's Arrival at Lexington Green - Lexington Battle Green - Another Lexington appearance by Paul Revere on horseback.
8pm - Patriots & Heroes: An American Pantheon in Music - Harvard-Epworth United Methodist Church, Cambridge - The Boston Camerata performs an anthology of American songs from the time of the Revolution, joined by members of the Middlesex Volunteers Fife and Drums and The Revels. The audience can participate in traditional early American songs and dances after the concert. Ticket information: http://bostoncamerata.org
Return to top - Patriots' Day Schedule
Tuesday, April 16, 2013
2pm - 3:30pm, Paul Revere Walking Tour - Location: Paul Revere's House, 19 North Square, Boston's North End - Join this new guided walking tour of North End sites related to Paul Revere, ending with a visit to the Old North Church's Bell chamber and the story of the Midnight Ride. Find out what actually happened on April 18, 1775. Perfect for families with children in grades 5-8. Reservations required - call 617-523-2338. Adults $10, Children (5-17) $6; admission fee includes a visit to Paul Revere's house.
Wednesday, April 17, 2013
2pm - 3:30pm, The REAL Story of Paul Revere's Midnight Ride - Location: Paul Revere's House, 19 North Square, Boston's North End - Longfellow's Midnight Ride of Paul Revere poem is famous - but you may be surprised to learn that not everything in it is accurate. Find out what actually happened on April 18, 1775 in this storytelling event that lets you and your kids reenact the roles of Paul and Rachel Revere, their children, British Soldiers, and famous Patriots. Perfect for families with children in grades K-4. Reservations required - call 617-523-2338. Adults and Children (5 and older) $4.50.
Thursday, April 18, 2013
2pm - 3:30pm, Paul Revere Walking Tour - See Tuesday, April 16u for details.
Friday, April 19, 2013
3:45am (Wayland Center) and 5:45am (Sudbury Center), March to Concord from Wayland Reenactment - The Sudbury Companies of Militia and Minute reenact the historic march on April 19, 1775, from Wayland (which used to be called Sudbury) and then from Sudbury to Old North Bridge in Concord, where they arrive at 10:30am. They welcome you to join them or just watch them (but do note the times). For more information, check the Sudbury Minute Men website.
5:45am, Dawn Salute at the North Bridge - Location: North Bridge, Monument Street, Concord - The Concord Minute Men and Concord Independent Battery give a 21-gun musket and cannon salute to honor the opening battle of the American Revolutionary War.
10:30am (approximately), Arrival of the Sudbury Militia - The Sudbury Companies of Militia and Minute arrive at the Old North Bridge after marching from the town of Sudbury to honor their fellow townsmen who made a similar march on April 19, 1775, and fire 3 musket volleys as a salute.
2pm - 3:30pm, The REAL Story of Paul Revere's Midnight Ride - Location: Paul Revere's House. See Wednesday April 17 for details.
Saturday, April 20, 2013
1-3pm, Patriot Fife and Drum - Location: Paul Revere's House, 19 North Square, Boston's North End - David Vose and Sue Walko perform a concert of lively Colonial music and provide interesting information about each piece.
7-8:30pm, Battle Road Heroes - Location: Hartwell Tavern, Lincoln - A candle-lit path leads you back into the past, as you get to hear the personal stories of real people who lived along Battle Road on April 19, 1775. These special reenactments feature Captain William Smith, the Lincoln Minute Men, the Hartwells, musicians, and even a few British soldiers as you relive the history of 200+ years ago. This is one of the very few Patriots' Day events with an admission charge ($5/person, $10/family), and proceeds benefit the Minute Man National Park.
Sunday, April 21, 2013
2:30pm, Old Burial Ground tribute - Location: Pierce House, Lincoln - The Lincoln Minute Men will assemble at Pierce House and march to the Town Cemetery on Lexington Road, along with a contingent of British Regulars and a bagpiper. At 3pm, gravesite ceremonies including speeches, music, and a musket salute will honor the Lincoln patriots as well as the five British soldiers killed in Lincoln on April 19, 1775, followed by a march back to Pierce House for refreshments.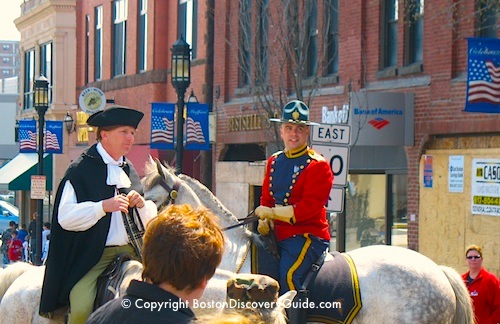 Reenactment of Paul Revere's ride to Concord - Photo shows his stop in Medford
Like this Page? Please Share!
You may also like . . .
Boston Discovery Guide Home > Events > Patriots Day