Boston Dance Clubs
Where Boston nightlife rocks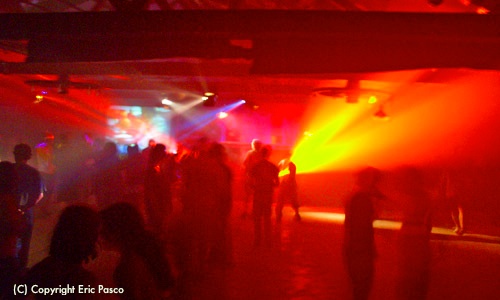 Dance club photo courtesy Eric Pasco
Boston dance clubs are where you'll find DJs, all kinds of dance music - techno, house, Top 40, salsa, and more - plus the city's most electric nightlife.
Most dance clubs in Boston remain fairly empty until 10 or 11pm - and then they fill up until closing time, which is usually at 2am when they have to stop serving drinks.
But you'll find exceptions, including one after-hour club offering only dancing.
Other dance clubs in Boston have another persona during the day - perhaps as a historic tavern or a popular Boston bar - and then morph into DJ clubs and dance floors late in the evening.
A number of clubs offer "theme" nights, which means the music, the crowd, and the ambiance may differ radically from one night of the week to the next.
Where to Find Boston Dance Clubs
For your club-hopping convenience, most dance clubs cluster in three relatively small areas:
The Theatre District - This is where you'll find the largest concentration of dance clubs, with some spillover into Back Bay
Faneuil Hall to TD Garden, with spillover in the Financial District- Mostly bars by day, clubs by night
Fenway Park/Kenmore Square - More relaxed and laid back than other areas, maybe due to the large number of BU students; most of the action centers around sports bars, where drinking, socializing, and even live music take priority over dancing
Theatre District Boston Dance Clubs
"The Alley" (photo below) forms the epicenter of Boston's dance clubs located in the Theatre District. The Estate is actually in The Alley, and other clubs are nearby.
If you're looking for a club similar to those in New York, Rio, or other large cosmopolitan cities, this is area where you'll come closest to finding a high-voltage experience - although to be quite honest, Boston can't really compete with these larger, clubbier cities (but we may have better sports bars).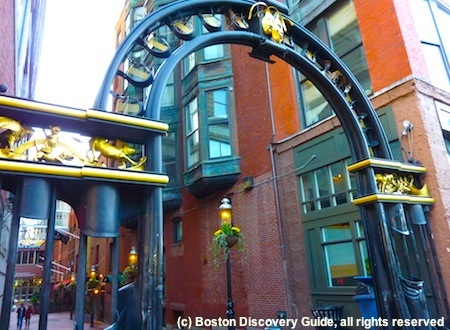 Entrance to The Alley, location of several Theatre District clubs
Getting to Boston Dance Clubs near the Theatre District
- Location: All of these clubs are in Boston's Theatre District, except where noted
- Closest subway station: Green Line/Boylston, except where noted (more about Boston's subway, including hours of service)
- Parking: Boston parking garages near Theatre District and Chinatown
Royale - One of the biggest Boston dance clubs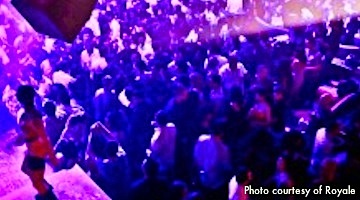 With a capacity of 1,300 , the Royale occupies a former opera house with a huge stage where costumed go-go-dancers perform.
A wooden dance floor, plush seating, and an amazing sound system make the Royale popular as both a dance club and a place to see live performances.
A wrap-around balcony on the 2nd floor overlooks the main ballroom and gives you a good spot for watching the concerts and dancing.
DJs play a mix of electronic, alt rock, top 40 remixes, techno, hip hop for the high-energy crowd. If you're not crazy about dancing, come to a show here instead - acts tend to be a little edgier than what you might see at the Paradise. You can even catch stand-up comedy on Tuesdays. The Royale also hosts lots of other ticketed events, Boston bachelorette parties, and catered events.
Hours: Friday and Saturday, 10pm to 2am; special shows and concerts earlier in the evening and on other nights
Dress Code at Royale: No official code - but dress nicely, with no athletic wear, sweats, sneakers, baggy jeans, or hats. Guys, wear a collared shirt. Gals, you'll feel at home in something skimpy with sequins.
Cover: None to $20-25, depending on day, time, age, gender; concerts and other special events usually require tickets
Directions to The Royale: 279 Tremont Street (next to Marriott Courtyard Tremont Hotel - shares a door with Guilt), Theatre District; 617-338-7699; www.royaleboston.com
Guilt - Intimate Space for Dancing and Socializing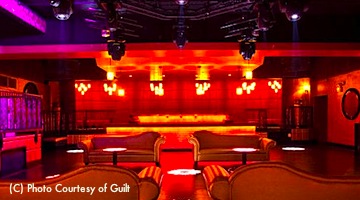 Guilt's gold and maroon decor provides a dramatic backdrop for intimate seating areas, small dance floors, a raised stage, and multiple bars.
Hours: Friday and Saturday, 10pm to 2am; special shows and concerts earlier in the evening and on other nights
Dress Code at Royale: Dressy casual to dressy - Guys, wear a shirt with a color; gals,
Cover: Around $20
Directions to Guilt: 275 Tremont Street (behind the Marriott Courtyard Tremont Hotel), Theatre District; 617-542-4077; guilt.com
Underbar - Follow the sound of music to find this one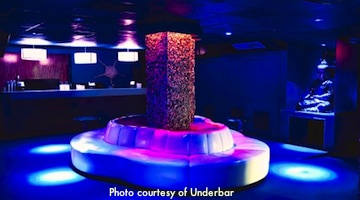 Underbar shares a door with Guilt, behind the Marriot Courtyard Tremont.
Regular and visiting DJs spin international, techno, and house music in the large room, and Latin in the smaller room. Arrive after 11:30 unless you want to be alone.
Hours: Thursday - Sunday until 2am
Cover: Usually $15 - $25
Directions to Underbar: 275 Tremont Street (Downstairs from Caprice Lounge), Theatre District; Green Line/Boylston; 617-292-0080; www.underbarsuperlounge.com

Venu - Hip and Latin
DJs at Venu spin tunes for dancing to a mix of disco, Euro, alt rock, hip-hop, Latin, rap, R&B, rock, house, and techno in one room, and Latin in another. Lots of theme nights. Next to Rumor.
Hours: Tuesday, Friday, and Saturday, 10:45pm - 2am; Wednesday, 10pm - 2am
Cover: Usually around $15-$25
Directions to Venu: 100 Warrington Street; 617-338-8061; www.venuboston.com

Rumor - Latin Room
Right in the middle of Boston's Theatre District, this small dance club specializes in hip-hop, house, techno, reggae, soca, bachata, pop. Separate Latin room. Evolution Tuesdays, one of Boston's longest running weekly dance events, currently calls Rumor "home."
A little trendier than other Boston clubs; attracts an interntational crowd.
Hours: Tuesday-Sunday open until 2am; Thursday, Friday, and Saturday considered best nights
Cover: Usually around $10 - $25
Directions to Rumor: 100 Warrington Street; 617-422-0045; www.rumorboston.com
Minimum age: 21+

Gypsy Bar - See and be seen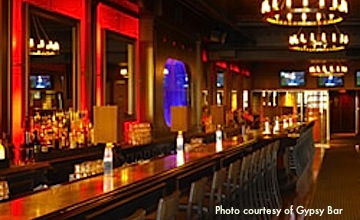 This Theatre District nightspot has a small bar in front with an attention-getting jellyfish tank, and a larger dance floor in back that gets crowded after 10:30 - 11pm. DJs spin Top 40s, R&B, reggaeton, hip hop. See and be seen at this style-conscious dance club in Boston.
Hours: Wednesday - Saturday until 2am (bar only on Wednesday and Thursday). Opens at 10pm on Wednesday, and 5pm Thursday - Saturday. Dinner served only until 10pm (no dinner on Wed.)
Cover: After 10 - 10:30pm on some nights -- usually around $10-$15
Gypsy Bar Dress Code: No sneakers, athletic wear, sleeveless tees, polo-style or rugby shirts, shorts, sweats, hats, baggy clothing, construction boots. Guys, wear a shirt with a color. Gals, dress up.
Directions to Gypsy Bar: 116 Boylston Street; 617-482-7799; www.gypsybarboston.com
Minimum age: 21+


Mojitos - Salsa Dance Club
Named after a Latin American drink originating in Old Havana, Mojitos is considered the best Latin dance club in Boston, despite the small dance floor. Stop by Mojitos if you want to listen to various styles of great Latin music, have a couple of drinks, and dance the night away - especially since the club's two hardwood floors make Mojitos one of the absolute best places to dance in Boston.
Fridays feature Mojitos' Salsa Night - 100% salsa plus salsa lessons on the upper floor - although you'll hear plenty of salsa on other nights too, along with merengue, reggaeton, house, and bachata. On other nights, you'll find lots of "specials" to keep the excitement high - anything from celebrity DJs to dance contests to live bands.
Be sure to have one of their signature Mojitos!
Hours: Thursday - Sat., 9pm - 2am; Sunday 10pm - 2am
Cover: Usually about $10
Direction to Mojitos: 48 Winter Street, Financial District, Downtown Boston; Green Line/Park; 617-988-8123; website

Felt - Billiards & Dancing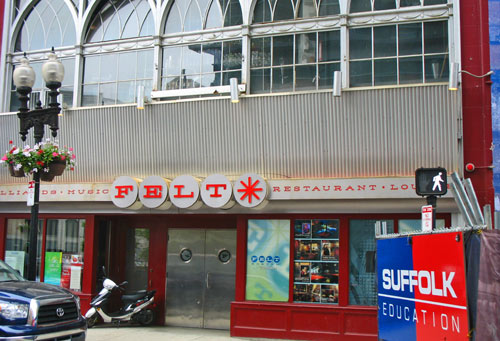 DJs spin house music, 80s hits, top 40, and mash-ups on Fridays and Saturdays in the first floor lounge. Billiards. Four floors, with a DJ on each.
Cover: Cover ranges from $0 to about $20, depending on the night of the week.
Dress Code: No posted dress code at Felt - but avoid athletic clothes, sweats, and dress up rather than down to be sure of getting in. Sometimes open toe shoes are banned.
Directions to Felt: 533 Washington Street near Downtown Crossing (park across the street in Lafayette Parking Garage for $10 after 5pm, weekends, holidays); Orange and Red Line/Downtown Crossing, 617-350-5555; www.feltclubboston.com

Rise - After Hours Dance Club
Possibly the only after-hours Boston dance club. Located in Back Bay near Bay Village, the Theatre District, and Park Square, Rise doesn't open until other places close.
Rise is all about music and dancing - no alcohol is served. Regular and guest DJs play house and techno dance music on 2 floors.
You need to be a member or a guest of a member to get in. Four levels of memberships are available.
Hours: Friday, 2am - 6:30am, Saturday, 1:30am - 6:30 am, and Sundays when followed by a Monday holiday
Cover: Varies according to your type of membership or if you're a guest - anywhere from $0 to about $20 or more if guest DJs are scheduled
Directions to Rise: 306 Stuart Street, near intersection with Arlington Street and Columbus Ave, Back Bay; Green Line/Arlington; 617-423-7473; www.riseclub.us

Clubs near Faneuil Hall Marketplace
Several bars in and around Faneuil Market double as dance clubs from about 10pm on - but keep in mind that most are really sports bars for fans from nearby TD Garden, so sports rule.
Getting to Boston Dance Clubs near Faneuil Market
- Location: These clubs are in Boston's West End near TD Garden, except where noted
- Closest subway station: Green and Orange Lines/North Station, except where noted)
- Parking: Boston parking garages near TD Garden


Greatest Bar
Near the Garden - 4 floors of dancing from about 10pm on, 3 bars, with DJs and live music when there aren't Celtics or Bruins games, mostly Wednesday through Saturday. Sports events get priority over the dancing. Top 40, hip-hop.
262 Friend Street; 617-367-0544; website
Bell in Hand
One of Boston's historic taverns.
45-55 Union Street, 1 block from Faneuil Hall on the Freedom Trail, Historic Downtown Boston; 617-227-2098; Orange Line/Government Center; www.bellinhand.com

Hurricane O'Reilly's
Near the Garden, with a reasonably large dance floor, DJs, good food. Cover usually around $10 on weekend evenings; normally no cover during the week. Packed before and after Bruins and Celtics games.
150 Canal Street, 617-722-0161
Umbria - 3 floors at this Boston dance club
Frank De Pasquale's famed Umbria Prime steakhouse in the Financial District has transformed its 3rd, 4th, and 5th floors into Umbria the Nightclub. Catering to a 25+ crowd, the club features an ultra lounge with a vodka bar, table service, plush Italian leather couches, a VIP lounge, and DJs spinning House, Top 40, and Mashup on 2 dance floors.
The space has been transformed into a sophisticated Umbrian villa. Bars feature top-of-the-line labels, great Italian and American wines, and a nice selection of beers. If you dine in the restaurant downstairs earlier in the evening, the cover charge is waived.
Hours: Fridays, Saturdays, and Holiday Sundays, 10pm - 2am
Umbria Dress Code: Umbria enforces a strict dress code - no sneakers, hats, athletic wear; dress up to be sure of getting in
Cover: $20; waived if you've dined in the restaurant earlier in the evening
Directions to Umbria: 295 Franklin Street, Financial District, Downtown Boston; Red Line/Downtown Crossing; valet parking available; 617-292-0080; www.umbriaprime.com
Dance clubs near Fenway, Kenmore Square, and BU
Clubs in this part of Boston tend to be more casual, with students and/or sports setting the tone.
Although this area used to be prime club territory (anyone remember the Avalon?), the focus has shifted in recent years to live music and sports. More about Boston bars near Fenway Park
Getting to Boston Dance Clubs near Fenway Park
- Location: These clubs are in Boston's Fenway neighborhood, except where noted
- Closest subway station: Green Line/Kenmore, except where noted)
- Parking: Boston parking garages in Fenway

An Tua Nua - Boston Irish pub with dancing
This laid-back neighborhood Irish pub near Fenway Park, Kenmore Square, and Boston University doesn't seem, at first glance, like a promising Boston dance club.
But on most nights each week (in other words, when private events aren't scheduled), An Tua Nua's large back room morphs into one of the most popular Boston dance clubs as DJs take over around 10:00 - 11pm.
Monday night is Goth Night. Don't ask. Wednesdays are for Salsa, complete with lessons. Occasionally a live band plays.
But the DJs rule on Thursday through Sunday nights, and that's when the dancing really gets going.
On Sunday nights you'll find Utopia, the Boston House Music party that's been held in several venues around Cambridge and Boston since 1992. DJ Bruno and occasional guest DJs work their house music magic as a diverse crowd including both newcomers and long-time fans dance, dance, and dance.
The nice thing about An Tua Nua is that it's unassuming. It's not about see and be seen . . . people go because they like to dance. If you want, you can sit at little tables around the perimeters - no VIP reservation needed. But most people dance.
Cover: Sometimes. Usually $5 - $10
Direction to An Tua Nua: 835 Beacon Street; 617-262-2121; www.antuanuabar.com

Machine
DJs spin a different theme most nights of the week; also karaoke, and a stage for dancers. Large dance floor, and lots of dancing. Primarily a gay club, but welcoming to everyone.
Unisex bathrooms.
Address: 1254 Boylston Street (between Ipswich and Yawkey Way); 617-536-1950; www.machine-boston.com
Requirements: 21+ on some nights
Cover: Varies from none to around $10; sometimes varies by age
Oliver's, at Cask 'n' Flagon
This offshoot of Cask 'n' Flagon, a favorite sports bar near Fenway Park, boasts a 400 square foot dance floor and lights. DJs spin Top 40, classic rock, hip hop, and R&B. No cover, no dress code, but 21+ admission requirements.
Cask 'n' Flagon's original name was "Oliver's" when it started back in the '60s and hosted live bands like Aerosmith 7 nights a week, so the new Oliver's pays homage to this glorious past.
Address: 62 Brookline Avenue; 617-536-4840; www.casknflagon.com
Requirements: 21+, no dress code
Cover: None

Dress Codes and Covers at Boston Dance Clubs
Many clubs have dress codes ranging from minimal to downright picky. Unless you're absolutely sure about where you're going, plan dress up a bit, especially if you plan to hit more than one place since some are more demanding than others.
Banned items may include any or all of the following and probably other items as well: athletic wear, hats, sneakers, denim, construction boots, hiking boots, work boots, sandals, torn clothing, sleeveless t-shirts, t-shirts, polo shirts or polo-type shirts, rugby shirts, sweats, baggy or excessively baggy clothing.
Also, expect to pay a cover charge at most of these dance clubs, especially if you arrive after 10. Annoying? Think of it as the cost of the extra drink that you'd have consumed if you'd arrived early enough to avoid the cover.
On the subject of drinks . . . expect them to be pricey.
Which Night is the Best?
Everyone wants to know: Which night should I go? And which club?
The answer? It depends.
Some clubs have a different "event night" every night, each with totally different music. Others are more consistent.
Most of the clubs attract very specific groups based on age, race, ethnicity, etc. - this also can vary dramatically by night. Many clubs have one or two "gay nights" each week. DJs set the tone at many clubs; with a different DJ every night, expect a different experience from each.
So if you're visiting Boston and want to go to a dance club, how do you choose?
The best approach is to ask the concierge at your hotel. He/she will be familiar with the different clubs in the area and what's going on each night, and can point you in a good direction based on your interests.
If you live here, ask your friends, or just try a couple spots, especially if you can avoid paying a big cover (arrive before 11:30; also helps to be female and wearing something skimpy). Have one drink; if you're not thrilled, move on.
Getting Home after the Clubs Close
Most clubs get lively around midnight, and close at 2am - after Boston's subway ("The T") has stopped running.
So be prepared to leave before closing, take a cab, have a limo waiting, or have a designated driver with you.
New Year's Eve Parties at Boston Dance Clubs
Although most Boston dance clubs stage huge "parties" (i.e., ticketed events) throughout the year to celebrate holidays such as St Patrick's Day, New Year's Eve is the biggest event - and biggest party - of all.
To find out what's happening, check out all the dance clubs on this page, pick a couple you like the best, and go to their websites (urls given below) before New Year's Eve to check out the entertainment lineup and ticket prices. Especially for NYE, tickets sell out - so don't wait to reserve. The parties generally start late, so you will have plenty of time to attend the First Night festivities earlier in the day.
Like this Page? Please Share!
More Boston Entertainment


Please note: Boston Discovery Guide cannot guarantee accuracy of hours, cover charges, dress codes, or other information on this page, as this information changes frequently. Please verify all details on the venues' websites before going.


Boston Discovery Guide > Nightlife > Dance Clubs