Spectacular views and direct access to the Boston Convention and Exposition Center make the Westin Boston Waterfront Hotel a big favorite with visitors.
If you're interested in being close to the Convention Center, the Cruise Terminal where the big cruise ships dock, the Rockland Trust Bank Pavilion, or Boston's Financial District, the glamorous Westin Boston Waterfront may be your top choice.
Located in the heart of the South Boston Waterfront district, the Westin Boston Waterfront Hotel offers convenience and comfort in this sizzling neighborhood, where trendy upscale restaurants, bars, and boutiques along the Harbor attract lively crowds of tourists and locals.
Check lowest rates & reviews by recent visitors
Top photo: Westin Boston Waterfront Hotel seen from the attached Convention Center
---
What to Expect at Westin Boston Waterfront
You can enjoy sweeping city skyline and Boston Harbor views from many of the hotel's 793 guest rooms and suites.
Because the Westin Waterfront is fairly new, rooms are larger than those in many of Boston's older hotels - so if you want plenty of space at an attractive rate, this is where to make your reservations.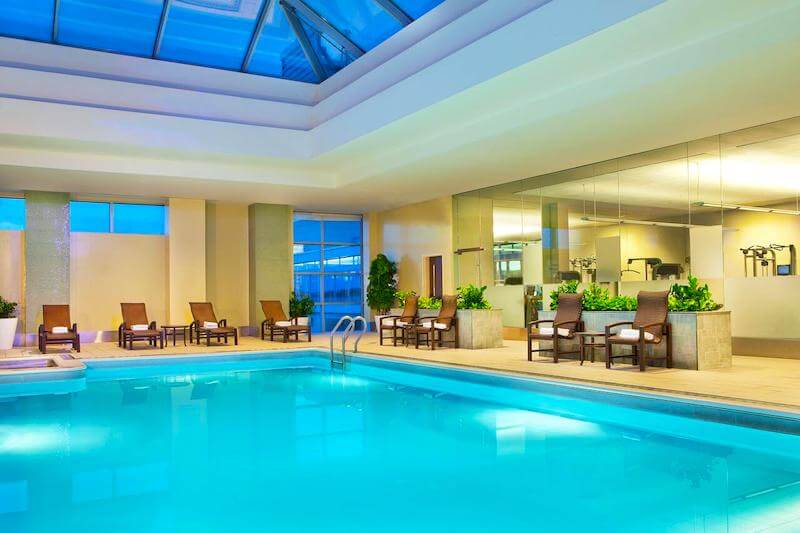 Although connected access to the Boston Convention Center makes the Westin an obvious choice for convention attendees, savvy business travelers know that the location is also a quick walk (or cab ride) to the downtown Financial District, while offering lots of space and top-end amenities.
If you're a leisure traveler interested in attractive Boston hotel packages, you can sometimes find especially good rates for weekend nights and holidays here.
The Westin Boston's rooms are comfortably furnished and include flat screen TVs. All areas within the hotel offer WiFi service. You'll find a robe and slippers waiting for you in your room.
You can work out in the hotel's well-equipped gym, and swim in the spectacular atrium pool.
The Westin Boston Waterfront is part of the Starwood Preferred Guest program.
The hotel offers convenient on-site restaurants and bars, and is also close to the trendy waterfront restaurants and nightlife. You can also relax in the onsite comedy club, Laugh Boston.
If you're looking for a Boston Convention Center hotel or Boston Harbor hotels, you'll find a lot to love at the Westin Boston Waterfront, including affordable rates.
---
Attractions near the Westin Boston Waterfront Hotel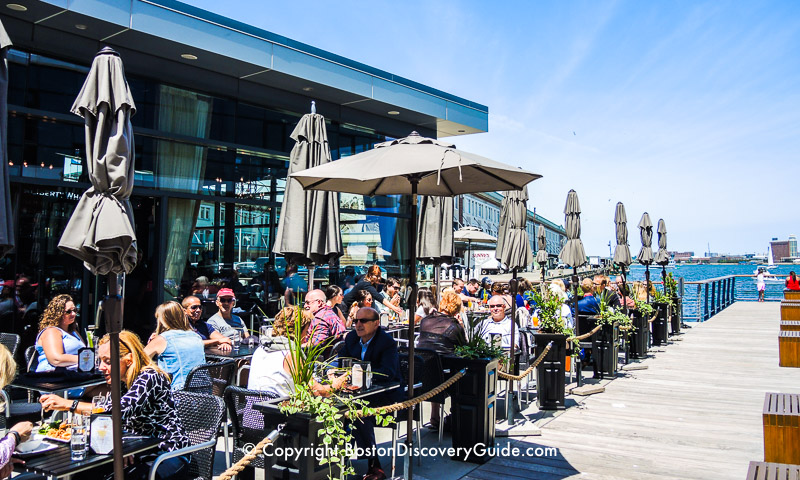 The Westin's South Boston Waterfront location puts you close to many of the city's trendiest restaurants and bars along the Harbor.
During the summer, Rockland Trust Bank Pavilion concerts feature top performers on the waterfront.
Art lovers can view contemporary art at nearby ICA Boston, also on the waterfront, or explore galleries in the Fort Point area - the FPAC Gallery at 300 Summer Street is a great starting point.
If you're visiting with your family, spend an afternoon at the Boston Children's Museum - it's a big favorite with the 10 and under crowd.
To get a unique view of the city, take a sightseeing cruise around the Harbor or a whale-watching cruise to the Stellwagen marine sanctuary.
Harpoon Brewery offers tours at their facility on Northern Ave.
Keep in mind that Boston Common, the historic Freedom Trail, Faneuil Marketplace, TD Garden, and lots of other top attractions can be easily reached by a short ride on the Silver Line or water taxi. But if the weather is nice, walking from South Station is faster (8-10 minutes).
Find cheapest rates and reserve your room
---
Which Rooms have the Best Views at the Westin Waterfront?
Ask for a room on a higher floor to enjoy the best city skyline or Harbor views.
Harbor views are nice if you wake up early and want to enjoy the sunrise over the water. But if you're going to be there in the evening, the city skyline views can be spectacular.
---
Getting to the Westin Waterfront from Boston Logan Airport
If you're arriving at Boston Logan Airport, getting here is easy - just hop on a water taxi and zip across the Harbor, or take the Silver Line (actually a bus, but technically part of Boston's subway system) to the World Trade Center station.
More about where to find Boston water taxis at the airport
---
Westin Boston Waterfront Hotel Parking
Although no onsite parking is available, but you can use valet parking. A cheaper option, if you don't need in/out service, is to drop off your bags at the hotel (give them a call if you need help with your bags) and then head to a garage.
The cheapest nearby parking for weekends and nights is at Boston Common Garage (a 5-6 minute walk).
A better (and cheaper) option is to not bring your car at all, if possible.
---
Map Showing Hyatt Regency Boston Hotel & Other Nearby Hotels
Enter your travel dates to get the most accurate hotel rates. If the Westin Waterfront doesn't appear on the map, that means it's booked for your dates - so check out rates at other nearby hotels.
More about how to save on Boston hotels
---
More to Do & See in Boston
---
More Articles about Boston Hotels
---