Where can I park a car for 9 days while I take a bus tour of New England fall foliage? Our tour leaves from the Park Plaza Hotel on Oct 1st and returns to the hotel on Oct 9th. The hotel wants $65/day to park with valet parking, or $40/day in a nearby garage.
Can I park in a parking lot and ride and take light rail to and from the hotel? Please advise. Thanks!
Justine
Hayes, Kansas
Boston Discovery Guide is a reader-supported publication. When you buy through our links, we may earn a commission at no additional cost for you. Learn more
---

Yes, leaving your car overnight in an MBTA (Metropolitan Boston Transit Authority) Commuter Rail or T (Boston's subway) parking garages is a great plan.
Although not all MBTA parking garages allow 24-hour parking, enough do so that finding one that's convenient shouldn't be a problem. I would suggest focusing on the T garages rather than the Commuter Rail because you'll have more schedule flexibility.
There are a MBTA few rules and regulations you should be aware of (you can find the details here):
Cars left longer than 30 days will be towed - which should not be an issue with your 9-day trip
You need to pay the daily parking rate by midnight on the day you park - but fortunately, you can do that with an app
If you miss paying for a parking session (ie, day), you will be assessed extra charges - but that should be easy to avoid thanks to the app.
Here is the MBTA web page with the list of all the stations with 24-hour parking. Daily rates vary, but at Alewife Station, for example, you would pay $15/day.
If you are driving into Boston from the west (I see Kansas in your address), Alewife's location to the west of the city might be the logical choice for parking. It is easy to access from Route 2, and once you're on the train, only about a 16-20 minute ride to Park Station. After you exit the station, you would walk through Boston Common to the Park Plaza - perhaps 5-6 minutes on foot.
Just to review the math: If you park in an MBTA garage at $15/day, you would pay a total of $135 for 9 days.
If you park at the $40/day garage suggested by the Park Plaza (I'm guessing they mean the Motor Mart Garage, as it is mentioned on their website and is practically across the street from the hotel), you would pay $360 - far less than the $585 for 9 days that normal daily charge of $65/day that valet parking at the hotel would run you.
If for some reason parking at an MBTA station doesn't work out, there are cheaper options than paying $40/day at the Motor Mart, depending on what trade-offs with convenience you want to make.
The easiest alternative is to park in the Boston Common Garage, located under the park and less than a 5-minute walk to the Park Plaza. Current 24-hour rates are $32/hour, which is about the cheapest rate that you'll find at any garage in this part of the city. For 9 days, total cost would be $288 - so significantly less than the $360 you'd pay at Motor Mart Garage, although more than an MBTA $15/day garage.
Additionally, if you haven't already asked the Park Plaza Hotel or your tour bus company for cheaper parking options, that's worth doing. Either or both of them may have arrangements with other nearby parking lots for discounted long-term parking that can save you money without giving up the convenience of parking nearby - it never hurts to ask!
You can also call nearby parking garages to see what kind of rates they can give you. This page listing parking garages near the Theatre District and Chinatown is a good place to start, as they are all close to the Park Plaza. You may not save a lot, but again, you won't give up much convenience.
You could also check daily rates for other MBTA 24-hour garages in case some are cheaper. Just be aware that they may be less convenient in terms of direction, traffic flow, and proximity to your hotel than Alewife.
My recommendation would be to park at Alewife or another similarly (or cheaper) MBTA garage as a first choice, and have the Boston Common Garage (which is quite nice) as the back-up choice.
Hope this helps! Have fun on your tour - foliage in early October is usually gorgeous!

Publisher, BostonDiscoveryGuide.com
Find out about fall foliage tours from Boston
Top Photo: Boylston Street, just before Boston Common and Downtown
---
How to Get Around Boston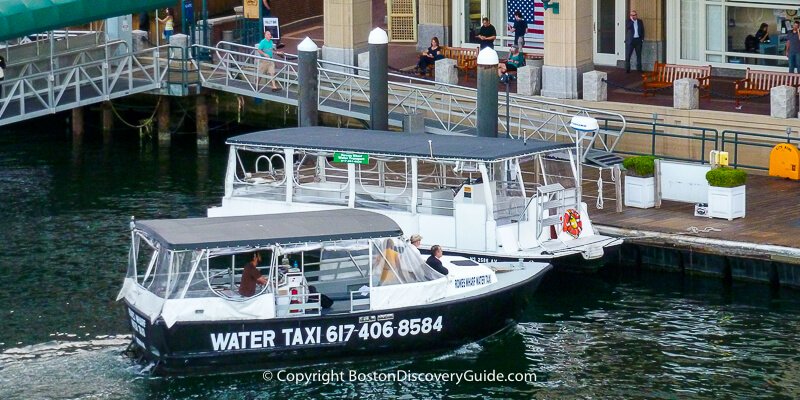 ---
More Articles about Getting Around Boston
---
Looking for a Boston Hotel or Short-Stay Rental?
Use this hotel map from Booking.com to find all options including the cheapest on your dates: