Home > Events > St Patrick's Day Parade >
St Patrick's Day Events in Boston
Where to celebrate Boston's Irish heritage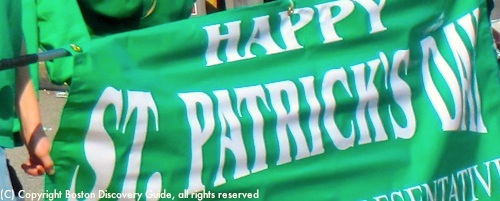 St Patrick's Day events in Boston include the famous St. Patrick's Day Parade in South Boston (locally known as "Southie") - but that's only the beginning of fun things to do.
In addition to watching the parade's colorful floats, marching bands, and performers, you can also celebrate all things Irish at other St Patrick's Day events in Boston.
Get tickets for the Dropkick Murphys' annual House of Blues concert.
Or explore Boston's Irish heritage along the Irish Heritage Trail.
Stop by one of Boston's many Irish pubs for some cheer, enjoy the Irish dancers at Faneuil Hall Marketplace, and check out what's on offer at the Irish Film Festival.
You'll quickly see why Boston is considered to be the most Irish of any American city!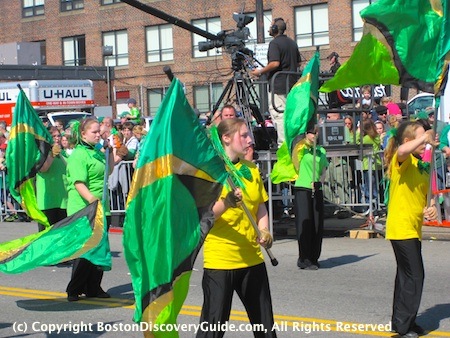 Entertainers in Boston's St. Patrick's Day Parade
Although visitors come to Boston from across the U.S., Ireland, and other parts of the world to experience our St. Patrick's Day celebrations, the festivities are basically local tributes to Boston's Irish heritage rather than events staged for tourists.
If you visit during this period and come to any of these St. Patrick's Day events, you'll be experiencing a bit of "real" Boston culture.
Use this guide to find out where and when Boston's St Patricks Day events are scheduled.
Check out our Boston St. Patrick's Day Parade Photos and more info here.
St Patrick's Day Parade
2015 marks the 115th anniversary for the huge St. Patrick's Day Parade in South Boston, where Irish immigrants first settled in the early 1800s and a large Irish-American community still resides. The parade has been a big Boston event every year since 1901 - except for 1993, when it had to be canceled after a blizzard closed down the city.

Without a doubt, the St Patrick's Day Parade is the best known of Boston's St Patrick's Day events, as well as the city's biggest parade of the year. At least a hundred groups and many thousands of marchers participate. The South Boston Allied War Veterans Council organizes the parade.
Up to 1 million people line up to watch the colorful floats, Irish and American pipe and drum bands, and marchers representing a wide range of Irish-American groups. Needless to say, among the crowd - if not actually marching - will be most Boston-Irish politicians. A few years ago, even Northern Ireland's Sinn Fein President Gerry Adams joined the parade.
The route for the St. Patrick's Day Parade, usually held on the Sunday closest to the actual holiday (check the March Boston Event Calendar for the exact date and to confirm the time) begins at the Broadway T stop (Red Line), continues along Broadway all the way down to P Street, turns back up E. 4th Street, turns left at G Street, moves over to E. 5th Street at K Street, and circles around Dorchester Heights on Telegraph Street to Dorchester Street and heads west to Andrew Square (Red Line/Andrew T stop), where it ends.
More St. Patrick's Day Parade Photos
Photos courtesy of Melinda, Justin Brockie, and John and Carolina Wilbanks
Dropkick Murphys concert at House of Blues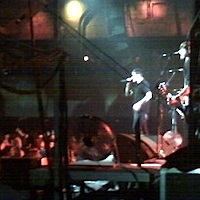 Boston's most famous Celtic punk rock group, the Dropkick Murphys, spends most of their time touring since becoming so popular, but they always return home to Boston to perform concerts St Patrick's Day at House of Blues, near Fenway Park.
Needless to say, the Dropkick Murphys' rollicking performances sell out quickly, but if you're a fan, you'll want to catch one of these concerts.
Get your Dropkick Murphys tickets now!
Return to Top: St Patrick's Day Events in Boston
St Patrick's Day Road Race in Southie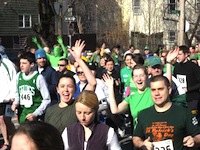 If you're going to South Boston for the big St Patrick's Day Parade, head over to West 6th Street to cheer on the runners of the St Patrick's Day 5K Road Race, where the first lucky 600 runners to register will be wearing the official long-sleeved race shirts designed by the Dropkick Murphys, one of the race's sponsors.
The South Boston Boys and Girls Club sponsors this race, run each year since 1940. Entrants are capped at 1,750 - so early registration is advised.
The race starts and ends at the South Boston Boys and Girls Club at 230 West 6th Street in South Boston, and follows a 5K (3.1 mile) course.
Check the Boston Event Calendar for March for the exact date and time.
Photo courtesy of South Boston Boys and Girls Club
Irish Step Dancers
Enjoy this feisty Irish step dance performance to get you in the mood for this favorite Boston holiday:
Irish music in Boston's Irish pubs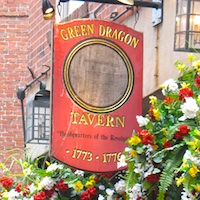 Boston has the best Irish pubs in the world, outside of Ireland - and almost as many to choose from. Thanks to the large number of Boston residents who hail from the Emerald Isle, you'll hear plenty of Irish accents on both sides of the bar in many of these pubs.
Needless to say, St. Patrick's Day is a huge event at Boston's Irish pubs . . . expect Irish music, dancing, green beer, and week-long celebrations.
Almost every Boston neighborhood has several or more Irish pubs - the Italian North End and Chinatown are the only 2 exceptions that come to mind.
Although many of these pubs feature live Irish music at least some of the time, almost all of them bring in terrific musicians around St. Patrick's Day.
Use our guide to Boston Irish pubs to find a spot to celebrate St. Patrick's Day - and be sure to wear green!
More Places to Hear Irish Music in Boston - 2015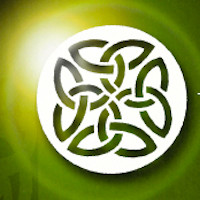 A St Patrick's Day Celtic Sojourn with Brian O'Donovan - Boston's famed radio host welcomes top musicians at Sanders Theatre in Cambridge - March 14-15
More info
The Burren - Traditional Irish music 7 nights each week - plus special sessions, open mics, Irish step-dancing (normally the 1st and 3rd Mondays of each month), and appearances by Brian O'Donovan (host of "A Celtic Sojourn) and other Irish music stars. Look for plenty of corned beef and special Irish music all day on St Patricks Day, March 17 @ The Burren, Davis Square, Somerville. Check the Burren's website for more info
The Black Rose - Irish musicians perform here every night of the week, and often on Saturday and Sunday afternoons as well. If you've ever experienced the pleasure of a trad session in Ireland, you'll come close to finding the same thing here, plus the menu features a few Irish specialties, and of course plenty of Guinness at the bar. You can find the current schedule on the Black Rose's website.
Stay in a Boston hotel near an Irish pub
If you're planning some serious St Patrick's Day celebrating at one or more of our fine Boston Irish pubs, a reservation at a nearby hotel means you'll have no worries about getting home or finding a non-celebrating designated driver.
Best strategy: Think about where you'll be at Last Call, and make a hotel reservation nearby. Here are a few suggestions for hotels in several Boston neighborhoods rich with Irish pubs where you might find yourself at the end of the evening: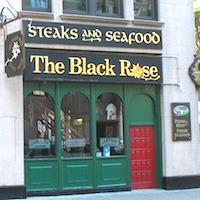 Hotels convenient to Irish pubs near Faneuil Marketplace / Downtown
Hotels close to Irish pubs around TD Garden
Hotels close to Back Bay pubs
Hotels near Irish pubs in Fenway Park
Cambridge hotels near Irish pubs in and around Harvard Square
Harpoon St Patrick's Festival
Enjoy corned beef and cabbage plus other delicious food, dance a jig to live music by Boston-area Irish and rock bands, and sample Harpoon and UFO brews featuring Celtic Ale.
This fun event takes place in the South Boston Waterfront at Harpoon Brewery, the biggest brewery in Boston. Wander among the huge tanks inside, or enjoy Boston Harbor breezes outside under the big circus tents.
More information: Boston Events for March
Explore the Irish Heritage Trail
Boston is the most Irish of all American cities, with almost a quarter of all Boston residents claiming at least some Irish ancestry in the 2000 U.S. Census.
Boston's Irish Heritage Trail celebrates the contributions of the Irish immigrants and their descendents to the city and the nation over the course of 3+ centuries. The Trail starts at the beautiful Rose Kennedy Rose Garden in the North End, stretches across more than 3 miles of Downtown Boston and Back Bay, and ends at Fenway Park.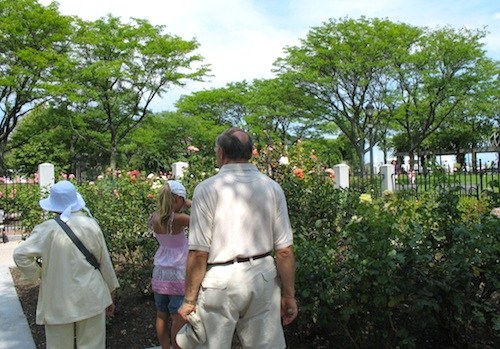 Visitors enjoy the Rose Kennedy Memorial Rose Garden, Irish Heritage Trail site in the North End
Walking along the self-guided Irish Heritage Trail is a popular St Patrick's Day activity. If you decide to do this too, you'll visit statues, monuments, and buildings ranging from multiple statues of Irish politician James Michael Curley to the moving Boston Irish Famine Memorial to the Massachusetts State House.
The Irish Heritage Trail also takes you past many of Boston's other famous sites and attractions, so it doubles as a way to tour a large swath of the city. More about the Irish Heritage Trail
Return to Top: St Patrick's Day Events in Boston
Irish Film Festival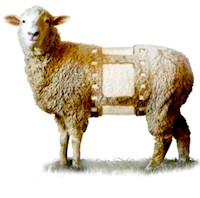 For a more global immersion in all things Irish, hop onto the T's Red Line and head to over to Somerville for the Boston Irish Film Festival, featuring Irish films, films about Ireland, and films that explore what it means to be Irish in the 21st century.
Afterwards, of course, you can stop by one of our Boston Irish pubs for some great music, a great meal, and perhaps a Guinness.
Return to Top: St Patrick's Day Events in Boston
Boston Celtics Games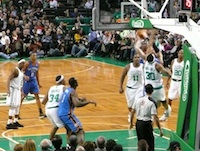 Of course a Boston Celtics game is not just a St. Patrick's Day event - but what better way to show your Celtic spirit than dressing in green and cheering for the home team at a game in TD Garden?
Check the Celtics' home game schedule for March.
And remember to wear green!



St Patrick's Day - Your Questions, BDG's Answers
Boston Hotels Convenient to the St Patrick's Day Parade
My wife and I are coming to Boston for St. Paddy's Weekend and need to book our hotel. We're going to the St. Patrick's Day Parade and also have tickets to the Dropkick . . .
What to Wear on St Patrick's Day in Boston
My friends and I are visiting our college classmate in Boston for St Patrick's Day weekend. We're going to catch a Celtics game, hit a few bars, and generally just chill. He told us . . .
Like this Page? Please Share!
You may also want to check out:
Boston Discovery Guide > Events > St Patrick's Day Parade > St Patrick's Day Events