Home > Freedom Trail >
Paul Revere's House
Visit the Home of Boston's Famous Midnight Rider
Paul Revere House, viewed from North Square, in front of the house
Step through the door of Paul Revere's House - now a museum on Boston's Freedom Trail in the North End - and you'll get a fascinating glimpse of middle-class American Colonial life.
When Paul Revere moved here in 1770, the wooden house was already almost 100 years old.
Built around 1677 - 1680, soon after the Great Fire of 1676 destroyed many existing homes, the house occupies the site of an earlier dwelling owned by Puritan ministers Increase Mather and his son Cotton Mather, supporter of the Salem Witch Trials.
The original occupants of Paul Revere's house included wealthy Puritan merchant Robert Howard, his wife Elizabeth, their daughter Sarah, and their slave Samuel.
By the time Revere and his family settled in for what would be a 30-year stay, wealthy Tory supporters of British colonial rule occupied the nearby mansions in the fashionable North Square neighborhood.
Today, Paul Revere's house is the oldest house in central Boston. Despite several alterations, you can still see the late Elizabethan Tudor architectural style popular with Boston's earliest settlers.
Paul Revere's House Becomes a Revolutionary Stage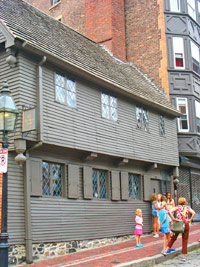 Revere, an up-and-coming silversmith and businessman, outwardly seemed like a good fit for this Loyalist Tory neighborhood.
But almost from the beginning, he had to hide his radical political views from his more conservative neighbors, even as he managed to make "statements."
One of Revere's most famous expressions occurred on March 5, 1771 when he used the front windows of his house to stage an inflammatory reenactment of the Boston Massacre on its 1-year anniversary.
First, Revere stretched oiled paper across each window and then used shadow figures to depict the confrontation between Colonists and British troops, the deaths of the five Patriots, and finally, the dramatic appearance of Patriots' ghosts demanding retribution.
During the next few years, Revere repeatedly sneaked out of his house and past his Tory neighbors to attend secret Sons of Liberty meetings in local taverns, including the Green Dragon near Faneuil Market, and to head down to the harbor for the Boston Tea Party.
Revere's most famous secret mission took place when he covertly rowed across the water to Charlestown to launch his famous midnight ride across the countryside to warn Patriots Samuel Adams and John Hancock that British troops were marching to Concord arrest them.
Because the British troops didn't know their plans had been detected, the Colonial Militias and Minutemen were able to catch them by surprise and force them to flee back to Boston, fighting bloody battles all along the way as the American Revolution began.
Paul Revere's house today
Ironically, the Paul Revere house that you'll see is only part of the home where Revere and his family lived.
By the time Revere bought the house, a previous owner had already enlarged it by adding a third floor, now removed.
Revere and his huge family needed the space.
He and his first wife, Sara Orne, had 8 children. After Sara died in 1773, he married Rachel Walker, and they had another 8 children. Revere's mom also lived with them for several years.
Not all of the children lived in the house at the same time. Five died in infancy, all too common during that time, and several older children were living elsewhere by the time the younger ones were born - but just the same, the house must have been overflowing with the 6 or 7 kids living there and visits from the older ones.
How Paul Revere's house became a museum
In the decades after the Revolution, Revere became even more prosperous, and he and his family moved in 1800. Soon after, the North Square neighborhood entered a period of decline as other wealthy occupants moved to more fashionable addresses.
During the 1800s, the Paul Revere House served as a candy store, a bank, a cigar factory, a produce market, and tenement housing for immigrants. Over 700 people are believed to have lived in this house from the time when it was built in the late 1670s to 1902, when Revere's descendents purchased it in order to preserve it as a museum.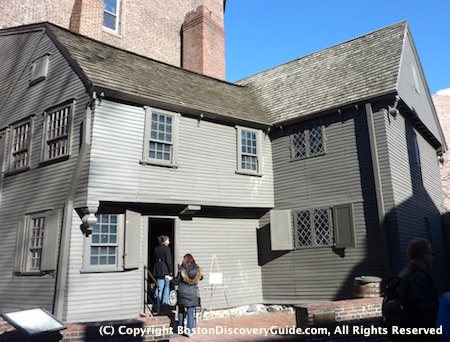 Paul Revere House, viewed from the back garden
A restoration in 1907-08 returned the Paul Revere House to its original 2-story design, smaller than before Revere and his family lived there.
The second floor overhangs the first, making the low-ceilinged rooms seem even darker and smaller.
A massive Elizabethan-style fireplace dominates the main downstairs room. Small diamond-paned windows, considered luxurious back in the 1600s, let in only a little light.
Still, the house must have been warm and cozy during the winter, especially with all those children to fill it. During the summer, the children would have played outdoors and along the nearby water's edge.
Boston Insider's Tip: You can see reproductions of Tudor-style homes throughout Boston's nearby suburbs. Newton and Belmont boast numerous fine examples of "Banker's Tudors" built during the 1930s.
Part of what makes the Paul Revere House special is that it's the real thing.
What you'll see in the museum
The Paul Revere House is now a museum along the Freedom Trail. If you have time, it's interesting to go inside because you get a good sense of what many of the houses were like during the late 1600s.
The main downstairs room is furnished as it might have been when the house's second owner, Robert Howard, purchased it in 1681. He was wealthy, and the lovely furniture reflects his status.
Items from the Revere household furnish the other rooms, including Rachel Revere's favorite chair, other furniture, Paul Revere's saddlebags and pistols, and various pieces of silver. You'll also see a silver pitcher made by Revere.
Essentials: Paul Revere House in Boston's North End
Location: 19 North Square, North End, Boston
Open:
April 15-October 31: 9:30am - 5:15pm
November 1 - April 14: 9:30am - 4:15 pm
Closed on Mondays during January, February, and March.
Also closed on Christmas, Thanksgiving, New Year Day
House tours are self-directed. Plan to spend about 30-45 minutes.
No public restrooms on site.
Cost: Adults $3.50, Children 5-17 $1.00, Seniors and college students $3.00
Discounts for Paul Revere House: GoBoston card gives you free admission
More information: Paul Revere House website; 617-523-2338
Getting there by subway: Orange and Green Lines/Haymarket, and walk across the Greenway to the North End - maybe 10 minutes, although you'll find many temptations for dawdling along the way
Eat and Drink: You can't go wrong with any North End restaurant or bakery - but here are a few suggestions:
- Casual: Modern Pastry (257 Hanover) for cannoli and espresso; J Pace (42 Cross Street) for made-to-order deli sandwich; Mercato del Mare (99 Salem Street) for fresh-made lobster roll, fish sandwiches, chowder
- Moderate: Regina Pizzeria (11 1/2 Thacher St) - pizza and casual Italian; The Daily Catch (323 Hanover St) for fresh seafood and pasta; Famiglia Giorgio (112 Salem St) for Sicilian-style Italian specialites
- Splurge: Mamma Maria (across from Paul Revere House) for Northern Italian, dinner only
Where to stay near Paul Revere's House
Insider Tips - Where to See a Statue of Paul Revere
Walk over to Paul Revere Mall, a pedestrian walkway between Hanover and Salem Streets in the North End.
Famous Boston-area sculptor Cyrus Dallin designed the statue of Paul Revere on a horse in 1885, and it was finally cast and installed in 1940.
Take a few moments to read the bronze plaques on the mall's surrounding brick walls recounting interesting histories of other Revolutionary War heroes and people from the neighborhood.
Related information
Check out my Boston Cheap Eats recommendations for several other delicious and inexpensive North End eateries
Want to visit the site of the "sea" (once called "Round Marsh") which 700 British troops crossed by boat on their way to Lexington and Concord? Go the Boston Public Garden, located on filled land where the waters of Round Marsh once hosted the British boats. Nothing related to the marsh remains, unless you count the artificial "lagoon" where you can ride on Swan Boats.
Like this Page? Please Share!
More to Explore near Paul Revere's House
Boston Discovery Guide > Freedom Trail > Paul Revere's House