Guide to Boston Theaters
From Broadway to Avant-Garde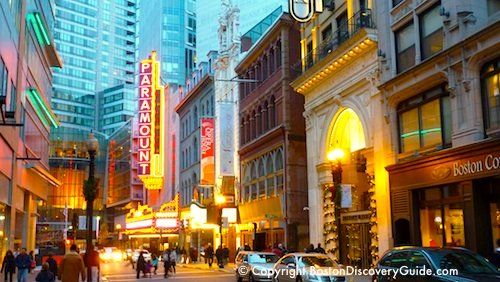 Boston's vibrant theater scene includes more than a dozen major performance venues in the Downtown Theatre District, plus even more in other neighborhoods and nearby Cambridge.
You can see top performances from popular Broadway musical shows to avant-garde experimental productions, along with opera, dance, comedy shows, and everything in between.
Beyond the historic downtown Theatre District, you'll find even more Boston theaters scattered across Fenway and the South End neighborhoods, and the city of Cambridge on the other side of the Charles River.
To find top current productions as well as those opening soon, check Boston Discovery Guide's list of Boston Theatre District shows.
Boston's theater season begins in early fall, with most theaters scheduling performances through mid to late June.
Summer brings the much-loved Shakespeare on the Common. The Commonwealth Shakespeare Company gives free performances of a different play each year on Boston Common. This "theater under the stars" is the perfect way to spend a balmy summer evening.

Boston Theatre District Theaters
These are the theaters that you'll find in or near Boston's Theatre District.
Even if you don't have the opportunity to attend a show while visiting Boston, take a few moments to walk through the lobbies of some of these beauties. The Colonial, the Opera House, the Schubert, and the Wang are especially gorgeous.
Boston Opera House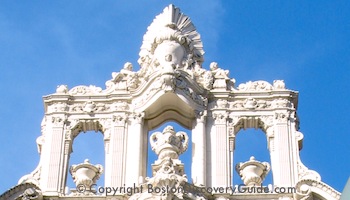 Boston Opera House specializes in big-name performances, well-known performers, and lavish productions.
Boston Ballet performs their famous Nutcracker here each year during November and December.
The dazzling Spanish Baroque-style seats 2,500, and is where you'll also see Broadway musicals, dance, and and Boston's most spectacular musical performances.
Address: 539 Washington Street, Theatre District
Nearest T station: Red Line/Downtown Crossing

Find best seats and reserve your tickets now
Boston Opera House history: Boston's original Opera House, built in 1901 on Huntington Avenue near Symphony Hall, was demolished in 1957 and Northeastern University replaced it with a dorm.
The current Opera House started its life as the B.F. Keith Memorial Theatre, later became the Savoy Theatre, but by the '90s seemed destined for demolition for several years until a $35 million renovation restored its opulent splendor in 2004.
The breath-taking beaux art interior features dazzling gold leaf, rococo ornamentations, and 16 massive Italian marble columns weighing 7 tons each - the perfect setting for the splendid productions staged here.
Charles Playhouse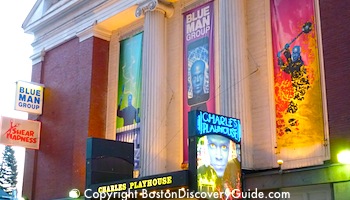 Blue Man Group and Shear Madness share the Greek Revival Charles Street Playhouse (74 Warrenton Street), a black box theater with a storied past.
Both shows have played here almost forever.
Shear Madness has enthralled audiences here since 1980, while Blue Man Group's tenure is only slightly shorter.
What's the secret to their non-ending popularity? Constant change, innovation, and plenty of laughs.
Shear Madness, the funniest murder mystery ever set in a hair salon, relies on audience participation to solve the crime and the outcome varies with each performance. Check for half-price tickets at Goldstar
In Blue Man Group, a trio of bald blue-painted performers backed up by a 3-piece band performs a series of always-changing skits, jokes, and funny routines. Check for discount tickets from Goldstar
Warning: if you go to see Blue Man Group and sit in the poncho section, do not wear your best clothes! Actually, wherever you sit, you should dress casually.
For ticket information:
Discount Tickets: If your dates are flexible, you may be able to find discount or half-price tickets for both shows.
Charles Theatre history: Originally built as Boston's Fifth Universalist Church in 1839, the building now housing the Charles Theatre also served as the city's first synagogue, the "Lido Venice" speakeasy during Prohibition, and the famed Storyland nightclub where Fats Waller and jazz musicians played. It became the Charles Theatre in 1958.
Boston Insider Tips: Finding Best Theater Tickets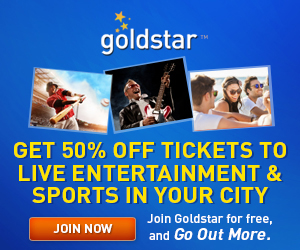 Boston theater tickets come in all price ranges, including discount and half-price tickets available through Goldstar.
Some theaters have their own box offices offering full-price tickets, while others sell tickets solely through brokers.
We list box office phone numbers and theater websites with the theater information below where possible, as well as any additional ticket information. In some cases, you need to beware of "convenience" and other add-on charges.
To get choice seats, particularly to sold-out productions, ticket brokers will be your best bet. TicketLiquidator and AceTicket
are both local, and usually offer excellent theater seat selections at a range of prices - both over and under face value.
Colonial Theatre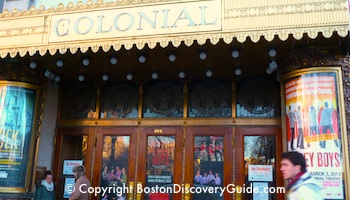 Look for touring productions of Broadway shows and musicals at the ornate Colonial Theatre (106 Boylston Street).
The Colonial is the oldest continually operating theater in America and vies with the Opera house as the gorgeous performance space in Boston.
Historically, shows such as Porgy and Bess, Oklahoma!, La Cage aux Folles, and A Little Night Music previewed at the Colonial before debuting on Broadway.
If you haven't seen a show here before, the Colonial's rather modest exterior in no way prepares you for the surprise you'll feel when you walk through the doors and and find yourself in a huge, ornately embellished theater that comfortably seats 1,700.
Despite its size, the theater manages to feel like an intimate space when you're watching a show because of the fan-shaped seating and excellent sightlines and acoustics.
A 1995 by artisans from Conrad Schmitt Studios restored the Colonial's elaborate paneling, mosaic floors, even more elaborate and fabulous murals covering the walls and ceiling, and lots and lots of gold. Literally tons of sparkling chandeliers provide dazzle, and mirrors everywhere make the the gold and murals seemly extend to infinity.
In 2004, Conrad Schmitt Studios returned for a couple of years to refurbish the lobby - surprising everyone by uncovering hand-painted murals and more gold leaf. Now restored to its original splendor, the magnificent barrel-vaulted lobby is absolutely stunning.
Even if you don't attend a performance here, be sure to walk through the front lobby and admire the murals and opulent decor.
Colonial Theatre History: Built in 1900 by the Clarence Blackall architectural firm which also designed the Wang, Wilbur, and Modern Theatres, the Colonial has always hosted extravaganzas and some of the biggest Broadway stars, such as Carol Channing, the Marx Brothers, Barbra Streisand, and Katherine Hepburn.
Emerson College bought the Colonial building in 2006 and uses the upper floors for dorms. Citi Performing Arts manages the theater, along with the Wang and Shubert Theatre.
For ticket information: 617-880-2460
Check for half-price tickets: Goldstar

Cutler Majestic Theatre at Emerson College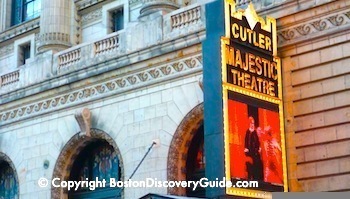 Designed by John Galen Howard and built in 1903 as a venue for opera performances, the ornate gray terracotta Cutler Majestic Theatre features fluted columns and high arched windows topped with masked faces.
It was the first Boston building designed for electric lights, and is the second oldest theater in the Theatre District.
Because the Majestic was originally designed for opera, it was also the first Boston theater designed without support pillars, so sight lines from all seats are excellent. This design also creates wonderful acoustics.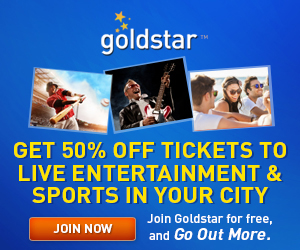 Emerson College bought the building in 1983 as part of its expansion in Boston's Downtown Theatre District, and completely restored it over a 20 year period, finishing only in 2003.
The pink and gold opulence of the beaux-arts interior is spectacular. Emerson's award-winning $10 million restoration has restored the Majestic to its former splendor.
Emerson College performance groups as well as other non-profit arts and performance groups hold their productions here.
If you're interested in serious theater, opera, or dance, be sure to check the Cutler Majestic's schedule.
The Majestic is the only Boston theater where opera is normally performed, and many of their productions are spectacular, with world-class opera stars and magnificent orchestras.
You can hear the Teatro Lirico d'Europa, Opera Boston, and the New England Conservatory perform opera here.
You can also attend performances by several other renowned Boston groups in the Majestic: the historic Handel and Haydn Society, the Boston Early Music Festival, the Boston Gay Men's Chorus, Emerson Stage, the Celebrity Series of Boston, and World Music, as well as other non-profit performance groups that call the Majestic "home."
Address: 219 Tremont Street, Theatre District
Nearest T station: Green Line/Boylston
For ticket information: 617-824-8000; www.maj.org
Check for half-price tickets: Goldstar

Lyric Stage Company of Boston
The Lyric Stage Company is Boston's oldest theater company, founded in 1974. Under the leadership of Artistic Director Spiro Veloudos, the Lyric Stage Company produces 7 shows each season that emphasize contemporary playwrights - or contemporary updates to classics - with a special focus on emerging and established local talent.
Each season's productions usually include at least a couple of musicals. The Lyric Stage Company's most successful show to date was Boston-based playwright David Kruh's The Curse of the Bambino.
This mid-sized theater has a convenient location in the recently renovated YWCA building next to Copley Square.
Address: 2nd floor of YMCA building, 140 Clarendon Street (corner of Clarendon and Stuart Street), Back Bay - this is what you might call the "far end" of the Theatre District!
Nearest T station: Orange Line/Back Bay
For more information: 617-585-5678
Good to know: Discounted parking is available at The Garage @ 100 Clarendon. Check Lyric Stage's website for details, as rates change periodically.
Check for half-price tickets: Goldstar

Modern Theatre at Suffolk University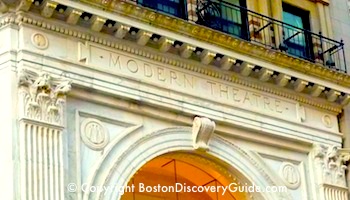 One of Boston's first movie theaters, the Modern Theatre was developed by architect C.H. Blacknell in 1913 within a Ruskinian High Victorian Gothic style furniture store and warehouse built in 1876.
Blacknell added the elegant 2-story white marble Florentine Renaissance front facade as part of his renovation.
The name, "Modern Theatre," must have been kind of a joke because this gorgeous building looks anything but modern!
The original 800 seat theater did not have a stage but was designed to maximize the acoustical properties by a Harvard professor, Wallace Sabine, a specialist in the application of scientific principles to sound and space.
After The Jazz Singer, the first talking film, premiered here in the late 1920s, the Modern turned into a "talkie" cinema. By the 1950s, it had morphed into the Mayflower Theater, becoming in the 1970s a rather notorious adults-only movie venue at the seedy edge of Boston's former Combat Zone - the kind of place where moms had to cover their children's eyes as they walked past the posters.
Eventually, the Modern fell into disrepair and disuse in 1980, becoming a vacant and somewhat menacing eyesore for almost 30 years. I used to hate walking by it. The crumbling Boston theater was considered beyond repair by 2007, when Suffolk University the space in order to create dorms for its students.
In one of the city's most interesting and challenging projects, Suffolk restored the Modern's elegant facade while erecting a sleek 12-floor tower behind it. Open since 2010, new 185 seat theater along with a lobby, balcony, and gallery occupies the first two levels of the building, with a grand curving staircase and hand-painted theatrical scenes on the walls.
Fascinating film showings, presentations, and technology-assisted (Skype!) conversations with leading authors, playwrights, and performers already have the Modern buzzing with excitement in series such as Conversations at the Modern, Movies at the Modern, and Performance at the Modern.
Address: 523 Washington Street; Theatre District
Nearest T station: Red Line/Downtown Crossing
For more information: www.suffolk.edu
Orpheum Theatre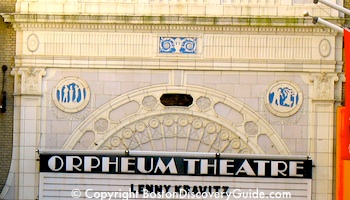 If you're walking past the Park Street Church and happen to glance across Tremont Street and see the Orpheum Theatre at the end of a short alley, you'll probably logically assume that it's a theater.
But despite its name, you won't see theatrical performances at the Orpheum . . . unless you consider rock concerts to be a form of theater. However, you can hear world-class musicians in this rather special concert venue, site of so many famous Boston rock concerts.
Built in 1852, the Orpheum is one of the oldest theaters in Boston, as well as in the United States. Originally called the Boston Music Hall, the Orpheum served as home to the Boston Symphony Orchestra from 1881 until 1900, when it was converted to a vaudeville theater and given its present name.
Although the Orpheum used to face onto Washington Street, its former front entrance has been converted to retail space and you now enter through the back alley entrance. When you first see it from the outside, you'll think it looks small - but inside, it's huge, with 2,800 seats and terrific acoustics.
On the other hand, you'll swear the seats haven't been updated since 1852. Rock fans have a love/loathe relationship with the Orpheum - terrific acoustics, but in addition to those tortuous seats, the Orpheum has the temperature and moisture content of a sauna, especially once a show is underway. And no, there's no air conditioning.
However, shows here are often memorable.
During recent decades, the Orpheum has been the setting of stellar performances by Bruce Springsteen, The Police, Kiss, the Grateful Dead, U2, and more recently, Lenny Kravitz and the Allman Brothers.
Address: 1 Hamilton Place, Theatre District
Nearest T station: Red Line/Downtown Crossing
For ticket information: The Orpheum no longer has its own box office, so tickets are sold/distributed by the event promoters and resellers.
Check for half-price tickets: Goldstar

Paramount Theatre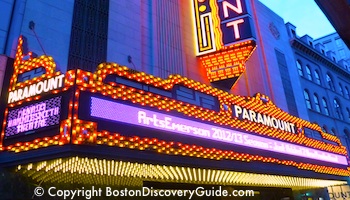 The lights are back on at the Paramount after a $92 million renovation project has restored the theater to its former glory.
Now owned by Emerson College as part of ArtsEmerson, the Paramount boasts a 596-seat theater, a flexible black box theater seating up to 150, a 170-seat film screening room, and multiple rehearsal and practice studios, classrooms, offices, and even a restaurant.
The Paramount originally opened in 1932 as one of Boston's spectacular cinema palaces. As the golden age of cinema waned, so did the Paramount, falling into a total state of disrepair along with most of the other buildings in this section of the Boston Theater District.
Times change. The new Ritz Carlton Boston Hotel and Ritz Towers opened next door. The magnificently restored Opera House, just down the street, glitters. Suffolk University renovated the Modern Theatre. And the now-lit Paramount is one more shining jewel in one of Boston's most exciting neighborhoods, offering an eclectic line up of theater, film, dance performances, and lectures.
Address: 559 Washington Street, Theatre District
Parking: Boston Common Garage
Nearest T station: Red Line/Downtown Crossing
Free tours: Summer months, by reservation only. Email tours@artsemerson.org for reservations.
Show and ticket information: https://artsemerson.org
Shubert Theatre (now part of Citi Performing Arts Center)
The 1,500 seat Shubert Theatre (265 Tremont Street), built in 1910, was once one of 7 Boston theaters owned by the New York-based Shubert brothers. Now it's the only one left standing.
During the days when pre-Broadway productions played first in Boston, the Shubert hosted numerous famous actors such as Richard Burton, Angela Lansbury, and Julie Andrews.
Multiple renovations have ensured that the cream-and-gold Shubert retains its original gleam and sparkle. The ornate lobby and marble entrance area look unchanged.
But that's part of the Shubert's charm. It's an elegant, intimate space that gives you a glimpse of what gala evenings must have felt like 100 years ago.
Book your Shubert Theatre tickets now
In 1996, the larger Wang Theatre across the street took over the management and operations of the Shubert as part of a 40-year contract. In recent years, the Citi Performing Arts Center has served as guardian for both of these Boston theaters.
The Shubert is the home of the Boston Lyric Opera (you can find their schedule on the November Events Calendar), as well as many local community arts programs, and also hosts touring companies that present Broadway, theater, music, dance, and other performances.
Wang Center for Performing Arts (Citi Performing Arts Center)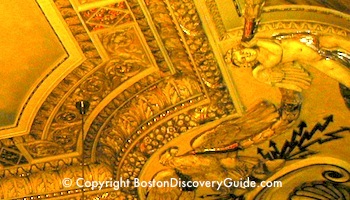 The Wang Center, originally called the Metropolitan Theater and later called the Music Hall, is Boston's largest performance space in the Theatre District, seating about 3,700 people.
The Wang is where you'll see the huge extravaganzas put on by touring national and international theater, ballet, and opera companies.
You can also enjoy productions by local groups, such as the Boston Ballet. The Boston Lyric Opera, whose "home" is across the street at the Shubert, also holds some concerts and events here.
Originally built in 1925 as a venue for variety shows and movies, the Wang (renamed in honor of patron An Wang) has been expensively and extensively restored.
The theater itself was designed to emulate the Paris Opera House, and the Grand Lobby - which is very grand indeed - was based on Versailles.
As you walk into the Grand Lobby, your eyes will immediately be drawn up to the opulent painted ceiling.
The gold-plated chandeliers weighing almost a ton each, the rose jasper pillars, the marble doorways, and the general plushness are worthy of a grand ballroom.
Even if you don't have a chance to attend a performance at this venerable Boston theater, stop by the lobby admire by-gone era opulence that's still awe-inspiring today.
Address: 270 Tremont, Boston Theatre District
Nearest T station: Green Line/Boylston
Wang Theatre performance schedule and ticket information
Wilbur Theatre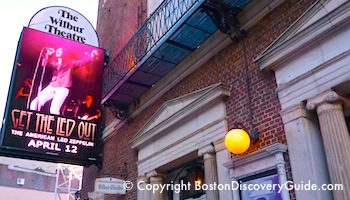 The historic Wilbur Theatre showcases top comedy and music acts virtually every night of the year.
Built in 1914 by the New York Wilbur family and designed by architect Clarence H. Blackall, the Wilbur was the first theater in the United States to be based on American Colonial architecture rather than European influences. With its Federal Revival design, supposedly based on Beacon Hill houses for authenticity, the Wilbur is a better stylistic fit with the rest of Boston's architecture than the other ultra-ornate Boston Theatre District theaters.
Renovations in the 1980s and 1990s positioned the Wilbur to host a number of well-received pre-Broadway and off-Broadway touring productions. Unfortunately, after the management company that produced these shifted to other Boston theater venues, the Wilbur went dark in 2007.
Happily, since 2008, former Comedy Connection owner Bill Blumenreich has revitalized this gorgeous venue as well as this part of Boston's Theatre District.
Find out more about Boston comedy clubs.
Address: 246 Tremont Street, Theatre District, Boston
Nearest T station: Green Line/Boylston
For more information: 617-931 2000; www.thewilburtheatre.com
About Boston's Theatre District
One of the terrific things about Boston is our large number of top-notch theaters.
Puritans banned theater along with most other forms of entertainment - but as soon as Boston theaters became legal in 1792, their popularity soared and has remained high ever since - although with plenty of ups and downs along the way.
Dozens of theaters along Washington Street and Tremont Street attracted large crowds, despite lingering concerns about propriety and a "banned in Boston" phase. The parents of famous American author Edgar Allan Poe worked as actors in the Theatre District, when he was born in adjacent Bay Village in 1809.
By the 1850s, theatrical performances - especially farces and melodramas - enjoyed immense popularity. Boston theater reached its peak of popularity in 1900 when 31 theaters provided 50,000 seats to performance-loving Bostonians.
But, the advent of movies lured away audiences and caused many stage actors to decamp for Hollywood. By the 1920s, the theaters as well as the neighborhood began a slow, long, and deep decline.
By 1980, Boston's Theatre District teetered on the verge of extinction. Most of the dilapidated old theaters looked ready for bulldozers, and frankly, even in the 1990s, parts of the neighborhood felt slightly scary.
But today, the Theatre District flourishes again. Because bulldozers never arrived, Boston has the largest group of architecturally outstanding early theaters in North America. Thanks to meticulous and expensive restorations throughout the past decade, they probably look even more gorgeous and spectacular today than when they were first built.
The Boston Theatre District continues to occupy a stretch along Washington and Tremont Streets to the east and south of Boston Common, and then winds around Boylston and Stuart Streets toward Bay Village. If you count the Lyric Stage Company's location on Clarendon Street, you could even argue that the Theatre District extends into Back Bay.
If you want to dine nearby, you'll find a huge range of restaurant choices within a short walking distance of the theaters. You'll also find a number of top-notch comedy clubs in this area.
With recent neighborhood additions such as the glitzy new W Hotel Boston and Residences and the expansion of nationally-renowned performing arts school Emerson College in the Theatre District, this part of town is suddenly quite trendy again.
Other Boston Theater Options Beyond the Theatre District
American Repertory Theatre
The American Repertory Theatre (A.R.T.) focuses on serious and sometimes edgy or experimental drama, befitting its location in intellectually-inclined Harvard Square.
This is where you'll see plays by playwrights such as Samuel Beckett, David Mamet, Anton Checkov, and Shakespeare (although in fairness, various Boston theaters periodically stage excellent Shakespeare productions). Recent productions of this renowned Boston theater include Julius Caesar, Aurelia's Oratorio, and Copenhagen.
Founded in 1980, the A.R.T. is affiliated with Harvard University's Loeb Drama Center, and is regarded as one of the top rep companies in the country. Roughly half of its productions feature original works, translations, or interpretations.
Address: 64 Brattle Street, Harvard Square, Cambridge
Nearest T station: Red Line/Harvard
For more information: 617-547-8300; www.amrep.org
Also good to know: If you're a full-time college or university student, you may be able to get a discounted pass. Check the website for details.
Oberon
Oberon is the American Repertory Theatre's alternate site, located at 2 Arrow Street, Harvard Square, Cambridge (www.cluboberon.com). Look here for a variety of cabaret shows, vaudeville, 1-person performances, and other entertainment.
Calderwood Pavilion and BCA Plaza Theatres - Boston Center for the Arts (BCA)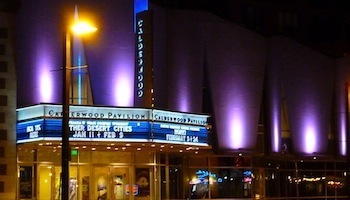 Boston Center for the Arts, is a large complex in Boston's South End neighborhood that contains 4 small to mid-sized theaters in the Calderwood Pavilion.
There are also two smaller performance spaces known as the BCA Plaza Theatres.
The Calderwood Pavilion includes the 372-seat Virginia Wimberly Theatre, the Nancy and Edward Roberts Studio Theatre (seats 235 maximum), the Carol G. Deane Rehearsal Hall, and Hall A. BCA is home to several resident Boston theater groups, including the Huntington Theatre Company, and a number of other performing artists, and they hold many performances here. Calderwood Pavilion is also the site of the Boston Theatre Marathon held each May.
The BCA Plaza Theatres include a 142-seat three-quarter thrust round stage (in other words, a stage that extends into the audience on three sides, similar to the Globe Theatre where Shakespeare's plays were first performed) and a smaller black box theater.
If you want to attend a play while you're in Boston and are flexible about what you see, you'll almost always find something interesting being performed here that you might not have a chance to see anywhere else. Look for social themes, experimental staging, and near-avant-garde sensibilities.
Address: 539 Tremont, Boston's South End
Nearest T station: Orange Line/Back Bay
For more information: 617-426-5000; www.bcaonline.org - Click on "Tickets"
Also good to know: Discounted tickets may be available to students. See website for more details.
The Factory Theatre
If you like innovative theater that pushes limits, explores controversial topics, and delivers substance rather than entertainment, try Boston's version of Off-Off Broadway.
This tiny 49-seat black-box Boston theater in the South End, housed in the old Jonas Chickering Pianoforte building, is where a lot of small Boston area theater groups put on their plays.
One of the South End's most popular art galleries is also located in this building.
Address: 791 Tremont St, near the intersection of Mass Ave and Tremont. To enter, go through the parking lot off Northhampton Street, which you'll find between Tremont and Columbus Ave.
Nearest T station: Orange Line/Back Bay
For more information: www.thefactorytheatre.org
Also good to know: The Pianoforte building was the second largest building in the world, after the US Capitol building, when it was built in 1854. Through the early 20th century, it was at the center of Boston's flourishing early music industry, producing viols, lutes, harpsichords, and clavichords. In the early 1970s, a "repurposing" effort transformed it into the Piano Craft Guild (PCG), which provides affordable housing and workspace for artists.
Boston University Theatre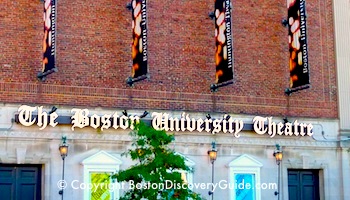 The 890-seat Boston University Theatre, founded by BU in 1982 but now operating as an independent non-profit with support from the university, is home to BU's Huntington Theatre Company, the largest resident Boston theater group.
The Huntington Theatre Company has presented over 100 world, national, and local premiere performances.
Address: 264 Huntington Ave, Fenway, Boston
Nearest T station: Green Line E/Symphony
Ticket information for Boston University Theatre: 617-266-0800; website
Wheelock Family Theatre
This award-winning professional Equity theater has been located on the campus of Wheelock College since 1981. With 650 seats in a comfortable tiered auditorium with only 21 rows, you'll have an excellent view of the stage wherever you sit.
The excellent family-friendly performances are designed to please adults, teens, and children alike, while enchanting everyone with the magic of live, professionally performed and produced theater.
Wheelock Family Theatre's productions usually include at least one each year based on novels that middle and high schools students read, such as Dickens' A Christmas Carol and A Tale of Two Cities, as well as productions based on younger childrens' books, such as Hans Christian Anderson's "The Ugly Duckling."
A third annual production usually involves a play of interest to most ages although not always entertaining for the very youngest of children, such as The Miracle Worker about the story of Helen Keller.
Location: On the Wheelock campus at 200 Riverway, Fenway, Boston; you'll see signs pointing to the theater
Nearest T station: Green Line D/Fenway or Longwood (5 minute walk from either stop
For more information: Wheelock Family Theatre website; call 617-879-2300 for ticket information
Parking: Forget on-the-street parking in this part of Boston. You can get discounted parking at the MASCO garage at 375 Longwood Avenue, just a short walk to the theater. To get the discount, ask for the discounted parking ticket at the theater's Box Office on the date of the performance. See our Boston parking garages in Fenway section to get a map and location details for the MASCO garage.
Discount tickets: I often find significant (around 50%) discounts to Wheelock productions through Goldstar - it's always worth a look!
Boston Theater Companies
Huntington Theatre Company
Boston University's Huntington Theatre Company, the largest resident Boston theater group, performs regularly at the Boston University Theatre as well as at the smaller Stanford Calderwood Pavilion at the Boston Center for the Arts, and occasionally at other smaller venues.
The Huntington Theatre Company creates seven fairly eclectic productions each season, often featuring nationally and internationally renowned performers and premier performances of new plays.
Like this Page? Please Share!
Boston Discovery Guide > See & Do > Theaters