If you're planning a visit to Boston and want to stay in a Marriott Bonvoy hotel in order to use your Marriott points, earn more points, or simply assure yourself of a great night's sleep plus your favorite amenities, you'll find 23 different choices in the city's most popular centrally-located neighborhoods.
So how do you choose which hotel is best for you?
As you may already know, Marriott International's Bonvoy loyalty program includes around 33 unique Marriott brands: Residence Inn, Ritz-Carlton, Renaissance, Courtyard, Aloft, W Hotels, and Moxy, just to name a few.
Each brand offers its own signature mix of amenities, ambiance, price point to suit your needs and preferences for a single night, extended stay, or resort-type vacation.
If you're already a Marriott fan, you probably have your preferences - but it's also smart to choose a hotel convenient to the part of Boston where you'll spend the most time.
Despite Boston's compact size, it has lots of distinct neighborhoods and districts, so figuring out the perfect place to stay isn't always simple.
To make your decision process about where to stay in Boston easier, we've prepared a guide to help you find the best Marriott Bonvoy hotels in Boston's most popular neighborhoods.
We've also included a few "Boston Insider Tips" about what makes these accommodations especially appealing or unique, based on our perspective as Boston locals.
Here's what you'll find in this article:
Top photo: Lobby in Residence Inn by Marriott Boston Downtown/Seaport, (c) Boston Discovery Guide
Boston Discovery Guide is a reader-supported publication. When you buy through our links, we may earn a commission at no additional cost for you. Learn more
---
Marriott Bonvoy Hotels in Downtown Boston, including the Financial District & Waterfront
Downtown Boston includes some of the oldest, most historical parts of the city along the Freedom Trail, Boston Common and the adjacent Public Garden, the pedestrian-friendly Downtown Crossing shopping mecca, the skyscrapers of the Financial District, and the area along the Boston Harbor waterfront.
Since this area is at the heart of Boston Proper, staying at any of the Marriott hotels here puts you within an easy walk to most other areas in central Boston.
Boston Marriott Long Wharf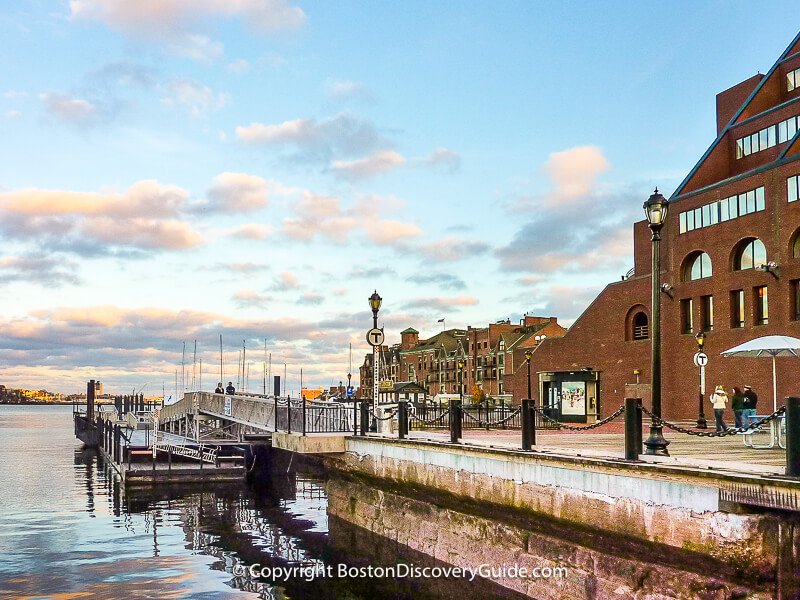 Address: 296 State Street
Located next to Long Wharf, the departure pier for popular whale watching and other cruises, the Boston Marriott Long Wharf occupies an ideal location overlooking Boston Harbor on one side and the Rose Kennedy Greenway on the other.
You can relax in the hotel's gorgeous light-filled swimming pool, sip a drink on the harbor-side terrace, visit the New England Aquarium next door, and walk over to Faneuil Marketplace or perhaps the Green Dragon Tavern on Marshall Street where Paul Revere, Sam Adams, and other Sons of Liberty once plotted a tea party.
If you're visiting with children, check out the carousel near the hotel on the Greenway and the small children's playground next to the hotel at the edge of Columbus Park.
Almost all of the spacious guest rooms feature water views.
Boston Insider's Tip: The Boston Marriott Long Wharf is rumored to have the highest occupancy rate among all Boston hotels - so if you want to stay here, do not wait to book!
Marriott Vacation Club Pulse at Custom House, Boston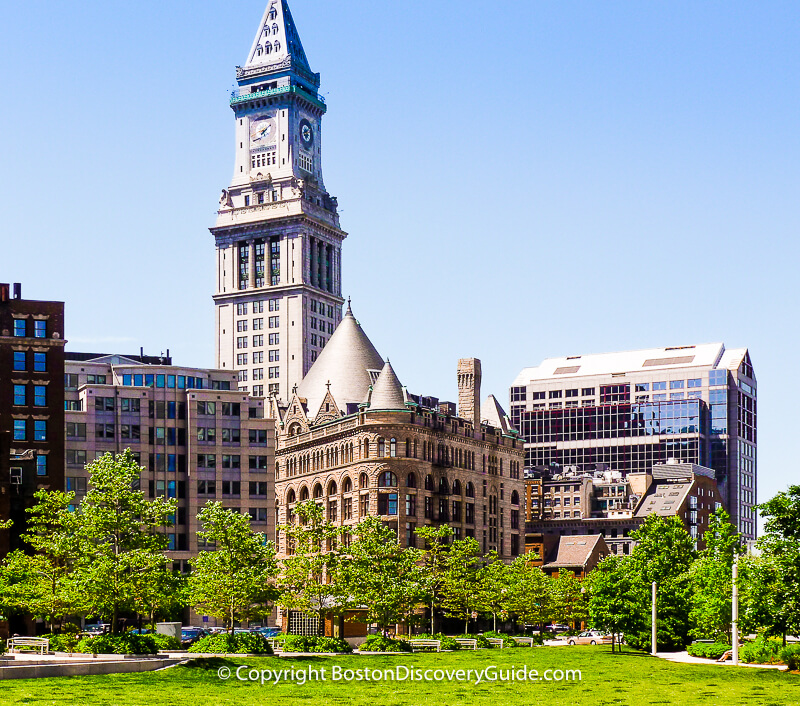 Address: 3 McKinley Square
Marriott Vacation Club at Custom House offers a superb location near the Downtown Waterfront along with stunning Boston Harbor views.
The club's 1-bedroom suites with fully-equipped kitchenettes fill one of Boston's most storied historic buildings, the 26-floor Custom House Tower. 
Amenities include an observation deck on the 26th level with 360-degree views of the city and Harbor, a movie theatre, game room, and a fitness center.
Because the Marriott Custom House is a time-share resort, only a limited number of units are available for rent on most days - so if you want to stay here, book as early as possible and have a second choice in mind in case nothing is available.
The Ritz-Carlton Boston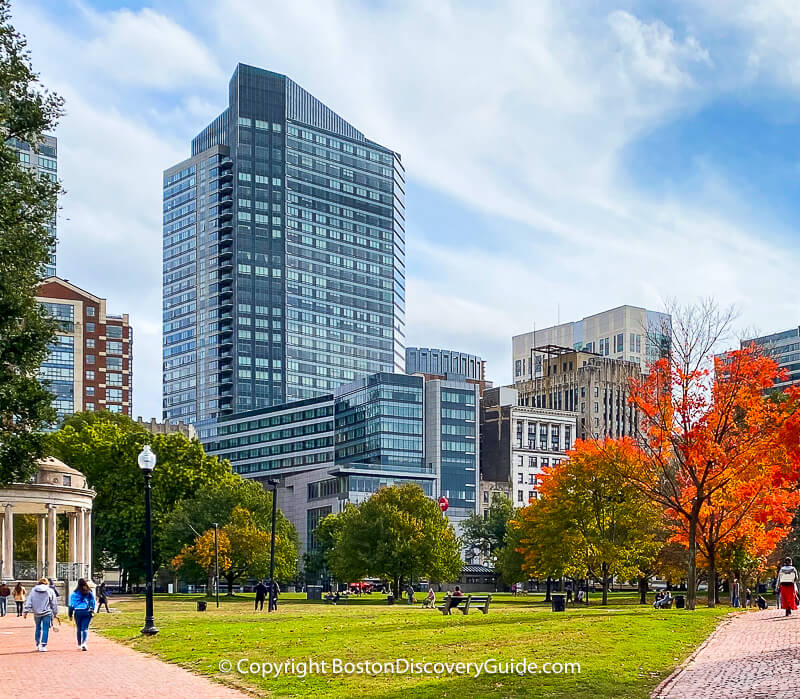 Address: 10 Avery Street
Marriott's 5-star Ritz-Carlton overlooks Boston Common and offers all the fine amenities and top service you'd expect in a luxury hotel of this class.
You can expect understated but sumptuous luxury plus plenty of special touches to make you feel at home in your room or suite.
As a bonus, the Ritz is close to all the top theaters in Boston's Theatre District: the Opera House, Paramount Center, and the Modern, Cutler Majestic, and Colonial Theatres.
---
Marriott Bonvoy Hotels in Boston's West End, North End, Charlestown, & Somerville
Courtyard Marriott Downtown/North Station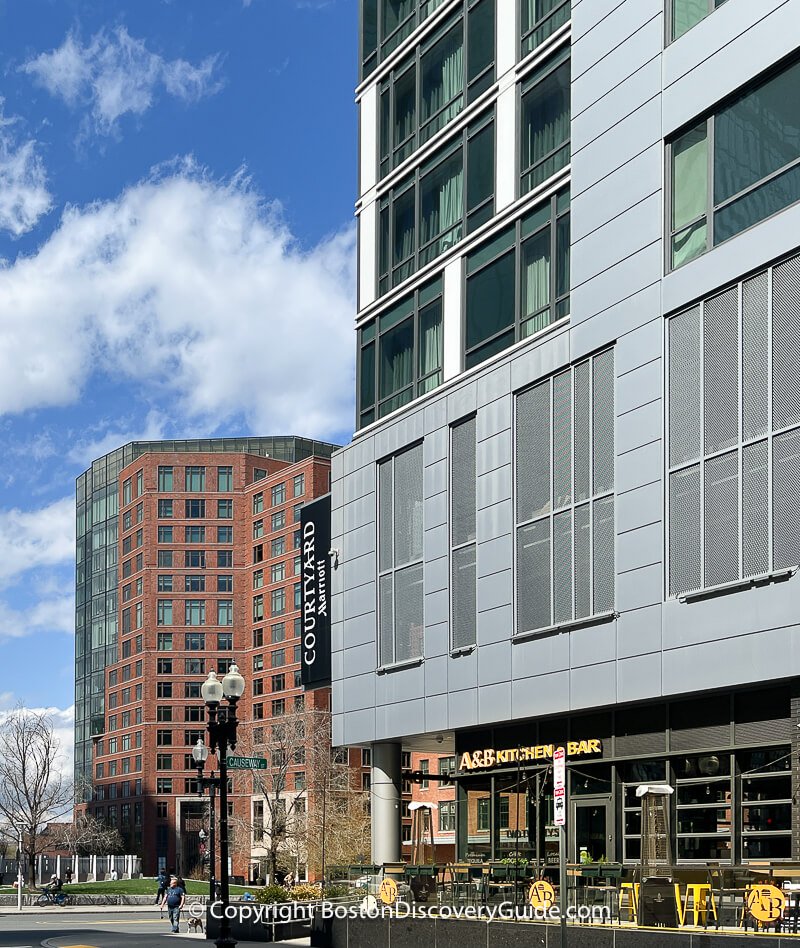 Address: 107 Beverly Street, Boston's West End neighborhood
The Courtyard Boston Downtown/North Station boasts a terrific location:  directly across the street from famed sports and entertainment arena TD Garden in the West End, and near the edge of Boston's legendary North End neighborhood, home to over a hundred superb Italian restaurants, cafes, and bakeries. 
The historical Charlestown neighborhood and its famous Freedom Trail attractions is just across the river.
You get all the usual Courtyard amenities, plus the pleasure of staying in a bright new building with sweeping views from upper floors.
The Liberty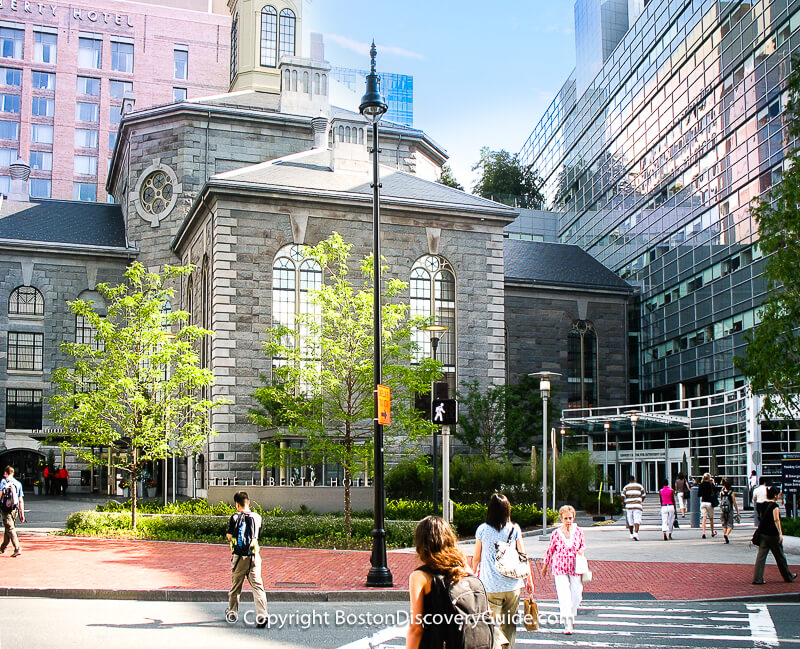 Address: 215 Charles Street
In addition to offering luxurious accommodations and a super-convenient West End location close to Beacon Hill, The Liberty rocks a jailhouse theme - a nod to the building's former life as the Charles Street Jail, built in 1851.
Floor-to-ceiling windows featured in most of the 300 guest rooms give an expansive feeling of openness, along with sweeping views of the Charles River and the Esplanade, the lovely park along the water where you can jog (pack your running shows), watch fireworks on July 4th during Boston's huge Independence Day celebration, and even rent a boat or kayak (the hotel's Concierge will help you reserve).
Not to be missed: A meal in Scampo, the hotel's onsite restaurant headed by famed Boston Chef Lydia Shire (who may even stop by your table to greet you) - or a drink in the upscale see-and-be-seen Liberty Bar.
Boston Insider's Tip: Some of The Liberty's guestrooms, especially those on upper floors, offer spectacular views of July 4th fireworks - but you'll need to request this when booking, preferably far in advance.
Fun Fact: The Liberty's building is actually owned by its next door neighborh, Massachusetts General Hospital.
Residence Inn by Marriott Boston Harbor on Tudor Wharf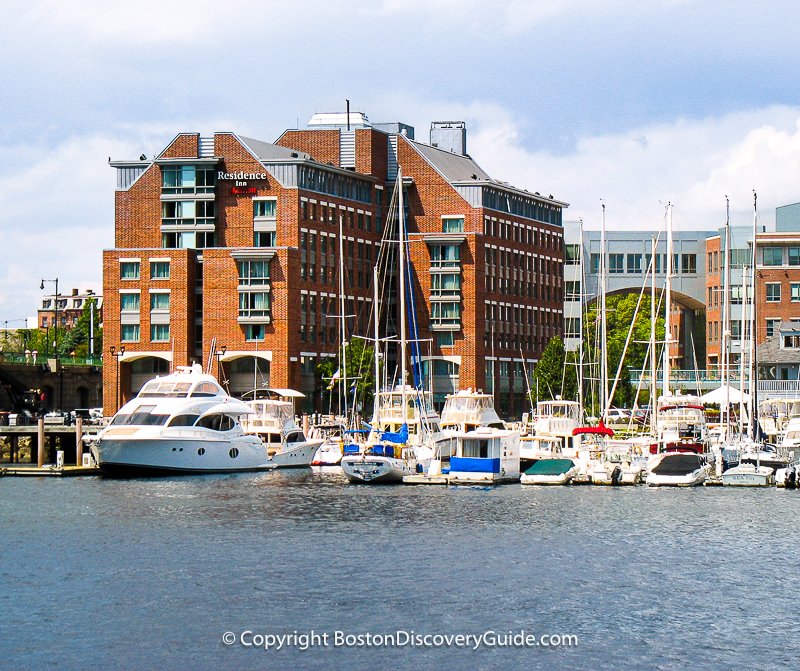 Address: 34-44 Charles River Avenue, Boston's Charlestown neighborhood
If you want a waterfront hotel plus easy access to TD Garden and all the mouth-watering Italian bakeries and restaurants in Boston's North End, consider Marriott's all-suite Residence Inn on Tudor Wharf in Charlestown.
With an indoor swimming pool, complimentary hot breakfast buffet each morning, wonderful waterfront views, and attractive rates, this Residence Inn offers great value as well as convenience. 
A 10-minute walk across a scenic bridge brings you to the Garden and the North End, but you'll also find lots to explore in Charlestown: The fascinating Charlestown Navy Yard, the
USS Constitution (take a free tour!), and Bunker Hill along the Freedom Trail.
Boston Insider Tip: Enjoy a drink or a meal at the historical Warren Tavern, another favorite watering spot of Paul Revere, George Washington, and other 18th century patriots.
The Row Hotel at Assembly Row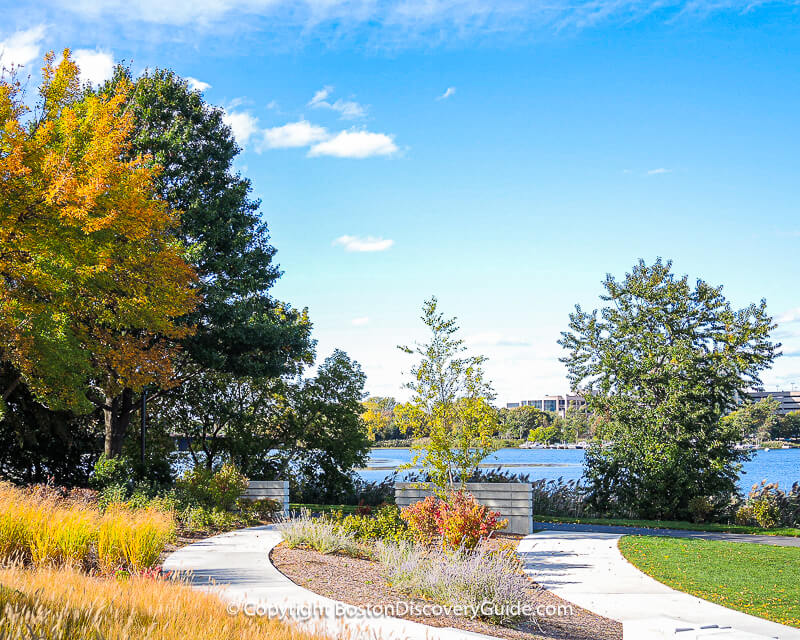 Address: 360 Foley Street, Assembly Row, Somerville
For another appealing Marriott Bonvoy choice just 1 stop away from North Station/TD Garden on the T's (subway's) Orange Line, consider The Row at Assembly Row, a shopping/entertainment destination a couple of miles north of Boston.
Located near Harborwalk by the Mystic River, Assembly Row mixes discount shopping outlets for top retail brands with popular restaurants, bars, a movie theater, and even a Lego store for the younger set.
Combine all of that with the fast and easy access to Boston plus the hotel's dazzling modern architecture, indoor swimming pool with private cabanas, cool roof terrace, and of course luxuriously comfortable guest rooms, and you'll find a lot to love at The Row.
Boston Insider's Tip: Spend at least a few minutes strolling along Harborwalk and look for the resident swans swimming in the river.
---
Marriott Bonvoy Hotels in Boston's Theatre District
Moxy Boston Downtown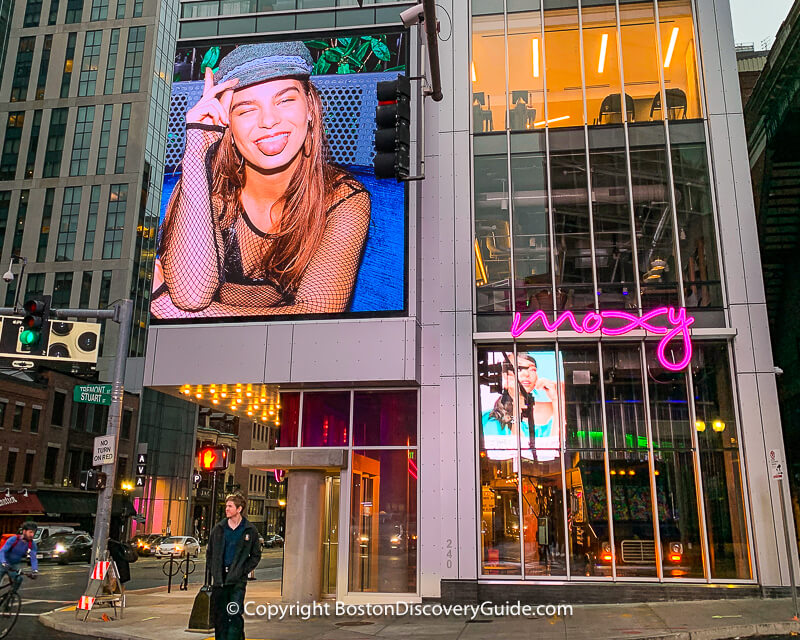 Address: 240 Tremont Street, Theatre District
From its neon sign and enormous electronic billboard to the food truck housing a photo booth in the lobby to the free welcome cocktail offered to guests, Marriott's Moxy Hotel in Boston's Theatre District projects a fun and welcoming vibe just one block away from Boston Common.
Located next to the Wilbur Theatre and across the street from the Wang and Shubert Theaters, the 24-story micro-hotel offers affordable rates, a fitness room, and foosball in Bar Moxy, along with 340 small guest rooms, many with spectacular views.
W Boston
Address: 100 Stuart Street, Boston's Theatre District
The W Hotel Boston brings glamour and glitz to the heart of the Theatre District.
Close to the Wang, Shubert, and Wilbur Theaters, and the Charles Playhouse, and about a 2-minute walk to Shakespeare on the Common in the summer, the hotel lets you experience one of Boston's liveliest spots.
Stop by the Royale for a set or two by top DJs.
Boston Insider Tip: Ask for an upper-floor room overlooking Boston Common for spectacular views
Courtyard by Marriott Boston Downtown
Address: 275 Tremont Street
If you're looking for an affordable hotel in the Theatre District, check out the reasonably priced Courtyard by Marriott Boston Downtown Hotel. An appealing lobby and fitness room add to its attractions.
You get almost exactly the same location as the much pricier (and trendier) W Hotel up the street, and usually for significantly cheaper rates.
And if you're looking for lively nightlife, the Royale and Legacy clubs in the building's lower level couldn't get much closer.
You're also close to the Wang, Shubert, and Wilbur Theaters, and the Charles Playhouse.
---
Marriott Bonvoy Hotels near Copley Square in Boston's Back Bay Neighborhood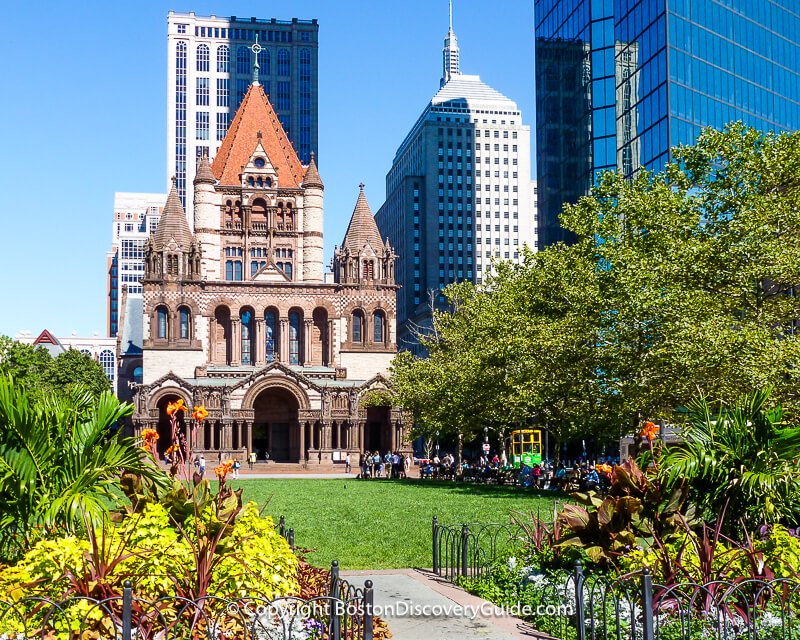 Boston's gracious Back Bay neighborhood practically overflows with charm and history, especially in the Copley Square area where all of these hotels are located.
Long considered Boston's top neighborhood for high-end shopping, dining, and strolling, Back Bay is where you'll find the Hynes Convention Center, Newbury Street, the Boston Marathon Finish Line, Trinity Church, the art-filled Boston Public Library, and gracious streets lined with Victorian mansions.
All of the Marriott hotels in this neighborhood cluster around Copley Square, the heart of the neighborhood. All are excellent choices.
Boston Marriott Copley Place
Address: 110 Huntington Ave
With 1,101 guestrooms and suites, the 38-floor Boston Marriott Copley Place is one of the city's largest hotels, with a gorgeous indoor swimming pool, well-equipped fitness room, and fantastic views from the upper floors.
In addition to being in the heart of the fashionable Back Bay neighborhood, the Boston Marriott (as locals call it) connects directly to two premier upscale city shopping malls: The Shops at Prudential Center and Copley Place.
You can also wind your way from the hotel through Pru Center to the Hynes Convention Center without stepping outdoors - important to know if you're here during colder months.
Newbury Street, known for its art galleries, designer boutiques, and many wonderful places to eat, is only two very short blocks away.
Sheraton Boston Hotel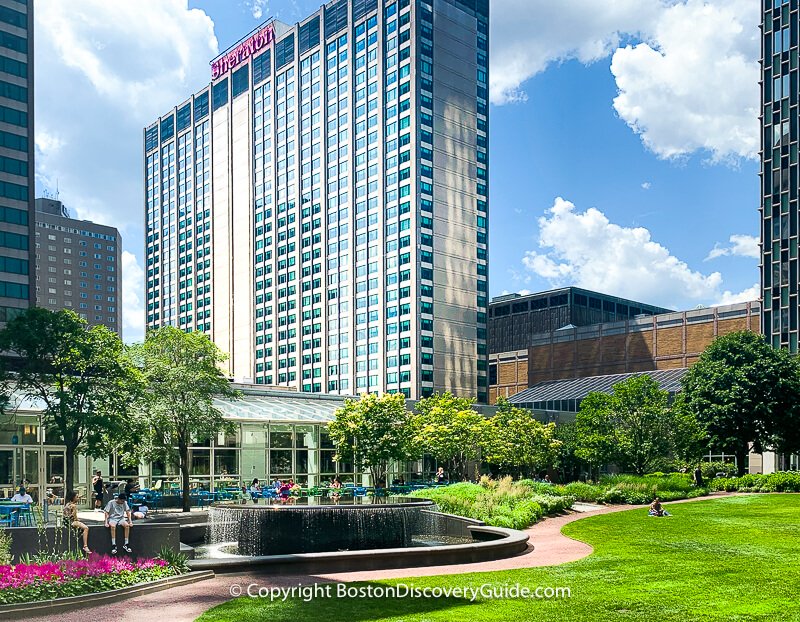 Address: 39 Dalton Street
The Sheraton Boston Hotel, located about a block (or two, depending on how you count) from the Boston Marriott, connects directly to Hynes Convention Center.
If you're attending a conference or other event at Hynes, the Sheraton puts you closest to the action. It also connects directly to the Prudential Center shops, and to Pru Center's lovely courtyard garden.
In addition to its superb location, the Sheraton offers spacious (for Boston) guestrooms, a stunningly gorgeous indoor swimming pool with a glass roof, and all the other amenities you'd expect in a hotel of this class.
Courtyard by Marriott Boston Copley Square
Address: 88 Exeter Street
In a city such as Boston where hotel rates easily reach stratospheric levels, especially in prime locations such as Copley Square in the Back Bay neighborhood, the Courtyard by Marriott Boston Copley Square delivers a top-quality stay at an affordable price point.
Located in a lovely 1891 building on a relatively quiet side street, the 88-guestroom Courtyard hotel gives you a gracious experience and easy access to all the charming attractions of this desirable neighborhood.
Boston Insider's Tip: Carve out a few minutes from your schedule to check out the art and architecture at the Boston Public Library (free admission) next door.
Westin Copley Place, Boston
Address: 10 Huntington Avenue
The upscale Westin Copley Place Boston hotel offers 800+ spacious (for Boston) guestrooms and suites, including some on upper floors with panoramic views of the Charles River.
Located on a corner across from Copley Square, the hotel puts you close to the treasure-filled Boston Public Library, the Boston Marathon Finish Line, and all the fantastic shopping and bistros alone Newbury Street for which Back Bay is so well-known.
You'll find most of the amenities for which Westins are well-known, including a fitness room boasting top-of-the-line cardio and strength-training equipment, but no swimming pool. If a pool is important to you, you can always choose the nearby Boston Sheraton or Marriott Copley, or the Westin Waterfront in Seaport/South Boston.
Boston Insider Tip: This Westin typically attracts a mix of business visitors during the week and leisure travelers on the weekend s.
Its popularity means that if you want to stay here, book as far ahead as possible to get good rates or use your Marriott points.
---
Marriott Bonvoy Hotels in Seaport, Fort Point, & the South Boston Waterfront
Residence Inn by Marriott Boston Downtown/Seaport
Address: 370 Congress Street
Although the Residence Inn Seaport offers the mix of comfortable accommodations, fun public spaces, and all of the comforts of home that Marriott's Residence Inns are known for, this location offers a unique twist: its 120 suites and studios occupy a former 6-story red-brick firehouse.
With 12 foot ceilings, glass elevators, and lots of firehouse artifacts, you can enjoy the unique historical space whether you are here just overnight or for an extended stay.
Enjoy the complimentary breakfast - and the hotel's convenient Fort Point location near museums, the Boston Tea Party Ship, the Spirit of Boston harbor cruise ship's pier, and of course the neighborhood's lively restaurants and nightlife.
Boston Insider's Tip: Want a quick bite or perhaps an espresso? The hotel connects directly to Caffe Nero on Congress Street - so no need to step outside if you're here on a cold winter day (or a sweltering day in July).
Envoy Hotel
Address: 70 Sleeper Street, in Boston's Seaport District/South Boston Waterfront
At the 6-floor Envoy Hotel, the stand-out feature - so awesome, in fact, that it's reason enough to book here - is The Lookout, a rooftop deck and bar where you can enjoy drinks, small bites, and fantastic views of Boston Harbor and the city skyline.
The 136 guestrooms are also bright and airy, with floor-to-ceiling windows, sleekly elegant contemporary decor, and an arty vibe - understated luxury at its best!
The hotel's Fort Point location puts it right in the middle of this artist-friendly neighborhood's numerous dining options, and just a short walk from the Children's Museum, the Boston Tea Party Museum, and local art galleries.
Boston Insider's Tip: Splurge on corner room for spectacular views - request one on an upper floor.
Aloft Boston Seaport
Address: 401 D Street, Seaport/South Boston Waterfront
A mix of comfortable guest rooms, light-filled public spaces, and a convenient location next to Boston's Convention Center makes the Aloft Boston Seaport an easy choice in this neighborhood.
You're just a short walk to Seaport restaurants, nightlife, and cultural attractions - or hop on the Silverline to the Downtown Financial District, Freedom Trail, and other Boston attractions. The Aloft is also close to CruisePort and Leader Bank Pavilion.
Element Boston Seaport District
Address: 391 D Street, Seaport/South Boston Waterfront
Located across from the Boston Convention and Exhibition Center, the Element Boston Seaport Hotel offers a mix of guestrooms, studio suites, and suites, all sporting comfy pillowtop king beds and fully equipped kitchens.
Like its Marriott Aloft Boston Seaport sibling next door, the Element is close to CruisePort, restaurants overlooking Boston Harbor, and other Seaport District attractions such as the Leader Bank Pavilion, home to many of Boston's top summer concerts.
Westin Boston Seaport District
Address: 425 Summer Street
If you typically stay at Westins, you already know about the brand's winning combination of top-notch comfort, service, and amenities such as the indoor swimming pool and top-of-the-line equipment in the fitness room. The Westin Boston Seaport District does not disappoint!
Direct access through a Sky Walk to the Boston Convention and Expo Center is also a plus.
But here's a bonus you may not be expecting: Laugh Boston, the onsite comedy club that's one of the best in the city. If you like stand-up and improv, do not miss it!
Boston Insider Tip: Laugh Boston attracts plenty of locals, and is definitely not an "insiders secret." With only 300 seats, it's not uncommon for shows to sell out - so check with the Westin's Concierge if you have trouble getting tickets.
Renaissance Boston Waterfront
Address: 606 Congress Street
Comfortable guestrooms with contemporary furnishings, a fitness room, and convenient access to the Convention Center and Cruiseport make the Renaissance Boston Waterfront a popular choice for business and leisure travelers.
You're also close to all the fun places to dine along the Seaport waterfront. Get tickets for a show at Leader Bank Pavilion nearby, and explore all the fun places to eat and enjoy a beverage along Boston Harbor.
Boston Insider Tip: Request an upper floor guest room with views of Boston Harbor
---
Marriott Hotel in Boston's South End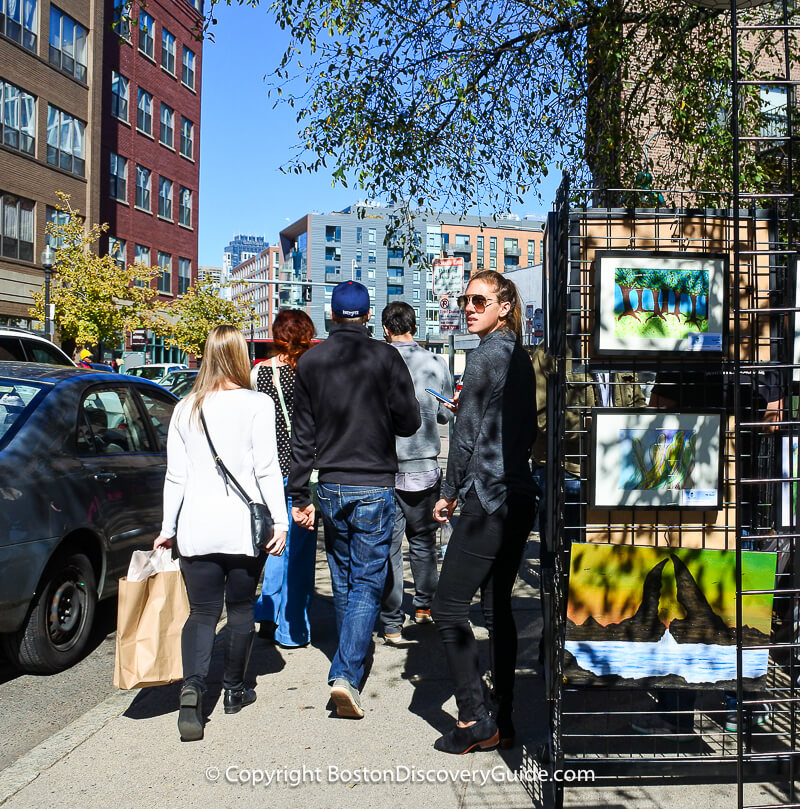 You'll find just a few hotels in Boston's mostly-residential South End, and only one in the Marriott Bonvoy family.
AC Hotel by Marriott Boston Downtown
Address: 225 Albany Street, at Ink Block in Boston's South End neighborhood
Located at Ink Block, an art-filled mixed-use complex once home to the Boston Herald newspaper operations in Boston's lively South End neighborhood, the AC Hotel by Marriott Boston Downtown offers a large fitness center, an outdoor dining terrace, and spacious well-designed rooms with a clean contemporary vibe.
You're also within easy walking distance of the South End's many acclaimed restaurants - plus there's a Whole Foods next to the hotel.
Save some time to explore the nearby SoWa Open Market. The Chinatown neighborhood, Theatre District, Boston Common, and Boston's Public Garden are just a 5-10 minute walk away.
Marriott Hotels in Boston near Fenway Park & Roxbury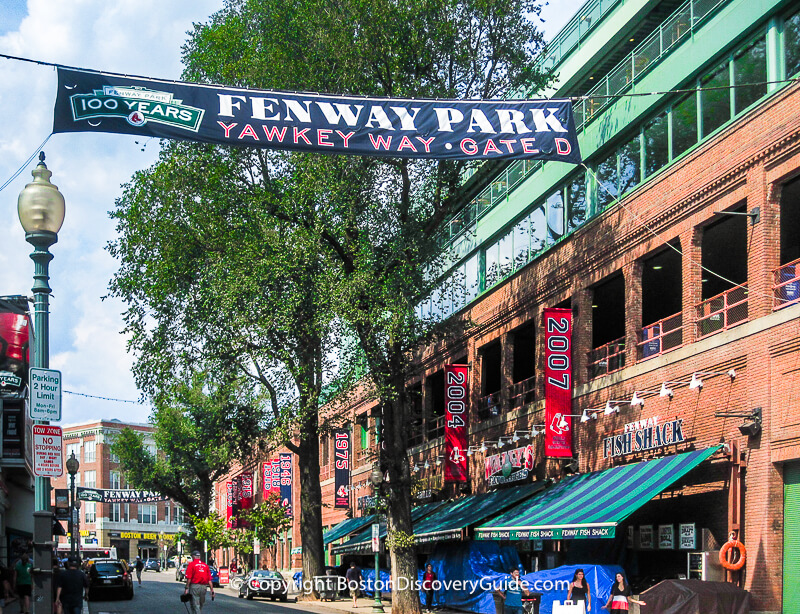 Residence Inn by Marriott Boston Back Bay/Fenway
Address: 125 Brookline Avenue, Boston's Fenway neighborhood
Located just around the corner from Fenway Park, the relatively new Residence Inn by Marriott Boston Back Bay/Fenway features 175 rooms and suites, an indoor pool, pet-friendly policies, and a super-convenient location near the famous ball park.
It's a favorite of families and friend groups who appreciate its spacious suites, top amenities, and rooftop bar overlooking Fenway Park.
Boston Insider Tip: Request a room with a view of Fenway Park, explore the terrific restaurants along nearby Boylston Street, and enjoy some of Boston's best sports bars.
Residence Inn by Marriott Boston Downtown/South End
Address: 2001 Washington Street, Boston's Roxbury neighborhood
Located near the Frederick Douglass Square Historic District in Boston's mostly residential Roxbury neighborhood, the Residence Inn by Marriott Boston Downtown/South End offers 135 spacious suites with fully equipped kitchens and separate living and sleeping spaces.
The hotel's location gives you convenient proximity to Northeastern University. Boston's Museum of Fine Arts, Isabella Stewart Gardner Museum, and Nubian Square are less than a mile away, while the distance to Fenway Park and the Longwood Medical Area is slightly more than a mile.
A bus stop across from the entrance gives you easy access to public transportation. The Ruggles Station on the subway's Orange Line and Commuter Rail is about half a mile from the Residence Inn.
Boston Insider Tip: If you plan to arrive by car, reserve a space in advance at the small fee-based onsite parking lot.
---
More Articles about Hotels in Boston
---
Fun Ways to See Boston during Your Visit
---
Need a Boston Hotel or Apartment?
Use this handy map from Booking.com to find the perfect place to stay. Just enter your dates to find what's available, see the best rates, and make your reservations.