Eliot Hotel Boston
Boutique Hotel in Back Bay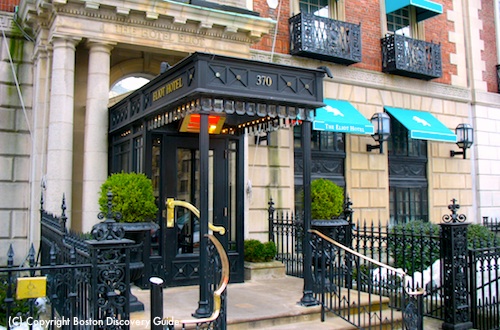 Located in a gorgeous mansion, the Eliot Hotel offers non-stop luxury on Boston's Commonwealth Avenue in the fashionable Back Bay neighborhood.
A mostly-suites format gives you plenty of room to move around, and impeccable services puts the best of Boston at your fingertips.
The uniformed doorman, the stunningly gorgeous formal marble and gold antique-filled lobby, and of course the suites themselves exude elegance.
The Eliot has been owned by two generations of the same family since 1939, and the care that they lavish on it and their guests shows.
In fact, Travel + Leisure readers chose the Eliot Hotel Boston as the Number 1 Small City Hotel (under 100 rooms) in the Continental U.S. and Canada, and Number 19 of the Top 100 Hotels in the World for 2009 - not a surprise to anyone who has stayed here.
Views from all rooms take in iconic Boston sites, with the most famous being Room 704, with a corner location giving you views of the Massachusetts State House in one direction and Boston's famous Citgo sign in another.
Eliot guests tend to be intensely loyal, feeling that they've discovered a hidden gem among Boston's luxury boutique hotels. And they have. Many swear they'll never stay anywhere else in the city.
Check rates and make your reservation
Eliot Hotel Boston Accommodations
The rich decor of the hotel's elegant 16 rooms and 79 suites have an understated European flair . . . taupe and cream linen toiles, brown and cream silks, touches of azure blue.
The luxury Boston Back Bay hotel suites feature French doors between rooms.
Marble bathrooms and flat screen TVs add to the comfort in this favorite among Boston luxury hotels.
For dining and noshing, the Eliot Hotel boasts Boston Super Chef Ken Oringer's nationally-renowned Clio Restaurant and Uni Sashimi Bar.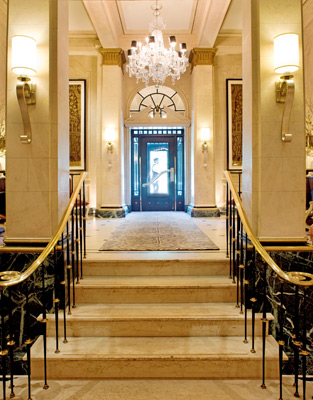 Clio showcases innovative French cuisine. Very hip, very cool Uni, an intimate space featuring an open sushi bar, specializes in Japanese fusion fare and an extensive sake list.
Although the Eliot doesn't have a fitness room, they do provide you with complementary usage of nearby Boston Sports Club, which is also quite a nice place . . . and that's quite an understatement!
You'll love the Eliot Hotel's impeccable service. Everyone who works in this Boston boutique hotel makes sure you feel at home.
And Boston visitors who have stayed at least once at the Eliot Hotel Boston think of it as their home away from home.
Check rates and make your reservation
Photo courtesy of Eliot Hotel
Near the Eliot Hotel Boston
The Eliot Hotel's top-notch location in Boston's prestigious Back Bay neighborhood means that you're just a block from glamorous Newbury Street shopping, perhaps a 10 minute walk from Boston University's East Campus, and very close to Hynes Convention Center and Prudential Center.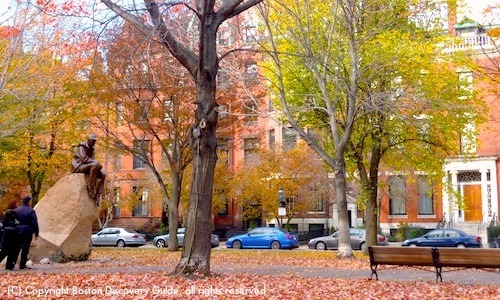 Commonwealth Ave Mall in November
Step out the hotel's front door, and Commonwealth Avenue Mall, designed to emulate the Champs Élyssés in Paris, stretches out in front of you. Some of the city's most magnificent Victorian mansions line both sides of the mall.
If you're interested in architecture, you'll be charmed by variety of styles you'll see - Italian Renaissance Revival, Classical Revival, Queen Anne, Richardsonian, and more.
The Esplanade along the Charles River is just a few blocks to the north.
If you want to take the subway to other parts of the city, the Hynes station is close to the hotel.
And if you're a Red Sox fan, you'll find that Fenway Park is within easy walking distance.
As an extra bonus, you can sometimes find better rates at the Eliot than at other Boston luxury hotels. Be sure to check out the special packages, because by paying just a little more, you may be able to get complimentary tickets to the Red Sox or Museum of Fine Arts tickets, complimentary valet parking, or complimentary meals at Clio.
You may also be interested in: