Affordable rates and a top location across from Copley Square and the Boston Marathon Finish Line make the Charlesmark Hotel a favorite of budget travelers.
Located in the city's leafy Back Bay neighborhood filled with stately Victorian brownstones, trendy boutiques, and wonderful restaurants, the Charlesmark is a small boutique hotel boasting only 40 rooms, a fun lounge, and a sunny outdoor patio overlooking Copley Square, historic Trinity Church, and the magnificent Beaux Art-style Boston Public Library.
The catch? The Charlesmark appeals to lots of budget-minded travelers looking for top-value accommodations in Boston without flattening their wallets - so if you want to stay here, you need to book early.
Top photo: Patio seating in front of Charlesmark Hotel
What to Expect at Boston's Charlesmark Hotel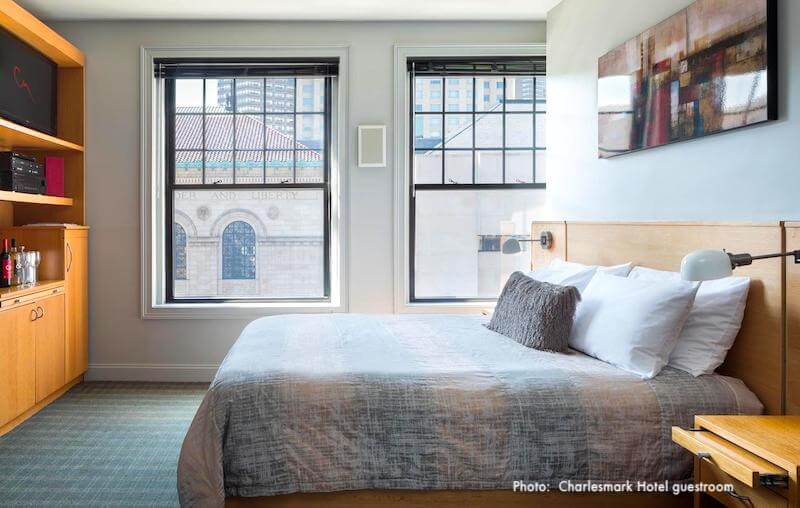 With only 40 rooms located in an 1892 townhouse, the Charlesmark gives you a glimpse of how Boston's elite lived back in the 19th century.
Upstairs hallways may feel a little narrow - probably servants originally occupied this space - and rooms run small (true for most older Boston hotels at every price point). However, everything about the hotel is sleekly contemporary.
Pale woods, modern furnishings, Italian tiles, and interesting paintings by local artists furnish the compact rooms and public spaces.
Guestrooms have individual climate controls, stereo systems, and televisions with cable channels, and the hotel maintains a VHS and CD library. Free wifi is available to all guests.
The emphasis is on comfort, not luxury - which is what keeps rates low enough to be a bargain in this otherwise expensive part of Boston.
Continental breakfast is included with your room rate, making the Charlesmark Hotel an even better deal.
Find lowest rates on Tripadvisor, read reviews, and reserve your room
More About the Charlesmark Hotel's Location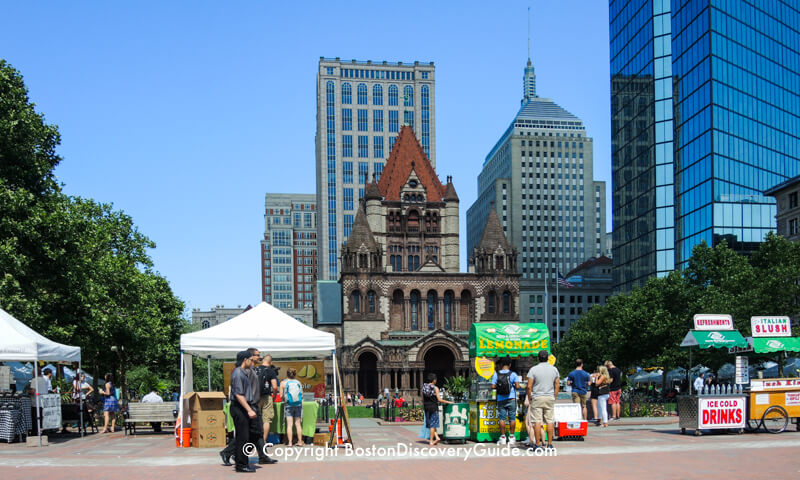 The Charlesmark's Copley Square location means that it is ideally located for Newbury Street shopping among all the designer boutiques.
You'll find lots of trendy restaurants surrounding the hotel.
Prudential Center, Symphony Hall, the Public Garden, Boston Architectural College, and even Fenway Park are all an easy walk from the hotel.
And of course, Back Bay itself, with its gorgeous mansions, historic sites, and gardens is right at your doorstep when you stay at the Charlesmark.
A subway ("T") station is across the street next to the library, although most of Boston's top attractions are within an easy walk of the hotel.
You may also want to consider the Charlesmark if you're looking for a business hotel in Boston. It's also a good alternative to some of the pricier Boston Hynes Convention Center hotels nearby, and most of the guestrooms include desks and good lighting.
Find cheapest rates on Tripadvisor and reserve your room
More about Charlesmark Hotel
Why Does the Charlesmark Offer Such Low Rates?
The Charlesmark is a small, European-style hotel - no huge conference spaces, no in-hotel restaurants, no swimming pool, no designer linens or fancy furniture, no fitness room, no room service. The elevator is small, and so are the rooms (although small rooms are the norm in most of Boston's older hotels). If you don't need these amenities or much space in your room, then the Charlesmark offers you a great bargain in a superb location.
However, the real "catch" to staying at the Charlesmark is that lots of savvy travelers know about its cheap rates.
At certain times of the year - the Boston Marathon, the college graduation period from mid-May through early June, and during the summer tourist season, especially July 4th - reservations can be next to impossible to get unless you make them very, very early.
Even when no big events are scheduled, you should book as soon as possible if you want to stay here because you'll be competing with lots of other savvy travelers for those 40 rooms.
Charlesmark Hotel Parking
Although no onsite parking is available, there are decent options at garages in a 2-10 minutes walk from the hotel.
Drop off your bags at the hotel (give them a call if you need help with your bags) and then head to a garage.
The cheapest parking for weekends and nights is at Boston Common Garage (10 minute walk). Validated parking, which gives you a small discount, is available at the 100 Clarendon Street Garage (4 minute walk). Closest but most expensive is at the Prudential Garage (use the Exeter Street entrance and park as close to it as possible for a 2 minute walk).
A better (and cheaper) option is to not bring your car at all, if possible.
Map Showing Charlesmark Hotel & Other Nearby Hotels
Zoom in to see the Charlesmark Hotel across Boylston Street from the Boston Public Library (look for the orange marker).
Enter your travel dates to get the most accurate hotel rates. If the Charlesmark Hotel doesn't appear on the map, that means it's booked for your dates - so check out rates at other nearby hotels.
More Boston hotels: All Boston Hotels - Newest Hotels - Deals & Discounts - Theatre District Hotels - Boston Marathon - Hotels with Fireplaces - Seaport/CruisePort Hotels - New Year's Eve Packages - Inexpensive Hotels - Discount Hotels - Back Bay Hotels - Hotels near Fireworks - Hotels with Outdoor Pools - Faneuil Market Hotels - Valentine's Day Packages - Downtown Boston - Park & Fly - Airport Hotels - Waterfront - Seaport - Historic Downtown - Suburban Hotels - Fenway Park Hotels - TD Garden Hotels - Gillette Stadium Hotels - Financial District
More Recommendations for You
How to Save on Boston Hotels
Check out all our tips on how to find discounts, deals, and promo codes for Boston hotels. Whether you're looking for bargain accommodations or want to pay less for luxury, we'll show you How to Save on Hotels in Boston.
More about how to save on Boston hotels