Sure - that's the Barking Crab.  It's well-known - a local favorite. You'll find it at 88 Sleeper Street, in the South Boston Waterfront.  
The Barking Crab is very easy to get to from the Hilton Downtown Boston in the Financial District. Just walk east on Oliver Street across the Seafood Boulevard Bridge spanning the Fort Point Channel, and you'll see it.
Here's what to look for: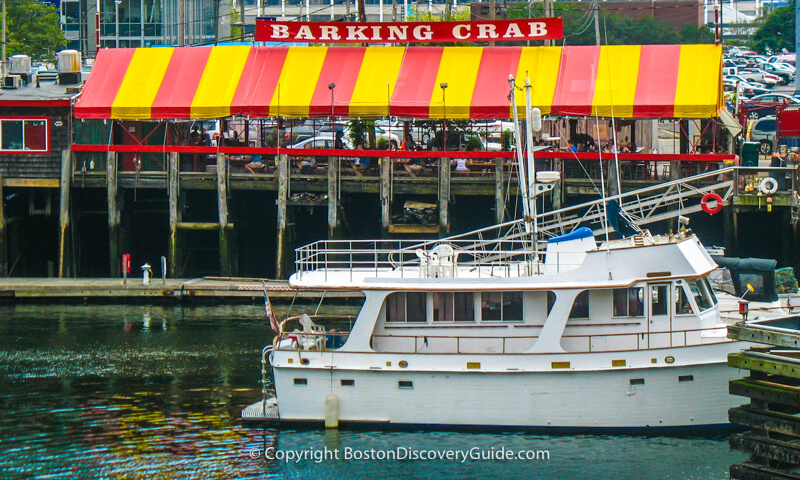 As far as I'm aware, Barking Crab is the only Boston seafood restaurant where you're given a rock to crack open the lobster claws when you order a whole steamed or boiled lobster.
The restaurant is basically a city version of a shore-side clam shack, and a lot of fun.
Once warm weather hits Boston, the restaurant fills up at noon and in the evening (they're also known for their beer), so either arrive early or at a slightly odd time like mid-afternoon, or be prepared to stand in line. They're also popular during the winter too, thanks to their wood-burning stove.
In addition to lobster, they have lots of other casual seafood dishes - excellent clam chowder, lobster bisque, fried calamari, fried clams, lobster roll, fishermen's platters, and other seafood dishes.

Barking Crab gets really lively at night, especially when they have live music. It's close to a lot of popular attractions - the Children's Museum, Institute of Contemporary Art, the Greenway (on the city side of the Channel), and not too far from the Rockland Trust Bank Pavilion concert venue and the Boston Convention and Expo Center.
Views from the Barking Crab are nice too - in addition to the Ft Point Channel (which is what you can see in the above photo), you can also see Boston Harbor, and of course, the city skyline.

If Barking Crab is too crowded (which sometimes happens) and you want another casual seafood option, especially for lunch, head back across the Moakley Bridge to James Hook Lobster.
In addition to live lobsters and other seafood, James Hook has some terrific carryout options such as chowder and maybe the best value for lobster roll in the city.  You'll see a few picnic tables where you can sit and eat, but if these are occupied, just walk over to the Rose Kennedy Greenway, where you'll find lots of benches and low walls where you can sit and eat.
If you want a place that's slightly less casual (since cracking open lobster claws with a rock and munching on lobster rolls at a picnic table isn't everyone's cup of tea), Jasper White's Summer Shack, located next to Prudential Center in Back Bay, is always a good bet. It's also modeled on a clam shack theme and combines casual seafood and sides like corn on the cob with a very fun atmosphere.
You'll also lots of other Boston seafood restaurants to choose from in every city neighborhood, including Row 34 on Congress Street in Fort Point - fantastic lobster rolls, plus lots more fish and shellfish.
Enjoy your Boston trip, and hope you have some great seafood meals!

Publisher, BostonDiscoveryGuide.com
Top photo: Seafood dinner and rock on the table at Barking Crab - photo credit: Lars Plougmann
More Fun Things to Do in Boston