Home > Transportation >
How to Take a Water Taxi from Logan Airport to Downtown Boston
The fast, easy, and cheap way to get from Logan to Boston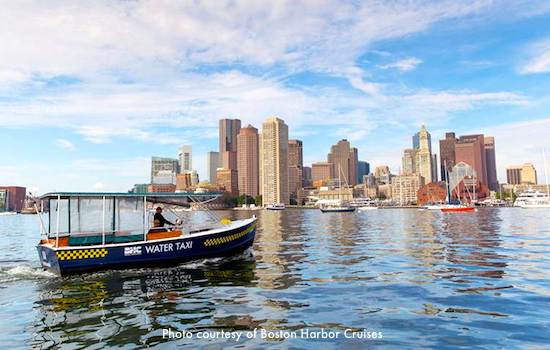 Boston Harbor Cruises water taxi heading from Logan Airport toward Downtown Boston
If you're flying into to Boston looking for the fastest, easiest, and most convenient way to get to Downtown, hop on a water taxi from Logan Airport and enjoying the scenic 7-minute cruise across the Harbor.
If you have reservations at a waterfront or downtown Boston hotel, you'll be walking into the lobby within minutes.
Boston has two excellent local water taxi services - Boston Harbor Cruises Water Taxi and Rowes Wharf Water Taxi - and both will pick you up at the Logan Dock.
In addition, both water taxi fleets operate year-round and stop at numerous places along the waterfront.
Traveling by water taxi to and from the airport could not be easier.
Boston Water Taxis - Affordable Fares
Both water taxi companies offer Boston Logan airport transportation from Logan Dock to Downtown wharfs such as Central Wharf, Long Wharf, and Rowes Wharf, as well as between many other points along Boston's waterfront.
Rates differ slightly by company. Boston Harbor Cruises charges $12 each way for all stops on their map, except for the Black Falcon Pier (where cruise boats dock), which is $18. Children under 12 ride free with a paying adult, and if you have a same-day ticket for another BHC ferry or excursion, you'll get a reduced rate.
Rowes Wharf Water Transport also charges $12 for the 7-minute trip from Boston Logan Airport to the Downtown wharfs, but offers a round-trip ticket for $20, and special deals for cruise ship passengers arriving at the Black Falcon Terminal.
Both water taxi companies offer additional specials and deals - find out more here.


Logan Airport Water Taxi Boarding Information
After you collect your checked bags, go to the Ground Transportation area in your arrival terminal at Logan and get on Massport's complimentary shuttle bus #66.
Let the driver know that you're going to the Logan Dock and will need a water taxi. The driver will call ahead to say that passengers are on their way.
Once you arrive at Logan Dock, tell the dispatcher where you want to go. If you want a particular taxi service, you need to ask for it by name.
Alternately, you can call for a water taxi yourself once you're on the shuttle bus. The advantage to doing this is that it may shorten your wait.
Water taxis usually take about 5-10 minutes to arrive after being called. You can find their phone numbers here.
Water taxis are designed to navigate through wind, snow, and ice. The boats are covered and heated during winter months, keeping the ride warmer and more comfortable than you might expect.
Occasionally, if the Boston weather is very bad (for example, near-hurricane force wind or a blinding snow storm), the water taxi companies suspend service for safety reasons. Of course, those conditions usually ground flights as well so if these extreme conditions occur, you probably will not be landing at Logan until the weather calms down.
If you need more information about the #66 shuttle bus service or the Logan Dock, call 800-235-6426 (TTY: 1-800-262-3335).
Boston Discovery Guide Tip: Need to store bags?

This water taxi stores them for free...
If you're flying into Boston for just a day and don't want to haul your bags around with you all day, you've probably already learned that Logan doesn't offer luggage storage.
But take the right water taxi service to the Downtown Waterfront, and they'll keep your bags in their locked storage area for the day for free.
Find out more about Rowes Wharf Water Taxi's storage service
More Water Taxi Locations & Maps
Another Boston Insider Secret is that in addition to the popular Logan - Downtown route, the water taxis can be the fastest way to get to a lot of points along the Inner Harbor for a reasonable rate.
Depending on where you're going, water taxis can be faster and cheaper than land taxis, and they're a lot more fun!.
Check the water taxi map and list of stops along the Harbor


Hotels near the Downtown Waterfront Water Taxi Wharfs
For the ultimate convenience when taking a water taxi from Logan Airport, make reservations in one of these popular waterfront and downtown Boston hotels near the water taxi arrivals/departure points at Central Wharf, Long Wharf, and Rowes Wharf.
Just think...in not much more than 10 minutes after you collect your bags and board your water taxi, you could be strolling into your hotel lobby.
Like this Page? Please Share!
Boston Discovery Guide > Transportation > Water Taxis