Home > Attractions > Freedom Trail >
Old Corner Bookstore
A historic building gains new life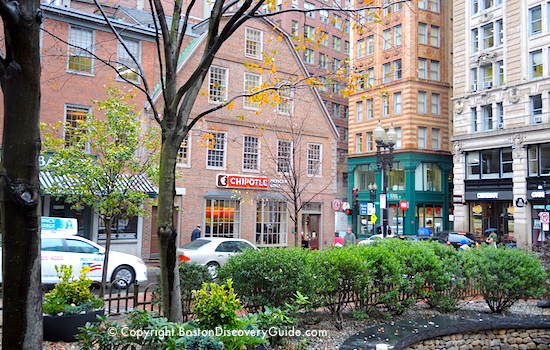 Old Corner Bookstore on Boston's Freedom Trail
At first glance, the Old Corner Bookstore looks like a newer red brick building on a busy Downtown Boston corner, just beyond bustling Downtown Crossing and near the beginning of the Government Center area.
Currently, a Chipotle Mexican Grill occupies its first floor.
Only a small plaque on the side of the building confirms that a bookstore once operated here.
Why, you may wonder, is the Old Corner Bookstore on the Freedom Trail, the Boston Women's Heritage Trail, and the Literary Trail of Greater Boston?
Dissent and eviction
Well, for beginners, famed supporter of religious freedom Anne Hutchinson and her family built their wooden home on this site in 1634.
Mrs. Hutchinson was a leader in the Antinomian sect, which challenged the Puritan idea that religious leaders were always right and must be obeyed.
She also opposed the enslavement of Native Americans.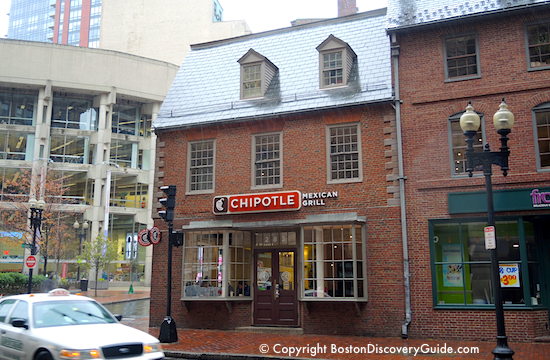 Old Corner Bookstore - site of Anne Richardson's home in Boston
Unfortunately for Mrs. Hutchinson, she outraged her nearby neighbor, staunch Puritan John Winthrop.
After becoming Governor of Massachusetts Bay Colony in 1637, he worked with the General Court of Masschusetts to have her exiled for heresy.
Forced to abandon their home, she and her family and supporters fled to Rhode Island, a refuge for those seeking religious freedom.
Rebuilding after the Great Fire
After a series of owners, the Hutchinson house was bought in 1708 by Dr. Thomas Crease, an apothecary. Three years later, it burned to the ground in the Great Fire of 1711, which destroyed hundreds of businesses and homes in this part of Boston. By 1718, he had rebuilt it in the style of the day, with his shop at street level and his home above it.
This is the red brick building that you see today. It is one of Boston's oldest brick structures.
Many interior changes have taken place, as well as much exterior repair, updating, and restoration. But essentially, the building that you see as you walk along the Freedom Trail is the same building that Benjamin Franklin and others saw as they walked down the street in 1718.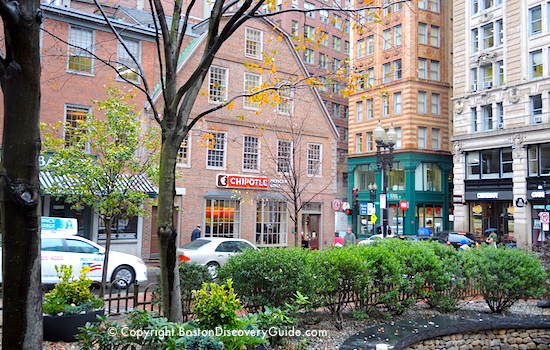 Old Corner Bookstore - now a Chipotle Mexican Grille
Look upward. (This is easier if you cross School or Washington Street.) You'll see a sloping gambrel roof. The mellow red bricks on the School Street side are laid to form decorative bands marking each of the floors.
Not all of the exterior is original. Timothy Harrington Carter, an aspiring publisher, bought the property in 1828, added projecting bay windows in the newly fashionable "London Style," and extended the building on the School Street side by filling in a small garden area.
The Old Corner Bookstore era
Carter's fledgling publishing company evolved into Ticknor and Fields by 1845, which went on to publish many of the most famous authors in 19th century America and England.
Famous authors included Ralph Waldo Emerson, Henry David Thoreau, Nathaniel Hawthorne, Charles Dickens, Mark Twain, Henry Wadsworth Longfellow, Alfred Tennyson, Harriett Beecher Stowe, Oliver Wendell Holmes, and many more.
Walden, The Scarlet Letter, and The Star Spangled Banner were published here.
The Old Corner Bookstore became a gathering spot for famous authors who gathered to discuss their work and lives at literary salons such as The Saturday Club. Ticknor and Fields also published prestigious literary journals such as the North American Review and the Atlantic Monthly.
Decline and rebirth of the Old Corner Bookstore
By 1903, the publishing company moved out to larger quarters. Ticknor and Fields eventually became part of the company now known as Houghton and Mifflin.
The deteriorating building housed a succession of businesses over the next 60 decades. By 1960, a pizza restaurant occupied it. As urban renewal fever swept across Boston, developers tried to acquire the property, demolish the building, and put up a downtown parking garage in this prime location.
In the nick of time, private investors formed the non-profit Historic Boston, Inc. Historic Boston is dedicated to demonstrating that Boston's cultural and architectural heritage could be preserved - and its base of taxable property improved - by restoring old historic buildings for modern commercial use.
The Old Corner Bookstore was its first project - and the first of many successes. Commercial businesses continue to operate in this beautifully restored building, just like they did when it was first built almost 300 years ago.
As you walk around Boston, you'll see many other old buildings that have been so well restored that they look new. Old Corner Bookstore, with the support of Historic Boston, has provided the model for many of them, living historic and cultural landmarks that make Boston the city that it is today.
Insider Tips
Although the Old Corner Bookstore's age plus its long and interesting history certainly earn it a spot on the Freedom Trail, you're unlikely to spend long gazing at it unless you're an eighteenth century architecture fan. In fact, the sign on the School Street side of the building is so small that you can easily overlook it.
The poignant Boston Irish Famine Memorial on the corner across School Street, unveiled in 1998, is well worth crossing the street for a closer look and a few minutes' reflection about the hardships endured by many immigrants.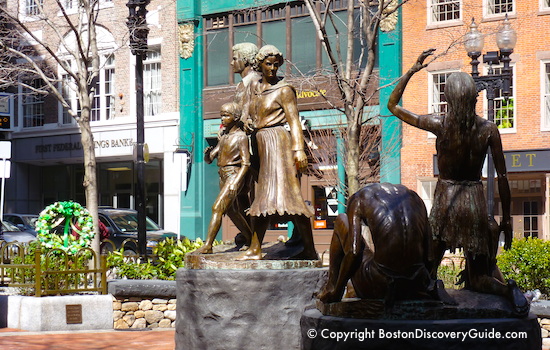 Boston Irish Famine Memorial, photographed on St Patrick's Day
The Irish Famine Memorial is a tribute to the 100,000 Irish who immigrated to Boston, considered the capital of Irish-America, during the Irish Famine of 1845-1850 when a series of potato crop failures led to mass starvation and death.
Although the memorial is not part of the Freedom Trail, its proximity is a reminder of the liberty and opportunities that immigrants from everywhere seek when they come to America.
If thinking about famine has caused you to feel hungry, you can turn right on Washington Street and walk for a couple of blocks to Downtown Crossing, where you'll find many casual restaurants.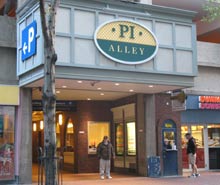 Or follow the Freedom Trail to the left on Washington Street, where small food vendors cluster around Pi Alley, now enclosed by Pi Alley Garage.
If you're wondering how Pi Alley got its name, the story is that 19th century newspaper type setters supposedly dropped pieces of type, called pi, as they hurried along this narrow alley on their way to lunch at cafes selling inexpensive meat pies, also known as "cat pies."
But that may just be a legend - at least, the part about the cats.
In any case, take a look at the parking garage as you pass by. . . thanks to Historic Boston, this is what the Old Corner Bookstore is not.
Details and Directions
Open: Not as a historic site; this is a commercial business space. You can go inside to shop - but the interior has been so changed by renovations through the years that nothing of the original remains.
Location: Corner of School Streets and Washington Streets, Downtown Boston
Closest T station: Green Line/Government Center, Red and Green Lines/Park Street
For more information: Boston Historic, Inc., which still owns the building, has their office at 3 School Street; 1-617-227-4679

Like this Page? Please Share!
More to See and Do near the Old Corner Bookstore
Boston Discovery Guide > Attractions > Freedom Trail > Old Corner Bookstore