Home > Freedom Trail >
Faneuil Hall Marketplace
Shopping & Entertainment on Boston's Freedom Trail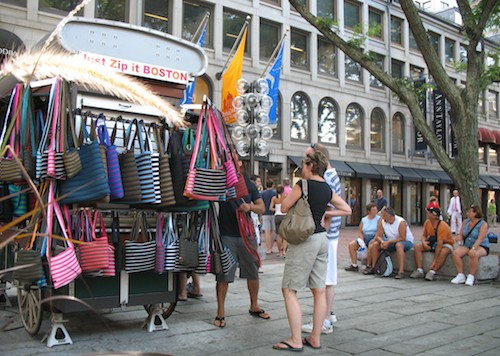 Shoppers admiring handbags in Faneuil Hall Marketplace in Boston
Faneuil Hall Marketplace owes its beginnings and its name to wealthy Bostonian and philanthropist Peter Faneuil, son of French Huguenot immigrants, and its place on Boston's Freedom Trail to the fiery Patriots who spoke out here against repression.
Today, you can still shop and enjoy a relaxing meal or drink - just as Faneuil envisioned - in this famous historic Boston site.
Faneuil Hall Marketplace, also called Quincy Market, is now one of the most popular Boston shopping destinations.
A fun mixture of unique shops, restaurants, traditional food stalls, and national brand stores give shoppers and diners plenty of choices. Outdoor vendors and popular nightspots including a re-creation of "Cheers" add to the fun.
But Faneuil Hall Marketplace is much more than just a trendy shopping complex - it's Boston's oldest market area, dating back to 1742 and rooted in a clash between wealthy businessman / developer Peter Faneuil and what he considered to be a regarded as a tight-fisted, repressive, post-Puritan city government regime.
More about Faneuil Marketplace / Quincy Market shopping
In case you're wondering (going off-topic for just one moment), "Faneuil" may have been pronounced "funnel" by 18th century Colonists because "P. Funel" is carved on his tombstone in Granary Burying Ground - or maybe the carver just wasn't a good speller. You'll now hear Bostonians pronouncing it "Fan-yul" (rhymes with "manual") or "fan-el" (rhymes with "panel").
Back to the story about Faneuil Hall Marketplace: After Peter Faneuil amassed a reasonably large fortune as a merchant, ship builder, businessman, slave trader, and occasional smuggler, he inherited an even larger fortune from his wealthy uncle in 1738, making him one of the richest men in America.
With all that money under his control, Faneuil naturally started looking for ways to spend it.
Why was Faneuil Hall Marketplace built?
During the late 1730s when Peter Faneuil became so wealthy, controversy raged over whether Boston should have a central marketplace or whether peddlers should continue to ply their goods from door to door, clogging the lanes with their pushcarts.
In 1737, tempers erupted. An angry mob disguised as clergymen burned down market buildings that the City of Boston had built in an attempt to impose its vision of a central marketplace.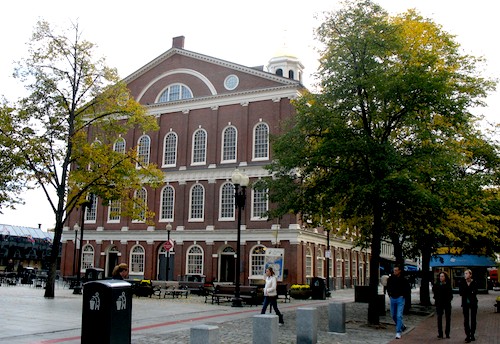 As a merchant and businessman, Faneuil believed that a central market would provide efficiencies and synergies conducive to the promotion of business - including his own. After giving up on getting the city government to move forward on their own, Faneuil took matters into his own hands. He had a vision - and decided to make it become real.
For the location of his vision, he settled on Dock Square, the harbor front area where farmers, merchants, fishmongers, shippers, and sundry others already congregated to do business, usually jostling for space. To get a flavor of what it might have been like, you can still visit Haymarket, Boston's oldest produce market, located just around the corner.
Faneuil worked with Boston painter John Smybert, best known for his portraits of local luminaries, to draw up plans for a building designed to look like an English marketplace. Faneuil offered the creation of this marketplace as a gift to the city. Over 700 Boston Town Meeting members debated the merits of the gift, finally accepting it by a margin of only 7 votes.
The building's construction began in 1740, and took 2 years to complete. Smybert's plans included an open ground floor with arcades, perfect for a covered meat and produce market. A large assembly room occupied the second floor.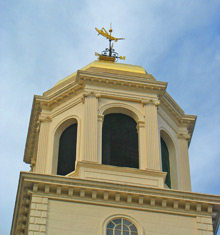 An 80-pound gold-gilded copper grasshopper weather vane, created by Shem Drowne in 1742 based on a similar grasshopper weather vane on top of the London Royal Exchange, crowns the top of Faneuil Hall's belfry.
A steeplejack stole this weather vane in 1974, planning to hold it for ransom, but the police recovered it a few days later.
Peter Faneuil died only 6 months after the building was completed, and the marketplace came to be called "Faneuil Hall" in his honor.
After fire destroyed Faneuil Hall Marketplace in 1761, it was rebuilt, and then enlarged by famous Boston architect Charles Bulfinch in 1806. He doubled the width of the building and added a third floor, while managing to retain its Georgian columns.
Why Faneuil Hall Marketplace is on the Freedom Trail
You may be wondering how a marketplace ended up on Boston's Freedom Trail . . .
It's all due to Faneuil Hall's second floor assembly room, and the patriotic events that unfolded there.
Because of its size, the assembly hall became one of the Colonists' favorite spots, along with the Old State House and the Old South Meeting House, for fiery speeches advocating liberty as conflicts with England heated up. Nearby taverns, some of which you can still visit today, no doubt contributed to the speakers' fervor.
Due to the number of pre-revolutionary meetings and speeches taking place here, Patriot James Otis dubbed Faneuil Hall the "Cradle of Liberty." Samuel Adams fervently orated here about the ideals of freedom. Bostonians met here to speak out against the reviled Stamp Act, and celebrate after the British repealed it.
One of the most important events leading up to the formation of the United States occurred at a Boston Town Meeting held in the Assembly Hall in 1772.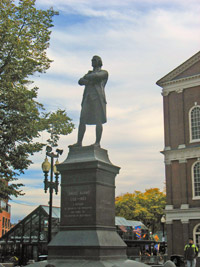 Samuel Adams proposed that Boston create an innocuous-sounding Committee of Correspondence and suggested to the other 12 colonies that they do the same.
This clever subterfuge provided the framework for the Colonies to communicate with each other and mount unified action against the British during the American Revolution and the months leading up to it.
On the west side of Faneuil Hall Marketplace, you'll see a magnificent statue of Samuel Adams, sometimes called "the Father of the Revolution."
This statue is actually a copy of an original created by Anne Whitney, a Massachusetts artist, for Statuary Hall in the Capital Building in Washington D.C.
Note Adams' defiant posture! His willingness to defy British rule helped create the Revolution.
Faneuil Hall Marketplace's continuing importance
After the Revolutionary War ended, Faneuil Hall continued to be the site of important events such as a huge banquet in 1784 for the Marquis de Lafayette on the anniversary of the victory at Yorktown, and a big public reception for President George Washington in 1789.
In 1805, Thomas Paul, an African-American minister from New Hampshire, led worship services in Faneuil Hall. With 20 members of his congregation, Reverend Paul formed the First African Baptist Church, the first black church in New England, and built the African Meeting House on Beacon Hill. Despite a couple of name and address changes, the church - now called the Peoples Baptist Church - continues with an active and vibrant congregation in Roxbury, its location since 1898.
In 1812, another large celebration feted Commodore Isaac Hull, commander of the U.S.S. Constitution after his crushing victory over the British ship H.M.S. Guerriere that led to the Constitution's new nickname, "Old Ironsides."
In 1826, orator Daniel Webster delivered such a resounding eulogy on the lives and patriotism of John Adams and Thomas Jefferson that the cheers roared through the Hall.
As early as the 1830s and continuing into the 1860s, abolitionists such as William Lloyd Garrison and Wendell Phillips gave rousing anti-slavery speeches to enthusiastic crowds in Faneuil Hall.
What you can enjoy today in Faneuil Hall Marketplace
If you're about to visit Faneuil Hall, you'll discover that it's now in the middle of a fairly large shopping complex that's interchangeably called "Faneuil Hall Marketplace" and "Quincy Market."
Shoppers in Faneuil Hall Marketplace
For a lot of Boston visitors as well as Boston locals, Faneuil Hall Marketplace is their favorite point on the Freedom Trail because of all of the . . . well, shopping. . . plus the restaurants, historic taverns, and in warm weather, street performers and other festivities.
But if you can tear yourself away from all of these attractions and distractions, a visit inside Faneuil Hall is well worth a 10-20 minute visit. You can also go on a free 30 minute tour conducted by National Park Service rangers.
For starters, you can admire Bulfinch's design elements. After enclosing the formerly open arcades on the ground floor - definitely a good move in a climate where winters sometimes resemble Siberia - he added Greek-style columns along the walls.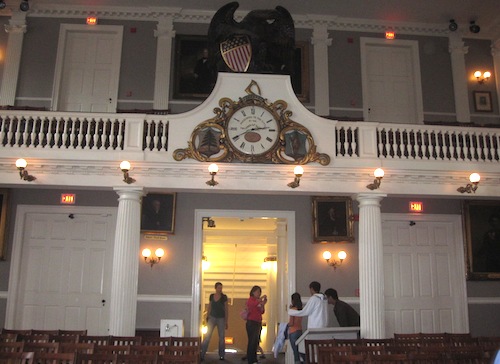 Faneuil Hall's second floor assembly room today - site of free Park Ranger tours
The first two floors have Doric columns, and the new third floor that he added features Ionic columns. On the second floor, Bulfinch also added galleries along three sides, and lots of swags and other decorative features.
The first floor contains shops and offices.
On the second floor, you can see lots of paintings of Boston and American heroes.
One of the most interesting paintings is a Gilbert Stuart portrait of George Washington at Dorchester Heights, where he ended the British siege of Boston after local forces secretly positioned cannons to overlook Boston Harbor. The painting shows him forcing the redcoats to flee in terror.
The second floor Assembly Hall continues to be used by the City of Boston for debates and other events.
If you climb the steep steps up to the third floor, you can see the headquarters of the Ancient and Honorable Artillery Company of Massachusetts. This group is a militia of the Commonwealth of Massachusetts founded in 1638, making it the oldest in the nation and the third oldest in the world. It's been housed in the building since 1746.
After Bulfinch's expansion, the Company moved up to the third floor where it continues to be located today. You can see more historic paintings, view various armaments, and visit its interesting museum.
Don't forget to look out the windows to catch a glimpse of Boston Harbor. Remember, when this building was built, it was right on the docks. As you can see, land filling during the last few centuries has moved the shoreline quite a distance away.
When you come back downstairs and walk out into Quincy Market, pause for a moment and think how gratified Peter Faneuil would be if he could see this large, popular shopping area, filled with stores and eager shoppers, fulfilling his vision of Faneuil Hall Marketplace as a center of commerce.
Details and Directions for Faneuil Hall Marketplace
Open: Monday - Friday, 9am - 4pm
Free Tours: National Park Service Rangers, every half hour between 9:30am - 4:30pm except for when the Assembly Hall is in use for events
Location: Congress Street, between State Street and North Street; located between Government Center/West End, Downtown, and Waterfront
Nearest T station: Blue Line/Aquarium; Blue and Orange Lines/State
For more information: 617-523-1300; www.thefreedomtrail.org
Like this Page? Please Share!
More to Explore near Faneuil Hall Marketplace
Boston Discovery Guide > Freedom Trail > Faneuil Hall Marketplace