Cruises from Boston to Europe
Follow the Path of the Vikings
If you're interested in cruises from Boston to Europe, you'll find only one . . . but it's the European cruise of a lifetime.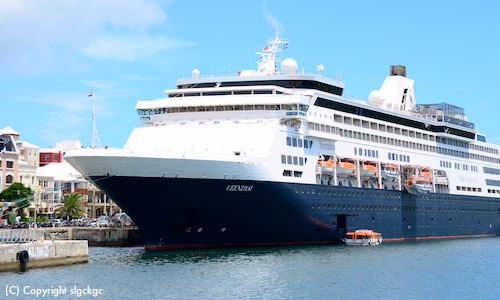 Veendam anchored in port- Photo courtesy of slgckgc
Once a year, beginning in July, luxury cruise line Holland America's Veendam embarks on a very special 35 day Transatlantic "Voyage of the Vikings" cruise from Boston to Europe, and then back to Boston.
What makes this cruise from Boston to Europe and back special is that it follows the path that Viking ships may have taken on their expeditions to the New World hundreds of years before Christopher Columbus made his 1492 voyage.
Unlike the Vikings, you'll be traveling on the equivalent of a floating luxury hotel, dining on wonderful cuisine, and enjoying plenty of entertainment and recreation.
Once you unpack your suitcases at the beginning of the voyage, you can relax, explore, and have fun. Nothing could be easier!
If this cruise vacation appeals to you, you can choose from 3 interesting options:
Cruise from Boston to Europe, and fly back to Boston - consider spending a few extra days in Europe before flying back
Fly to Europe, and cruise from Europe to Boston - think about arriving in Europe a few days early to relax and sightsee before beginning your cruise
Choose the round-trip Boston - Europe - Boston cruise to enjoy all 35 days!
Frequent stops along the way let you visit scenic villages and sophisticated cities. Sign on for fascinating shore excursions, or explore on your own - the choice is yours.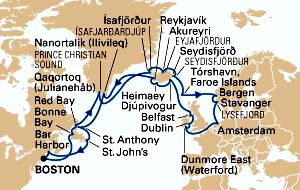 Map showing itinerary for 2013 cruise from Boston to Europe
Why You'll Enjoy Cruising Aboard the Veendam
Holland America is considered a 5-star, top luxury cruise line. When you experience the white-glove service and splendid amenities on the elegant Veendam, you'll understand why.
The crew makes sure that your on-board experience during the cruise from Boston to Europe is as close to perfect as possible.
In the formal and casual dining areas, you'll enjoy an extensive list of excellent wines, gourmet cuisine, and elegant table linens, crystal, and china. Formal nights give you the chance to get dressed up; casual dining options mean you don't have to if this is not your thing!
Excellent recreational facilities, top-flight entertainment, and enrichment opportunities such as digital photography and cooking classes ensure that you'll have plenty to do on your days at sea. Welcoming common areas give you lots of places to hang out, socialize, and relax.
Even the regular staterooms provide more space than on most other cruise ships. And suites are roomier than many Boston apartments.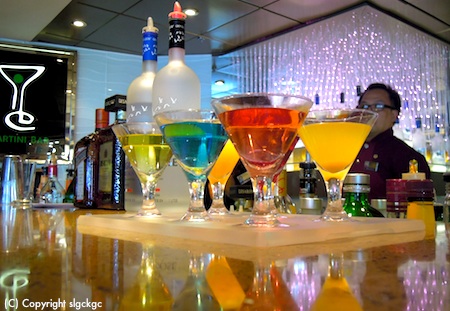 Mixology class on the Veendam - Photo courtesy of slgckgc
Find the best deals on cruises to Europe
You can find the "list" price for this cruise from Boston to Europe on Holland America's website. But keep in mind that you should never pay "list" for a cruise. Cruise prices are typically discounted - sometimes by a lot.
You'll almost always get the cheapest cruise prices on-line or from travel agents because they can offer special deals directly from the cruise line. Plus, they can sometimes pass along "freebies" like shipboard credits and cabin upgrades.
Check a few quotes on-line and from travel agents, and you'll see how prices for a cruise plus the "freebies" can vary by hundreds of dollars, even more. You owe it to yourself to get multiple quotes to make sure you're getting the best deal. Already have an agent you love? I do too - but I still get quotes, both on-line and from other agents, and sometimes get a very pleasant surprise.
For on-line quotes,
check Travelocity. You'll pay no booking fees and usually get a rock-bottom rate.
To get agent quotes, go to the CruiseCompete.com website. Just tell them what you want, and they'll send your request (anonymously) to hundreds of cruise travel agents. CruiseCompete e-mails you when each quote arrives. You can look at the quote on their website, and decide if you want to contact the agent for details. The service is free, and it can save you time and money.
Even though Holland America's cruises from Boston to Europe aren't cheap, they're actually a big bargain. Think about it . . . cruise rates cover the cost of getting to Europe, a cabin that's equivalent to a luxury hotel room or suite, room service, gourmet meals, entertainment, recreational facilities. If you were to fly to Europe, stay in nice hotels, eat in fancy restaurants, go to shows, and so forth, you'd pay a lot more.
Holland America provides mostly "all inclusive" cruises - but tips, shore excursions, spa services, and a few other things are extra. Be sure you understand what is and what isn't included.
Where do you visit on cruises from Boston to Europe?
The 2013 itinerary takes you to lots of exciting new places!
Ports of Call and sightseeing during the cruise from Boston to Europe include:
Boston, Massachusetts, USA (departure)
Bonne Bay
Red Bay, Labrador, Canada
Qatqortoq
Cruising Prince Christian Sund
Scenic cruising Isafjardurdjur, and a stop at Isafjordur
Akureyri
Scenic cruising Eyjafjordur
Seydisfjordur and scenic cruising of Seydisfjordur
Torshavn
Bergen, Norway
Stavanger
Scenic cruising Lysefjord
Amsterdam (arrival)
Ports of Call during the cruise returning to Boston from Europe include:
Amsterdam (departure)
Dunmore East, Waterford County, Ireland
Dublin, Ireland
Belfast, Northern Ireland
Djupivogur
Heimaey
Reykjavik, Iceland
Nanortalik
St Anthony
St John's
Bar Harbor, Maine
Boston (arrival)
You'll see descriptions for some of them below to give you a good flavor of the places you'll visit.
More about Ports of Call on the Europe Cruise
To whet your appetite for this cruise, here are highlights for a few of the places you'll visit:
Boston, Massachusetts
Veendam's round trip cruise from Boston to Europe begins in Boston and also ends here. You'll love the convenience of the Black Falcon Cruise Terminal.
If you're not from Boston, spend a few extra days exploring this wonderful American city, the Birthplace of Liberty. Check out my suggestions about best places to stay and what to do on shore.

Bonne Bay, Newfoundland, Canada
Museums, kayaking, hiking, biking, and spectacular scenery provide lots to do in this idyllic spot surrounded by wooded coves, a beach, and a fjord.
WIth the wild scenery of Gros Marne National Park as a backdrop, boat and land tours give you a fascinating view of this majestic area.
Red Bay, Labrador, Canada
A fishing port today, Red Bay is famous among archeologists as being the best-preserved example of a 16th century whaling port, when Basque galleons from Spain and France arrived each summer in search of cod and whales. The Red Bay Historic Site preserves this history.
You'll see beautiful coastline with tiny fishing villages and mountains in the background. Have your camera ready!
Return to Top - Cruises from Boston to Europe
Qaqortoq, Greenland
The small, attractive village of Qaqortoq ("white place") has only about 3,000 inhabitants, is 85% covered with ice, and belongs (along with the rest of Greenland) to the Kingdom of Denmark.
Qaqortoq's colonial buildings date back to its founding in 1775. You can visit the town's 2 museums to learn more about local history, including nearby Hvalsey, site of South Greenland's best-preserved Norse ruin, established in the late 900s by Erik the Red's uncle.
Photo courtesy of Dena Palamedes.
Return to Top - Cruises from Boston to Europe
Akureyri, Iceland
Despite being on the northern coast of Iceland, Akureyri has a relatively warm climate and is the 2nd largest urban area in the country. In the summer, several music and folk culture festivals enliven this town of 17,000+. Perhaps one will be underway during your cruise from Boston to Europe!
Picturesque buildings, restaurants, bars, and the northern-most botanical garden and 18 hole golf course in the world add to the lively entertainment and cultural scene.
Although Akureyri has plenty of geothermal energy, an new international graduate school in Renewable Energy Science (all classes taught in English) is already receiving acclaim.
Seydisfjordur, Iceland
As you cruise up the 17 kilometer fjord leading up to the town of Seydisfjordur, you'll see huge colonies of puffins and ancient ruins dating back to the 8th and 10th centuries. Beautiful waterfalls and spectacular scenery give you a glimpse of the wild beauty of this part of Iceland.
A telecommunications museum is a reminder of Iceland's accomplishments in this field, and the LungA arts festival attracts artists from throughout the region.
Photo courtesy of worldislandinfo.com, via Creative Commons license
Torshavn, Faroe Islands
A writer for the New York Times described the 18 Faroe Islands, an archipelago located in the Atlantic Ocean halfway between Norway and Iceland, as "easily the most moodily beautiful place I have ever been."
Expect green mossy expanses, dramatic mountains, waterfalls, and lots of birds. The 50,000 residents are descendants of Vikings who settled here 1,000+ years ago. Torshavn is the capital of the Faroe Islands, a Danish possession since 1380.
Photo courtesy of Eric Christensen via Creative Commons license.
Bergen, Norway
Founded in 1070, Bergen is the 2nd largest city in Norway and is located on the western coast amid 7 mountains.
Thanks to the Gulf Stream, Bergen is relatively warm and rainy. Weather should be pleasant, although perhaps wet, during your cruise from Boston to Europe.
Renowned musical groups ranging from the Bergen Philharmonic Orchestra to rock groups dubbed the "Bergen Wave" are located here, along with numerous bands and marching groups. Photo courtesy of Culex via Creative Commons License on Wikimedia Commons.
Amsterdam, Netherlands
This beautiful city of canals, old stone and mellow brick buildings, green parks, bookstores, bicycles, and cafes is one of the most charming in Europe.
Amsterdam also has almost as many museums as Boston. If you have to choose only one as a must-see, it should be the Rijksmuseum, where you should head straight for the Rembrandts. Unfortunately, most of the museum is closed for massive renovations until at least 2013 - so if you crave more art, head next to the Van Gogh Museum.
Save an hour at the end of the day for a canal cruise - the best way to see this wonderful city! Photo courtesy of Massimo Catarinella.
Cruises departing from Europe to Boston
Amsterdam, Netherlands
The Voyage of the Vikings cruise departs from Amsterdam, The Netherlands for the return 17-night journey to Boston.
Dunmore East, Ireland
Picture-perfect Dunmore East, located in a harbor on Ireland's southeastern coast in County Waterford, combines fishing with tourism as its two major attractions.
You'll find lots of water-based attractions, but perhaps the most enjoyable way to spend your day here is walking around the streets and lanes in this picturesque village. Do a little shopping, stop in a pub for lunch, and enjoy tea in the afternoon.
Dublin, Ireland
Like Boston, Dublin is filled with history, walkable streets, and great pubs. So many choices of things to do here . . . the Irish Museum of Modern Art , the National Botanic Gardens, Frathfarnham Castle, all offering free entrance.
Check out the Dublin Tourism Office's free iWalks - James Joyce fans can choose the "In the Steps of Ulysses iWalk."
Take all that money you saved on free admissions and stroll through the pedestrian shopping streets - or just relax in a local pub. Photo courtesy Thorsten Pohl.
Belfast, Northern Ireland
Occupying an area where older settlements date back at least 5,000 years and you can still see the remains of Iron Age hill forts in the surrounding hills, Belfast suffered for decades during the mid-late 1900s from civil and religious conflicts, often violent, called The Troubles. Peace during the past 10-15 years has brought economic growth and greater prosperity, along with tourists.
Many of the city's most historic buildings are found in the Cathedral Quarter, an interesting area to explore. Entertainment and festivals take place in the 40+ public parks and gardens. If you're interested in horticulture, a must-see is the Botanic Gardens, with a magnificent cast-iron greenhouse designed by Sir Charles Lanyon.
Djupivogur, Iceland
Traders set up camp in Djupivogur as early as 1589, although the oldest house dates back to only 1790 and is now a museum filled with the work of Icelandic sculptor Rikharour Jonsson, plus a gallery of local crafts.
Mount Bulandstindur, believed to have mystical powers, dominants the landscape. Enjoy nature walks, boat trips, and breath-taking scenery.
Photo courtesy of Olafurbj
Heimaey, Iceland
An island off the southwest coast of Iceland, Heimaey caught the world's attention in 1973 when a volcano on Eldfell mountain erupted, causing all 5,000 residents to evacuate and burying half the town. Fortunately, that's unlikely to happen during your cruise from Boston to Europe!
Aside from the volcano, immortalized by John McPhee in his book "The Control of Nature," Heimaey is known for being the summer home of 8 million puffins plus millions of other birds. Be sure to bring your binoculars and camera! Photo courtesy of Aconcagua.
Reykjavik, Iceland
Although Reykjavik is the capital of Iceland, it is relaxed and laid back compared with other European capitals, despite its reputation for a wild, alcohol-fueled nightlife.
Located almost at the edge of the Arctic Circle, the city is light throughout most of the night during the summer, so the Path of the Vikings cruise from Boston to Europe gets there at the perfect time for enjoying the sunlight.
The combination of mountains and water make every Reykjavik view a gorgeous one. You'll enjoy walking around the compact city, sampling the shops and perhaps a cafe or pub as well. Since you'll be there overnight, you can try the nightlife as well if you're so inclined.
Return to Top - Cruises from Boston to Europe
Nanortalik, Greenland
Stunningly gorgeous Nanortalik is the southern-most village in Greenland. Fjords, sheer "skyscraper" cliffs, steep mountains, blue waters, and even bluer skies provide the perfect backdrop for the town's Old Quarter and an open-air museum.
Only a couple of thousand people live in Nanortalik and in the surrounding area - so the focus here is on the beauty and majesty of nature. Be sure to watch for minke and other whales as the Maasdam navigates the waters around the town. This is one of the best spots to view these sea creatures during your cruise from Boston to Europe.
Photo courtesy of Jens Buurgaard Nielsen.
Return to Top - Cruises from Boston to Europe
St. Anthony, Newfoundland, Canada
Located on the rugged northern tip of Newfoundland, St. Anthony has the longest whale watching season in North America due to the huge feeding grounds surrounding the area.
Take a boat tour, and you're likely to see a breath-taking assortment of whales, porpoises, seals, dolphins, and other marine mammals. Or simply walk out to Fishing Point, a hiking trail along the water's edge, and watch them from there. You may even see some icebergs float by.
To get a flavor of this stunningly beautiful area and learn about local events and attractions, check out the Town of St. Anthony's website. I look at a lot of tourism websites, and this is one of my favorites! Photo courtesy of Grampymoose.
Return to Top - Cruises from Boston to Europe
St. John's, Newfoundland, Canada
Located on the eastern side of Newfoundland, St. John's is the eastern-most city in North America (not including Greenland). It is also the oldest North American settlement founded by the English, possibly as early as 1497.
In the downtown area, you'll find several museums and galleries, many restaurants, shops, parks, historic buildings . . . and Water Street, reputed to have the highest concentration of bars and pubs in North America. Festivals and sporting events throughout the summer make St. John's a lively Port of Call for cruises from Boston to Europe. Photo courtesy of Aconcagua
Bar Harbor, Maine, United States
Perched on the rocky coast of Mt. Desert Island and surrounded by Acadia National Park, picturesque Bar Harbor is the quintessential coastal Maine town.
Walk around town, explore the creative boutiques, and enjoy a frosty drink at a local pub as you admire and photograph the picture-perfect scenery.
Photo courtesy of Mourial (c) 2008
Return to Top - Cruises from Boston to Europe
Boston, Massachusetts
Don't forget to ask your travel agent to book you a hotel, perhaps near Boston's cruise port, for a few days so that you can explore this wonderful.
Agents can often package cheap hotel rates with a cruise - and sometimes they can even give you a night or two for free. It never hurts to ask!
Unlike many other ports, the Port of Boston is located right in the city, in the bustling South Boston Waterfront neighborhood next to Downtown, the Freedom Trail, and other Boston attractions. Take a tour to get a quick look at what the city offers, and then explore on your own.
Return to Top - Cruises from Boston to Europe
Shore excursions on cruises from Boston to Europe
Holland America offers shore excursions for most Ports of Call on their Voyage of the Vikings cruises from Boston to Europe.
For example, in Belfast, you can take a hop-on hop-off trolley tour to visit the historic and contemporary sites such as Botanic Gardens, Wall Murals in Falls Road, and Albert Clock. In Reykjavik, you can cruise to
Although shore excursions do add to the cost of your cruise, they can provide an entertaining and easy way to tour each place, and learn first-hand about local history and attractions. You'll even get a glimpse of the culture and way of life in villages, towns, and cities that may be very different from your own.
The types of shore excursions range from "highlights" tours, where you'll typically be driven around in a bus with a tour guide who will point out famous sights, to "private touring" excursions where you'll be provided with a car and driver who will take you wherever you want to go for a set number of hours.
You'll also find lots of specialty tours designed around special attractions.
Of course, you can also explore on your own if that's your preference. Or relax on the cruise ship.
What to pack for your cruise from Boston to Europe
Although the Voyage of the Vikings cruise occurs in July and August, you'll visit places that range from hot and humid to chilly and windy. Plus, you can encounter rain almost everywhere at this time of the year, including in Boston.
This wide range of climate conditions poses packing challenges. Your best strategy is to bring items to layer, such as sweaters and jackets, that you can put on or take off as needed. A waterproof jacket can be a plus.
Insect repellant may be useful if you're exploring along the Canadian coast and encounter the scourge of our late-summer months: black flies. Pack sunscreen and sunblock too.
Be sure to bring comfortable walking shoes, as well as thick socks to provide cushioning. Some of the places that you'll visit have cobblestone streets, similar to Boston's.
Remember to pack at least one dressier outfit for the ship's formal nights. Guys, a jacket and tie will be fine. Gals, this is your chance to dress up if you want . . . otherwise, just pack something black along with a nice scarf or pashmina shawl.
Other cruises to Europe from North America
If the Voyage of the Vikings cruise from Boston to Europe (or Europe to Boston) doesn't work with your schedule or if you want to explore other options before you commit, keep in mind that a number of other cruises to Europe depart from other U.S. ports such as New York and Ft. Lauderdale.
And don't forget that if you fly to Europe, you can join winter cruises to warm places like the Greek Isles and the Canary Islands.
Not sure where you want to go? Check out last minute cruise deals from Priceline
- some so cheap that you can't afford NOT to go!
Bon voyage!
Photo credits: Veendam photos: slgckgc, Creative Common license; Red Bay, Labrador, Canada - Photo courtesy of Northern Light, GNU Free Documentation License; Dunmore East - photo courtesy of abegschmelzt, Creative Common license;
Like this Page? Please Share!
More Cruises from Boston
Boston Discovery Guide > Cruises > Cruises from Boston to Europe