Home > Sports > Super Bowl in Boston >
Boston Statues in Patriots Shirts
Where to find Boston's favorite statues dressed in New England Patriots gear
Make Way for Ducklings statues dressed in Santa outfits - Imagine how cute they will look in New England Patriots shirts!

Which statues are decked out in Pats shirts? I want to come in to Boston to celebrate, and don't want to miss these photo-ops. For other championships, I have taken pictures of the statues in Bruins shirts ....
Susan
Ashby, Massachusetts

Hi Susan,
Our local tradition of putting sports gear on the many statues around the city should be in full display as the New England Patriots head to the Super Bowl!
Without a doubt, the Make Way for Ducklings statues located in the Public Garden near the entrance at the corner of Beacon and Charles Streets should get an award for being the cutest statues wearing Pats gear.
Among all the statues dotting the city, the Ducklings tend to be the most likely to be dressed up.
Last year, the adorable ducklings appeared on Super Bowl Sunday morning attired in "Gronkling" t-shirts made by a Boston shirtmaker to honor Patriots tight end Rob Gronkowski.
Sightings of other appropriately dressed Boston statues usually start to be reported throughout the day.
Another likely candidate in the Public Garden, near the Arlington Street entrance, is the George Washington on horseback statue.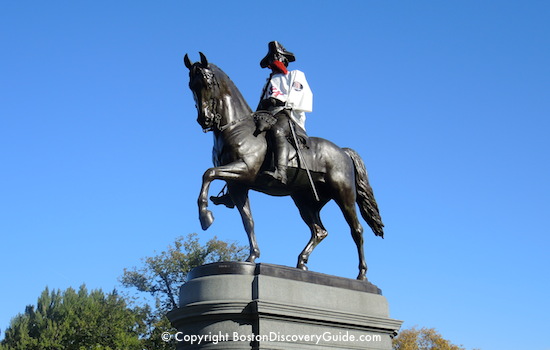 In this photo, George Washington is wearing a Red Sox shirt and fake red beard in honor of the beards all the Red Sox players grew during the months before their 2013 World Series Championship
Likewise, the statue of Paul Revere - another Revolutionary War hero on horseback - located in "The Prado" (a.k.a. "Paul Revere Mall") off of Hanover Street in the North End also sports team clothing fairly often.
The Revere statue is definitely worth checking out because if he is not wearing anything photo-worthy, you can always console yourself with a cappuccino and cannoli in one of the bakery/cafes along Hanover Street - and then move on to other clothing-worthy statues.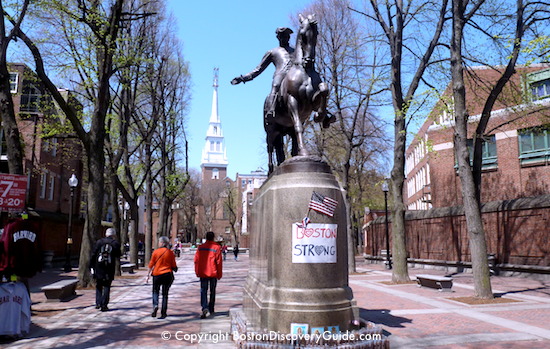 Statue of Paul Revere on Horseback, created by sculpture Cyrus Dallin, in Boston's North End (that's Old North Church in the background, where Revere arranged for lanterns to be hung back in 1775 to signal the British Redcoats' route to Concord
At the southern edge of the North End in Christopher Columbus Park is the magnificent Christopher Columbus statue overlooking Boston Harbor.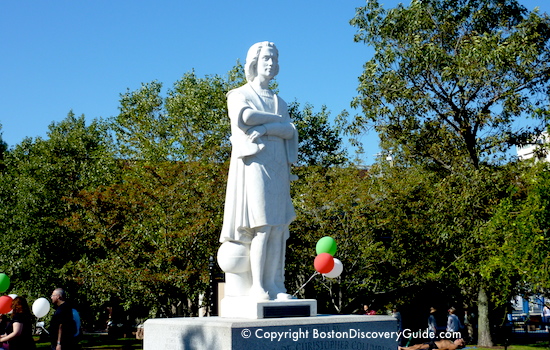 Not sure why Christopher Columbus appears to be wearing a short dress and cape in this statue - maybe that is what 15th century Italian explorers normally wore - but a New England Patriots jersey would certainly spiff up his appearance
From the North End, you can easily walk across the Greenway to Faneuil Hall and check out the statue of Samuel Adams.
As one of the leading Sons of Liberty who plotted against the British before the Revolutionary War, Adams certainly qualifies as a true Patriot - and definately deserving of some Patriots gear.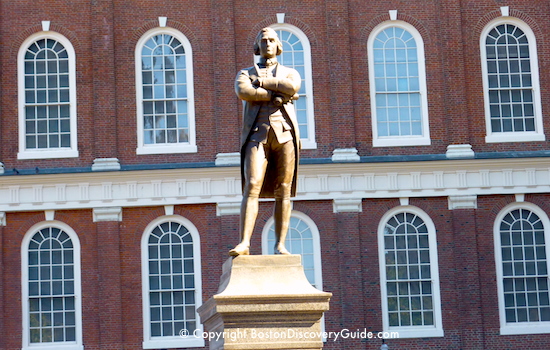 Boston Patriot Samuel Adams strikes a defiant pose in this statue in front of Faneuil Hall
Of course, Boston has plenty of other statues that might look good wearing New England Patriots shirts: for example, various other statues in the Public Garden, Boston Common, Faneuil Marketplace, and the Massachusetts State House grounds. And don't forget the rather eclectic collection of statues along Commonwealth Mall in Back Bay and on the Esplanade.
Most tempting, of course, are statues of sports figures belonging to other Boston teams, such as the Ted Williams and The Teammates (Dom DiMaggio, Johnny Pesky, Bobby Doerr) statues at Fenway Park.
There are even rumors that the Bobby Orr statue in front of TD Garden may be wearing a Tom Brady "12" shirt this year.
Other possibilities include more animal statues - the little donkey in front of Old City Hall on the Freedom Trail, and the Tortoise and Hare statues by Nancy Schön (also the creator of the Ducklings statues) in Copley Square.
In sorting through my photos, I was shocked to discover I don't have any Boston statues wearing Patriots gear - so you've inspired me to go out with my camera on Super Bowl Sunday afternoon!
Susan
Like this Page? Please Share!
More about Celebrating Super Bowl in Boston
More for Fun for New England Patriots Fans

Boston Discovery Guide > Sports > Super Bowl in Boston > Boston Statues Dressed Like Patriots