Home > Boston Shopping >
Best Boston Shopping Malls
Guide to the Best and Biggest Shopping Malls in Boston
Shops at Prudential Center - Premier shopping mall in Boston's Back Bay
Boston's shopping malls may surprise you, especially if you are used to the suburban cookie-cutter experience where one mall looks much like another.
Imagine an eclectic mix of shopping and entertainment in a marketplace built almost 300 years ago in the most historic part of the city?
Or a sophisticated shopping plaza with soaring glass skylights at the foot of Boston's second-tallest skyscraper?
Or a village-like collection of top-brand outlet stores overlooking the Mystic River, just 5 minutes by subway from Downtown Boston?
Here is our guide to Boston's unique centrally-located shopping malls and plazas - plus a few special suburban versions as well.
Best Shopping Malls & Plazas in Central Boston
Hop on Boston's subway (the "T") to get these centrally-located shopping malls - or even better, walk.
Faneuil Hall Marketplace - Fun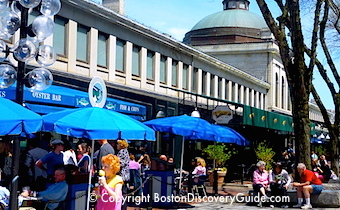 100+ stores and artisan pushcarts in Boston's festival-like Faneuil Hall Marketplace / Quincy Market occupy 4 historic buildings in the heart of Boston.
But shopping is just the beginning of the fun you can have here.
Faneuil Marketplace's famed street performers entertain crowds every weekend and holiday, and a huge lighted Christmas tree, seasonal ice skating rink, and more restaurants, food vendors, and pubs than you can count add to why this is Boston's most entertaining mall. More about Faneuil Hall Marketplace
Copley Place - Luxury Shopping Plaza in Back Bay
You'll find Neiman Marcus and 75 boutiques including many internationally known luxury designers in this upscale shopping complex in Boston's fashionable Back Bay neighborhood.
Located not far from Newbury Street, Copley Place connects with Prudential Center by a skywalk.
More about Copley Place


Shops at Prudential Center - Upscale Shopping Mall in Back Bay
With more than 75 stores and boutiques plus some of the city's best restaurants, Prudential Center is one of the city's most popular upscale shopping malls.
Located in Back Bay near Newbury Street and Copley Center, Pru Center offers more than just shopping. More about Prudential Center
Assembly Row - Outlet Shopping 5 Minutes from Downtown
Assembly Row offers Boston's newest outlet shopping, dining, and entertainment center, right on the Mystic River.
You can easily get there in just 5 minutes by subway from North Station or 10 minutes from Downtown Crossing.
Find out how Assembly Row compares with Wrentham Village Outlets.
Hippest Boston Shopping Mall - Cambridgeside Galleria
Maybe it's Cambridgeside Galleria's Cambridge loction near Harvard, MIT, and a huge concentration of biotech firms that accounts for the trendy fashions - noticeably hipper than most other Boston malls. Located just across the Charles River from central Boston (5 minutes on the Green Line). More about this convenient Cambridgeside Galleria Mall
Photo Gallery of Fun Boston Shopping Malls

Christmas in Boston scenes, left to right:
1) Shops at Prudential Center, with giant Christmas ornament holiday decorations
2) Cambridgeside Galleria in Cambridge, MA
3) Wrentham Village Premium Outlets
4) Entrance to Faneuil Hall Marketplace
5) Vendor pushcarts in Faneuil Hall Marketplace's South Market building
Biggest, Best, & Most Interesting Suburban Malls
Natick Mall - Mammouth Upscale Mall West of Boston
With over 200 stores ranging from affordable to high-end, the upscale Natick Mall - sometimes called "Natick Collection" - is not just the biggest Boston shopping mall, it's also the largest mall in New England. With 6 anchors - Nordstrom, Neiman Marcus, Macy's, Lord & Taylor, Sears, and JC Penney . . .
Best Discount Shopping Mall in Boston - Wrentham Premium Outlets
Fashionistas, if you love a bargain, you'll want to visit Wrentham Outlets, the only discount shopping mall in the Boston area. Expect to find 25-65% savings on big-name designers - even more when sales are underway.
Patriot Place - Shopping, Entertainment, & Sports Next to Gillette Stadium
Way more than just a shopping mall, this sports, entertainment, and retail complex 22 miles south of Boston also includes Gillette Stadium, home of the New England Patriots football team and the New England Revolution soccer team.
Chestnut Hill Mall - Bloomingdale's & More
Anchored by Boston's only Bloomingdale's, Chestnut Hill Mall offers an interesting mix of up-scale stores and boutiques just a few miles west of Boston. Pricey, yes . . . but sales here can be awesome!
Historic Quincy Market building, one of four buildings making up Faneuil Hall Marketplace
More Suburban Shopping Malls in the Boston Area
Burlington Mall
One of the Boston area's largest malls, the upscale Burlington Mall has 4 anchor stores, a huge stand-alone Crate and Barrel, and almost 200 other stores ranging from affordable to high-end. This popular shopping mall is just north of Boston near Route 128 and, as far as I know, is the only Boston mall to double as a movie set (Anyone remember Paul Blart in Mall Cop?). More about Burlington Mall
Best Discount Shopping Mall Close to Boston - Arsenal Mall
For almost 200 years, Arsenal Mall, located just a couple of miles to the west of Boston, was a military weapons research lab, complete with its own nuclear reactor. Today, Arsenal Mall offers a pleasing mix of national retailers, discount stores, and outlets - a bargain-hunter's paradise closeto the city!
Best Ways to Save in Boston Shopping Malls
Of course a big SALE sign in the window excites shoppers - but if you're visiting Boston from another state in the U.S. or another country, you may find savings on every single item.
How?
For beginners, our sales tax is still only 6.25% - so if you live in a state where sales tax is, say, 8% or a country where you pay VAT of 16%, you get an immediate "discount" of the difference between what you pay at home and what you pay in Boston.
In addition, you'll pay NO sales tax on clothing costing less than $175.
Of course, those SALE signs can also mean big savings - typically 25% - 50%, depending on the season and item.
Where will you find the biggest discounts? Sometimes at the highest priced, most fashion-conscious stores which need to make room for the latest styles.
Not Quite Malls - More Irresistible Boston Shopping Areas
These Boston shopping areas in no way resemble malls - but you should know about them because they concentrate a large number of appealing boutiques, unique shops, and even large department and specialty stores in compact, walkable areas.
Downtown Crossing
Anchored by a huge Macy's, with a large number of top discounters: H&M, TJ Maxx, Marshalls, Eddie Bauer Outlet, DSW Shoes, plus several diamond dealers known to offer top value in engagement rings.
What I love best about this mostly pedestrian-only shopping area, though, are the unique one-of-a-kind Boston shops along Washington Street and side streets.
Personal favorites: Brattle Book Store (xx West Street), Commonwealth Books (basement level of Old South Meeting House - shown in the photo), small art and artisan galleries tucked in here and there.
Walk over from Faneuil Hall Marketplace (it's just 2-3 blocks away) and enjoy an afternoon of browsing.
Newbury Street / Boylston Street
Famous for high-end designer boutiques.
In reality, Newbury Street and next-door Boylston Street offer an eclectic mix of top designers plus wonderful homegoods shops (where I could personally spend a small fortune), national brand stores such as Nike, Crate & Barrel, and Anthropologie, Boston's biggest H&M, and other discounters featuring trendier styles than you'll find in more suburban locations.
More about Newbury Street Shopping

Boylston Street near the Four Seasons Hotel
This very small stretch of very high-end designer boutiques and galleries next to the Four Seasons is too good to miss if you're into top international fashion. Walk over from Copley Plaza - it's a few blocks, but worth it!
Charles Street in Beacon Hill
Best known for its high concentration of superb antique shops, this 6-8 (depending on how you count) stretch of mostly unique shops and boutiques also includes an eclectic collection of fashion, gifts, jewelry, and even high-end hardware.
Need an elegant one-of-a-kind brass door knocker or cabinet knobs and pulls?
Head straight to Charles Street! More about what you'll find while shopping on Charles Street

Harvard Square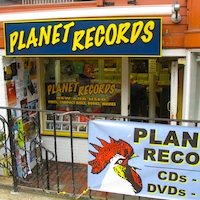 Sort of the antithesis of Boston shopping malls is Harvard Square, on the other side of the river in Cambridge. National brand stores, local shops and boutiques, and student-oriented restaurants cluster around Harvard Square, across from the Harvard undergraduate campus.
Take the T (Red Line/Harvard Square) - about a 10 minute trip from Park Station in Downtown Boston - and explore the interesting mix of high-end and almost-cheap shopping and dining opportunities.


Boston Shopping Malls - by Location
Trying to figure out where Boston's malls are located? Here's a quick sort, based on each mall's distance from Downtown Boston.
You can also check the map at the bottom of this section.
Shopping malls right in the city - no car needed!
Prudential Center, Copley Place, Faneuil Hall Marketplace, and CambridgeSide Galleria (Cambridge Mall) are city malls - shopping malls that you can easily reach from central Boston on foot or by "T" (that's what we call the subway here).
Stores in Pru Center, Faneuil Marketplace, and CambridgeSide Galleria range from affordable to expensive.
Most Copley Place stores hit the very expensive mark. Look for the best seasonal sales at the priciest boutiques.
A few miles away - a car is helpful
If you have access to a car during your stay in Boston, you may want to explore Chestnut Hill Mall, the Arsenal Mall in Watertown, and the Burlington Mall.
All of these shopping malls are close to Boston - meaning within or just outside of Route 128, the closer of the two highways that circle Boston. In non-rush hour traffic, you can reach all of them within 20 minutes or less (assuming you don't get lost).
Can't get there without a car
Further afield (meaning beyond Route 128), but worth the trek if you love to shop and have a car are the Northshore Mall in Peabody, South Shore Plaza in Braintree, and the Natick Collection mega-mall.
Patriot Place, the shopping / entertainment complex that includes Gillette Stadium in Foxboro, is fun and sports-oriented. With a luxury hotel and spa on site, Patriot Place doubles as a vacation destination.
For true discount shopping, you'll want visit Wrentham Village Premium Outlets, a fabulous collection of designer discount stores. Especially if you happen to be here when sales or mark-downs are underway, you can save some serious money. No transportation? Get a Boston rental car for a day - you'll likely save enough money at the Wrentham Outlets to cover the costs.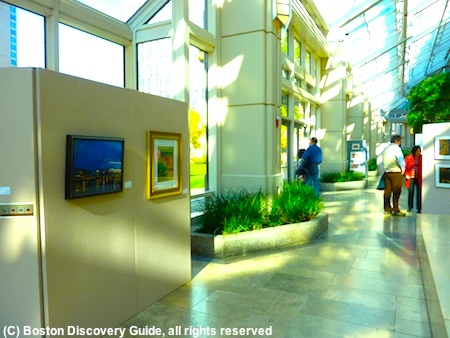 Art exhibit at Shops at Prudential Center in Boston's Back Bay nieghborhood
Boston Mall Tips - Know Before You Go
Mall hours:
All of the Boston shopping malls listed on this page are open 7 days a week. Typically, malls open at 9am or 10am and close at 9pm or 10pm on Mondays through Saturdays. Sunday mall hours are typically noon - 5pm or 6pm.
Hours for restaurants and department stores within the malls may differ from mall hours.
Because malls may change their hours based on the season (for example, they may open earlier and close later in November and December to accommodate holiday shoppers) and even the economy or marketing strategies, we do not list their hours on this site. You should confirm their hours on their websites before you go if you think opening or closing hours might be an issue.
Parking:
Boston suburban shopping malls offer free parking in the parking lots surrounding the mall complex. A few such as Natick Collection offer valet or VIP parking for a fee, but there's also plenty of free parking. At Patriot Place, parking is free for shoppers but you'll pay a fee if you're there for a game.
At Boston shopping malls within the heart of Boston (Copley, Prudential Center, Faneuil Hall Marketplace) and Cambridge (Cambridgeside Galleria), you'll pay - anywhere from a small fee to potentially a lot. Fortunately, you can take the T (Boston's subway) to these shopping areas as an alternative.
Here are your best parking options for each of them:
Copley Place and Prudential Center - parking is pricey, but get your ticket validated for cheaper rates - go one minute over the validation time limit, though, and you're back to paying big $$s
Quincy Market - no on-site garage but plenty of options at nearby Boston parking garages
Cambridgeside Galleria - on-site garage for a reasonable fee if you stay a couple of hours or less - although weekends are more expensive
Like this Page? Please Share!
More to places to shop beyond Boston Shopping Malls
Home > Boston Shopping > Malls