Home > Transportation > Parking >
Boston Parking Garages in Fenway
Boston Parking Garages and Lots near Fenway Park, House of Blues, Lansdowne Street Nightlife
Boylston Street parking lot near Fenway Park- you can see the Green Monster in the background
If you've ever tried to find Boston parking garages in Fenway, you know how difficult parking can be near Fenway Park, House of Blues, and other major attractions.
Parking in Boston is always tough, but Fenway presents particular challenges: 1) Fenway Park, House of Blues, Symphony Hall, and other attractions draw huge crowds, and 2) almost all on-street parking is "Residents Only."
Fortunately, Fenway has many Green Line T stations, and is flat and easily walkable. However, if you must drive, here are some Boston parking garages convenient to key Fenway attractions, as well as a map. Do check out rates carefully, as they vary quite a bit.
Please note: I include rate information below the map so that you can make comparisons. I update this information periodically, but if you are price-sensitive, please check the garages' websites to confirm rates. Most recent rate updates on this page: April, 2013.
Related links: Red Sox schedule | House of Blues | Fenway Park Tours
MASCO Kenmore parking lot, across from Fenway Park on Brookline Ave
1282 Boylston Street - 1 Block from Fenway Park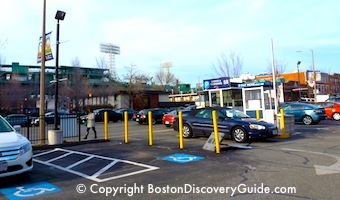 This parking lot at 1282 Boylston St puts you just one short block from Fenway Park - you can see the stadium lights and Green Monster in the photo.
You'll smell the Fenway Franks the moment you step out of your car.
Convenient to all the restaurants along Boylston Street, with cheap night and weekend rates at non-game times.
Rates: $8 evenings (after 5pm) and weekends; $40-50 for Red Sox and event
Address: 1282 Boylston Street
Near: Fenway Park, House of Blues, Boylston St restaurants, Lansdowne Street nightlife
More information: 617-426-0607; http://boston.lazparking.com/
Symphony Garage
Address: 41 Westland Avenue
Entrances: Westland Avenue (closest to Symphony Hall) and Burbank Street
Near: Symphony Hall, Jordan Hall, Huntington Theatre, Berklee Performance Center, Christian Scientist Church, Prudential Center, Northeastern University
Reasonably close: Fenway Park, Back Bay neighborhood
Call ahead service: 617-236-1928
Forms of payment accepted: Cash, Visa, Mastercard, American Express
For more information: 617-236-0898; website
The Symphony Garage in East Fenway is close to Symphony Hall as well as other cultural and performing venues, and a fairly short walk to Fenway Park - about 12-15 minutes.
In addition to being somewhat less expensive than garages closer to Fenway, the Symphony Garage's location tends to be less congested before and after games. Unfortunately, a proposal is on the table to convert the space to 48 condos - so enjoy parking here while you still can!
The 6-story, 300-space garage provides valet parking, and offers call-ahead valet pick-up service. Just call the Call Ahead Service number at least 30 minutes prior to when you want to retrieve your car, enter your parking ticket number, and they'll have your car waiting for you when you arrive.
This garage is open and staffed 365 days/year, 24 hours a day. It has a 10' height / clearance restriction, and is easy to access from Storrow Drive.
Rates:
Daily rates: Start at $4 for 1/2 hour or less. $16 for 2 hours or less. $24 maximum daily rate. $12 for early birds - in before 9:30am and out before 7pm, Monday - Friday. If you need to stay overnight, you'll be charged for an extra full or partial day if you exit after 5am.
Event rates: $19 for up to 8 hours parking
Evening/weekend rates: $18 if you enter after 4pm and exit before 9am Saturdays and Sundays. Not valid during events (in other words, concerts, Red Sox games, other Fenway events which you may or may not know about when trying to park there)
Return to Top - Boston Parking Garages in Fenway
MidTown Hotel Parking Garage
The MidTown Hotel Parking Garage is really intended for hotel guests.
In fact, the hotel offers one of the best parking deals around for Red Sox games at Fenway - free parking on game day when you book early for game night and show your Red Sox ticket at check-in.
Find out more about Midtown Hotel
But when you see the "Daily/Event Parking" sign in front of the garage entrance, you can sometimes snag a bargain, especially compared with Prudential Center parking down the block. Call ahead to see if daily/event parking specials are available.
Address: 220 Huntington Avenue, at the MidTown Hotel
Near: Symphony Hall, Jordan Hall, Huntington Theatre, Christian Scientist Church, Prudential Center, Northeastern University, Fenway Park
Reasonably close: Fenway Park, Back Bay neighborhood
Forms of payment accepted: Cash, major credit cards
For more information: 617-262-0898
100 Clarendon Garage
Address: 100 Clarendon Street
Near: Back Bay Station, Copley Square, Prudential Center, and not far from the South End. About an 18-20 minute walk to Fenway Park, Kenmore Square, Boston University, nightclubs and bars near Fenway
Spaces: 2,000
For more information: 617-275-0151; website
Although this is the "official" Red Sox parking garage , it's about an 18-20 minute walk from Fenway - maybe a little faster if you don't dawdle. However, if you don't mind the walk and pre-paying on-line, this is where you can get the cheapest Red Sox game parking rates for evening and weekend games (note - it's not available for afternoon weekday games). It's also the only Boston parking garage with direct Mass Pike access - HUGE convenience!
Rates:
Red Sox games: $10 for evening and weekend games - enter after 3pm Monday - Friday and 7am on weekends, and exit by 3am (yes, that gives you plenty of time to hit your favorite Boston bars near Fenway). Here's what you have to do to get the validation: Go to the garage office and present your valid game ticket stub. You must get your validated tickets processed at the pay stations in the Clarendon and Dartmouth lobbies.
Special and validation rates: 100 Clarendon offers very attractive rates for a variety of situations: overnight parking for Amtrack South Station and areas hotels; nightclubs and event venues such as Boston Center for the Arts, Back Bay Events Center, Lyric Stage; special events such as the Boston Marathon. Check rates and details on their website
Regular weekday rates are typical for this neighborhood, which means pricey - $11 for up to 1 hour, $28 for over 2-10 hours, $33 for 10+ hours
Other Parking Garages and Lots Near Fenway
Fenway Shell Station
1240 Boylston Street; 617-247-7905

Small lot with 78 spaces - $50 for parking on Red Sox game days
Fenway Gulf Station
1420 Boylston street; 617-247-7905

Small lot with about 40 spaces - usually charges $35 flat fee for Fenway parking on Red Sox game days
Landmark Center - LAZ Parking
401 Park Drive/201 Brookline Ave
617-927-0398

Landmark Center is easy to spot - just look for an almost-white Art Deco Building - once a Sears distribution hub and now a shopping center with 1,400 parking spaces. Reasonably convenient to Fenway Park, as well as the Colleges of the Fenway (Emmanuel, Simmons, Wheelock), and even the Isabella Stewart Gardner Museum. $35 during Fenway events; otherwise, inexpensive.
MASCO Garages & Lots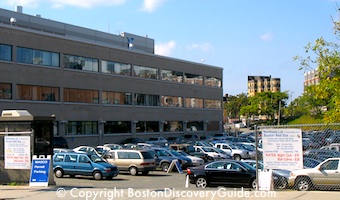 MASCO (Medical Academic Community and Scientific Organization, a non-profit that provides parking and other services for Longwood staff, students, and patients) owns and oversees the operation of a dozen parking lots and garages in the vicinity of Fenway Park.
Although most are used primarily for permit parking, some provide limited special events parking.
Permit holders typically have to vacate by 6pm when night games are scheduled so that the garage or lot can be used for game parking. Rates usually run $40 on game days, and there's lots of competition to get the spaces. Most of these areas are not available for afternoon games during the week.
Here are some of the best MASCO lots to try:
MASCO Kenmore Lot, located at 72 Brookline Ave across from Fenway Park (shown in the above photo); 250 spaces; 617-632-2881
MASCO Lansdowne Street Garage: 49 Lansdowne Street
The Lansdowne Street Garage is located right behind the Green Monster, and is the closest parking garage to Gates C and E, which offer special access to fans with disabilities; 285 spaces. Typically $40 on game days.
MASCO @ 375 Longwood Avenue; 750 parking spaces
617-632-2310

Offers discounted parking for Wheelock Family Theatre; $7 evening (after 3:30pm) and weekend rates; daily rates $11 for 4 hours or less, $23 for 6 hours or less, $29 for 6-24 hours. Also convenient to all the Longwood hospitals. Not so convenient for Fenway Park.
MASCO @ Ipswich St Garage
160 Ipswich Street; 617-236-5090

Great location for Fenway, but small and Longwood Medical Area employees fill most of the 150 spaces during the day.
Like the Kenmore lot, permit holders have to vacate by 6pm when night games are scheduled. Offers limited valet-only Red Sox parking for $40.


MASCO Swan Lot; corner of Ipswich and Van Ness, across from Fenway; 140 parking spaces; $50 for Red Sox game parking
617-935-6002
Convenient to Fenway and nearby clubs, including House of Blues. Valet game parking usually about $35, limited club parking $10.
Return to Top - Boston Parking Garages in Fenway
Museum of Fine Arts Parking Garage
60 Museum Road (between Huntington Ave and the Fenway)
617-369-3657

The most convenient parking garage if you're going to the Museum of Fine Arts - but you'll pay for the convenience. $6 per half hour, with $24 daily max rate; $17 evening max (enter after 5:30pm); discounted parking for MFA members; open only until 6PM on weekends

Prudential Center Parking Garage
800 Boylston Street; 2,000 parking spaces

Located in Back Bay rather than Fenway and about a 12-minute walk to Fenway Park but popular option for Red Sox parking because of its huge size, convenience to Mass Pike, and reasonable rates; this garage is a local favorite for Fenway parking for evening and weekend games. You can enter the Pru Center Garage from a number of points around its perimeter: 85 Exeter Street, 81 and 111 Huntington Ave, 116 Belvidere St, 48 Dalton St, and Ring Road.
Red Sox and special event parking $16 evenings and weekends (not valid for afternoon weekday games); otherwise, quite pricey, even with shopping validation for up to 2 hours parking; $36 for 2-10 hours.

Standard Parking Garage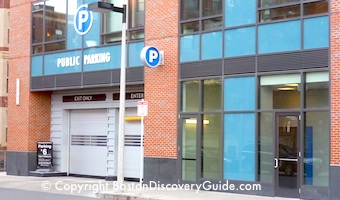 Standard Parking Garage is only a block from Fenway Park, steps from the popular restaurants and bars along this stretch of Boylston Street, and convenient to nearby nightlife including Church of Boston.
Normally $10 for an hour or less and $28/day on weekdays but $45 for special events, including Red Sox games. The real bargain here is on evenings after 4pm and weekends, when you can park for up to 6 hours for $6 (Fenway events excluded); even better, several area restaurants such as Basho's validate, bringing down the fee to $4 for up to 6 hours.
Standard Parking Garage - 1330 Boylston Street (enter on Jersey Street); 200 parking spaces, although many are reserved for building tenants
Stanhope Garage
693 Newbury Street Extension, off Brookline just north of the Mass Pike; 22 parking spaces
617-262-0691

Tiny but convenient to Fenway Park, House of Blues, Eastern Standard, and even Boston University East Campus. Normally $7/day (which is great for this neighborhood) but $45 for Fenway events (ouch!). In case you're wondering, "Newbury Street Extension" is pretty much what it sounds like - a continuation of Back Bay's Newbury Street on the Fenway side of Mass Ave, along the Mass Pike - it looks sort of like an alley, and not everyone realizes it's a street.
Yawkey Way Lot
55 Yawkey Way, operated by LAZ Parking
617-859-0411
Small (150 spaces) private lot, extremely close and convenient to Fenway Park. Not usually open to public parking, but when it is available on game days, the price usually runs about $45. It's also occasionally open for charitable events, and I've seen it as low as $10.
Return to Top - Boston Parking Garages in Fenway
Map of Boston parking garages in Fenway

View Map of Parking Garages near Fenway Park, Boston, MA in a larger map

You may also like . . .
Interested in garages in other parts of the city? Check out other places for parking in Boston.
Like this Page? Please Share!
Other Fenway and Red Sox information
Boston Discovery Guide > Transportation > Parking > Fenway Garages