Best Boston Movies
Top Movies Filmed in Boston
These favorite Boston movies give you a sense of the city before you visit, and let you renew fond memories after you leave.
Most of them feature lots of scenes actually filmed in Boston - although they may or may not give a complete flavor of the city.
But they're fun to watch, and at least some of the details are authentic.
You'll see real glimpses of Boston streets, parks, rivers, and buildings . . . places that you'll see and perhaps visit while you're here.
Amazon links are included for each movie. Some are so cheap (as low as one penny plus shipping!) that buying can cost less and be easier than downloading.
Blown Away - Boston movie with Irish roots
1994
. Action / Drama / R. Starring Harvard grad
Tommy Lee Jones
(Ryan Gaerity),
Jeff Bridges
(Jimmy Dove)
Irish Republican Army bomber Ryan Gaerity breaks out of an Irish prison and sets out on a path of revenge against Boston bomb squad expert Jimmy Dove, a former IRA conspirator who betrayed Gaerity after discovering his plan to kill civilians.
Now no one in Dove's family or seemingly the rest of Boston is safe from Gaerity's course of destruction in this fast-paced thriller.
You'll see lots of great shots of Fenway Park, the Esplanade, Boston Harbor, and Copley Square, including scenes at the grand Fairmont Copley Plaza Hotel.
Fever Pitch - Cheer the Boston Red Sox in this movie
2005. Romantic Comedy / PG13. Starring Jimmy Fallon (Ben), Drew Barrymore (Lindsay)
When laid-back Ben and workaholic Lindsay meet and start dating, can this be true love? Well, maybe . . . but then baseball season begins and Ben's real love is revealed: the Boston Red Sox. Actually, it's more like an obsession.
Can this relationship be saved? You'll have to watch it to find out. When this movie ran in the Boston movie theaters, part of the fun was hearing the audience scream and cheer for the Red Sox and boo the Yankees. Which underscores a flaw in this movie: it's not true to life, because obviously, real Bostonians are obsessed with the Red Sox all year, not just during baseball season.
That's why we're the Red Sox Nation . . . not to digress . . .
Gone, Baby, Gone
2007. Drama / Crime / Mystery / R. Starring Casey Affleck (Patrick Kenzie), Michelle Monaghan (Angie Gennaro), Morgan Freeman (Jack Doyle), Ed Harris (Remy Bressant), John Ashton (Nick Poole). Directed by: Boston local Ben Affleck (who also wrote much of the screenplay). Based on a novel of the same name by Boston local Dennis Lehane.
A child is kidnapped, 2 Boston police detectives investigate, and personal and professional crises unfold as everyone discovers way more than they'd bargained for in this gritty and ultimately ironic tale of multiple betrayals.
Gone, Baby, Gone was filmed in Boston, and nearby Lynn, Cambridge, Chelsea, South Boston, Sherborn, Medford, and Dorchester, and you'll see plenty of local scenes . . . the Lindemann Mental Health Center on Staniford Street in the West End . . . Mount Auburn Cemetery in Cambridge, Meadow Glen Mall and the LoConte Skating Rink in Medford, the Old Colony public housing development and Murphy's Law bar in Southie, and much more.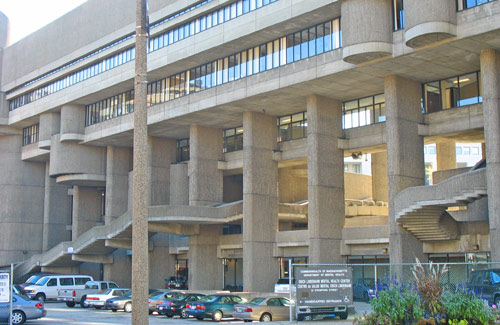 ---
Good Will Hunting - starring Boston locals!
1997
. Drama / R. Starring
Matt Damon
(Will Hunting),
Ben Affleck
(Chuckie Sullivan),
Robin Williams
(therapist Sean Maguire),
Minnie Driver
(Skylar)
In this film that launched the acting careers of both Damon and Affleck, Will Hunting is a janitor at MIT from a blue collar background in South Boston when a professor discovers that he's a math genius. Will he abandon his Southie friends to pursue a future in line with his intellect? A therapist helps him uncover the demons holding him back in this coming-of-age Boston movie.
Both Damon and Affleck are Boston locals, and their accents are real.
You'll get to see some great local shots as well . . . in Boston, the Public Gardens . . . in Cambridge, Au Bon Pain and Grafton Street Pub in Harvard Square, Dunster House at Harvard College, and the McLauren Building at MIT. In South Boston, Woodie's L Street Tavern, among other places . . . in Charlestown, Bunker Hill Community College.
Disappointingly, though, many scenes in this Boston movie were filmed in Toronto, where production costs are lower.
Return to Top - Boston Movies
Love Story - favorite Boston movie melodrama
1970
. Romance / Melodrama / PG. Starring
Ryan O'Neil
(Oliver Barrett IV),
Ally McGraw
(Jennifer Cavalleri),
Ray Milland
(Oliver Barrett III), and Harvard grad
Tommy Lee Jones
When rich, well-connected Harvard student Oliver falls in love with and marries working class non-WASP (lest you miss this point, the film makes much of her Italian last name) Radcliffe student Jenny, his dad (Oliver III) disowns him. True love seems about to triumph - but wait! - this is melodrama, so get ready to shed tears.
Both Oliver and Jenny get to deliver the film's most famous line: "Love means never having to say you're sorry," a line that spawned plenty of parodies, including my personal favorite from John Lennon: "Love means having to say you're sorry every 15 minutes" . . . but I digress.)
You'll see lots of scenic views of Harvard Yard, in Cambridge. Other Cambridge filming locations include the Harvard Square T station. The large Cambridge house where Oliver and Jenny live for awhile is on Irving Street. However, much of the rest of this quintessential Boston movie was filmed in Toronto.
Mystic River
2003
. Thriller / R. Starring
Sean Penn
(Jimmy Markum),
Tim Robbins
(Dave Boyle),
Kevin Bacon
(Sean Divine),
Marcia Gay Harden
(Celeste Boyle). Directed, co-produced, and scored by
Clint Eastwood
. Based on a novel with the same name by Boston author Dennis Lehane.
In this fast-paced, riveting thriller, three childhood friends from South Boston find they're still closely linked 25 years later when Jimmy's daughter is brutally murdered and one of them appears to be implicated. But that's just the beginning, as this film explores the extreme brutality and trauma that have damaged their lives and destroy their futures.
If you don't like watching violence, you probably won't enjoy this Boston movie despite the excellent acting and cinematography. Penn won an Academy Award for Best Actor for his performance, and Robbins won Best Supporting Actor.
Mystic River was filmed almost entirely in and around Boston, and the details ring true. Even the unpredictable Boston fall weather gives the film part of its authenticity. You see some of the grittier parts of South Boston, Downtown, the Tobin Bridge and Mystic River, and even the Columbus Day Parade in which Dennis Lehane, author of the book on which the movie is based, plays a cameo role as a politician waving at the crowds. Even the sets, such as the Black Emerald Bar, were built in a warehouse in Canton, just south of the city.
Paper Chase
1973. Romance / Melodrama / PG. Starring Timothy Bottoms (James T. Hart), Lindsay Wagner (Susan Field), John Houseman (Charles W. Kingsfield, Jr.)
Earnest, hard-working first year Harvard Law School student Hart clashes with a brilliant but intimidating contracts professor in this drama about the clash between idealism and extreme pressure and competition.
The plot develops tangles when Hart discovers that the woman he's dating and falling in love with is the professor's daughter.
You'll see scenes filmed at Harvard Law School, located in Cambridge, although other parts of the movie were filmed in Toronto.
Paul Blart: Mall Cop - suburban shopping, crime, and Segways
2009 Comedy / PG. Starring Kevin James (Paul Blart), Keir O'Donnell (Veck Sims), Jayma Mays (Amy), and Raini Rodriguez (Maya Blart)
Mall Cop features a mall security guard with a Segway who saves the day when a gang of criminals tries to take over the suburban shopping mall where he works. What makes this Boston movie fun, aside from the usual chase scenes, is that much of it was filmed in in Burlington Mall, just a few miles north of the city.
If you've ever shopped at the Burlington Mall, you'll recognize the Bank of America and many of the stores . . . although the Sharper Image is no more. Other scenes were filmed on streets in Burlington and Boston's West Roxbury neighborhood.
By the end of this light-hearted Boston movie, you may be left with a desire to shop . . . or possibly try out a Segway yourself, especially if you've seen them recently rolling along Boston streets.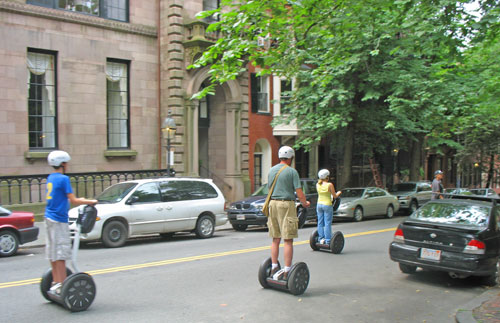 Segways in Boston's Beacon Hill
The Bostonians
1984. Drama / NR. Starring Christopher Reeve (Basil Ransom), Madeleine Potter (Verena Tarrant), Vanessa Redgrave (Olive Chancellor)
Based on Henry James' 1886 novel of the same name, this Merchant Ivory film explores tensions between an ardent Bostonian reformist and supporter of the suffragist movement, Olive Chancellor, her Mississippi cousin, lawyer Basin Ransom, and the young daughter of a charismatic faith healer, Verena Tarrant.
You'll enjoy the scenes filmed in the gorgeous Copley Plaza Boston Hotel, as well as the outstanding performances of the cast. If you're interested in nuances of class and economics in late 19th century America, the movie is fascinating from that perspective as well.
More for Boston Movie and Theater Fans
Like this Page? Please Share!