Boston Harborfest 2015
Boston's Huge Independence Day Celebration

Boats in Boston Harbor - Just a glimpse of Harborfest
Boston Harborfest, the largest Independence Day festival in the United States, celebrates Boston's colonial, Revolutionary War, and maritime history and heritage with fireworks, entertainers, historical reenactments, music, Harbor cruises, walking tours, and Chowderfest - plus a lot more!
Almost 3 million people from all over the world come to Boston for the festival.
Although the best-known Independence Day celebrations are the Boston Pops Concerts and July 4th Fireworks, Harborfest packs 200+ other events into the festival's 5 days.
Festivities begin on July 2, run through July 6th, and take place in central Boston neighborhoods including Downtown and the Waterfront, Boston Common, Charlestown, the South Boston Waterfront, the North End, and even the Boston Harbor Islands National Park.
Many Harborfest events are free this year, while the rest range from inexpensive to pricey.
If you need a convenient place to stay, check out our recommendations for Boston hotels for Harborfest, based on location.
Boston Harborfest dates back to 1981, so the 2015 celebration marks the 34th anniversary of this gala July event.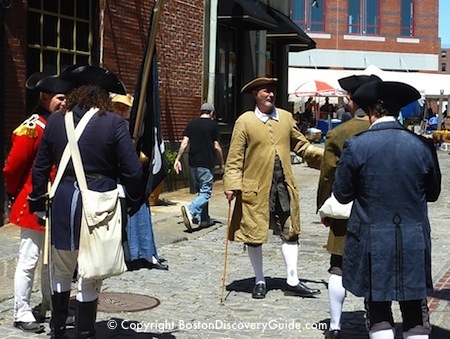 You'll see lots of Colonial attire worn by reenactors during Harborfest
I took this photo near Union Oyster House - you can see part of Haymarket in the background
Harborfest Boston 2015 Daily Schedule
Following are highlights of key events you'll find each day at Boston Harborfest. Keep in mind that this is just a sampling - you'll get to choose from over 200 different daily events, cruises, tours, concerts, and celebrations.
Please note: Events below are from last year - updates will be available closer to the date of the event, but meanwhile, we're leaving this information in place to give you an idea of what to expect this year.
July 1: Harborfest Begins!
Main event: Opening Ceremony - 10am (time to be confirmed later), City Hall Plaza - Speeches, music, reenactments
These events start on July 1 and continue on each day of Harborfest:
Throughout the week: Huzzah for Constitution! 9am - 6pm - Charlestown Navy Yard (617-426-1812) - Traditionally, Boston and the Nation celebrated the USS Constitution's officers and crew after each successful battle in the War of 1812. Special events throughout each day of Harborfest continue this tradition at the USS Constitution Museum - admission by donation.
Free Freedom Trail Tours - Faneuil Hall Visitor's Center (617-242-5642). Park Rangers lead these 60-minute walking tours along the Freedom Trail, limited to 30 people per tour - get your free ticket on a first come, first served basis.
Leaving on the hour from 9am-noon and 2pm-4pm: "Meetings, Mobs, and Martyrs" - visit historic sites and find out how Bostonians resisted British repression.
Leaving on the half-hour from 9:30am - 3:30pm: "From Allegiance to Revolution" -visit Freedom Trail sites in the North End while finding out about the people who led the revolution.
More free (or inexpensive) family-oriented events:
- Meet Paul Revere as he reads Longfellow's poem, "Paul Revere's Ride" and answers questions - Old North Church (193 Salem St, North End, 617-523-6676) - half-hour programs start at 1pm and 3pm- free
- Park Ranger tour to Bunker Hill Monument in Charlestown - Charlestown Navy Yard Visitor Center (meet outside at 1pm for 45 minute walking tour) - 617-242.5601
- Faneuil Hall Talks: "Cradle of Liberty" - find out about Faneuil Hall's role in American Independence - 9:30am-4:30pm in the 2nd Floor Great Hall - every half hour except during periods when the room is reserved for other Harborfest activities
- Activities at the Old South Meeting House on the Freedom Trail (617-482-6439) - free with admission and to members. Join a scavenger hunt, and take a quiz to find out whether you would have been a Patriot or a Loyalist
- Tall Ship cruises around Boston Harbor - 10:30am - 6:30pm - leave from Central Wharf next to the Aquarium and spend 1 1/2 to 2 hours sailing around Boston Harbor. Tickets are $24-40 per person. More info: 617-742-0333
Guided tours of the Massachusetts State House Grounds & Outdoor Statues, 12 noon-12:45pm - Meet at 2nd floor tour desk in the State House. Free, but reservations requested: 617-727-3676
What's Under the Golden Dome?, 12 noon-12:45pm - Meet at 2nd floor tour desk - tour of the Massachusetts State House. Free; 617-727-3676
Patriots and Pirates Tour, 12 noon-3pm - Meet at the ArtsBoston booth at Faneuil Hall (617-357-8300) and join the 90-minute tour led by 18th century costumed guides. Tickets $8-$14 available online at www.thefreedomtrail.org
Blockade! 1813, 12 noon-4pm - USS Constitution Museum in the Charlestown Navy Yard in Charlestown (617-426-1812) - Learn about how sailors kept up their fighting skills during the Seige of Boston. Admission by donation.
Beacon Hill Treasures Walking Tour, 3pm-4pm - Explore Boston's famous Beacon Hill neighborhood, including the State House, Louisburg Square, Acorn Stree, and more. Admission $12 (adults) and $6 (children). Purchase tickets online at www.historicnewengland.org
Scavenger Hunt at the Old South Meeting House, where the Tea Party began - 12 noon-5pm (617-482-6439) - Fun for all ages, plus prizes! Admission $1-$6.
Tour Boston by Land and Water - 12noon - 10pm:
A Paul Revere Walking Tour - 2pm - 3:30pm, Paul Revere House in Boston's North End - Guided walking tour of Revere's neighborhood with a private tour of the Old North Church bell chamber; admission is $10 adults, $6 children (5-17)
Bells and Bones - 1:30pm-3:30pm, King's Chapel, corner of Tremont and School Streets, Historic Downtown - Tour the King's Chapel Burying Ground (Boston's oldest graveyard) and crypt, and learn about Colonial burial practices; visit the Revere bell in the tower; admission $7, ages 10+
July 3
Main event: Children's Day at Harborfest - 10am - 3pm, City Hall Plaza - Children's Day activities include jugglers, face painting, and the Music Fun Band
Town Hall Blues Band - 4pm - 7pm, City Hall Plaza - Dance to a wide variety of classical and original rock and blues
The Adams Family . . . in Boston - 6pm - 7:30pm (617-367-2345) - Meet at the Boston Massacre marker on the east side of the Old State House, and join Boston by Foot for this fascinating walking tour featuring reenactors portraying John and Abigail Adams, and 3 generations of their descendents. Admission $12
July 4 - Independence Day Harborfest Events
Independence Day Flag Raising Ceremony and Parade - 9am-10am, starts at City Hall Plaza, goes to the Granary Burying Ground on the Freedom Trail, and then to the Old State House
USS Constitution 21-Gun Salute in Boston Harbor, 11am-1pm - Watch this annual turn-around cruise by "Old Ironsides" from the Charlestown Navy Yard to Castle Island (good viewing spot) with a 21-cannon salute to the Nation at 12:05pm.
Cruise boats offering Turnaround cruises (from 9:30am-2:30pm):
Bay State Cruise Company (617-748-1435)
Boston Seaport Boat Charters (617-261-6633)
Boston Yacht Charters (617-268-1234)
Charles Riverboat Company (617-621-3001)
Liberty Fleet (617-742-0333)
Massachusetts Bay Lines (617-542-8000)
Odyssey Cruises (866-307-2469)
Spirit of Boston (866-310-2469)
Boston Insider's Tip: Unfortunately, the annual Boston Harbor "turnaround" cruise on July 4th of the War of 1812 veteran tall ship "Old Ironsides," the U.S.S. Constitution, won't happen this year as the famous ship is in dry dock in the Charlestown Navy Yard until 2018 while needed restorations are completed. Look for more details soon about how Old Ironsides will be honored in 2015.
Reading of the Declaration of Independence - 10am-10:30am - Reenactment of the first reading from the Old State House, just as it was on July 18, 1776.
Tours of Fort Independence at Castle Island - 1pm-4pm (617-727-5290)
Cape Verdean Independence Celebration at City Hall Plaza, North Stage - 2pm-7pm - Music, dancing, traditional games, arts and crafts, and vendors selling delicious Kriolu food
Patriotic Concert at City Hall Plaza (617-227-1528) - 2pm-4pm
Clambake on Spectacle Island - 6pm-9pm, Boston Harbor Islands National Park Area (617-770-0040) - Enjoy an authentic New England clambake with lobsters by Summer Shack on the beach; $75-$80; reservations required
Fireworks Cruises cruises (from 6pm-11:30pm - cruise times, lengths, and prices vary; reservations required):
Bay State Cruise Company (617-748-1435)
Boston Seaport Boat Charters (617-261-6633)
Boston Yacht Charters (617-268-1234)
Massachusetts Bay Lines (617-542-8000)
Dinner Cruise of the Harbor - 7:30pm-11pm, Spirit of Boston - Dinner and music; reservations required; admission about $92
Boston Pops Concert and July 4th Fireworks, 7:30pm-10pm on the Esplanade
Tall Ship BBQ and Fireworks Cruise, 9pm-11:30pm – Aboard the Liberty Clipper and Liberty Star (617-742-0333) - departs from Central Wharf at the New England
Aquarium; Admission $125; reservations required
Many more daily events - see previous days
Fun Boston Tours
July 5 Harborfest Events
Daily events - see previous days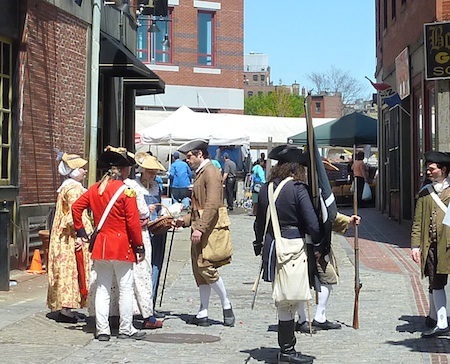 Daily Harborfest Events
Whiskers, Flippers, and Fun at the free outdoor Seal Exhibit at New England Aquarium Plaza - open all day
Early 19th Century Gun Drills - 2pm - 2:30pm - USS Constitution, Charlestown Navy Yard - Full sequence of a naval gun drill using a 24-pound long gun
Historic Boston Pubs - (21+), 5:30pm - 7pm - Get tickets (admission $43) at the BosTix booth at Faneuil Hall Marketplace - Visit the real headquarters of the American Revolution - Tour 4 historic Boston pubs
Fun historical tours by Boston on Foot
Boston Harbor Islands - Explorations, hikes, and even kayaking led by Park Rangers, and jazz from noon-4pm on July 3rd on Spectacle Island
Boston Harbor Cruises of all sorts - dinner cruises, tall ship cruises, fireworks cruises, and more - basically, every cruise ship offers special cruises during the 6 days of Boston Harborfest
Massachusetts State House - Beacon at Park Street on Beacon Hill - Free tours of State House and gardens at various times - Call 617-727-3676 for reservations
. . . and many, many more fun Boston Harborfest events!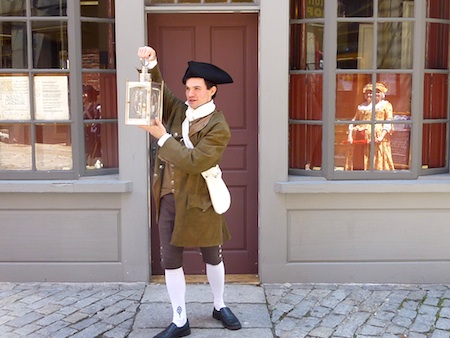 Essentials: Boston Harborfest
When: July 2-6
Where: Primarily in Central Boston neighborhoods and along the Freedom Trail: Historic Downtown, South Boston Waterfront, West End, Downtown Waterfront, North End, Charlestown, Boston Common, Beacon Hill - use our Boston Sightseeing map to see neighborhood locations
Cost: Some free events, many more ranging from about $2 - $12, and some (mostly cruises and pub crawls) for $30 - $100+
Where to stay: Hotels convenient to major Harborfest activities
Parking: Try to avoid it by taking public transportation. If you have to drive, Boston Common Parking Garage is centrally located for Downtown Boston events, and convenient to most of the others
More information: Harborfest website
Boston Insider tips:
Slather yourself with sunscreen
Bring a water bottle
Many events require reservations - make them early!
Get a Boston Discount Card to get discounts on some events and admission fees; if in doubt, be sure to verify that you can use the card for specific Harborfest events
Make hotel reservations as early as possible to get the best rates; Boston gets VERY crowded during early July because Harborfest, the July 4th Fireworks, and the Boston Pops concerts attract HUGE numbers of visitors to the city
Like this Page? Please Share!
Boston Discovery Guide > Events > Harborfest