Boston Harborfest 2013
Biggest Independence Day Celebration in the U.S.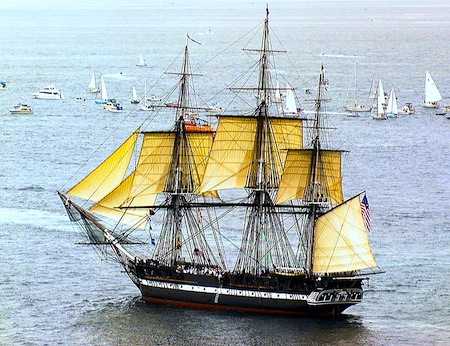 U.S.S. Constitution, "Old Ironsides" - look for this mighty warrior tall ship in Boston Harbor
on July 4th as part of Boston Harborfest; Photo by Journalist 2nd Class Todd Stevens, U.S. Navy
Boston Harborfest, the largest Independence Day festival in the United States, showcases major events on each of its 6 days, including fireworks, entertainers, music, cruises, tours, and Chowderfest.
Almost 3 million people from all over the world come to Boston for the festival.
Although the best-known Harborfest celebrations are the Boston Pops Concerts and July 4th Fireworks, you'll also find over 200 other events packed into the festival's 6 days.
Special highlights involve the annual Boston Harbor appearance on July 4th of War of 1812 veteran tall ship "Old Ironsides," U.S.S. Constitution and everyone's favorite food event, Chowderfest.
Festivities begin on July 2, run through July 7th, and take place in central Boston neighborhoods including Historic Downtown, the Downtown Waterfront, Boston Common, Charlestown, the South Boston Waterfront, the North End, and even the Boston Harbor Islands National Park.
About half of Harborfest events are free, while the rest range from inexpensive to pricey.
If you need a convenient place to stay, check out our recommendations for Boston hotels for Harborfest, based on location.
Boston Harborfest dates back to 1981, so the 2013 celebration marks the 32nd anniversary.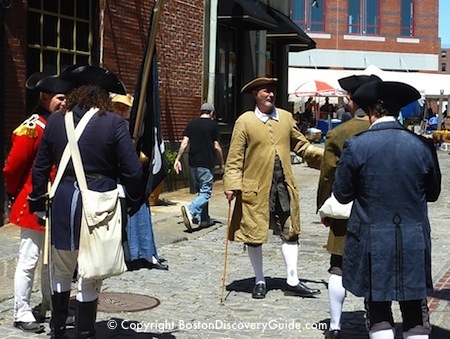 You'll see lots of Colonial attire worn by reenactors during Harborfest
I took this photo near Union Oyster House - you can see part of Haymarket in the background
Harborfest Boston 2013 daily schedule of events
The detailed 2013 schedule has not been released yet, although general dates are July 2-7. Dates and times are approximate, based on last year - so use the event information to get a general idea about what to expect this year, and bookmark this page so that you can check back later for updates.
Rumors are flying that at least some tall ships may return this year, so we're leaving the tall ship information up - but stay tuned for confirmation.
Here are highlights of key events you'll find each day at Boston Harborfest. Keep in mind that this is just a sampling - most days have 20-30+ different events, cruises, tours, concerts, and celebrations.
July 2 Boston Harborfest Opening Ceremony
See note above about 2013 dates and times
Main event: Opening Ceremony, 12 noon - 12:30pm - West End of Faneuil Hall Marketplace
Early 19th Century Gun Drills - USS Constitution, Charlestown Navy Yard in Charlestown - watch the full sequence of a Naval gun drill using a 24-pound long gun. Note: Multiple events will take place in the Navy Yard all afternoon. Find out more about visiting the USS Constitution
Music at the Marketplace - 12:30pm - 2pm - West end of Faneuil Hall Marketplace
Two if by Sea: Family Fun - 1pm - 4pm, Old North Church, 193 Salem Street, North End - Story tellers will tell the story of the famous lanterns, and your children can make paper lanterns to take home; admission is $2/family
Bells and Bones - 2pm-3pm, King's Chapel, corner of Tremont and School Streets, Historic Downtown - Tour the King's Chapel Burying Ground (Boston's oldest graveyard) and crypt, and learn about Colonial burial practices; visit the Revere bell in the tower; admission $7, ages 10+
Clambake on Spectacle Island - 6pm-9pm, Boston Harbor Islands National Park Area - Enjoy an authentic New England clambake by Summer Shack on the beach; $70-$80; reservations: 617-520-9500
Twilight Harbor Viewing - 7pm-8:15pm, Fort Independence at Castle Island - Walk the ramparts and enjoy Harbor breezes and the Boston skyine
Boston Harborfest Children's Day
See note above about 2013 dates
Main event: Children's Day at Harborfest - 10am - 3pm, City Hall Plaza - Children's Day activities include jugglers, face painting, and the Music Fun Band
Scavenger Hunt: Where the Boston Tea Party Began - 9:30am-5pm, Old South Meeting House - Find clues about how the Boston Tea Party really started and get a price when you successfully complete the hunt. Admission $1-$6, free for 18 and under
Tour Historic Boston Light - 10am-1pm, Boston Harbor Islands National Park Area - Depart from Gate E at Long Wharf (by the New England Aquarium) - Guided tour of Little Brewster Island, site of the nation's first lighthouse. Climb 76 steps and 2 ladders to meet the US Coast Guard keeper. Admission $29-$39, reservations: 617-723-8666
Tall Tale of a Tall Ship - 11:30am-12:15pm and 1:15pm-2pm - Children's Theater, Boston Harbor Islands National Park Area - meet at Boston Harbor Islands ferry kiosk at Long Wharf to catch the ferry to Georges Island for this event - Admission $9-$15 for the ferry ride - 617-723-8666
Native Voices: New England Tribal Families - Noon-5pm, Boston Children's Museum - Explore New England seasons, hear stories - Admission $12, free for under 12 months
Johnny Tremain's Boston - 3pm-4:30pm - Meet at enterance to Copp's Hill Burying Ground, Hull Street, North End for this guided walking tour tracing the adventures of Johnny Tremain in pre-revolutionary Boston. Admission $10
Baha Brothers Play Classic Beach Rock - 4:30-7pm - Enjoy this free concert on the Plaza at City Hall.
USS Constitution Sunset Parade - 6:45pm-8:30pm - Charlestown Navy Yard - Ceremony to honor the American flag
Harborfest Events
See note above about 2013 dates
Girls Nite Out Concert - Noon - 3pm, City Hall Plaza - Free concert
Dark Side of Boston Tour - 6pm-7:30pm - Meet at the corner of Hanover and Cross Streets (near the Greenway) in the North End - This walking tour by Boston By Foot takes you through Boston's oldest neighborhood, where you'll hear about smallpox, misdeeds, and the Great Molasses Flood - Admission $12
Disco Inferno - 6pm-9pm - Relive the 70s disco/funk era at this fun free concert at City Hall Plaza
Fun Boston Tours
Boston Harborfest Events - Chowderfest!
See note above about 2013 dates
Main event: 31th Annual Chowderfest - 11am-6pm, City Hall Plaza - Sample New England clam chowder from the area's best restaurants, and vote for your favorite. Over 2,000 gallons of chowder get served each year - that's a lot of "chowdah." Admission $8-$11
Beacon Hill's Treasures - 1pm-2pm, Otis House Museum, 141 Cambridge Street, West End - Join this guided walking our of Beacon Hill and get a glimpse of what it was like in the early days of the Republic; reservations required (617-994-5920); admission $6-$12
Dozens of other cruises, tours, and events at Freedom Trail sites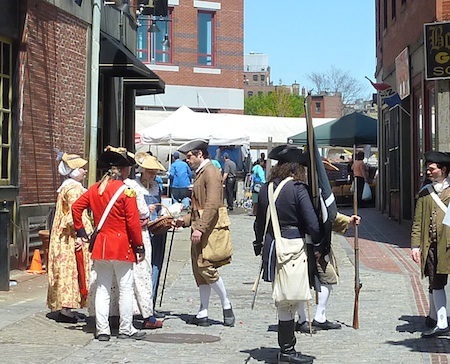 July 3 - Pops Concert
See note above about 2013 dates
Boston Pops Concert on the Esplanade
July 4 Boston Pops Concert and Fireworks
See note above about 2013 dates
Independence Day Flag Raising Ceremony and Parade - 9am, starts at City Hall Plaza, goes to the Granary Burying Ground on the Freedom Trail, and then to the Old State House
Cape Verdean Independence Celebration - 2pm-7pm, City Hall Plaza,
USS Constitution 21-Gun Salute in Boston Harbor, 11:30am-1pm - Watch this annual turn-around cruise by "Old Ironsides" from the Charlestown Navy Yard to Castle Island, with a 21-gun salute to the Nation at 12 noon followed by a flyover by US Navy Blue Angels and 24 Military Aircraft over Boston Harbor and the Charles River
Boston Pops Concert and July 4th Fireworks, 8pm-11pm on the Esplanade


Daily Harborfest Events
See note above about 2013 dates
Whiskers, Flippers, and Fun at the free outdoor Seal Exhibit at New England Aquarium Plaza - open all day
Early 19th Century Gun Drills - 2pm - 2:30pm - USS Constitution, Charlestown Navy Yard - Full sequence of a naval gun drill using a 24-pound long gun
Historic Boston Pubs - (21+), 5:30pm - 7pm - Get tickets (admission $43) at the BosTix booth at Faneuil Hall Marketplace - Visit the real headquarters of the American Revolution - 4 historic Boston pubs
Fun historical tours by Boston on Foot
1811 Overture: A Prelude to War! at the USS Constitution Museum, Charlestown Navy Yard in Charlestown - Prepare for Life at Sea and the War of 1812, including hands-on exhibits - donation requested for admission
Boston Harbor Islands - Explorations, hikes, and even kayaking led by Park Rangers, and jazz from noon-4pm on July 3rd on Spectacle Island
Boston Harbor Cruises of all sorts - dinner cruises, tall ship cruises, fireworks cruises, and more - basically, every cruise ship offers special cruises during the 6 days of Boston Harborfest
Massachusetts State House - Beacon at Park Street on Beacon Hill - Free tours of State House and gardens at various times - Call 617-727-3676 for reservations
Tour U.S. Coast Guard Vessels - 12noon-4pm on July 3 and July 4 at the Coast Guard base at 427 Commercial Street, North End
. . . and many, many more fun Boston Harborfest events!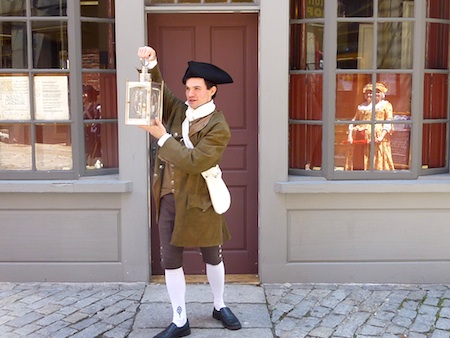 Essentials: Boston Harborfest
When: July 2-7
Where: Primarily in Central Boston neighborhoods and along the Freedom Trail: Historic Downtown, South Boston Waterfront, West End, Downtown Waterfront, North End, Charlestown, Boston Common, Beacon Hill - use our Boston Sightseeing map to see neighborhood locations
Cost: Many free events, many more ranging from about $2 - $12, and some (mostly cruises and pub crawls) for $30 - $100+
Where to stay: Hotels convenient to major Harborfest activities
Parking: Try to avoid it by taking public transportation. If you have to drive, Boston Common Parking Garage is centrally located for Downtown Boston events, and convenient to most of the others
More information: Harborfest website
Boston Insider tips:
Slather yourself with sunscreen
Bring a water bottle
Many events require reservations - make them early!
Get a Boston Discount Card to get discounts on some events and admission fees; if in doubt, be sure to verify that you can use the card for specific Harborfest events
Make hotel reservations as early as possible to get the best rates; Boston gets VERY crowded during early July because Harborfest, the July 4th Fireworks, and the Boston Pops concerts attract HUGE numbers of visitors to the city
Like this Page? Please Share!
Boston Tourism and Discovery Guide > Boston Events > Boston Harborfest