Home > See & Do > Boston Harbor Cruises
Boston Cruises
Tour Boston by water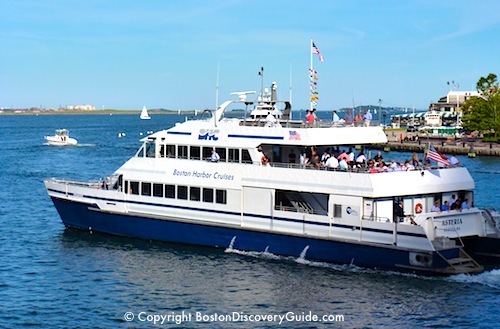 Boston Harbor cruise boat
Whether you're visiting Boston for the first time or have lived here all your life, Boston cruises give you unforgettable views of this beautiful city and some of its most famous historical sites.
You can also cruise out to the Harbor Islands National Park Area, and beyond.
Most important, sightseeing while on a cruise boat is fun and relaxing - you'll feel you're in a different world.
You'll discover that there's a lot more to Boston than just what you can see on land.
Not only is Boston a waterfront city - it is also a penisula. You can easily access and enjoy the Charles River, the Inner Harbor, and Fort Point Channel.
Just beyond the Inner Harbor, the Outer Harbor leads out to the Atlantic Ocean.
This means you can easily cruise around the Harbor Islands, visit lighthouses, explore the Charles River, join a whale watching cruise, and even visit Provincetown, Martha's Vineyard, and Nantucket.
Let's take a look at your choices . . .
Whale Watching Cruises from Boston
Whales and seabirds seen on a Boston cruise for whale watching (c) 2006 pr3vie
As your whale watching cruise boat whisks you 25 miles east of Boston to Stellwagen Bank Marine Sanctuary, you'll enjoy city skyline views and the beautiful Harbor Islands.
Although the cruise out to Stellwagen Bank is spectacular, once you're there, the real fun begins as you watch the whales, other sea mammals, birds, and fish come close to your boat.
More about Boston Whale Watching cruises
---
Discount and Half-Price Cruises
Check out these discount and half-price cruises from Goldstar:
- Boston Harbor Lighthouse Brunch Cruise @ Departs from Boston Harbor - Full price $64; Goldstar $45
- Tequila & Taco Tuesday Sunset Cruise @ Boston Harbor - Full price $55; Goldstar $39
- Pier Pressure: Memorial Weekend Yacht Party @ Spirit of Boston on Boston Harbor - Full price $25; Goldstar $13
Boston Harbor Cruises
Boston Harbor cruises give you a fascinating view of some of the most important historical sites, Harbor Islands, and even glimpses of luxury waterfront condos.
Tour guides keep you informed and entertained. And for the biggest thrill, take a high-speed cruise on Codzilla, terror of the Harbor.
More about Boston Harbor cruises
Charles River Cruises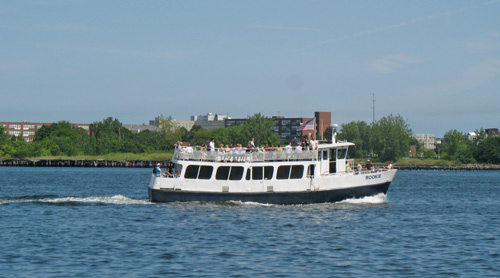 Take a Charles River cruise, and you'll see not only Boston but Cambridge sights such as Harvard, MIT, and famous biotech companies. Depending on the cruise you select, you'll be on a regular cruise boat, a riverboat, or perhaps best of all, an authentic Venetian gondola.
More about Charles River cruise options
Boston Dinner Cruises
Going on a Boston dinner cruise - or lunch cruise - is a favorite local activity. If you're visiting Boston, you'll want to book yourself on at least one. Not only do you get to enjoy a delicious gourmet meal, but you'll also have a memorable voyage around the Harbor or Charles River and see gorgeous scenery.
On some Boston dinner cruises, you'll even enjoy DJs and dancing - or go for a New England Clambake in the Harbor Islands.
Best of all, some dinner cruises happen year-round.
More about going on a Boston dinner cruise
Tall Ship Cruise
The romance of billowing white sails against blue skies . . . the excitement of being on an actual tall ship, a windjammer schooner that's a replica of mid-19th century Baltimore clippers . . . the adventure of exploring coastlines and open waters . . .
You'll get all of this and much more on a sailing cruise on the Liberty Clipper, Boston's tall ship. You'll also find plenty of specialty cruises on this magnificent tall ship - lobster dinners, wine tastings, racing trips. You can even join a reenactment of the Boston Tea Party.
More about going on a Tall Ship Cruise

Hop on a Boston Harbor Islands cruise, and in only 15 minutes, you can be in another world.
The Harbor Island National Park Area includes 32 islands and 2 coastal peninsulas in Boston's Inner and Outer Harbors. You'll find a rich assortment of activities sponsored by local groups, a 19th century fort to explore, sandy beaches, hiking trails, campgrounds, and some of the best views of the Boston skyline.
More about Boston Harbor Islands cruises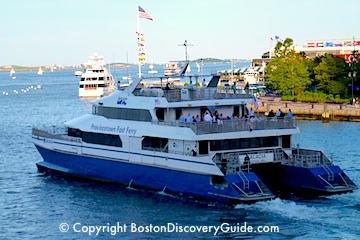 A whole different world awaits you on Cape Cod...and the easiest way to get there is by water.
Take a fast ferry from Boston to Provincetown, and you'll be stepping on shore in 90 minutes - perfect for a day trip or weekend away.
The Provincetown ferry runs daily from May - October, and you can choose from 2 convenient departure locations in Boston.
More about the Boston to Provincetown ferry . . .
Inner Harbor Boston Ferry "Cruises"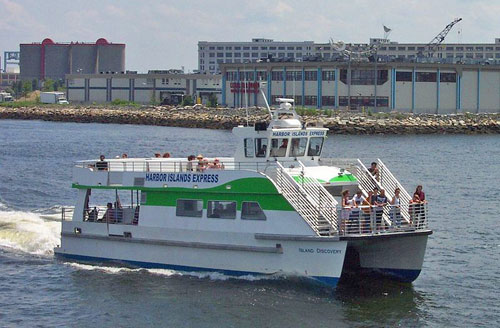 Well, maybe Inner Harbor Boston ferry rides shouldn't be called "cruises." After all, they're standard transportation - when you live in a city like Boston that's surrounded by water. They're part of the services provided by the MBTA - that is, Metropolitan Boston Transit Authority.
They whisk us back and forth from Boston Logan Airport to Downtown (Long Wharf) to Charlestown, and to Salem, Hull, and Quincy - they even provide the ferry service to the Harbor Islands.
You're flying into Boston Logan Airport and staying in a Downtown Boston hotel . . . so you take a cab from the airport, right?
Wrong! You take a water taxi . . . faster, cheaper, and much more fun! And what a view!
Several companies provide on-call water taxi service to a number of locations - they'll zip you to most spots in 10 minutes or less. Think of this as one of the best Boston mini cruises!
Find out more about Boston water taxi services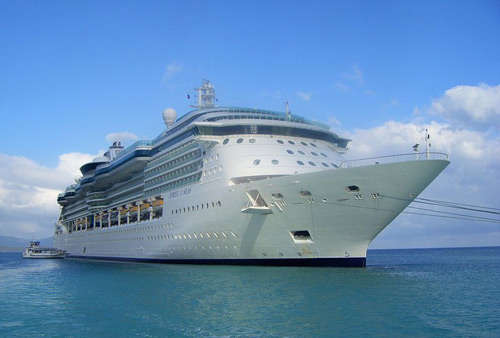 Boston is a major port city, and a favorite departure point for vacation cruises going to Bermuda, other New England ports, Canada, the Caribbean, and even Europe. The convenient location of Boston's Cruise Port makes going on these cruises especially easy and fun. More about
cruises from Boston
More ways to enjoy the water
Sailing Boston on your own - where to rent a sailboat, hire a charter, or take lessons
Boston Duck Tours - the city's most popular land/water tour combo
Check out cruises from Boston to other places such as Canada, Bermuda, the Caribbean, and even Europe
Like this Page? Please Share!