Home > Boston Accommodations >
Massachusetts RV Parks near Boston
RV Accommodations for Your Boston Visit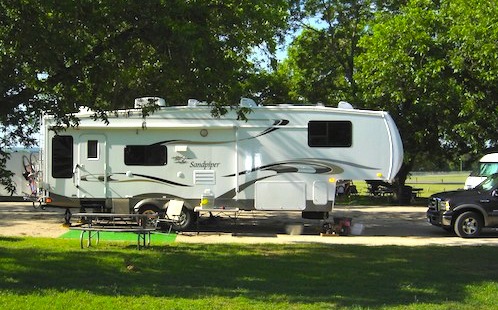 Massachusetts RV parks let you enjoy the beautiful areas surrounding Boston
while avoiding expensive city hotels
Massachusetts RV parks and camping sites near Boston give you a unique way to enjoy the beauty of the New England countryside, woods, and beaches while also having easy access to visit Boston.
Some of the best RV camping grounds near Boston are located close to public transportation.
This provides you with the benefits of RVing including reasonable RV rates, yet you can still easily take a train to the city.
Find out which RV camping grounds are located near the commuter rail, which provides transportation into the city from suburbs and towns within about a 30-40 mile radius of Boston.
Massachusetts RV Parks near Public Transportation to Boston
Here are three RV campsites with parking near commuter rail service to Boston for you to consider:
Winter Island Marine Park in Salem (Rockport Line of the Commuter Rail) - Near the water, plus all of Salem's historic sites - website
Ellis Haven Family Camping and Picnic Grounds in Plymouth (Kingston/Plymouth Line) - Gorgeous South Shore location near cranberry bogs, piney woods, sandy ponds, and Cape Cod - website
Boston Minuteman Campground in Littleton (Fitchburg Line) - West of Boston, close to Concord and Lexington - website
Of these three RV campgrounds, Winter Park in Salem is the closest to Boston, and is ideal if you're visiting during October to experience Halloween in Salem, or interested in exploring its many interesting historic and cultural attractions such as the Peabody Essex Museum at any time of the year.
If you're interested in Patriots' Day celebrations and Revolutionary War sites near Concord and Lexington to the west of Boston, the Boston Minuteman RV Park in Littleton is only about 15 minutes from Concord on the commuter rail's Fitchburg Line.
You can also find some of the best apple orchards west of Boston located in and near Littleton - go pick your own if you're visiting in the fall.
For a perfect location between Boston and Cape Cod, consider Ellis Haven. Relax on the sandy shores of Ellis Pond, or enjoy catch-and-release fishing at nearby ponds.
Keep in mind that you will need a way to get to the commuter rail stations from these RV campsites, such as a bike, car, or a taxi.


RV campgrounds provide lovely accommodations near Boston, such as this leafy site at the Boston Minuteman Campground located west of the city
More Information about Massachusetts RV Parks
A good source for information about most Massachusetts RV parks is RV Resources. Keep in mind that most state parks also offer camping facilities.
For Boston commuter rail information, go to http://www.mbta.com, and click on the Commuter Rail links. You can use these sources to figure out which RV campsite best meets your needs.
Your Questions about RV Parks near Boston . . .
. . . And Boston Discovery Guide's Answers
Any Questions about RV Parking Near Boston?
Have a question about RV parking near Boston? Ask, and I'll do my best to answer.

First, though, check out what others have asked - I might have already answered the same question for someone else.

When asking your question, please fill out the whole form, including lines for name and location that say "optional."

After you send your question, you'll see a page that thanks you and asks you to set notification options. I highly recommend that you check the first 2 boxes so you'll be notified when I reply - otherwise, you'll have no way of knowing other than checking the website periodically. When you see my reply, please let me know if it was helpful!

Thanks for getting in touch, and enjoy your visit to Boston!

Susan

Questions about RV Parking from Others
Here's what others have asked:

Boston Insider's Tip:
If you're RVing to Massachusetts and hoping to stay in one of these RV campsites near Boston, make your reservations as soon as you know your dates to make sure you get a spot. Although many people drive from across the country to stay in these spots, they're also a big favorite with locals - and competition for reservations can be fierce!


More Boston Visitor Information for RV Travellers:
Like this Page? Please Share!
| | | | |
| --- | --- | --- | --- |
| Aquarium | Downtown Waterfront | Fenway Park | Faneuil Marketplace |
Boston Discovery Guide > Where to Stay > Massachusetts RV Parks